Article by Di Mase Architects
"Gezellig"…The untranslatable Dutch term incorporating all things cozy, comfortable, relaxing, enjoyable and gregarious…
Guided by the words of famous architect Le Corbusier, "A house is a machine for living in", our design brief incorporated unique and edgy solutions to convert an existing warehouse into a well-oiled family home.
Our clients sought a functional and sustainable design for the retro-fit of their existing home, a two-storey warehouse in inner city Melbourne.
The changing needs of the clients and their growing family required the building's spaces to be re-worked, and the building itself to become more environmental and economical.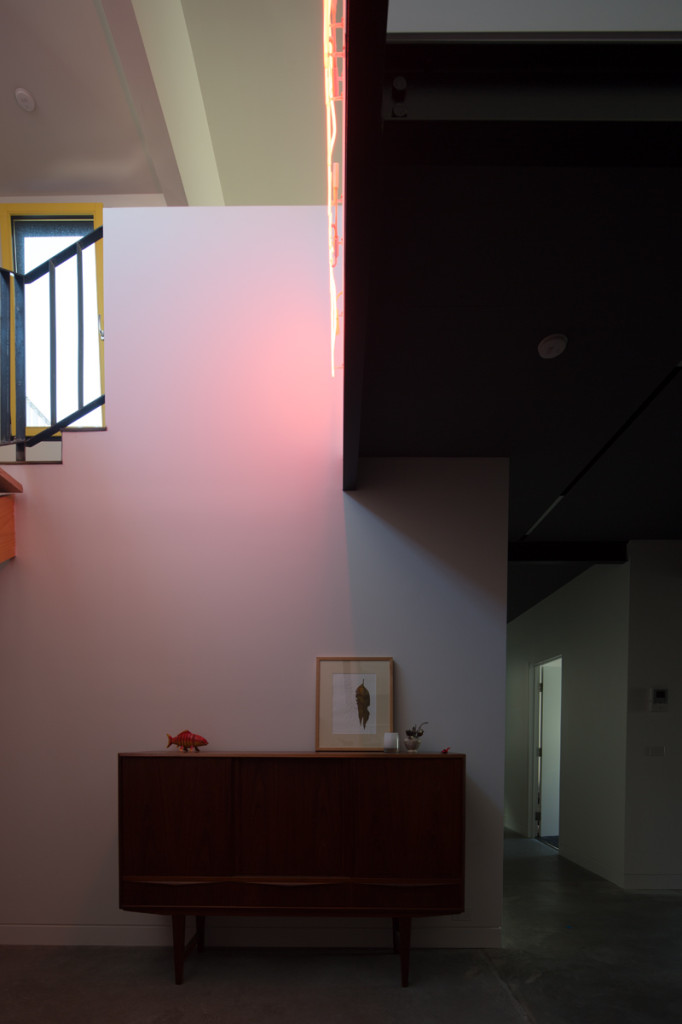 Having heard so much about Passive House design, the couple were keen to introduce these sustainable design principles into their new home.
This 'Passive House' certification is best explained as a rigorous, voluntary building standard developed in Europe in the late 1980s that aims to reduce household energy use by up to 90%, creating a home reliant on minimal heating, cooling and overall energy use.
Air-tightness is at the crux of Passive House design principles, with the aim to create a building where every kilowatt-hour of energy is retained for as long as possible.
As described by Verity Campbell in the thirty-forth Issue of Sanctuary Magazine, "Applied to this warehouse, this meant an airtight layer on the inside, whole-building wrap-around barrier with bulk insulation and a weather- protection layer. Areas that receive solar gain were protected with an additional layer of reflective foil. It also required close attention to thermal bridges and sealing those pesky air leaks around doors, windows and even power points. The house features high-quality, triple- glazed European-style windows and a heat- recovery unit that maintains a continuous, controlled supply of fresh air."

The house features high-quality, triple-glazed European-style windows and a heat- recovery unit that maintains a continuous, controlled supply of fresh air. In designing this, the team at DiMase Architects received advice from Peter Steudle of Passive House.
This is why it became so important to maximise solar gain on the site. These design considerations however were soon realised as aesthetic features of the home, with streams of natural light flooding the interior through an atrium-like entry way and wall-lining Chanel Glass.
The client's keen interest in lighting design also saw the inclusion of striking light installations contributing to the "Gezellig" atmosphere of what could have become a very cold interior.
With creative re-use at the core of our design philosophy, we retained the building's existing structure. Instead of creative unnecessary waste, our design was built upon the very concrete and steel foundations of the warehouse.
The building's finishes pay homage to its heritage through the display of exposed beam, natural timbers and metal finishes throughout.
The floor plan required re-structuring so as to "work better" for our clients and their two children.
As a result, the ground floor and the first floor operate as two very different spaces. The ground floor now acts as a far more sectioned space, cleverly working bedrooms, study and working spaces, while the first floor opens up to the world around the site; creating a grand and expanding living space in which to enjoy the city views, daylight access and outdoor living.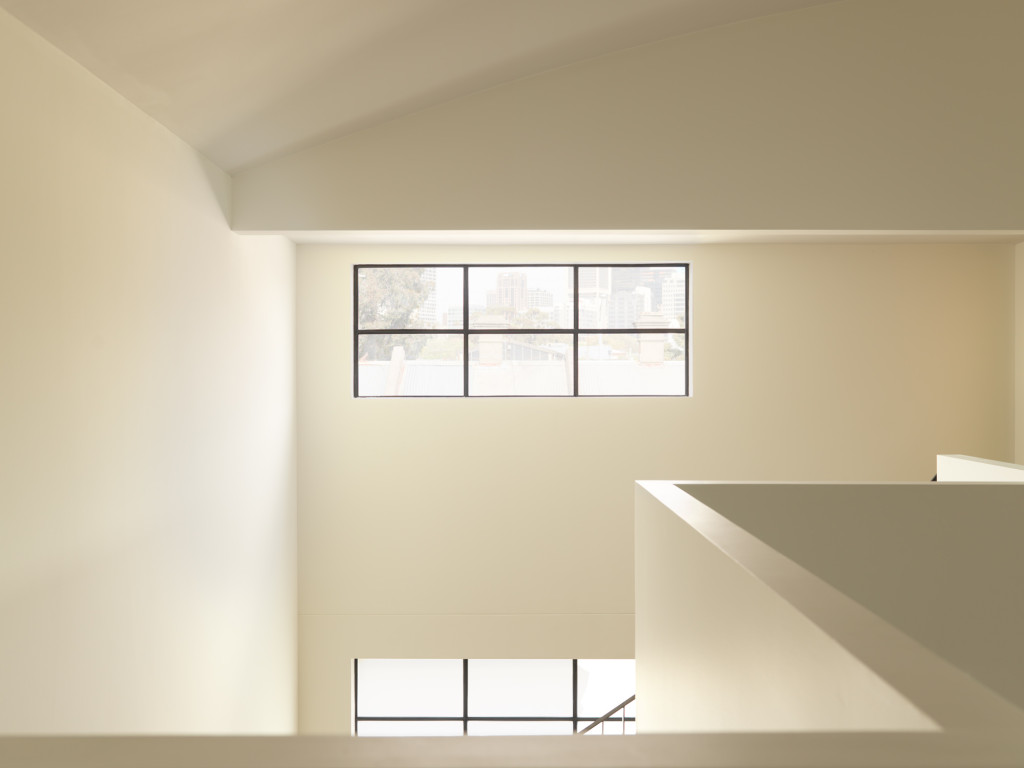 Furnished with the client's eclectic collection of books and 1960s seating, the home strikes a surprisingly warm equilibrium between function and industrial aesthetics.
It was through our pursuit of Passive House design principles that The Gezellig House became much more than just a warehouse conversion, becoming one of the first and only examples of a 'PassivHaus' in Australia.
It was recognized that the project would never be the first in Australia to receive international Passive House certification; "partly because it's a renovation and retrofit," as the client explains, and partly because the design incorporated the existing concrete foundation. In order to reach full 'Passive House' standard we would have had to quite literally 'rip up the floors' and replace the structure's original concrete foundations. With these foundations remaining strong and the process costly, we saw this to be an unnecessary and wasteful step. So while we may not have achieved Passive House certification, it was through various sustainable design principles such as insulation, ventilation and materials that we achieved a 7 star Australian energy efficiency rating.
Di Mase's first attempt at a Passive House has become one of the first and only examples of its kind in the country, attracting over 150 patrons to its doors during the 2015 'Sustainable House Day'.