A Trans-Tasman architecture collaboration between Woods Bagot's Melbourne studio and Auckland's Peddle Thorp has won an international design competition for a new high-rise hotel and apartment tower for New Zealand's largest city.
Inspired by Auckland's natural forms, Woods Bagot principal and design leader Peter Miglis says the 50-level tower couldn't exist anywhere else. "Inspired by New Zealand's extraordinary geology and fauna, this will be a simple, elegant silhouette on the skyline that provides a companion to the city's iconic Sky Tower.
"Sightlines to culturally significant landmarks, the height of the streetscape, pedestrian connectivity to key destinations and Auckland's weather have all been carefully considered to create a structure that could only sit within this particular location."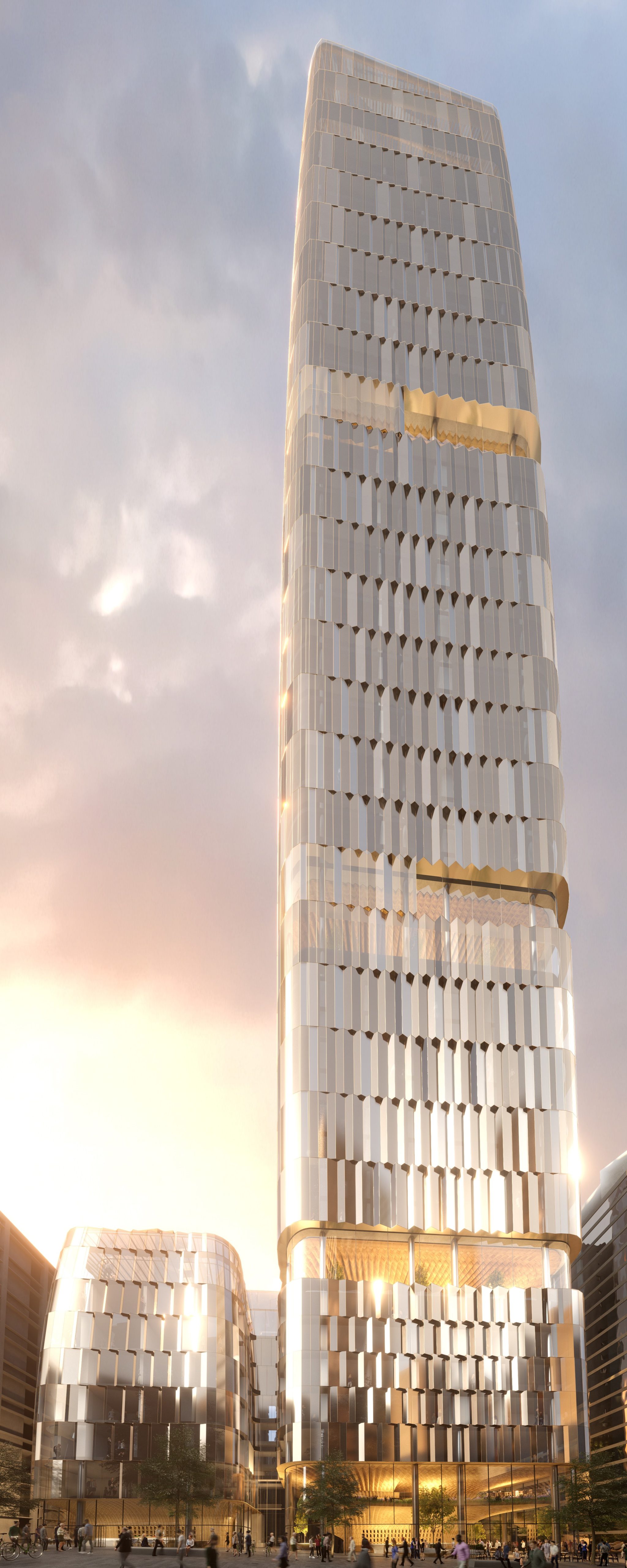 The 180-metre-tall building will occupy a 1600 square metre site at 65-71 Federal Street, between Victoria and Kingston Streets, just to the north, seaward side of the Sky City complex. It will combine retail space, a hotel with more than 200 rooms, investor apartments and owner-occupier penthouse suites.
The aim of the building is that it will be a defining piece of architecture in Auckland's cityscape, however, the architects did feel that "the street needed help" and their consideration of the experience at street level was extensive.
"We asked ourselves the question: can the ground plane of a private development be open, inclusive and generous in spirit? We think it can," explains Miglis. "Green laneways to run through the site and that connect to the water are a key idea to encourage movement through and into the site."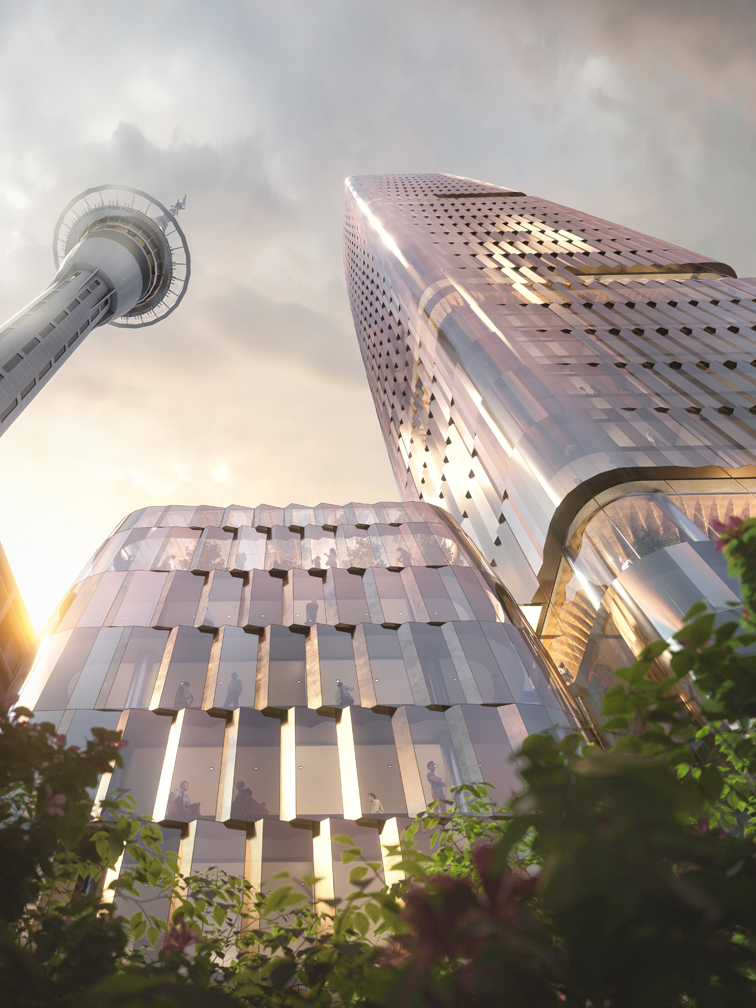 Understanding the future vision for the city was a strong driver when designing the building's lower level, which Woods Bagot associate principal Andrew Walter says asserts the responsibility of architecture to consider the street it occupies.
"Through its transformation into a pedestrian-focused laneway, Federal Street has the potential to become a public destination akin to a town square or public plaza. We know that the skyline defines a city's identity, yet it is the streets – where people inhabit the city – that define its character," he says.
By elevating the hotel lobby to the top of a podium, the lower street levels are freed to be highly public focused. A key feature will be a ground-level marketplace offering New Zealand food and beverage. The 'sky lobby' also gives the public an opportunity to enjoy the building and city from another aspect.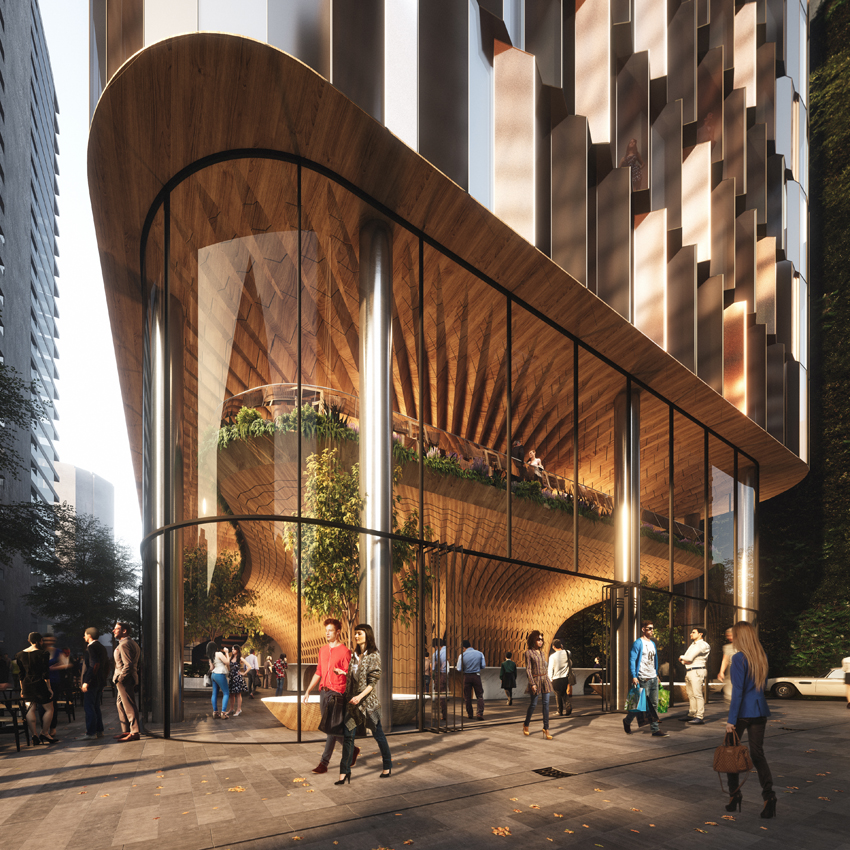 Peddle Thorp NZ director Richard Goldie explains that the design is a strong expression of place, using timber extensively in its public spaces.
"Our major civic buildings, the Auckland Museum and Auckland Art Gallery both use timber to stunning effect. It's the material with which we privilege our most significant buildings," Mr Goldie said.
The development should be completed by the end of 2022 and will be built for ICD Property, a Melbourne developer.
Renders courtesy of Woods Bagot