In the second of a series of articles examining typologies offering growth opportunities for architectural practices to explore, Architectural Review looks at the childcare space.
With the continued rise in urban development and the increasing expansion of growth corridors in and around large cities such as Melbourne (where the population is sitting at 4.8 million and is predicted to hit eight million by 2050), childcare centres have become a highly profitable investment for Australian developers.
But the process of designing and developing a centre can easily become complicated or even stalled if the parties involved are not familiar with the rules and regulations surrounding childcare.
Speaking to principals from firms Co-lab Architects and K20 Architecture, AR discovers both are passionate about the potential for growth in this sector. Theodore Kerlidis, owner and director at K20, brings a strong commitment to sustainability with the philosophy to "leave a place better than we find it".
They are aiming to develop centres that will have a "100-year life cycle, and will potentially be off the grid". His firm is working mostly within the community and local government childcare sector, whereas Co-lab is working primarily within the private sector.
Site feasibility 
There are strictly regulated codes that have been developed by the education department to ensure an appropriate allocation of space for childcare, so it is critical that the site can meet these stringent requirements.
Before embarking on a childcare development, it is important to determine the number of children that need to be accommodated within the centre, as that will dictate the rest of the design. Zoning is another factor that needs to be addressed in terms of both individual council regulations and profitability.
According to Co-lab's founding director and principal architect Kane Barnett: "In our experience, councils are often welcoming of childcare centres as they are an employer for the local area and work well among other activity centres such as shops or medical suites. Additionally, in terms of clientele, they are welcomed on the fringes of residential areas or near workplaces – locations where parents can drop their children off on their way to work."
Navigating complex childcare regulations
Once a suitable site for the construction of a childcare centre has been located, the design process begins. This can be very complex as there is an intricate web of rules and regulations mandated by the government. Co-lab Architecture collaborates with a childcare consultant in every centre design process, and over the years has developed a detailed understanding of centre requirements.
Current regulations dictate that every child must have 3.25 square metres of space inside and seven square metres outside, while there must also be ample parking for parents. The design needs to consider an array of factors including: fencing, gate swings, outdoor toilets and indoor furnishings, such as doorjambs and bench heights. For example, handles on doors to outside areas must be child-height, whereas handles on doors to staff areas must be much higher. Potential finger traps and climbing hazards must be identified and resolved. This can often mean the actual space requirements are bigger than the regulations may imply.
Add to this the rules around the dimensions of childcare rooms, the need for children to always be able to access outdoor space and for rooms to be light-filled. Regulations also dictate staffing ratios and design compliance. For example, there must be one childcare provider for every four children under three and for every 11 children from three to five years old. This will impact the number of adult toilets, as well as the space a developer may allocate to staffrooms, offices and planning rooms.
A delicate balancing act
The next thing to navigate is the number of stakeholders. According to Barnett: "When designing a site, however, we are not just considering government regulations, but also the needs of the three critical audiences: the parent, the child and the developer."
As any parent would understand, putting children into childcare can be a stressful time, as parents are transitioning back into the workforce and often feeling quite overwhelmed. Having worked in this area for some time, Co-lab understands this emotional conflict. "Our design solutions address the need to alleviate some of this parental guilt. We do this by creating airy, natural spaces that appeal to adult aesthetics," says Barnett.
Landscaping is a critical part of this design process, and Co-lab Architecture has developed a successful collaboration with Package Landscapes. It is no longer good enough to merely throw down some AstroTurf and some outdoor play equipment. These elements are now seen as integral to the design of the centres and need to be both imaginative and safe. Simple colours and pared back designs also appeal to children, as they react best to spaces they can make their own.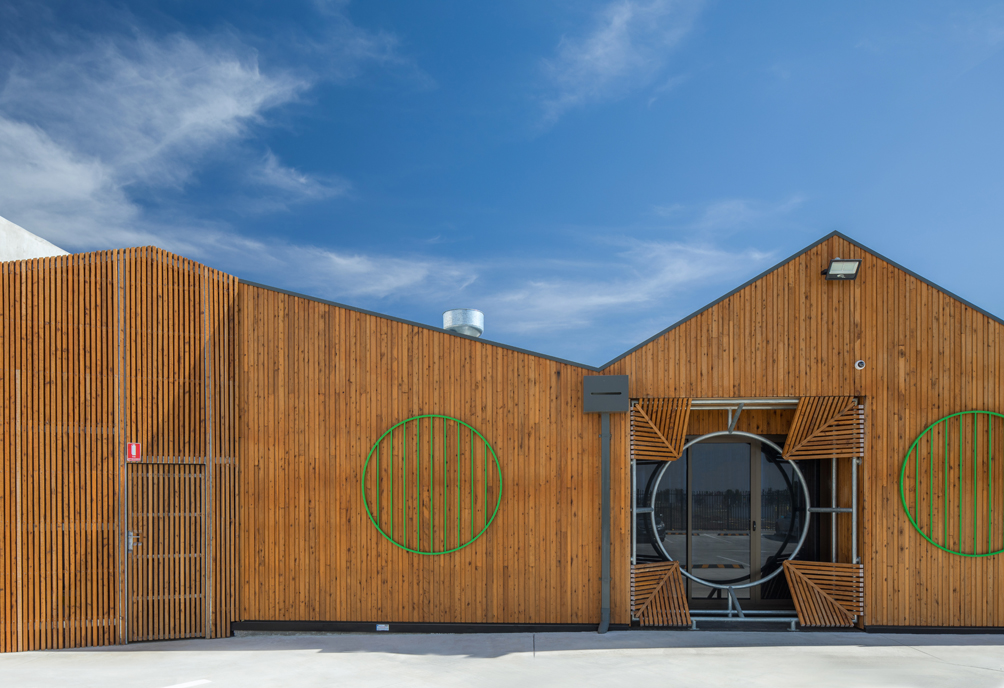 Creating versatile spaces both inside and out that can be modified easily to stimulate children's imaginations are a significant design feature. Equally important is to create a space that appeals to staff, as a dedicated and professional workforce is essential in order to retain parents and provide consistency of care to children.
So, it becomes vital to attract and maintain an engaged workforce and this includes incorporating a pleasant staffroom, curriculum planning rooms and considering showers for thosestaff who cycle or walk to work. All of these rooms add up both financially and spatially, making the design of a childcare centre a delicate balancing act between resources, regulations, aesthetics and feasibility.
Co-lab Architecture has completed approximately 14 childcare centres and currently has nine in construction. The typology constitutes around 70 percent of the work of the practice. While childcare centres present the opportunity for strong returns on investment, this can only be achieved if the process is managed efficiently and expertly from the outset. Given this is an expanding area, while there are many complex factors to consider, it offers scope for the growth of many design practices.
This may include the potential to incorporate childcare centres within multi-level residential and commercial developments. There is also likely to be some growth in refurbishing existing childcare centres, so they continue to comply with the stringent planning and zoning requirements.
Photography by Kit Haselden
This article originally appeared in AR157 – available online and digitally through Zinio.