Written by Fenella Kernebone. Disclaimer: Fenella Kernebone is currently working on an oral history project at Barangaroo South. Above: Rain Oculus by Ned Kahn, in collaboration with architect, Moshe Safdie. Photo courtesy Ned Kahn/Codaworx.
Public art can be many things – a memorial in a park, a sculpture in a square or a mural on a wall. Whatever form it takes, it can be indispensable to a city and its cultural life. While no one is visiting Sydney for its memorial fountain in Hyde Park, they may just visit Barangaroo South if there is the equivalent of Anish Kapoor's Cloud Gate in Chicago. The price for a public work of that ilk is high, but if a council, investor or developer makes the right decision, it can be the drawcard that leads to significant economic gains.
Rain Oculus in Singapore's upmarket commercial shopping precinct, Marina Bay Sands, is one such work. Created by US artist, Ned Kahn, in collaboration with architect, Moshe Safdie, it is a 23-metre diametre acrylic bowl of water, forming a whirlpool that drops two storeys into another pool inside the building. While essentially a spectacle for tourists and shoppers and a 'thing to do' when visiting Singapore, what's fundamentally interesting about this work is that the art itself is integral to the architecture, design and plan of the centre. It is not an afterthought.
While not integrated to the same extent, American artist Jenny Holzer's first Australian public art commission is close. Sydney's 8 Chifley Place was the first completed project in Australia by Richard Rogers' practice, Rogers Stirk Harbour and Partners. It is a building that is distinctive among a city of high-rises thanks to its red steel braces that criss-cross the exterior. And then there's Holzer's work. Embedded into the diagonal steel column beneath the building is I Stay (Ngaya ngalawa), a typographic LED work featuring the writings of Aboriginal and Torres Strait Islanders in a scrolling series of text, visible from all directions.
Curator and art consultant, Barbara Flynn, set up a competition process with the developer, Mirvac, to select the artwork: "Jenny came back with a work that was part of the fabric of the building. The other artists were not as closely aligned. I like leaving things up to the artist," she says. The result is that Holzer's work integrates not simply because it is part of the structure but because it brings an emotional and even political intent to a building that may otherwise be a vessel for workers.
Private developments in Sydney's CBD, such as urban renewal projects requiring a masterplan, or those developments above $10 million, are required to allocate a proportion of the budget, around one percent, to public art. While it may be considered crucial for city-making, public art can also prompt fearful reactions from those who balk at art, such as 'plonk art', that feels at odds with the environment or indeed the architecture itself.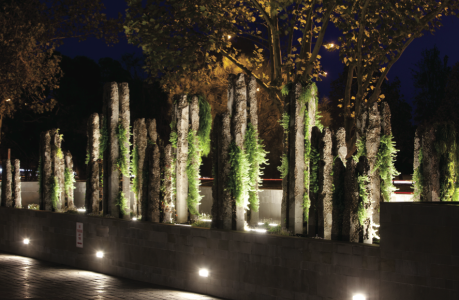 Author and urban strategist, Charles Landry, describes his ambivalence, when faced with the "abstract red sculpture placed in front of a glassy corporate structure that, from a sensory perspective, is a no building. You cannot communicate with such a setting". The contention is that if we are to feel an affinity with the architecture, the art should aim to respond to the place. This is not to say that work needs to be contextual with the cityscape, but, as the City of Sydney outlines in its public art policy, it needs to consider the "relevance and appropriateness of the work to the context of its site".
Another project Flynn worked on in Sydney's CBD is by Australian artist, James Angus, whose colourful, monolithic work, Day In, Day Out, sits at the top of the steps of the dramatic entrance to 1 Bligh St, Sydney. While not inherently part of the structure, the sculpture responds to its location with its complex geometry of ellipsoidal shapes that echo the form of the building itself. As with 8 Chifley Place, it's the art that draws your eye, encouraging you to look up and in. It gives the building a human scale.
Curator Virginia Wilson also actively seeks artists who work with public space and architecture in entirely new ways, who are happy to cross mediums and leave the white walls of the studio. "Usually with the sort of budget involved you get to go to an artist and say I've got X amount money to spend, have you got a vision that you can't realise in a normal gallery space?"
However, Wilson says that the ability to develop ideas, where the art is really integrated and embedded is "hard to achieve", as no matter how early an artist may join a project, "the architecture is already somewhat resolved". It is up to the developers and supportive architects to push for unique outcomes: "Luckily because I work with a particularly high-end range of architects, such as Bates Smart, Woods Bagot and Smart Design Studio, the fact that the property developer has already chosen such an architect, shows a level of commitment to the design as a whole. So often, the developer is quite engaged with the arts and wants it to be as interesting and as innovative as the architecture."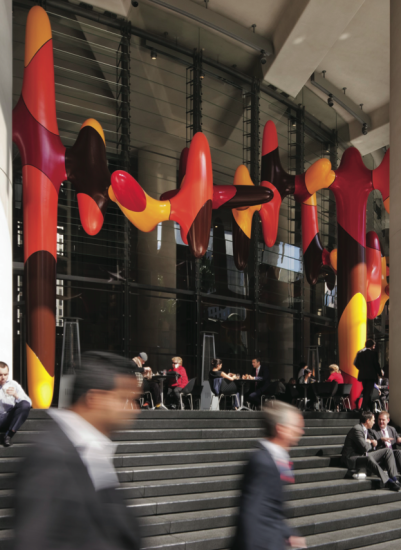 Barbara Flynn agrees that a committed developer is key to a successful outcome. "It would be a rare situation where the architect is not thrilled about the proposed art projects, but it requires that willing and visionary person within the development company, for these projects to come to fruition."
Barangaroo is currently the largest development in Australia, with a budget for art and culture across the site of
$40 million. Half of this is being commissioned through Lendlease at Barangaroo South, with the remaining amount managed by the Barangaroo Delivery Authority for Central Barangaroo and Headland Park.
Driving the art outcomes for Lendlease at Barangaroo South is senior development manager, Public Domain and Public Art, Annie Tennant, who compares the process for art acquisition to that undertaken at Melbourne's Docklands precinct. "What Docklands did is have many works of art. What we decided to do is to aggregate the amount of money across the site. So instead of saying we are going to have 30 artworks, we will have three or four excellent artworks and a range of temporary programs and art and cultural activations."
The goal, as Tennant explains, is to commission a work by an Australian or international artist that is a showstopper. "I can't give you the amount of money at the moment, but one of our artworks is going to be a unique opportunity to put the City of Sydney on the map for art," she says.
Barbara Flynn, who is also the Barangaroo site wide curatorial adviser, believes that one of the advantages of this project is time. "The southern part of the site is advancing so quickly, but elsewhere we have time. Projects that are more speculative, let's say – inevitably this could mean they require more time to develop – to persuade people, to bring people along."
While new developments, such as Barangaroo, benefit from significant public art outcomes, ultimately it is the artists themselves who must initiate a broad approach to how they can integrate their work within a development. By exploring the use of materials and enlisting the help of engineers, artists can push the limits of what they propose, particularly at the submission stage. Perhaps more than the architecture itself, great public art has the capacity to excite, confront and delight. It has the ability to make a city more dynamic and a new building or development a place you want to visit or inhabit. As Flynn explains: "You're basically saying to the artist that we can trust you with this and we are very inquisitive to see what you'll come back with."
AR144 is available now through newsstands and digitally through Zinio.