Bell house by Teolam Architects (TLA) is a contemporary home located in Balmain, Sydney. TLA worked closely with interior designer Jacqui Koska, Don Gee Building, and the client, Mark Bell – also a landscape designer – to maximise a small site for a family of four.
Bell house is an exercise in squeezing every ounce of potential in a small footprint. While the indoor spaces on the ground level house a sleek new kitchen, adjoining dining area and living room, the outside is more than just a pretty backdrop.
Beginning with the entry courtyard, it's all about intimacy. Bluestone paving creeping inside for cohesion. The rear garden is less restrained with lush greenery and a feature pool that can be viewed directly from the living room.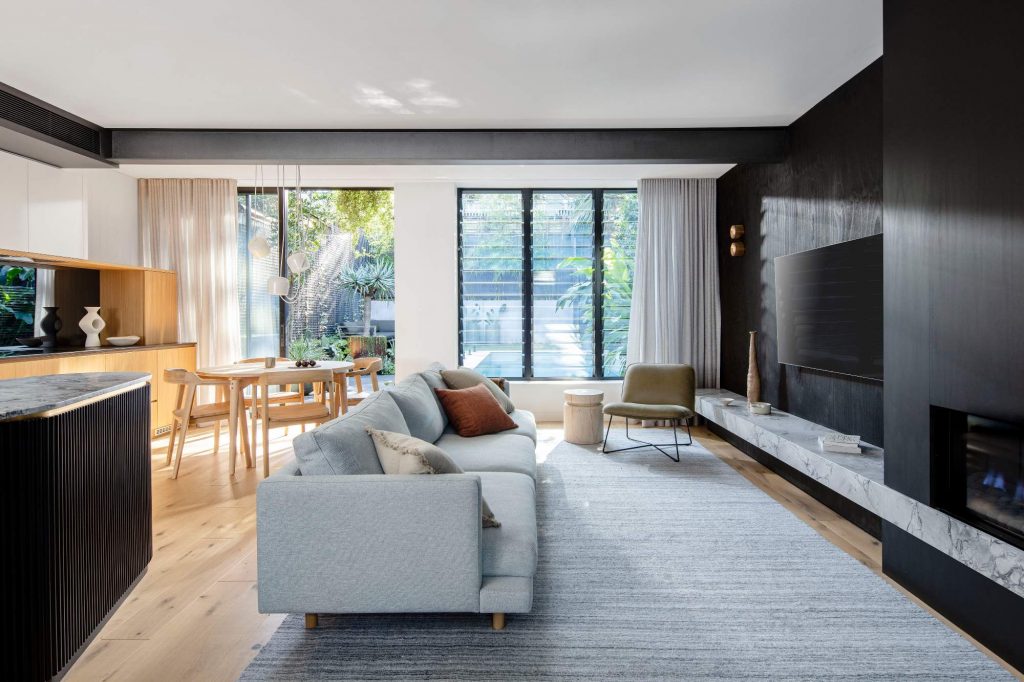 "Large expanses of glass were employed to further blur the line between the interior and exterior spaces," explains TLA.
"This allowed for improved natural light making the living area feel more spacious."
Continuing the theme of interior and exterior unity, black stained rough-sawn timber cladding envelopes the new addition and complements the similarly moody plywood inside. This recurring motif also promotes a consistent textural and tonal language throughout Bell house.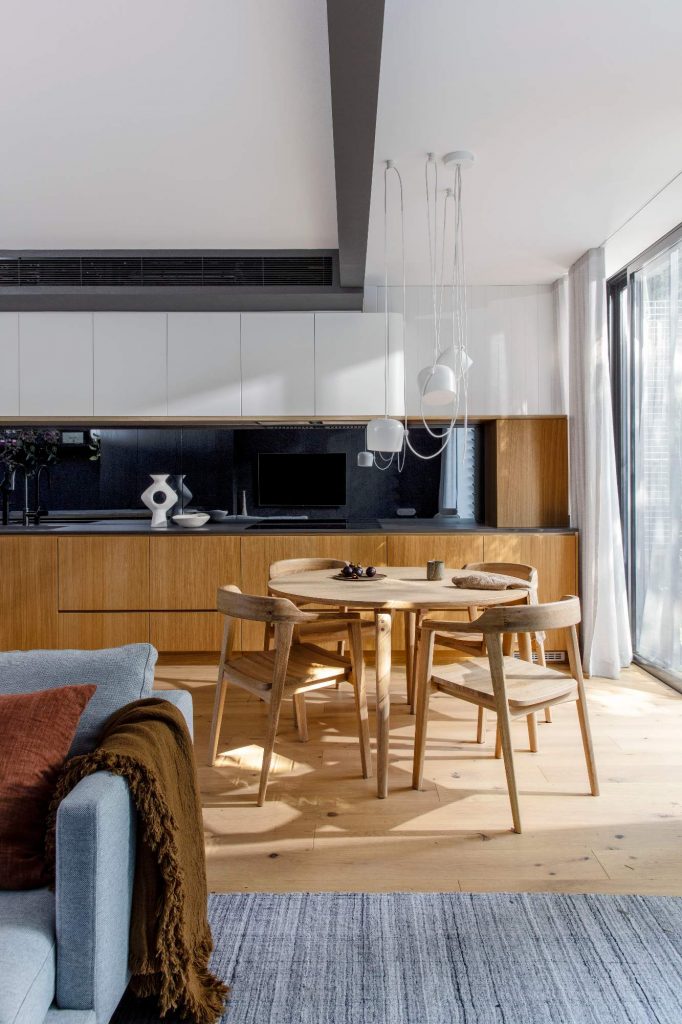 "The combination of rough-sawn timber and dolomite stone on one wall is a counterpoint to the oak timber veneer and white polyurethane of the kitchen cabinetry," adds TLA.
"These parts engage in a material dialogue, of raw sophistication and textural interest."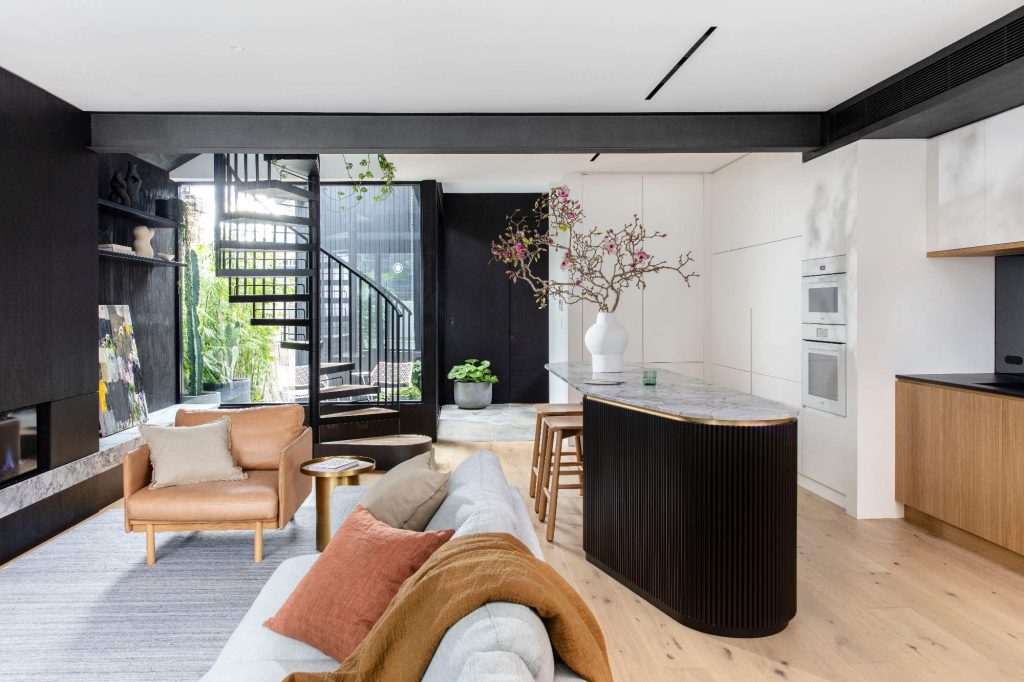 Staying inside, a spiral staircase connects the upper-level addition. While functional, its skeletal sculpture punches vertically through the original part of the house – enhancing the home's architectural personality.
In the bedrooms, the material palette is subdued. Texturally, painted white, vertically striated timber panelling clad walls and joinery mimic the timber in other parts of the home.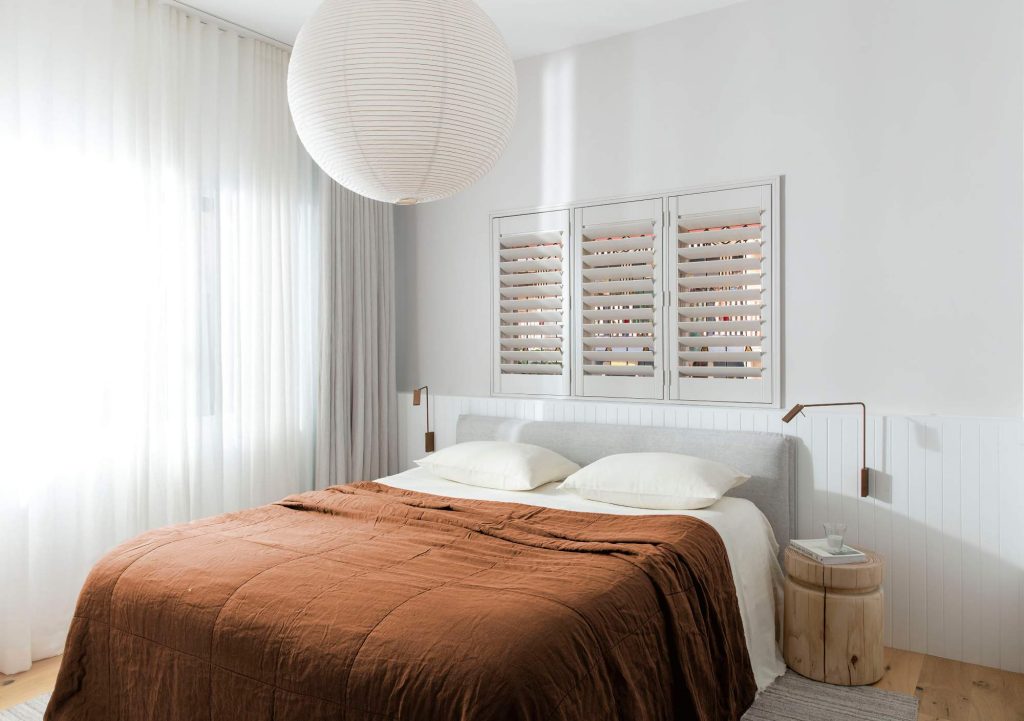 In the master ensuite, a beautiful Japanese mosaic was chosen to clad all the walls.
With inherent variations in texture and colour, the mosaics were stacked vertically to create a subtle sense of depth and interest in the overall design while accentuating the height of the room to create an illusion of a more generous space.
Speaking on the collaboration side of the project, TLA credits interior designer Jacqui Koska for enhancing the interior and lighting strategy, and Don Gee Building for easing pandemic-related shortages during the project's construction.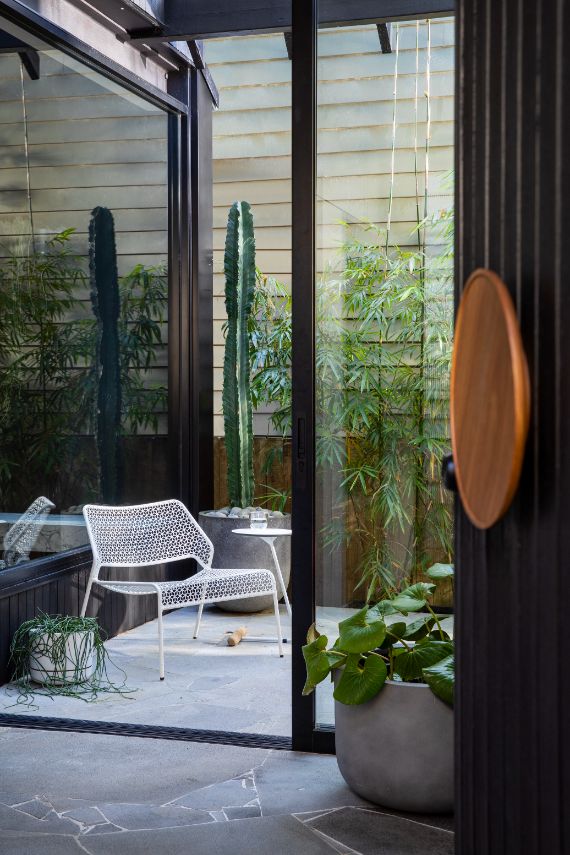 "Bell house is an example of sincere collaboration between Teolam, Mark Bell, Don Gee building and Jacqui Koska," says TLA.
"The renovation showcases our studio's design skills in blending contemporary and traditional elements to create a modern and functional home that is tailor-made to meet the demands of a busy family."
Photography by Jason Busch.
Helmed by director Lena Teo, Teolam Architects is a design studio located in New South Wales, Australia.
Jacqui Koska is the director of Jacqui Koska Interior Design studio based in Melbourne, with projects in both Sydney and Melbourne.
In more residential design in Sydney, Carter Williamson Architects shines a light on true warmth in Rosso Verde.