With its maximalist mash-up of materials and pigment pairings, RAFI by Luchetti Krelle in North Sydney revives a sense of playfulness in design, complementing the bold flavour profile of its modern Mediterranean menu.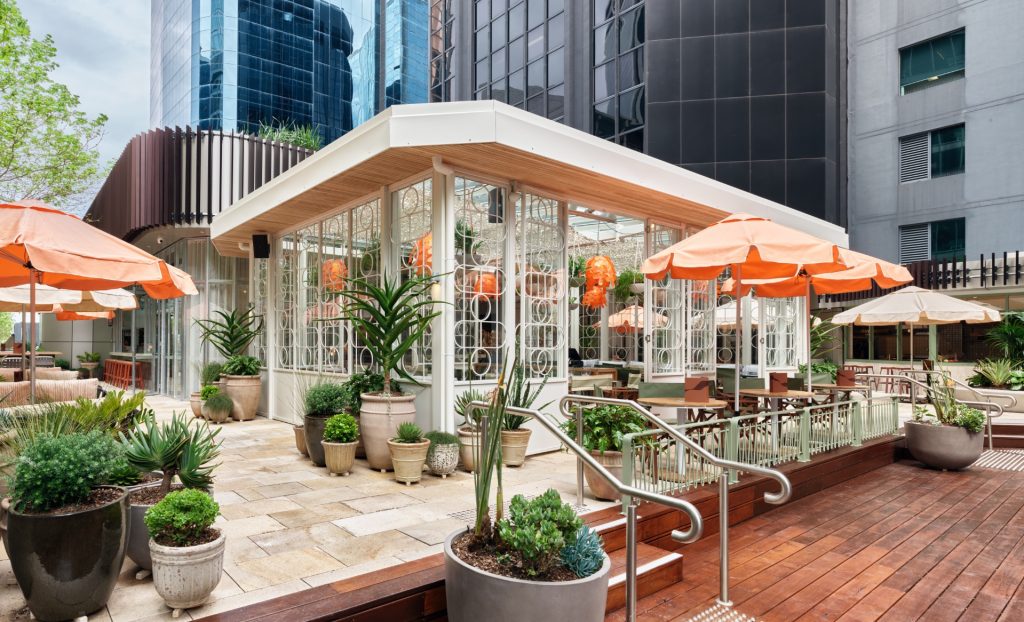 Its Aperol-toned umbrellas stitch a frill of vibrancy around its façade, attracting spontaneous aperitivo hours in the North Sydney business hub, while spirited dining arrangements prioritise innovation and comfort. 
The prodigy of Applejack – who introduced diners to The Butler in Potts Point, Sydney CBD's Bopp & Tone and Neutral Bay's SoCal (all also designed by Luchetti Krelle), plus The Botanist in Kirribilli – the bar and restaurant were named after the initials of its founders' (Ben Carroll and Hamish Watts) children: Raffaella, Aurora, Frankie and Indio.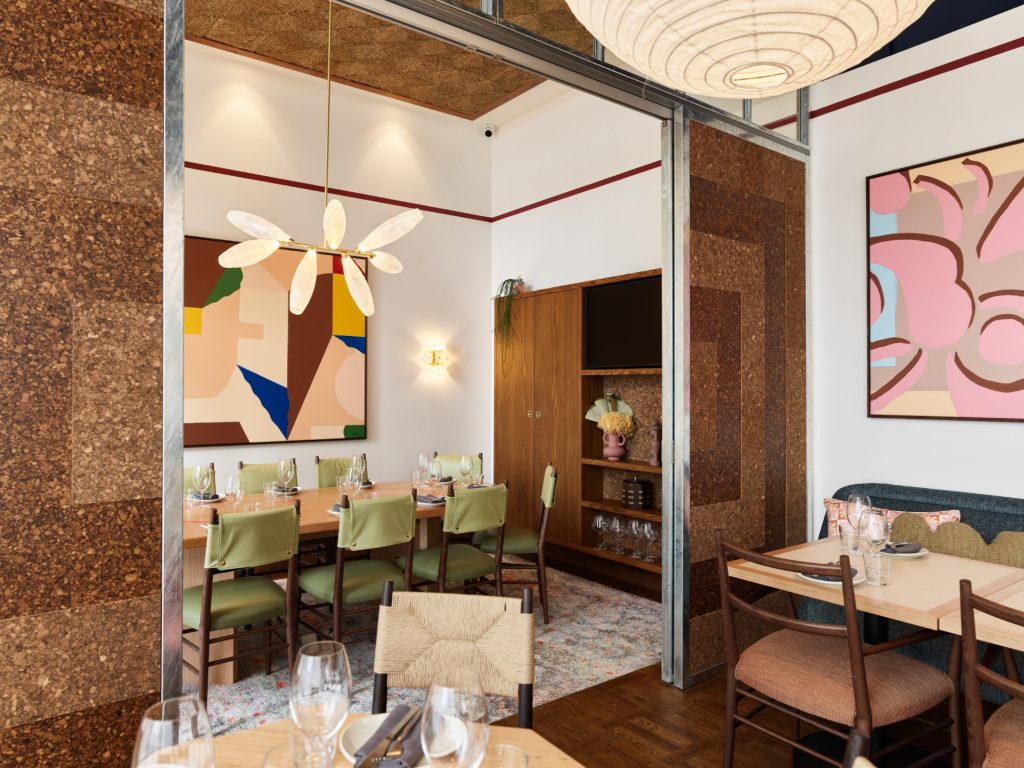 Inheriting the existing shell – which was
 part of a tenancy upgrade that remained vacant over lockdown – structural changes included the replacement of the black aluminium box-frame windows and doors with galvanised steel to both lighten and visually extend the footprint towards the encircling courtyard.
The open kitchen forms the nucleic hub, with the bar sitting directly opposite. Between them, varied seating fans out in a semi-circular manner – ranging from raised tables to banquettes and more intimate arrangements in the main dining area – culminating in a room for private groups whose cork wall can part open should bookings require additional communal seating.
The practice designed a semi-al fresco glasshouse named The Arbor, that wraps around the generous outdoor tree-lined terrace along the entrance of RAFI, whilst a row of additional tables flank the main dining room along the rear external terrace.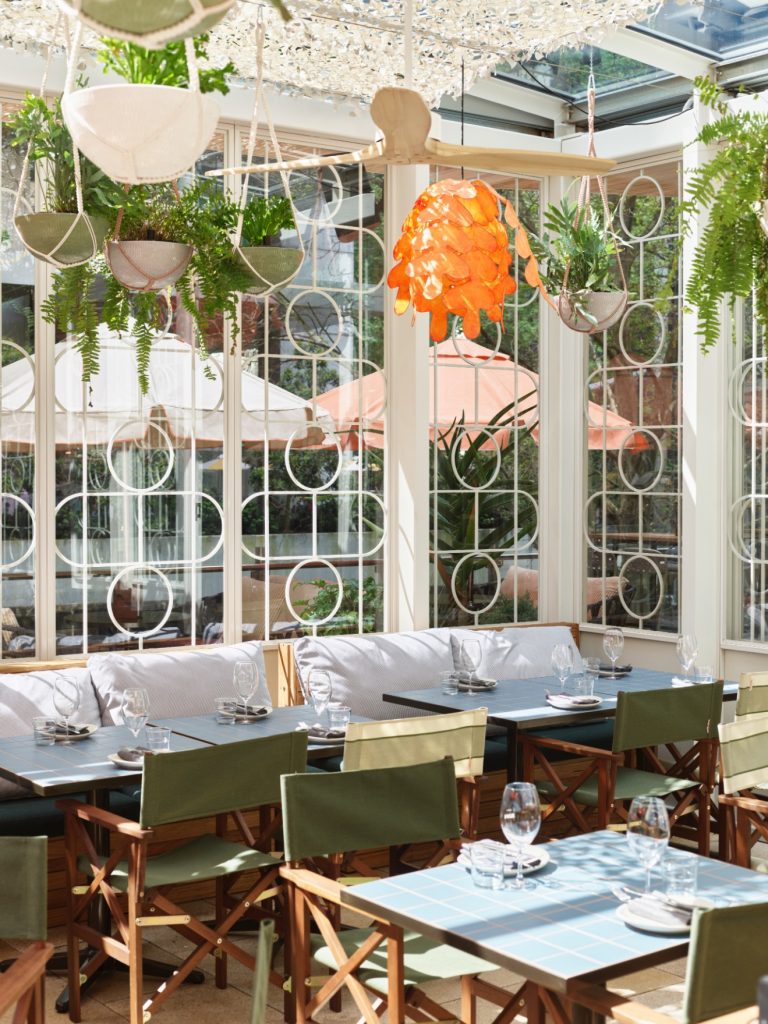 Its crisp white arabesque arches replace a four-post structure comprising a jarring angular framework. 
Directly across, an enclosed structure serves as a chef's kitchen that plays host to exclusive, bespoke experiences.
Conveying the energetic warmth of RAFI's owners, punchy primary shades mingle with power pastels amongst neutral rendered walls.
A jigsaw of graphic floor patterns ranging from checkered granite and terracotta tile arrangements to timber parquetry and marble mosaics tessellations culminate in a vibrant silk carpet in the Private Dining Room by the indigenous artist, Colleen Ngwarraye Morton (from the collaboration between Willie Weston and Cadrys).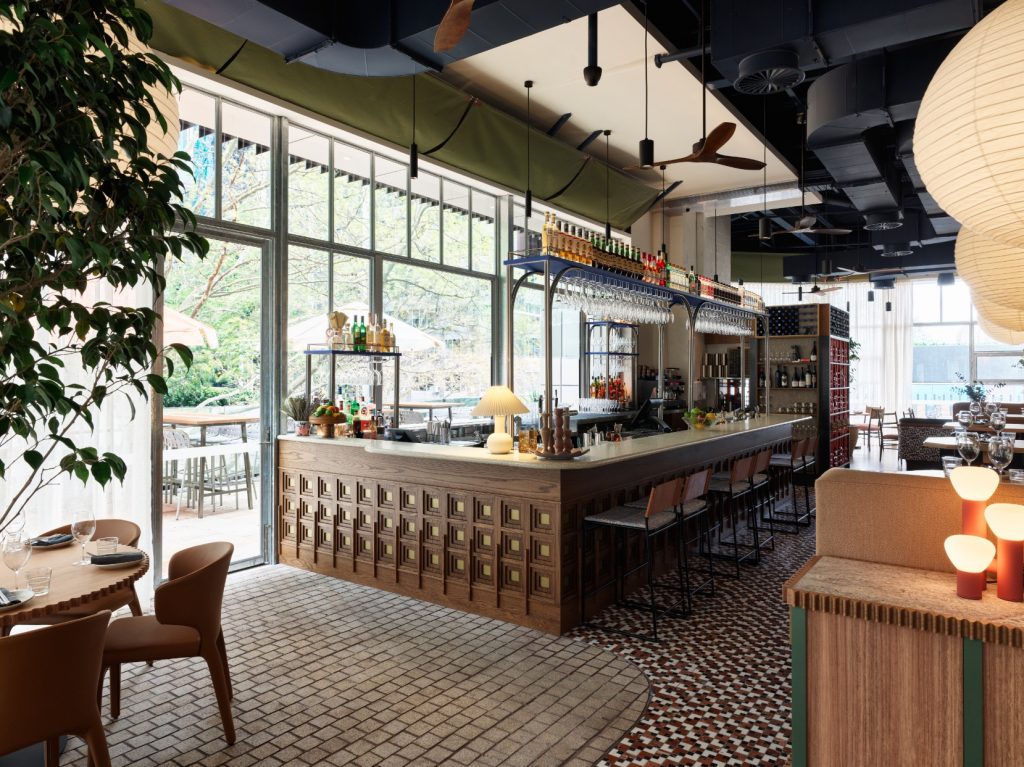 Whilst it represents a ceremony performed by women to celebrate bush medicine through dancing and singing, its painterly abstract splatters combined with the scribbled fabric lining the curved Mediterranean blue banquettes and the swirling outlines on the customised JRF dining chair seat pads further tease the theme of child's-play. 
Building on this, geometric shapes feature prominently: from the layered cork, inspired by Josef Albers' square paintings, lining the Private Dining Room's sliding doors (also articulating the custom service station within it), to the stained oak bar face with its stepped square grid pattern.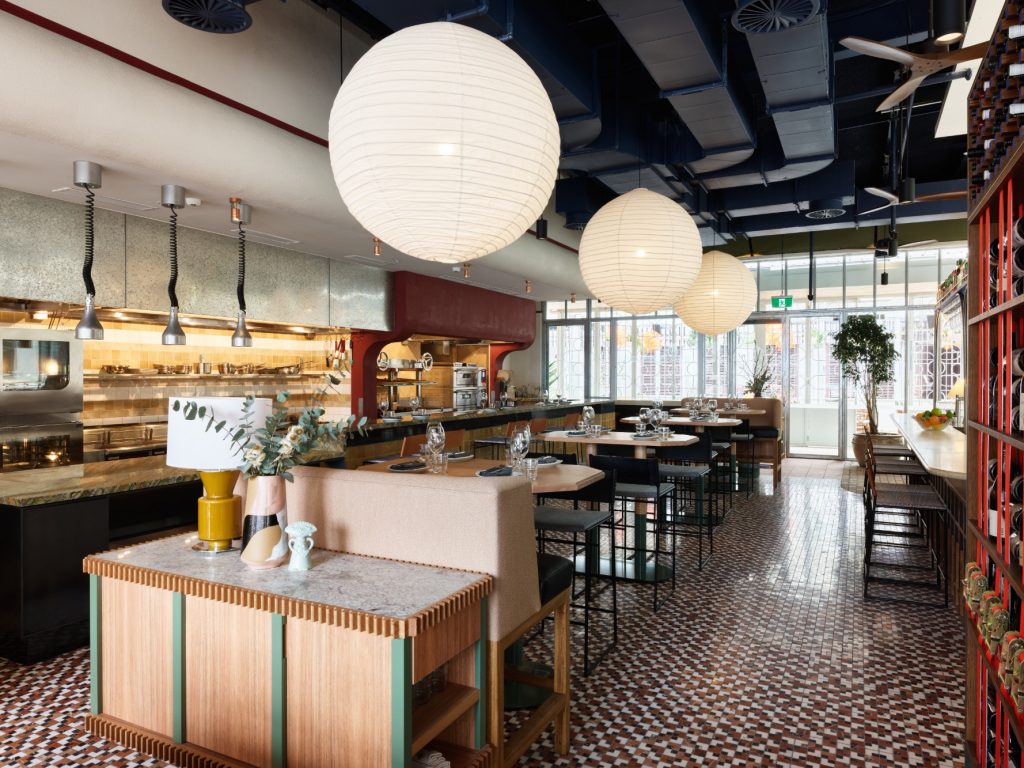 Galvanised steel surfaces are another non-precious material unifying the spaces with a settled patina, most abundantly incorporated within the open kitchen to conceal the exhaust. 
Turn a corner and a feature wine rack adds a Modern-day Mondrian spin with its woven tangerine cargo belt traps securing vinous drops upon a canvas of galvanised steel that hides distractions from the bar area with its angled floor-to-ceiling gait. 
A border of painted timber noggins atop adds a pointillist pattern of coloured bottle caps.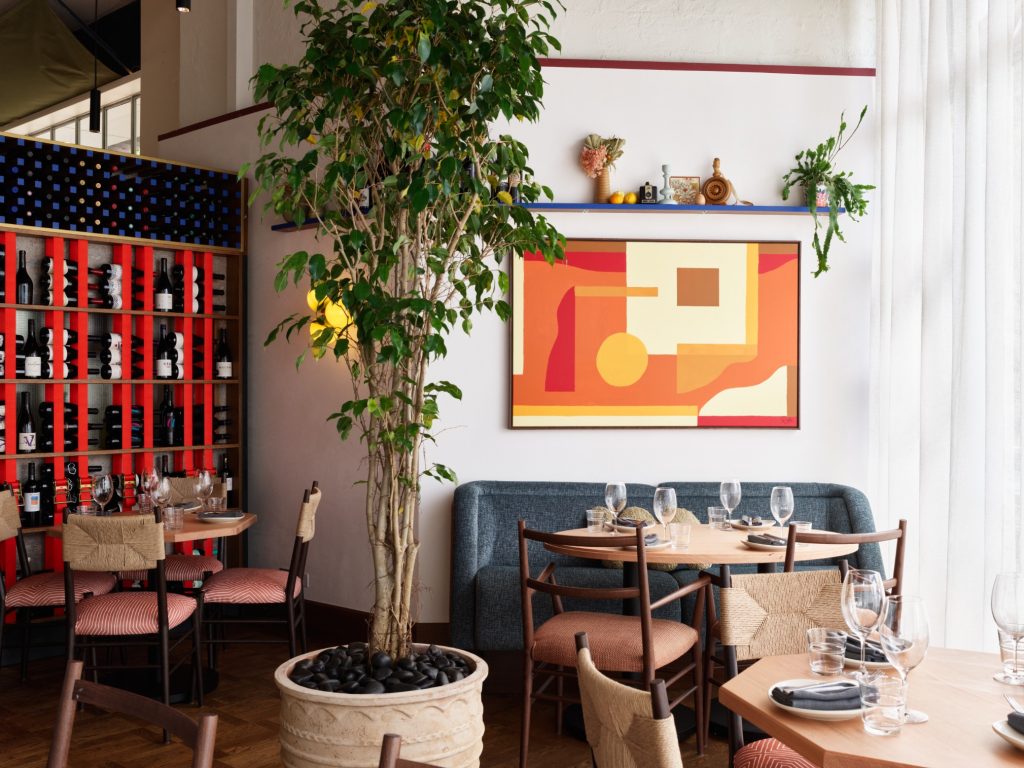 Even tabletops take on various shapes, ranging from squares, rectangles and ovals to octagons plus circles with scalloped edges.
Abstract canvases book-
end the main dining expanse, the colours
 of their angular shapes conveying the complimentary clashes of RAFI'S internal palette.
Tuscan farm-house concepts are introduced in the kitchen where an exaggerated matte-rendered terracotta red mantel sinuously surrounds the Josper oven, adding residential warmth.
Customised woven rush dining chairs further thread this rustic theme together, as does the Private Dining Room's ceiling.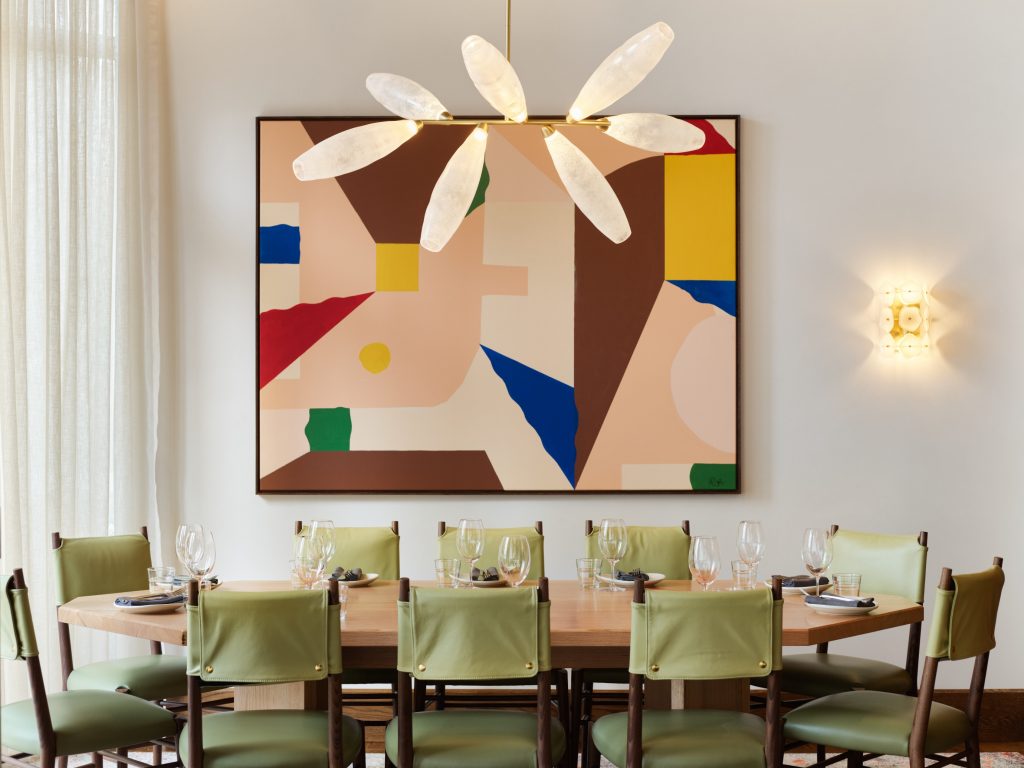 Comprising woven sea grass mats, the canopy also serves are a sound absorber.
Adding a casual sentiment to the setting, camping references also abound – from 
the outdoor director's chairs with assorted canvases to the more sophisticated adaptations within featuring customised JRF Alpha chairs with olive leather seat bases and backs secured by brass studs, granting a gentrified safari feel in the private dining room.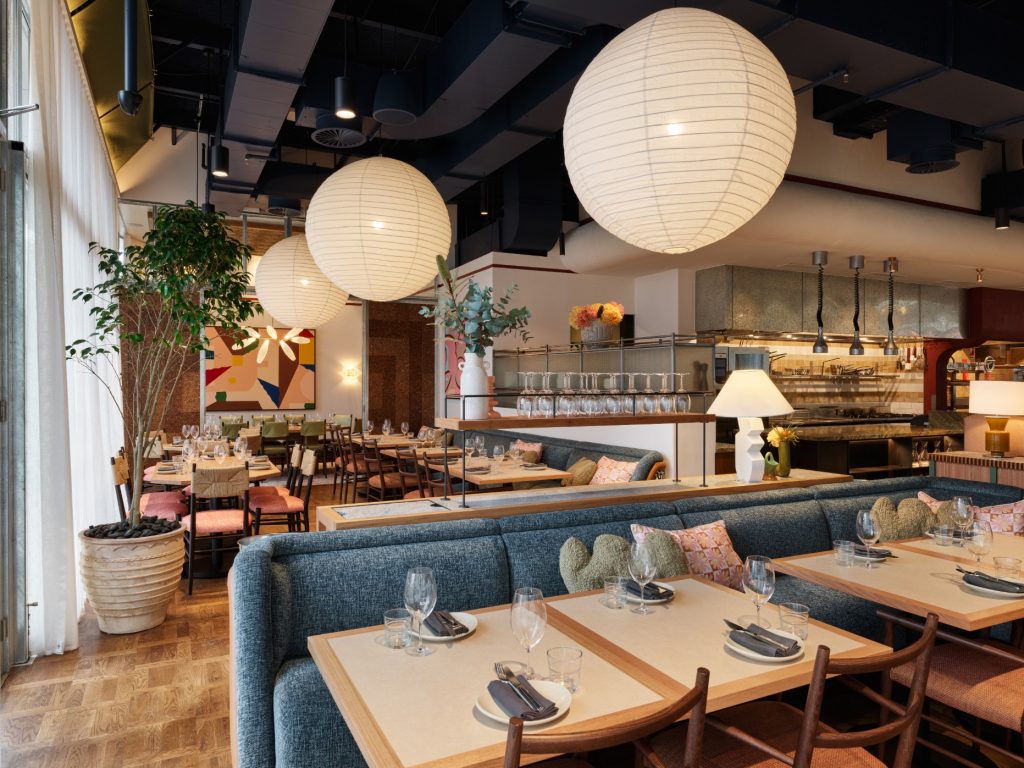 Within the arbour, a canopy of snow grey camo netting cosies the lofty space, floating a kinetic theme, as do the oversized spherical cotton lanterns that gently sway cross-breezes. 
Feature lighting adds biophilic references, from the sculptural oak leaf pendants outdoors adding warm Aperol splashes to the private dining room's branch-like chandelier and sconce featuring delicate petals lining a brass stem. 
You can also get to know Luchetti Krelle better, as the practice was shortlisted for IDEA 2022 in the Designer of the Year category.