Article by Penny Craswell
Renders courtesy 3XN and BVN.
Progress update Jan 2017: AMP Capital has secured a major tenant for the proposed Quay Quarter Tower, pushing the development along with a 36,500 sqm commitment for its holding company AMP group from 2021. Construction is due to commence in 2018, slated with a three-year construction time frame. AMP Capital Global Head of Real Estate Carmel Hourigan explains, "AMP's commitment to becoming an anchor tenant in the redeveloped Quay Quarter Tower at 50 Bridge Street fits in well with the detailed discussions we are having with other interested tenants. This is an important milestone for the QQS project, providing Sydney's skyline with an innovative new building designed with the future of work at its core."
Quay Quarter Tower features a series of shifting glass volumes stacked upon each other that rotate towards spectacular views of Sydney Harbour, each with its own atrium and external landscaped terrace, offering the increased connectivity of low-rise campus buildings to its workplace tenants.
Quay Quarter Tower is a significant city-making and regeneration project in a prime location near Circular Quay, Sydney. Designed by Danish architecture firm, 3XN, the 49-storey Quay Quarter Tower at 50 Bridge Street will revitalise AMP Capital's site into a vibrant destination for international and local businesses. The new tower will engage in an open dialogue with the skyline, while also integrating itself into community life at the street level. The project looks at the high-rise in an entirely new way, from both the inside out and outside in. Its dynamic, shifted massing maximises views for all of the building's users, while also creating expansive open spaces that encourage the possibility for interaction, knowledge sharing and vertical connectivity.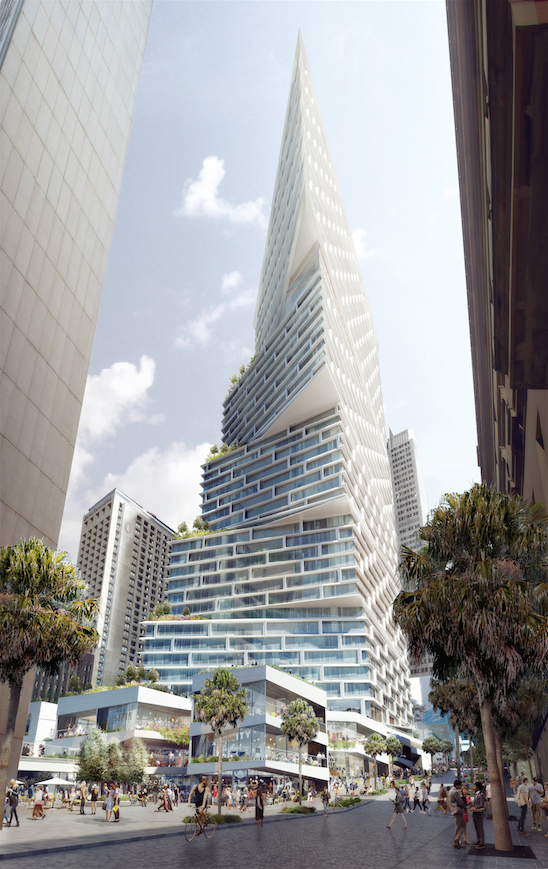 The 200-metre high tower comprises a series of shifting glass volumes stacked upon each other. By dividing the building into five, the spaces become smaller, more intimate social environments, encouraging building occupants to connect and interact. This brings the connectivity and sociability found in modern low-rise campus buildings and stacks five of these 'villages' into a high-rise.
Rather than face directly into the adjacent building at 33 Alfred Street, the lower levels of the tower are angled west to capture the energy and movement from the surrounding neighbourhood. As the building rises, the northern façade shifts to the east. This rotation not only enhances views over the Sydney Opera House and Harbour, but helps self-shade the northern façade from harsh afternoon sun, creating a passive sustainability feature. Rotating the tower also creates a collection of exterior terraces that are directly linked to the multi-level interior atria, which will contain shared amenity spaces for tenants in each block. These common amenity spaces provide stunning views both vertically and horizontally and bring daylight deep into workspaces, while promoting collaboration and interaction.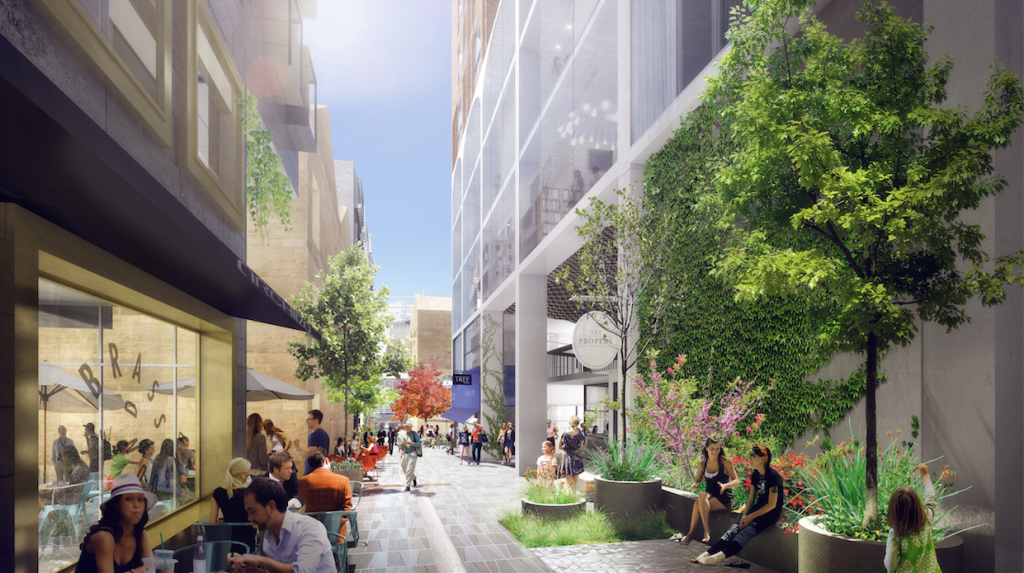 The existing 50 Bridge Street building will be upcycled, retaining 60 percent of the existing structure and basement. Rather than demolish and rebuild, the existing tower will be expanded, improved and recycled to create new office accommodation with a completely new façade and building services. Given the solar envelope and other contextual restraints, the design adds approximately 45,000 square metres of new construction, primarily on the north side of the building. The design optimises the embodied energy and resources inherent in the existing building and results in a remarkably efficient plan.
This is the most 'sustainable' form of development as it involves reusing an existing framework and therefore not using new materials or disposing of building fabric that can be reused. Offering 6-star Green Star ratings and 5.5-star NABERS, the project represents the ultimate in sustainability.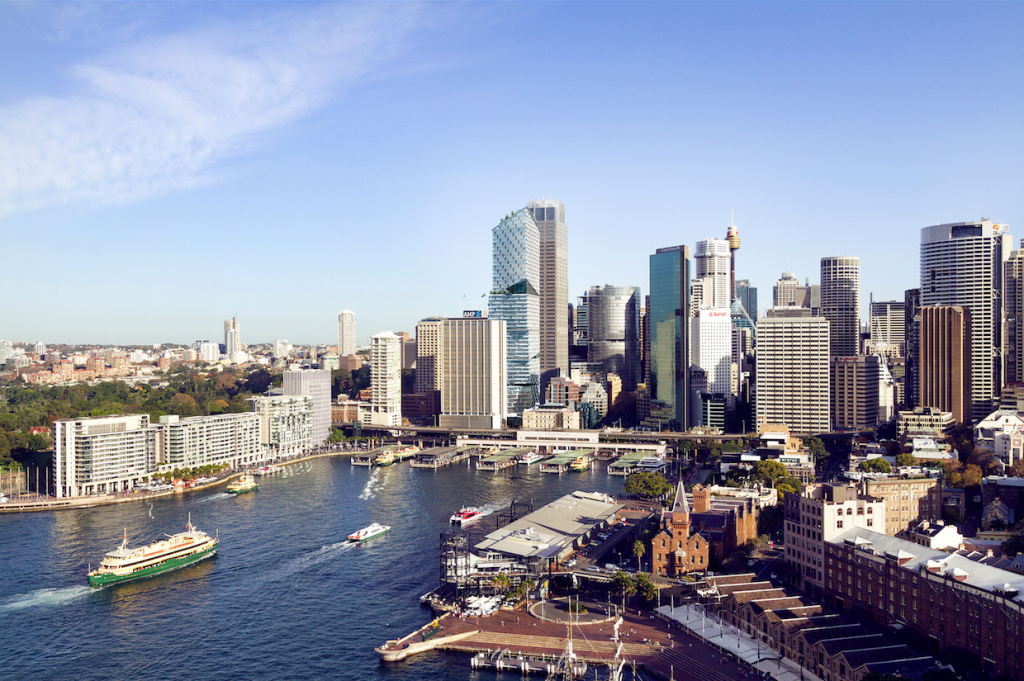 As well as designing the tower, 3XN is the masterplan architect for the new Quay Quarter Sydney mixed-use precinct, with four Australian architecture firms participating: 9–17 Young Street by SJB; 16–20 Loftus Street by Silvester Fuller; 2–10 Loftus Street by MAKE Architecture; and Hinchcliff House Wool Stores by Carterwilliamson Architects.
What is the single-most important thing that will shape the future of high-rise architecture?
Kim Herforth Nielsen: There is no one single thing. I think a combination of technology, need and logistics will shape the future of high-rise architecture. As materials and technology advance, architects will be able to design and build taller and more creative forms. In addition, as populations across the globe continue to migrate to large cities, the demand in our megacities and global capitals will continue to mean building up and not out. This ongoing demand for space means that we will have to rethink the high-rise, making it offer something more, and bring some of the aspects and facilities of low-rise and street life up into the towers – including green space, access to fresh air and social spaces. We incorporate these elements into the Quay Quarter Tower and this type of development will increase over time.
AR144 is available now through newsstands and digitally through Zinio.