Danish architecture firm 3XN has unveiled plans to design the "tallest timber office building" in North America.
Located on the shores of Lake Ontario, Toronto, the 10-story structure will stand at 42 meters high, which 3XN says makes it the tallest timber office building not only in Toronto but in all of North America.
Developed by Hines, T3 Bayside will be the first office building in Toronto's emerging Bayside community. 3XN was selected to design an office space as part of the 2,000-acre revitalisation initiative that will transform Toronto's waterfront. T3 Bayside joins 3XN's two residential buildings in the area, Aqualuna, and Aquabella.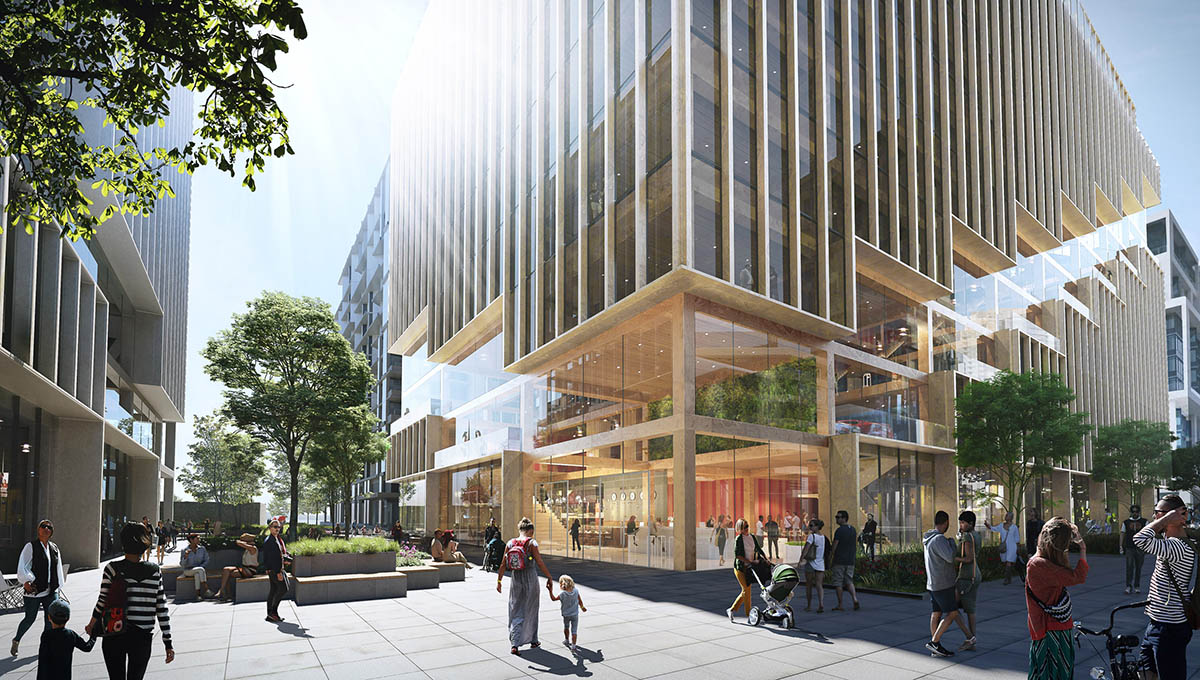 The new building and adjoining plaza will serve as "a dynamic visual and pedestrian gateway to the entire neighbourhood, connecting residents and visitors to the revitalized waterfront".
"T3 Bayside is designed to reflect and emphasize the emerging neighbourhood in which it sits, a community modelled around the intertwining principals of life, work, and play, offering a multitude of opportunities for the next generation of Torontonians," explains the design team.
"The building creates a continuously activated ground level, with abundant retail opportunities available on all sides. At the base of the building, a new central plaza has been created, around which are additional stepped community and shared spaces, including exhibition and gallery spaces, flexible offices space and coworking facilities."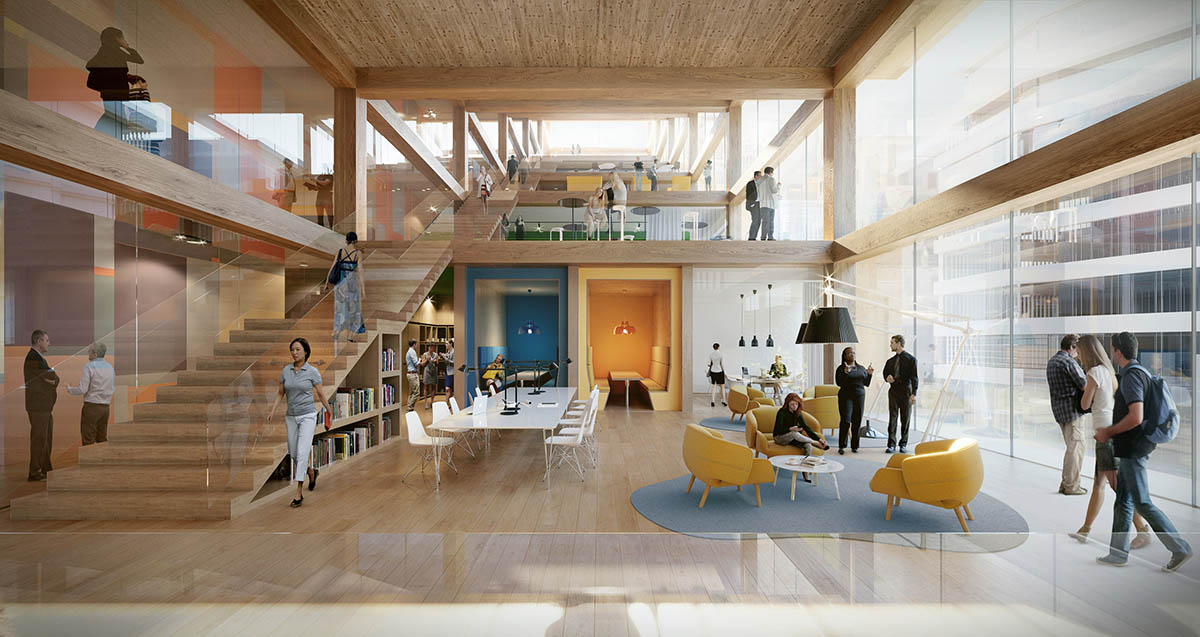 Equal parts urban market, social space, and landscape, the new plaza will serve as the "public heart" of the T3 Bayside project. Along the edge of the central plaza, corner lobbies, retail and café spaces are designed with flexibility and operability in mind.
The building incorporates event and community spaces that face the plaza on multiple levels, all of which can be used individually or booked together to facilitate various programming and events throughout the year.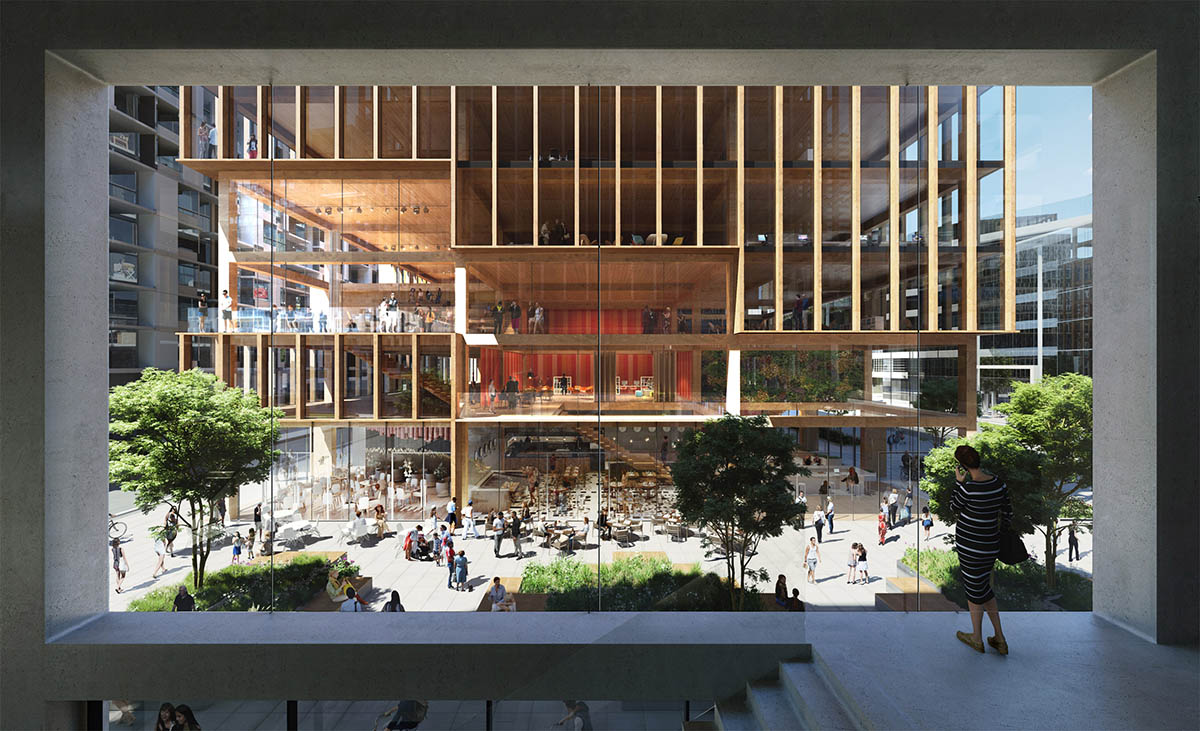 The use of timber contributes to the sustainability of the building, both reducing construction time and allowing the building's elements to be easily disassembled and re-used for other purposes. The wooden structure will be built in Cross Laminated Timber, a strong and efficient building material with low environmental and climate impact during production.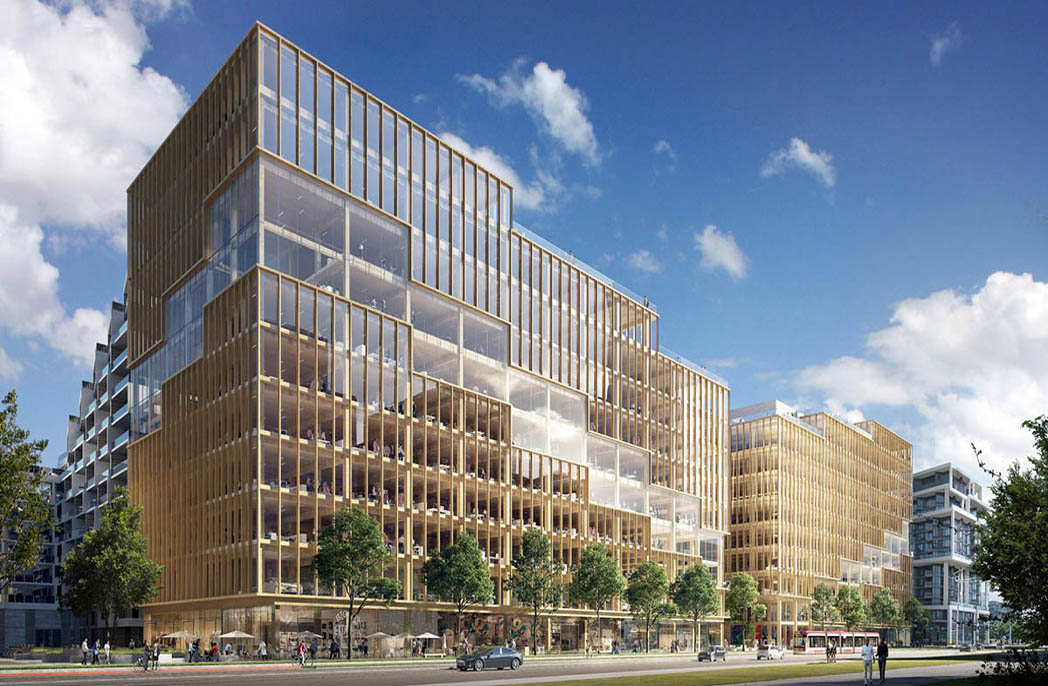 The materiality of timber defines the unique interior aesthetics and will also be reflected in the exterior of the building. Both the material and the shape of the wooden frame will ensure great acoustics. The use of wood, a breathable and absorbent material that allows the release of moisture, ensures a naturally regulated and healthy indoor environment.
Images courtesy of 3XN