Images appear courtesy of Tom Ross of Brilliant Creek.
Melbourne practice Architecture Architecture has been making waves in the community for its work on The Portal, the startling transformation of a neglected Californian bungalow. Its work on one of Melbourne's Cairo Apartments was also recently featured on The Age as part of a broader discussion on the liveability of high-density apartments. We speak with directors Michael Roper and Nick James about their body of work, and what their perspective is on this ongoing debate surrounding high-rise apartments.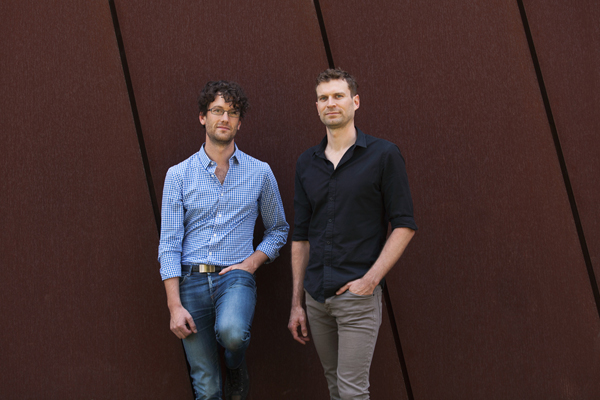 The Cairo Apartment you designed is only 24sqm in size. How do you respond to critics who label small, high-rise dwellings as 'unliveable'?

We would tend to agree that many small high-rise dwellings are entirely unliveable. Most seem to be built with the sole objective of extracting as much profit from the exercise as possible with very little consideration for quality of life for the occupants. What we need is an effective peer-review process whereby trained design professionals assess the quality and liveability of high-rise and multi-residential developments. There is plenty of design expertise in the community. It seems mad not to make full use of it.
Though the Cairo Apartments are almost 80 years old there is still much we can learn from them, having been designed with high ceilings, excellent access to natural light, and generous windows overlooking spacious communal gardens.

Can you talk us through some of the solutions you offer to maximise space within these types of small apartments?

In the case of the Cairo Apartment, we really took our cues from the original architect Best Overend, who advocated maximising the function of small spaces through the use of flexible partitions and fold-out furniture.
In a studio apartment of such modest dimension, the smallest modifications make a significant difference to the feel and functionality of the space. Compact robes and storage solutions are integrated with a fold-out bed and a full-height curtain, creating the flexibility to quickly convert the single-room space from a study to a bedroom to a dining room to a party space to a media room.
A door has also been moved and a kitchen servery window has been opened-up, reactivating the forgotten entry area, maintaining a strong visual connection from the kitchen to the garden, improving natural light and ventilation and creating greater flexibility in the layout of the apartment.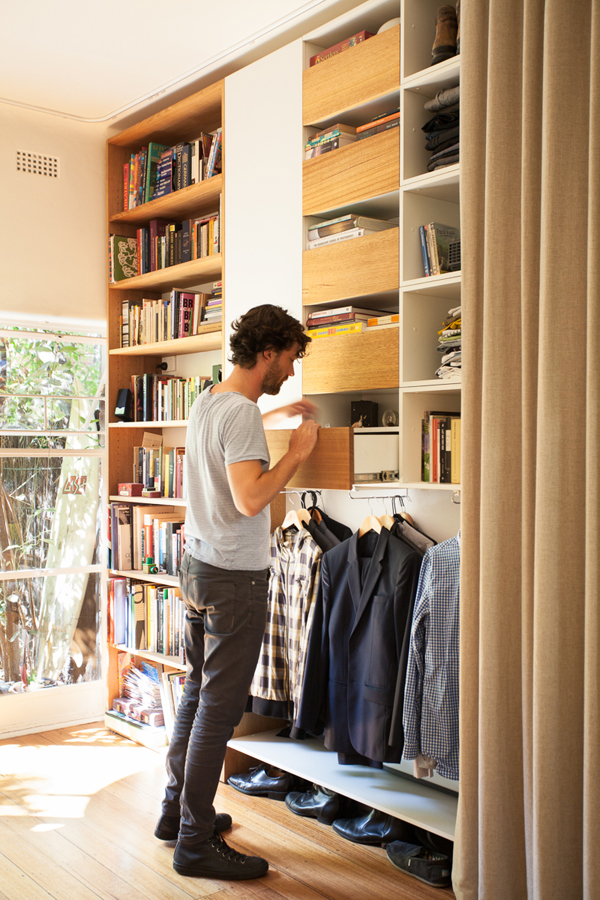 Let's talk about your work on The Portal. You have previously referred to the task as 'bring(ing) measure to the immeasurable' and taming 'a dimensionless beast'. What was the biggest challenge in transforming the space?

In fact the original house is a really lovely Californian bungalow in quite good condition. Unfortunately, as we so often see, it had suffered some poor quality lean-to renovations over the years and was subsequently cut-off from the backyard, which in turn had become neglected and underused.
Of course, every client brings a particular perspective to their project. In this case, they found the large backyard to be daunting and didn't know what to do with all the space. Together we developed the approach of using the extension to carve the backyard into more usable areas, building right in the middle of the yard and then opening up to the surrounding outdoor spaces. Rather than having just one backyard, now the kids have a series of yards spilling out from the living areas. From what we've seen, it's become something of a circuit for them and their friends to tear around.
Is there a reason this project was named 'The Portal'?

Compositionally, the extension is tied together by a long dark spine that emerges from the existing house. The new living areas are accessed by walking along this spine. It is a mysterious space and feels somewhat like a portal into another world. Apparently the kids like playing Star Wars in this space. We're pretty happy about that.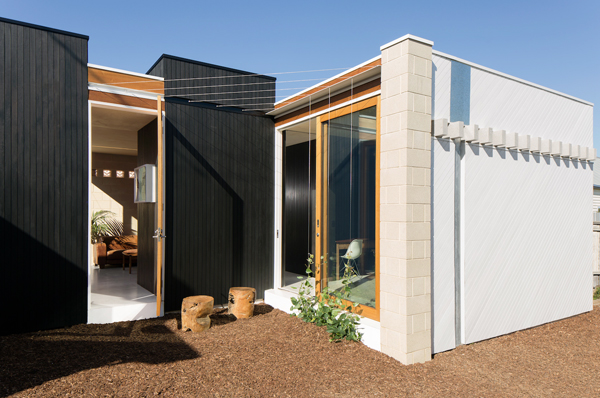 What are you most proud of about the space?

It's always satisfying to take a dark, tired house and breathe new life into it. Also, seeing the kids treat it like their own adventure park is really very satisfying. We're just glad the material palette of timber and blockwork is robust enough to take it – no plasterboard!
How did The Portal come to your practice? By referral, or was it part of a tender process?

The clients for this project were recommended to us by their neighbours for whom we had recently completed the Extension House. Truly excellent clients in both cases. Referrals make for great projects, as there is an immediate sense of trust and understanding.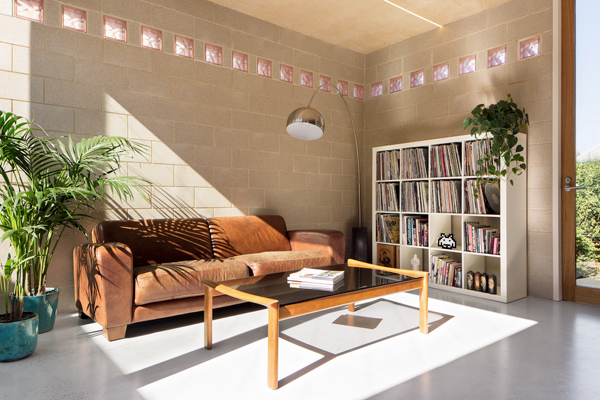 How involved was the client from the initial conceptual stages and throughout the design process?

As with most projects, our clients were very much involved through all stages. From very early on, their ideas were key in developing the siting strategy, as well as the approach to material selections such as the concrete block. In this case, the clients came to us with a good sense for the kind of house they were after, while being very open to exactly what the end product might look like.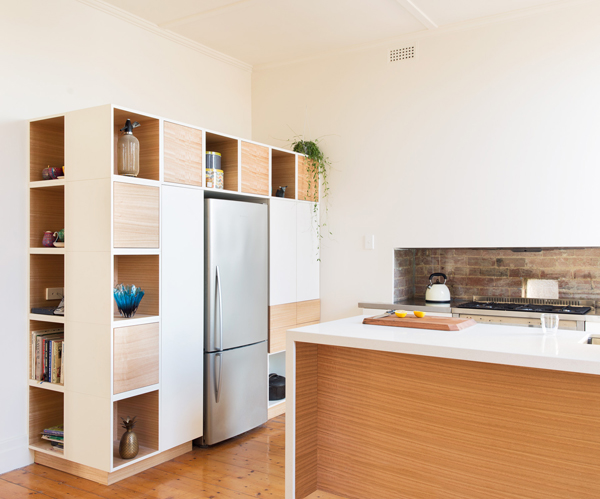 Can you give a little insight into the challenges and highlights of your position as directors at Architecture Architecture?

Really, the challenges of architecture are fairly universal and aren't so different whether you run your own practice or work for someone else. Of course there's the added challenge of finding work and managing resources, but we would argue these are relatively straight forward compared with everything that goes into building dreams!
This is where the highlights come into it – we get a real kick out of working directly with clients and being in a position where we are simply reliant on our own wits and intuition to realise those dreams. It's really very satisfying.
Where do you turn for inspiration?

It's hard to generalise about where inspiration comes from. I think that's the nature of it – it surprises you!
Every project involves a similar matrix of clients, site conditions and design brief, and yet the specific ingredients vary wildly every time. We find it's important to pay close attention to each of these elements, to observe what's in front of us, but also to consider what hasn't been shown, or what hasn't been said. Designing for a client and a site is really an act of empathy. If you're paying attention, the ideas begin to present themselves. Of course, the trick is in identifying the best ones.
 
Which of your peers have had the biggest influence on your work?

We were both heavily influenced by the practices who took us on straight out of university, being JCB, Staughton Architects and BKK Architects. That said, in a city with such diversity and talent, influence comes from all angles. To list some of the local architects who creep into conversation, Kerstin Thompson and Kennedy Nolan for their material and formal elegance, NMBW and Robert Simeoni for their attention to the urban vernacular, CoDesign & WOWOWA for their initiative and activism, Breathe for their vision, Edmond & Corrigan for their legacy and ARM for their cheek!
What excites you about the current state of Australian architecture and design? What frustrates you?
There are architects doing great work all around Australia, though at the risk of sounding parochial, we continue to be excited by the diversity and calibre of work coming out of Melbourne. We feel it is a really special place for architecture.
In this context, it is particularly frustrating to see such poor quality building going on around the city. From the Docklands to Caroline Springs and all the developments that crop up in between, there is no good reason to be building the low quality houses, apartments and office buildings that diminish not only the city, but the lives of the people who occupy them.
Unfortunately, while it is easy to legislate for quality construction, it is very difficult to legislate for quality design. To address this, we really need a peer-review process for larger developments to ensure that everyone benefits from Melbourne's enviable design talent.
What is your favourite space in Melbourne – is there a spot (commercial or residential) you wish you had designed?

We love the Fitzroy pool. In the warmer months (and when it's cold, the braver months), we often take a break to swim and eat our lunch by the pool. Apart from the simple pleasures of water and sunshine, there are few places that truly bring the community together like your local swimming pool – everybody's there. Also, there's something about the stark concrete bleachers and the houses crowding the perimeter that lends the Fitzroy pool a particular urban charm.
What are you working on currently?

We're currently working on about a dozen residential jobs all around Melbourne with a couple dotted further out. New houses, alterations, extensions – the usual fare for a young practice. We've talked about specialising in equestrian architecture, though it's just a pipe dream at this stage. We might need to do a few public swimming pools first.