In the first of an occasional series looking at business models of practices outside of Australia, AR meets with the young, ambitious team behind Amsterdam-based civic architects, founding partners Rick Ten Doeschate and Jan Lebbink, and receives a bonus two cents from team member Georgia Taylor-Berry.
AR: How old is Civic, and how did you start out?
RD: We are three years old. It began at university: a group of us worked on competitions alongside regular school projects, just for fun. Then we won a couple of projects, and from there had the idea to give better form to this informal cooperation. We started calling it the Cloud Collective. In 2012-13 we began researching on how to give it proper legal form, and did a number of interviews with architects and designers who had set up offices 20 years ago.
JL: At this time, I was still working for another office. In fact, 80 percent of the Cloud Collective [at this point comprising 10 members] had other employment; for example, Rick was working at the government architect's office. We therefore tried to find an organisational model that could suit these different speeds and time investments.
RD: After seeking financial advice, the 10 of us legally started a 'cooperation': a Dutch form of partnership that operates like a society, with the option to do business. This allowed us to connect our individual portfolios and expertise, a move that proved quite powerful in picking up initial speed as a new practice.
Did this structure evolve over time?
RD: Yes. The cooperation model had pros and cons. On one hand, our collective interests were wonderfully diverse: some were more involved in regional planning, while others worked in exhibition design and on small-scale projects. On the other hand, we noticed we were getting recognition for the 'wrong' things, when we actually really wanted to make public buildings. We began an internal discussion – taking one to two years to reach a consensus – to further develop the cooperation into a more open form.
We consequently launched three companies with separate focuses. One of them is Civic, our office, focusing on public architecture. Another is Bright, focusing on research and policy, and the third is Matters (situated in Paris) which mostly does exhibition, graphic and interior design. This move enabled us to clarify our focus and pursue business decisions that were restricted under the previous cooperation model, such as hiring personnel. Today, Jan, Gert [Kwekkeboom], Ingrid [van der Heijiden] and I are 25 percent shareholders of Civic.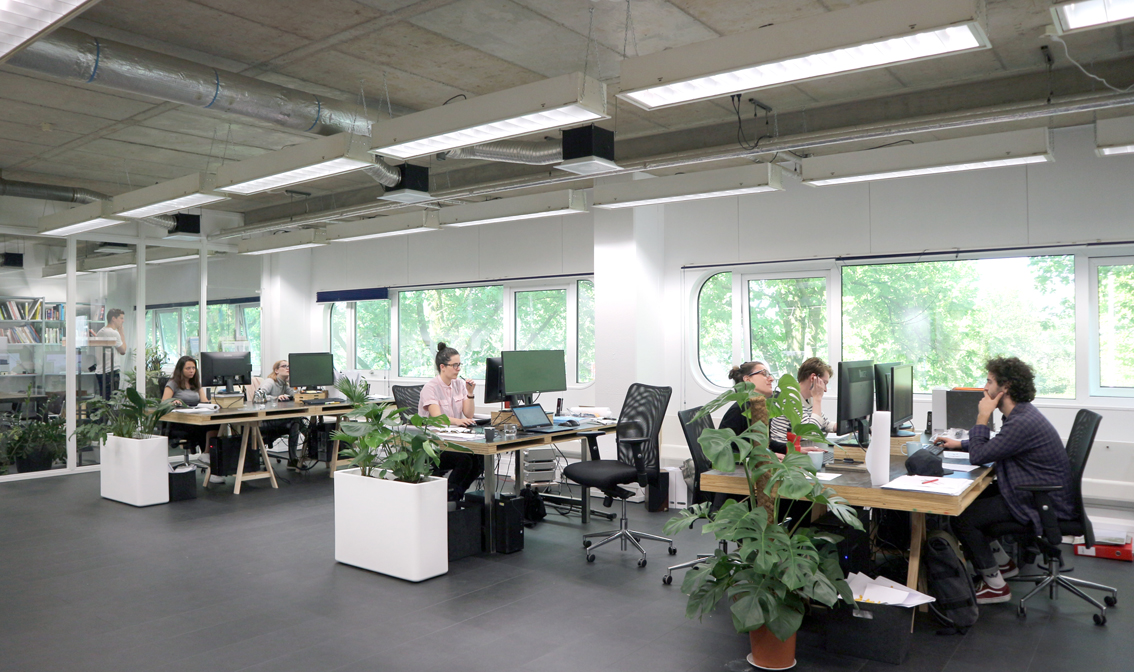 Though this business separation doesn't preclude you all from collaborating today…
RD: There are still many overlaps, of course. Although we have financially disconnected, the three companies still collaborate together as 'preferred partners' where opportunities arise; for example, in new tenders. We work a lot with Matters for cultural sector projects. Because they have graphic design expertise, they also design all our research documents.
Does this kind of preferred coalition with adjacent fields lend you an 'edge' in obtaining public sector work, in terms of offering a broader creative package?
RD: Yes – we became known in the Netherlands not just for our work, but also for the way we cooperated. Additionally, I think it helps not only to work within the Collective, but also with other specialists and more experienced offices. Given increasing project complexity, this is crucial to developing the best solutions and strategies in the current market. There's also a practical business side to it: big public tenders often require certain references and levels of revenue that Civic alone may not have.
JL: It's also the ease in which we work together that's important. This was certainly not the case 20 years ago, when architects used to tender as individual entities for big competitions. We're considered a front-runner in our generation in how easily we collaborate with other bodies – even if they are also young, creative design firms in their own right – and also in ensuring that the combination thrives.
Business- wise, this means we can tackle bigger, more complex projects. Design-wise, we also believe it delivers better architecture, rather than holding on to the more 'arrogant' position that one firm can 'do it all'. For example, for the interactive Willem II Passage project in Tilburg, we relied on collaborations with lighting and acoustic designers, even a smell designer. All the algorithms were produced by a tech company to work with the city.
The glass product itself was designed by an artist. Once we identified that the project was way beyond our own expertise, we began to look for partners immediately, thinking, 'Who can we approach to help elevate this project beyond the standard architectural response?'
What's the contractual nature of your collaborations?
JL: It really depends. The general landscape of contract forms is fragmented and constantly changing; we have seen a general move from full-service contracts to increasingly complex multi-year arrangements, and back to simple contracts again. For us, the key is to engage with these changing procurement models well. For some smaller projects, like the Passage, we're able to do it ourselves and maintain full design control until the end.
But if a complex integrated process is required, for example with BIM (building information modelling) management, we look to partner with others who have specialist knowledge. Here, even if our work has more gravity in the earlier design stages, we always aim to 'start and end together' with our technically focused partners as much as possible.
That said, there is sometimes a 'hard cut' in the designer's legal involvement in the latter phases of construction, where our involvement inevitably becomes more of a reviewing capacity. The Piushaven pavilion is an example of a project where we did the design phase together with Bright and the technical and execution phase in a so-called 'building team': a form wherein architect and contractor work closely together.
Does the nature of public tenders change with project scale?
RD: Yes. When the commissions are bigger than around €150,000, municipalities are legally obliged to follow the rules of the European tender process. This means that everyone can apply to compete on a level playing field, so personal contacts and relationship-building play a much smaller role than if it were a small local commission.
The first tender round is usually based on capability criteria like revenue and references, from which three to five parties are selected for the second round, which is typically the design competition stage. While tendering criteria (such as value for money) used to fluctuate much more, they have since standardised the selection rubric, which makes it easier to design toward in the competition stage. We therefore try to gear towards these criteria and 'hit all the buttons' in our proposals, which has been quite a successful approach.
From dykes and tunnels to schools and town halls… your work is so diverse; what public works is Civic moving toward?
RD: We're constantly searching for new public typologies and hybrid programs that move beyond the atomising WeWork offices and Google Campuses of the world. For example, our LocHal project is principally a public library, but it also has a concert hall, an urban kitchen, 'Seats2meet' (a meeting point for businesses) and a flexible public hall open to all kinds of cultural programming.
GTB: We've also done some work in housing, but there's always a public aspiration attached to the work. This keeps us true to our office's Civic mandate.
JL: We have been lucky, of course. If we hadn't won LocHal, maybe our practice would have been called Private instead! [laughs] As we grow as a practice, we find ourselves negotiating a balance: on one hand, developing a know-how for particular civic typologies, and on the other, not being pigeonholed by them.
This article originally appeared in AR158 – available online and digitally through Zinio.
Images courtesy of Civic and Stijn Bollaert