For the Ngutu College project, Matthews Architects knew a different approach was required to turn an old government administration building into a thriving educational space for both Indigenous and non-Indigenous students.
The 2020 Closing the Gap report revealed that there is a discrepancy of around 10 percent between Indigenous students and non-Indigenous students (around 82 percent compared to 92 percent in 2019) when it comes to school attendance.
And, disappointingly, the target to halve this gap for Indigenous children in the five years up to 2018 was not met in any of Australia's states or territories.
With this in mind it has become increasingly important to get it right when designing educational spaces that will be used by Indigenous students.
Matthews Architects was acutely conscious of this when it took on Ngutu College in the north-western Adelaide suburb of Woodville North.
Kerstin Bruneder, an associate and senior architect at the practice, says there was no brief as such. Rather the college's head, Andrew Plastow, became an essential member of the design team.
Working closely with Plastow, Matthews Architects started with "a vision and a very vigorous timeline" and then focused its design on the concept of reconciliation. With a school cohort that is roughly 50 percent Indigenous students and 50 percent non-Indigenous, the curriculum integrates Indigenous lore and learning into its curriculum.
"Ngutu means 'knowledge' in Kaurna, which is the land we are on," explains Bruneder.
She adds that this integration heavily influenced the design choices, which emphasised atmosphere above all else. "To start with, it's a home, and it's a family, and you just happen to learn within it. It's really magical," she says. To help grow the students' sense of trust and community, Uncle Moogy has taken on the role of Elder in Residence.
"He's a really integral part of the school," says Bruneder. "They may start their days with a yarning circle. They teach dancing and music, including Aboriginal dancing, and there are so many ways Kaurna names and thinking are included in the curriculum."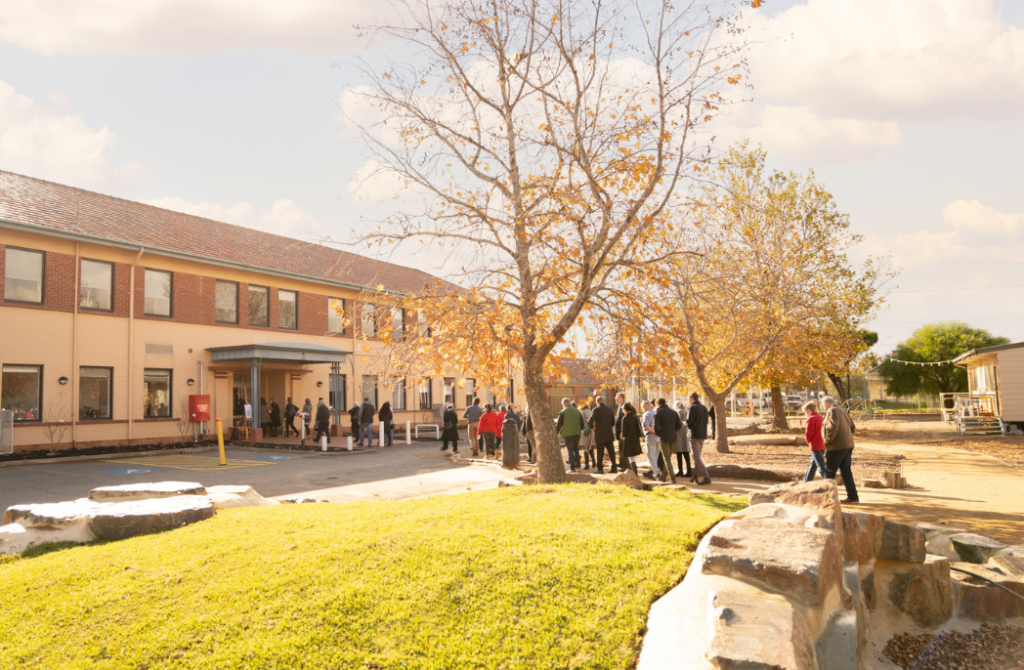 Design
The same community-first approach has been translated to the design, which is deliberately non-institutional. "There are no corridors and no classrooms. Instead there is an atrium, so the students can walk in circles," says Bruneder. "It's really more like living rooms, with upcycled furniture. The students sit at dining tables, working together."
With a limited budget, the key to the refurbishment was to identify the best use of the rooms to maximise the existing building fabric.
The approach was "overwhelmingly simple" according to Bruneder, with the "good bones" of the former government administration building retained and adapted. A black and white scheme was deployed, working with many of the existing features, such as ceiling types, skirtings and floors. Timber was the main additional material, with the rest of the design created through the aforementioned upcycled loose furniture pieces. "They upholstered them themselves," says Bruneder. "So they come with a history and the children are welcome to add to this. They may be sitting in Grandma's chair, so it's their own space."
With some of the students coming from backgrounds of trauma, the architects wanted the school to provide that feeling of security. "It's the difference between a hotel and a home," says Bruneder. "A hotel is created, a home grows."
Ngutu College currently has 180 children and young people enrolled, with that number projected to rise to 350 over the next few years, and further refurbishment planned in sub stages to address budget and program restraints. The first, now completed, stage included the kindergarten, junior primary and middle schools – comprising Building 1. With this finalised in time for the first term of 2022, the design for the refurbishment of Building 2 – a further 2000 square metres – is now underway.
For Bruneder there have been many learnings to take away from the work so far. "I think the biggest one is that a vision can become a reality," she says. "It's a matter of believing in it and finding the right approach. Nobody thought this could become a school; it was an administration building. But it works beautifully."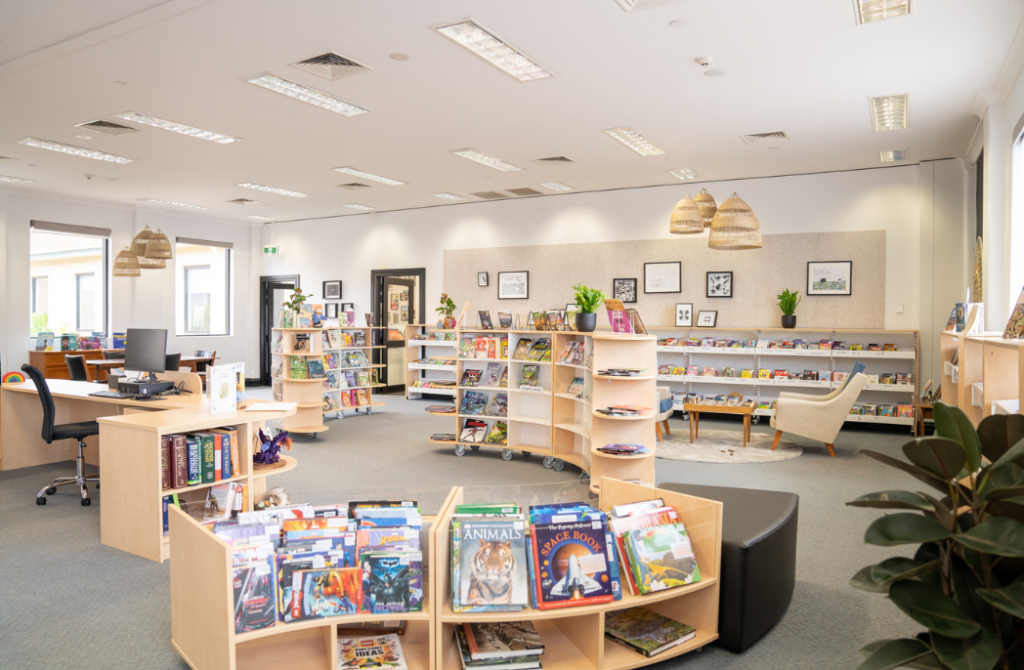 Project details
Project: Ngutu College, stage 1
Architects: Matthews Architects
Client: Andrew Plastow
Size: 3200 square metres
Time to completion: five months
Completion date: Autumn term 2022
Builder: Chappell Builders
Structural: WGA
Services: Lucid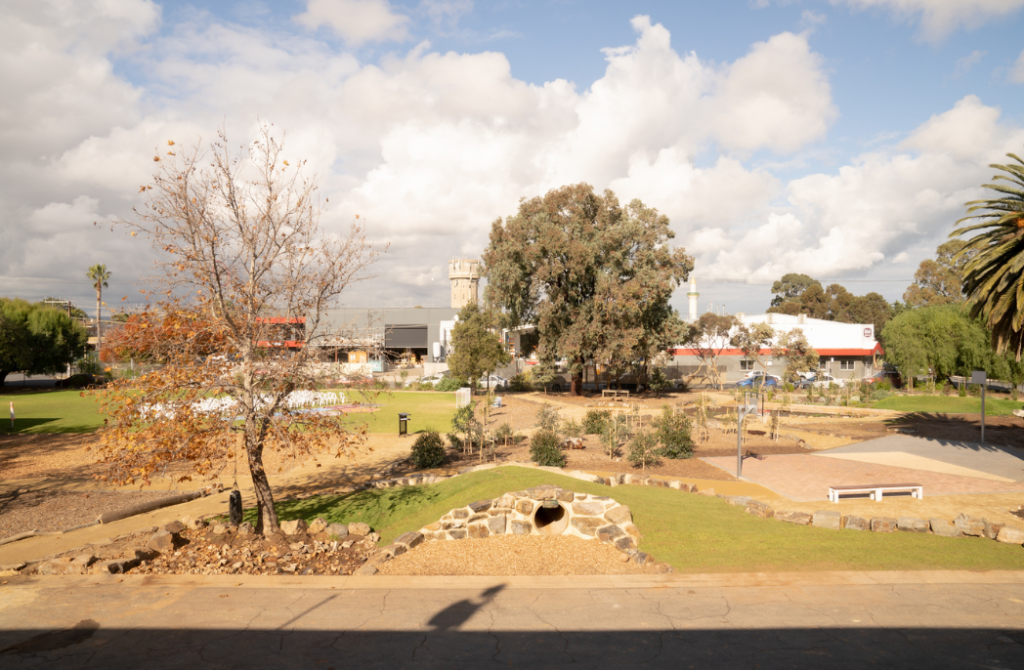 Images supplied
This article will appear in the next issue of Architectural Review. Click here to subscribe.
You may also like:
Wilson Architects designs student accommodation for Indigenous equity
"Context is everything in design" – three architects on embracing Indigenous culture in design.
Reimagining Indigenous social housing