Herman Miller is renowned for its high-performance seating and its new Zeph chair – with its ergonomic design and exquisite colour palette – is no exception.
At Studio Tate, design director Alex Hopkins loves integrating colour into her clients' workplaces. With more than two decades of experience in creating spaces where people can "live, work and play", Hopkins is approaching the return to the office with the same multifaceted outlook, and Herman Miller's new Zeph chair is right alongside her.
"I personally have been specifying Herman Miller since I began my working career, almost 20 years ago," she says.
"Many of the products have a wonderful history and legacy adhering to both form and function. They're continually pushing the boundaries of design, and their latest pieces are at the forefront of design, technology and ergonomics. The Zeph chair is no different."
Designed in collaboration with Studio 7.5, the Zeph chair is an elegant, customisable and colourful addition to Herman Miller's market-leading portfolio of high-performance seating.
Like many designers, Hopkins was initially drawn to its expansive colour palette and beautiful mid-century shape. The Zeph chair is available in eight distinct dipped-in colours with 20 further upholstery colour options for even greater personalisation.
Its sculpted monoshell seat delivers a playful nod to Herman Miller's contoured classic Eames Shell chair with a deliberately clean and uninterrupted silhouette that seamlessly integrates into any workplace setting.
"We are continually being asked, 'How do we get our team back into the office?'" explains Hopkins.
"Pulse surveys tell us that employees want the office to have the warmth, comfort and variety of furniture settings the home provides. Clients are requesting more unique soft furnishings and inviting comforts in our workplace designs – to inject a sense of cosiness, flexibility and the feeling of home," she adds.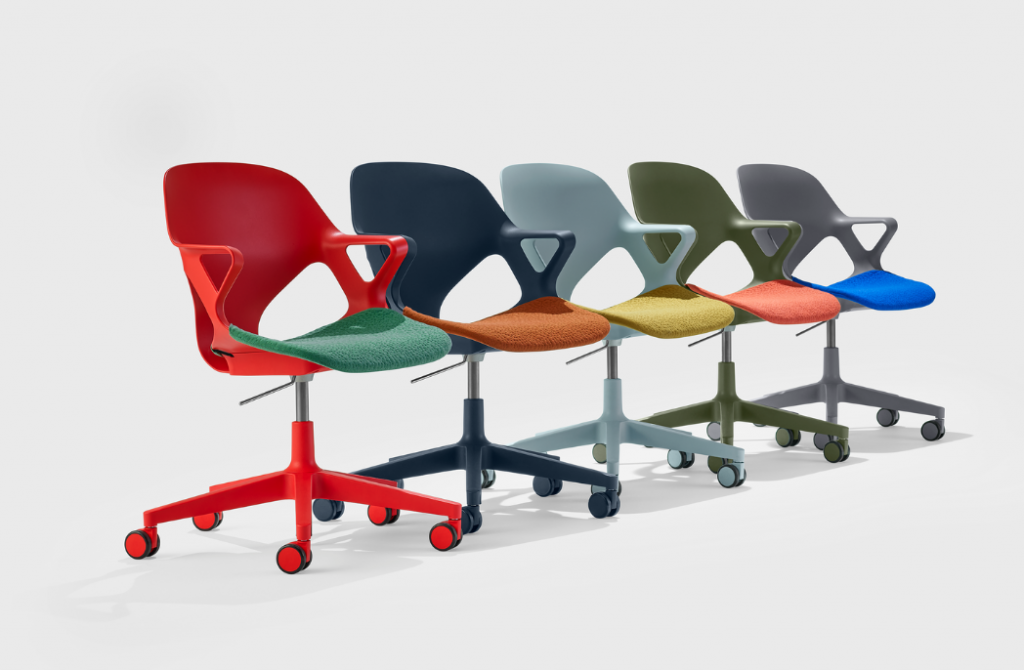 "The Zeph's range of colours are playful and encourage the user to engage, while also seamlessly interchanging between key spaces, at a desk or within a more informal meeting setting. And the ability to specify a seat pad or fully upholstered is a nice touch as well – we love colour and texture, so having the ability to bring another element into the finish ensures it will sit well within our spaces."
And, in a first for Herman Miller, the Zeph chair's upholstery can be mounted and replaced without tools for easy cleaning or to cater to a client's changing tastes throughout the long lifetime of the chair, with each seat option made of 50 percent recycled polyester yarn.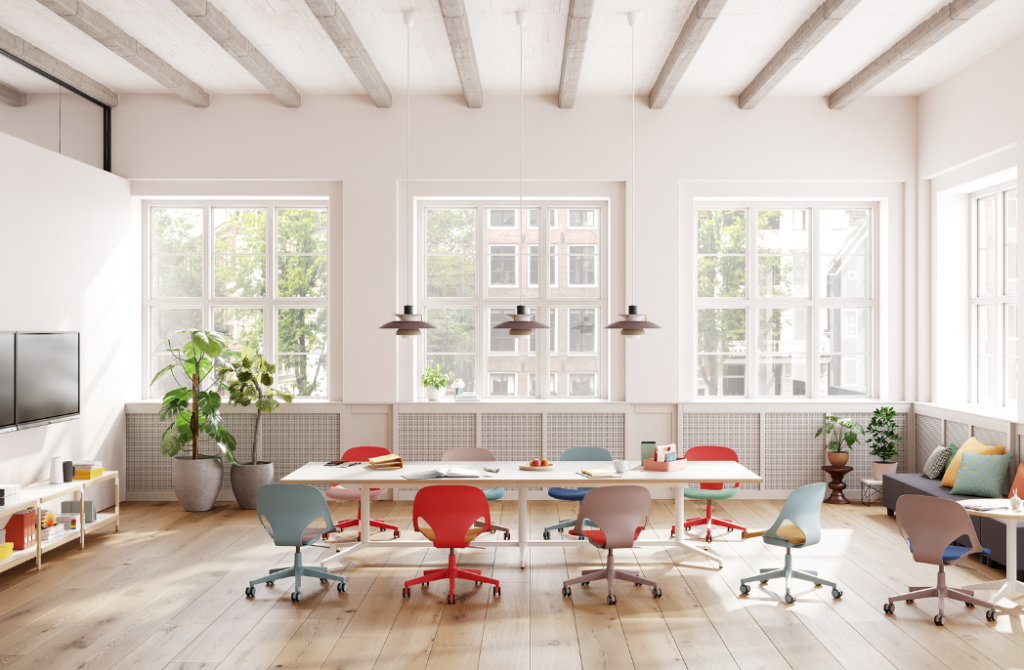 But as a seasoned workplace designer, Hopkins is aware that office ergonomics are just as important as office aesthetics. A beautiful chair is only the beginning. It must be a joy to sit in too and, after many iterations of three-dimensional printed prototypes, Studio 7.5 has perfected a one-piece seat and back that leverages human-centred motion to deliver a seamless ergonomic experience.
No matter how a person sits on their Zeph, its kinematic plastic monoshell offers a natural recline that uses their pivot points to create the right counterbalance. After more than two years working from home on kitchen stools and dining chairs, this has to be music to any employee's ears.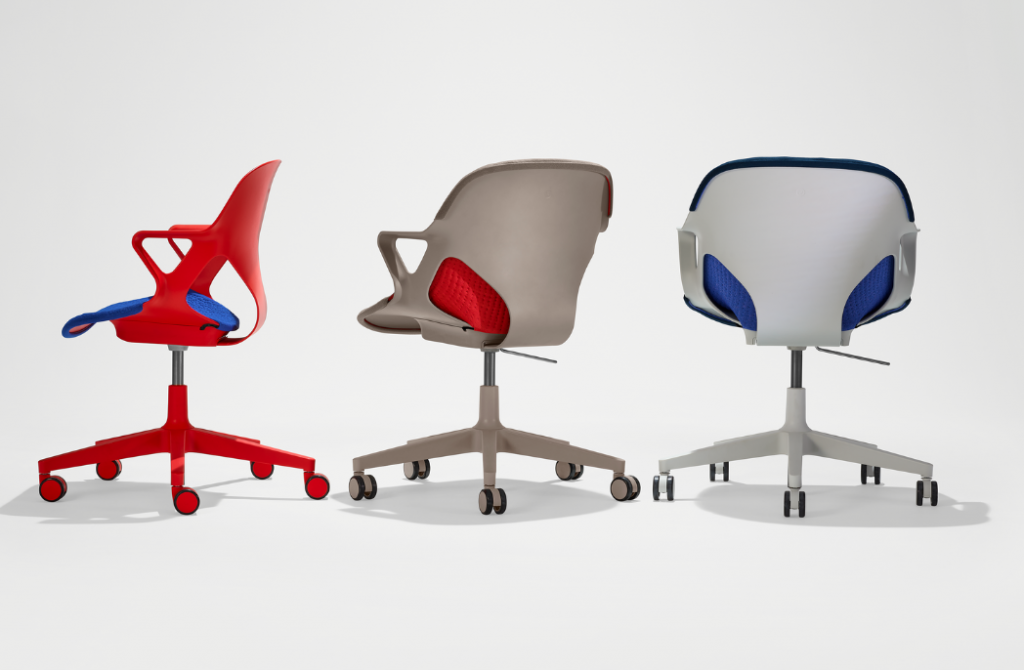 "Employers recognise now more than ever the importance of good ergonomics for their staff," says Hopkins. "People often don't adjust their task chair to suit their body type. That's why we love the Herman Miller task chair range – many of its products are intuitive and move organically with the person, without them having to adjust a lot of levers. When designing, we are always considering the type of activity that will happen at each setting and therefore what type of chair would be well suited to this environment."
Playful and sophisticated, Herman Miller's new Zeph chair bridges the gap between ergonomics and beautiful design, providing the perfect solution for architects and designers looking to bring personality to their workplace projects, while also delivering on clients' need for flexibility and long-lasting furniture.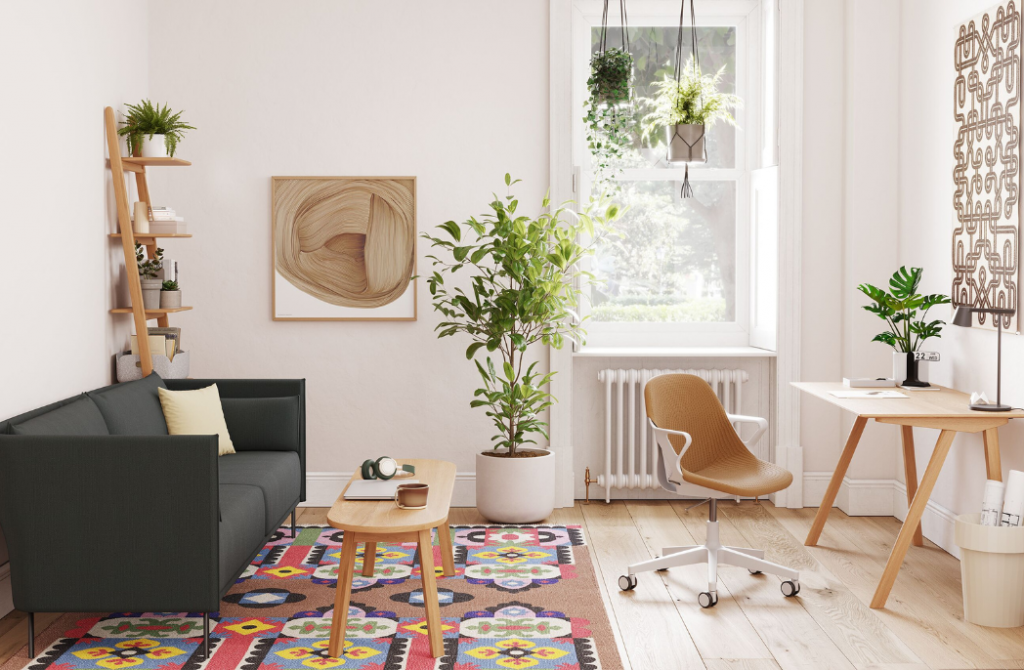 The Zeph is available as both a chair and work stool in eight distinct colours with 20 seat pad upholstery options. The unibody upholstery options will be available later this year. A side chair version of Zeph with the same kinematic monoshell, will be introduced early next year.
Discover Zeph at hermanmiller.com/en_au