Finding a happy home between mid-century modern style and the research-backed ergonomics of today's work chairs, the Zeph chair is an affordable entrée into the world of Herman Miller performance seating.
The Zeph chair is an advanced yet simple design that offers more for less, with comfort, colour and style at its forefront.
Made with fewer components and at an accessible price, the Zeph chair provides an affordable ergonomic option for users to enjoy.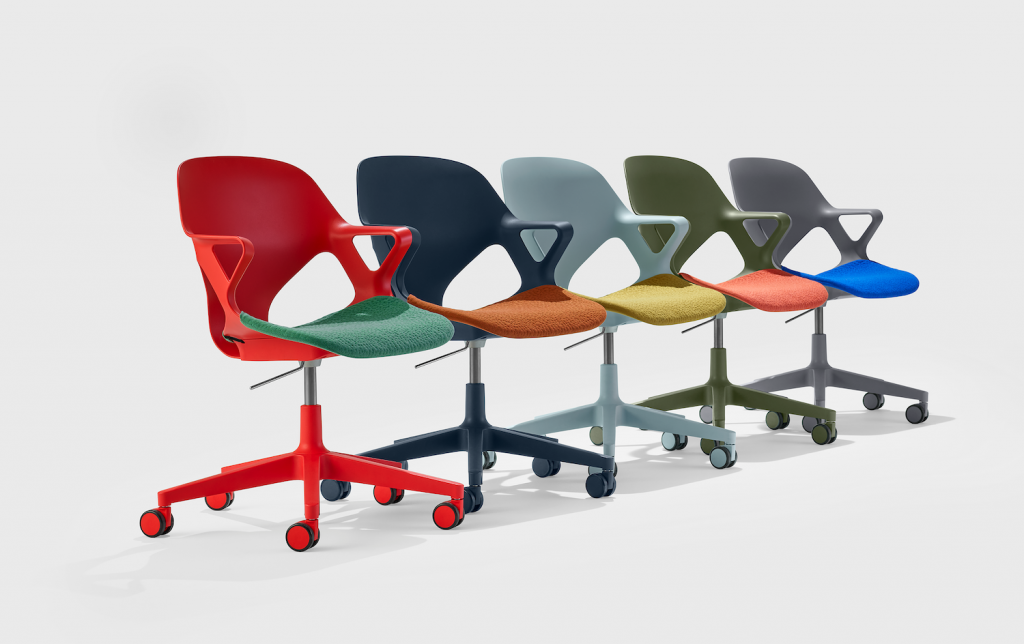 Berlin-based Studio 7.5, helmed by co-founders Burkhard Schmitz, Carola Zwick and Roland Zwick, led the design of Zeph. This marks Herman Miller's fourth collaboration with Studio 7.5, which is also responsible for the design of such chairs as the award-winning Mirra 2, Cosm and Setu.
Zeph's design was inspired by the desire to help university students own a chair that doesn't compromise on comfort or style.
"We saw the need to offer a basic affordable ergonomic chair as students spend hours in front of their laptops deeply focused on their work, but neglecting their body," says Studio 7.5 about Zeph.
Eventually, the studio's iterative design process led to an entry-level chair that is fashionable and ergonomic, and one that bridges the gap between Herman Miller's iconic mid-century designs and the ergonomics of today's work chairs.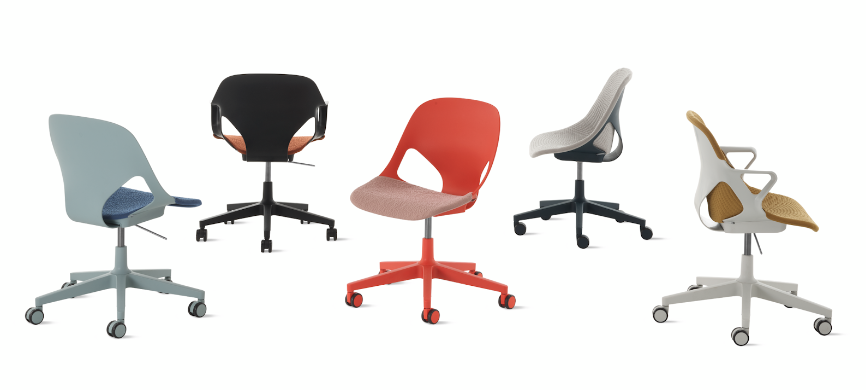 To achieve this, the designers set out to animate a shell chair – not a simple feat – and used 3D printing to trial prototypes of the monoshell until they created what they deem a "gold standard in ergonomics".
"The Zeph features a recline that feels natural in a chair that moves with you," says a Herman Miller spokesperson.
"The geometry of the design allows your body's pivot points to create the right counterbalance for a proper ergonomic sit, an experience that leaves you feeling supported and energised as you move in the chair, and about your day."

This diverse and bold colour selection enables users to be creative and align their chairs with their own sense of style and needs. Zeph also signals the return of dipped-in colour with a hue from top to bottom, which debuted on Zeph's predecessor Cosm.
Always with a predilection for colour, Herman Miller has decked out Zeph's shell and base with an exuberant eight-colour palette designed to complement and enliven the home, office, university campus or anywhere in between.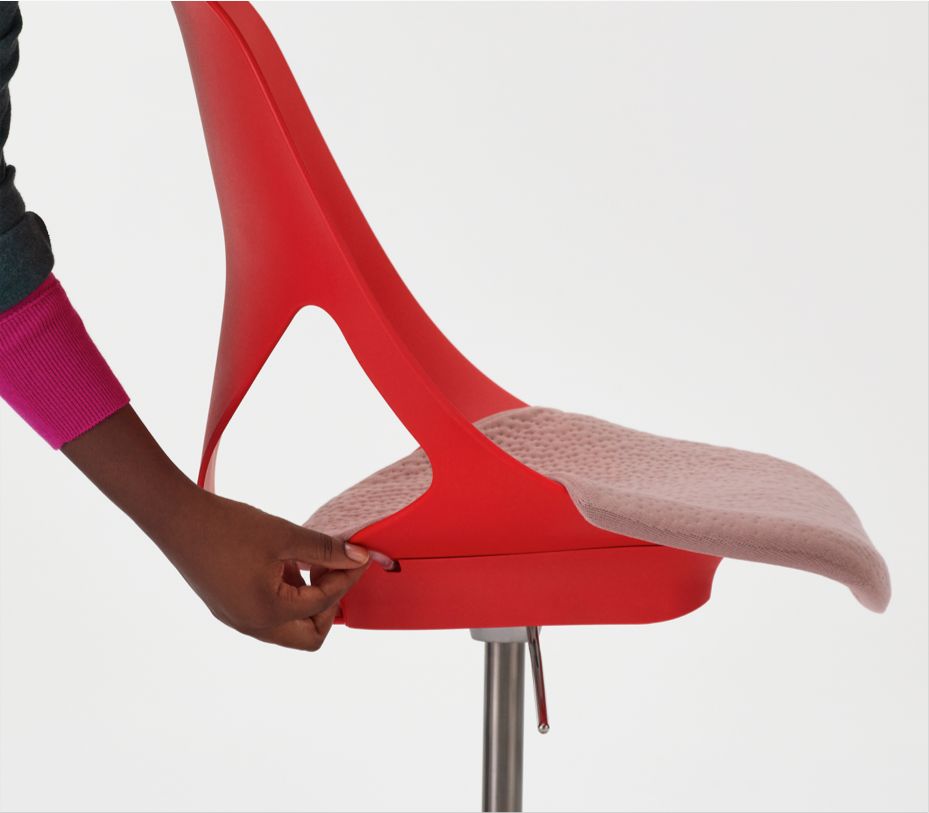 Full colour finishes include colour titles like Carbon, Alpine, Cocoa and Blaze that can be matched with the chair's optional, removable and interchangeable 3D knit, which is available in 20 colour textiles.
Easily sliding into the shell with no tools required, the 3D knit is made from 50 percent post-consumer recycled content in a production process that results in zero fabric waste. This is due to the 3D knit being fitted to the chair's exact dimensions, resulting in no excess material.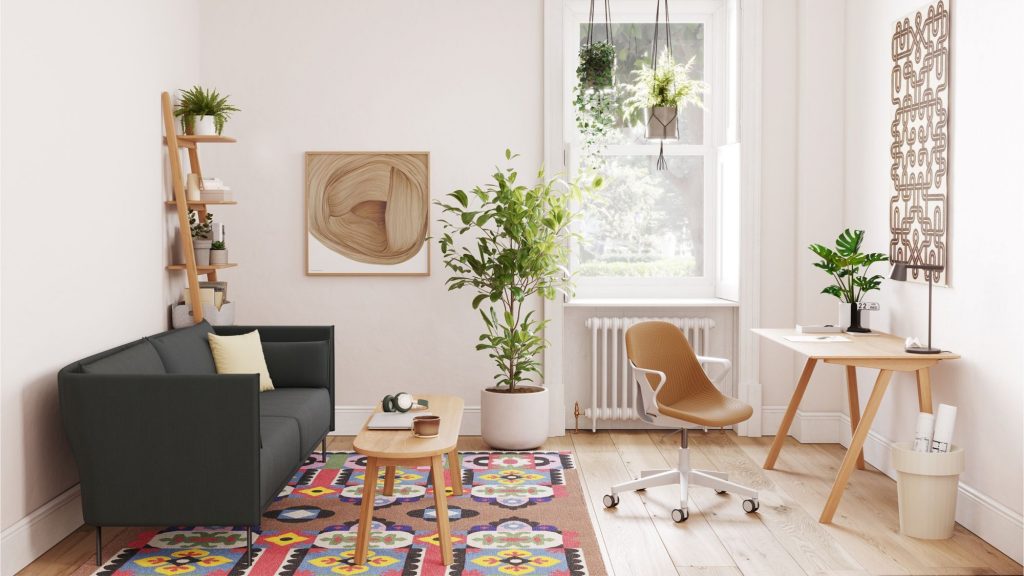 Versatile and playful in its simplicity, the Zeph encompasses all the best of Herman Miller design while remaining accessible to a broad market of users.
Interested in exploring how the new Zeph chair can fit into your lifestyle? For further information, visit the Herman Miller website.
Photography courtesy of Herman Miller.
Earlier this year, ADR spoke with three of Australia's biggest design practices about Herman Miller's OE1 Collection and how it responds to the market.