Located in the heart of Melbourne's CBD, National Australia Bank (NAB) wanted a workplace that "vertically connected" colleagues, clients and partners.
As one of Australia's four largest financial institutions, NAB gave Hassell the brief to attract and retain the best local talent by creating a state-of-the-art facility, while also reinforcing NAB's desired banking experience.
With vertical connectedness in mind, Hassell has designed an adaptable and inviting new 39-level hybrid workspace that invites interaction, further intertwined with NAB's values.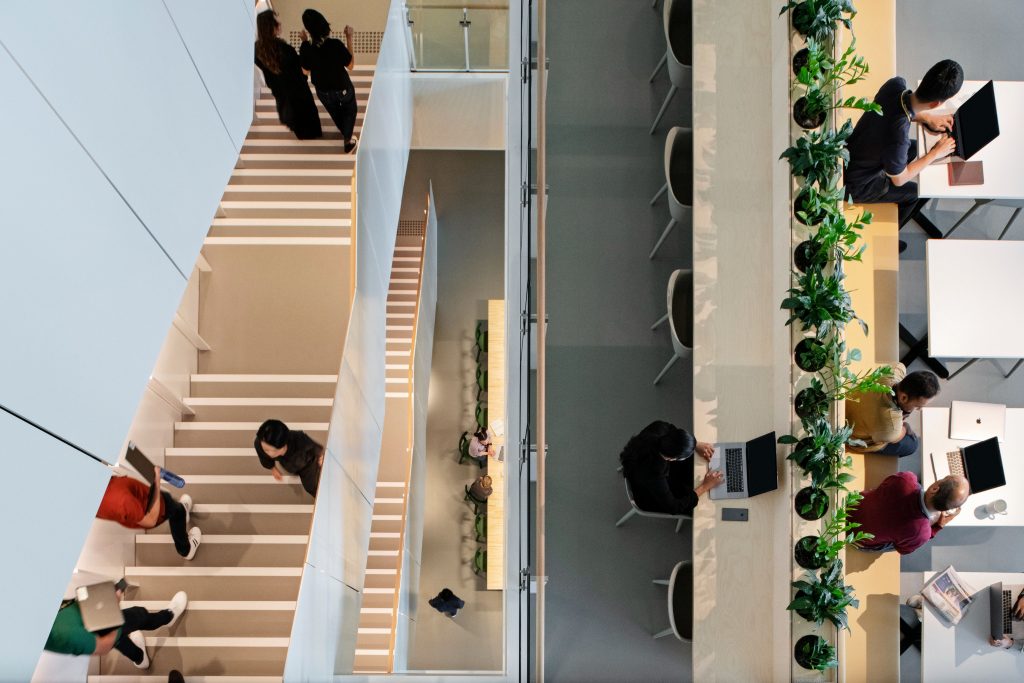 Two of these values are sustainability and comfort, which are achieved through the holistic focus on health and well-being and locally-sourced renewable materials and overflowing daylight and greenery.
Hassell head of design Rob Backhouse says that while there is "no one way to work", the finished design "offers choice, flexibility, and a wonderful welcome back to office-based work".
A consideration for Hassell was to balance people-oriented design with future-driven strategy, an approach supported by NAB group executive, technology and enterprise operations Patrick Wright.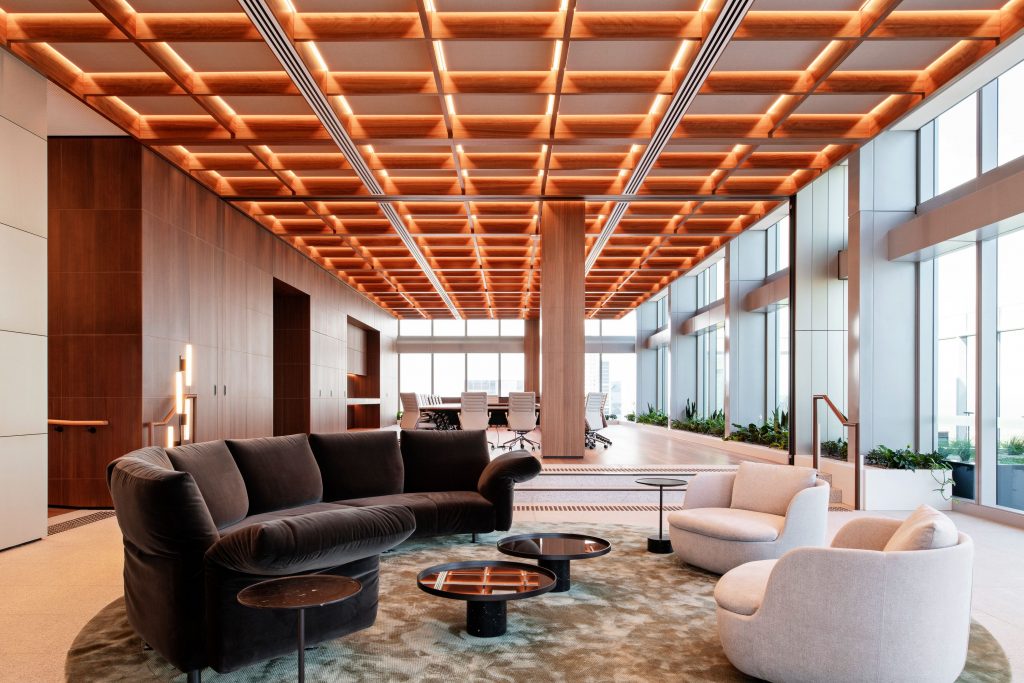 "The new offices are designed for team meetings, strategy sessions and meetings with our customers," he explains.
"They [Hassell] also designed to allow maximum flexibility, so we are set up for success today and for decades into the future. This is where innovation happens, where new employees can learn from colleagues and relationships are strengthened."
NAB's new Melbourne HQ sits on Bourke Street, Melbourne, accompanying 700 Bourke Street Docklands.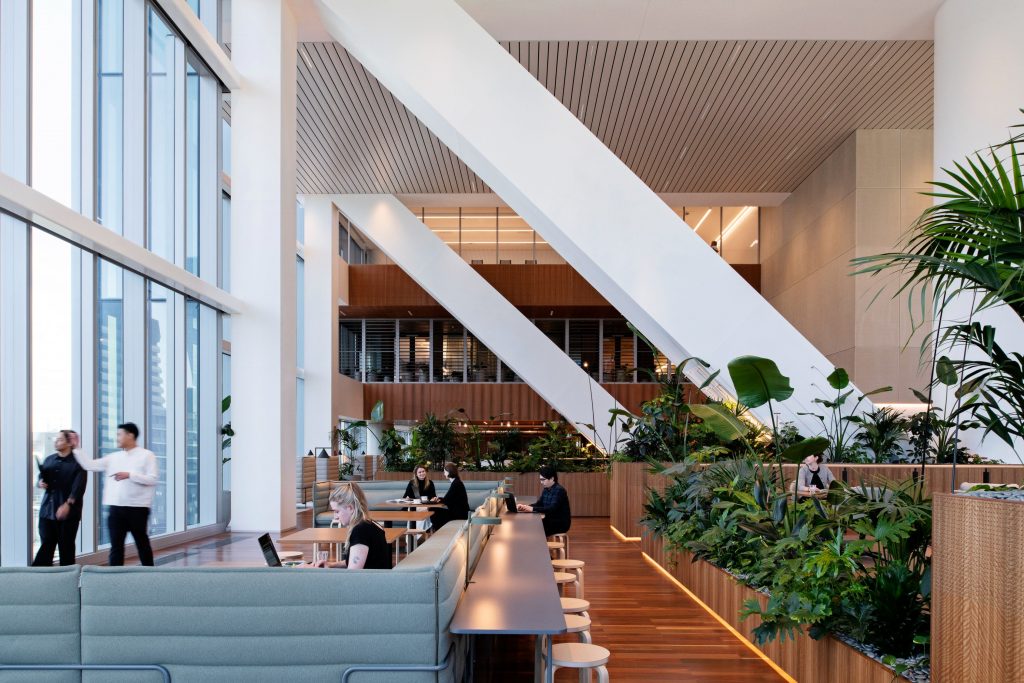 At full capacity, the new building can host 5,600 employees and brings previously separate departments. Hassell achieved this by leaning upon open and flexible interiors, which also evokes NAB's brand and 'new normal' of hybrid working.
"NAB has championed flexible working for a long time, and the global pandemic accelerated the shift to hybrid working," adds Wright.
"Working from home is often particularly good for individual work and focused time, but face-to-face interactions and our CBD offices remain vital."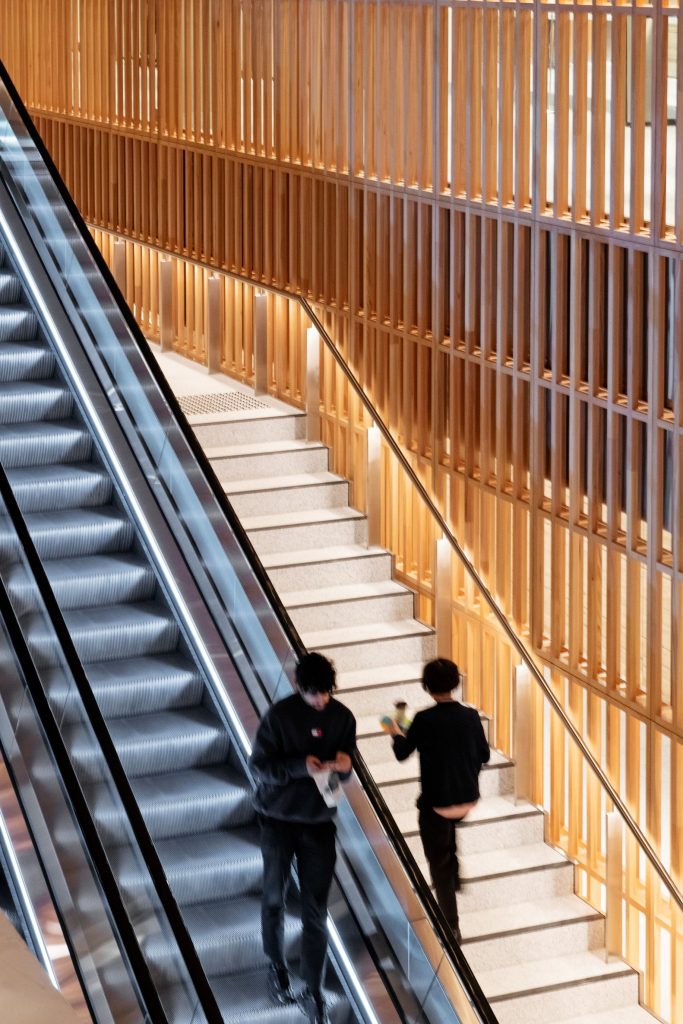 Rooms for productivity and retreat
The landscape was fundamentally entwined in Hassell's design outcome. Over 6,200 plants covering 32 species were integrated across all 39 floors to enhance privacy and decrease stress.
"Colleagues and their clients can connect in a vast three-storey lounge where planting shrouds banquette seating, and changes in floor height cocoon small spaces," says Hassell.
"It's a strategy that achieves intimacy on a grand scale."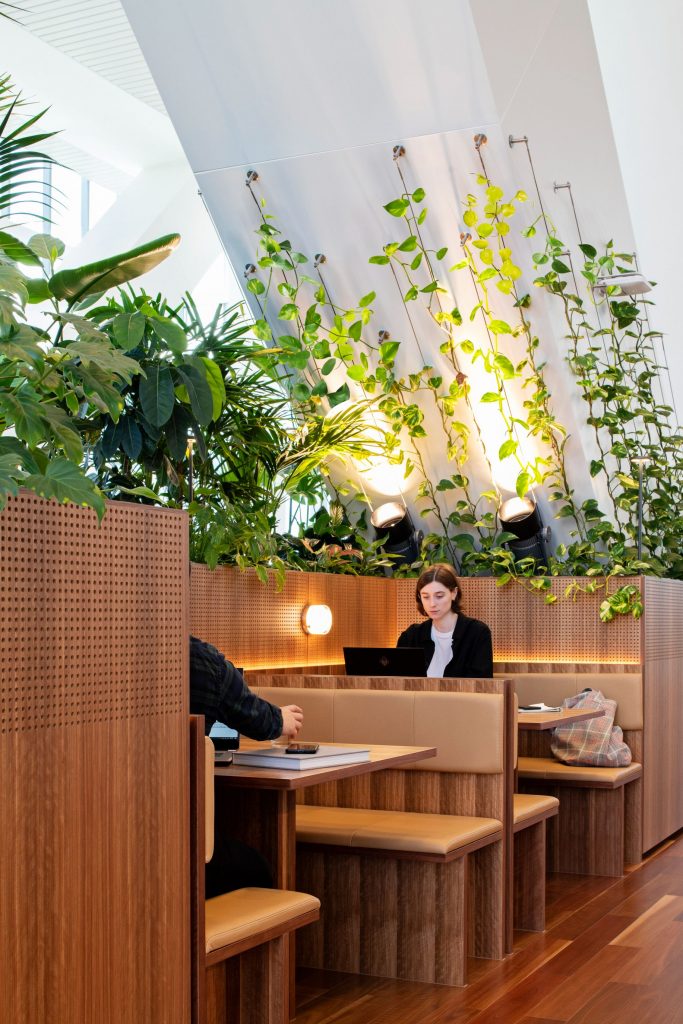 Focussing on NAB's appreciation for well-being, Hassell included an entire floor dedicated to 'betterment' through wellness, learning and training.
Staff can retreat to spaces decorated with day beds and quiet zones as well as multi-faith rooms, parent rooms and large studios for exercise. And those walking, running or cycling to work can take advantage of the building's 644 bike parking spaces and end-of-trip facilities.
'The new normal'
NAB's new premise supports different types of working – team-based, hybrid and focused.
"Hassell has taken a people-focused design approach. Stairs weave through floors, creating opportunities for interaction," explains the design studio.
The building is connected from top to bottom via ten sets of stairs, each spanning three levels. This was done to promote movement, visibility and collaboration of its occupants – a "refreshing change from the usually siloed banking workspace," adds Hassell.
"Lacing stairs through the entire building allows people to traverse freely while affording the security necessary."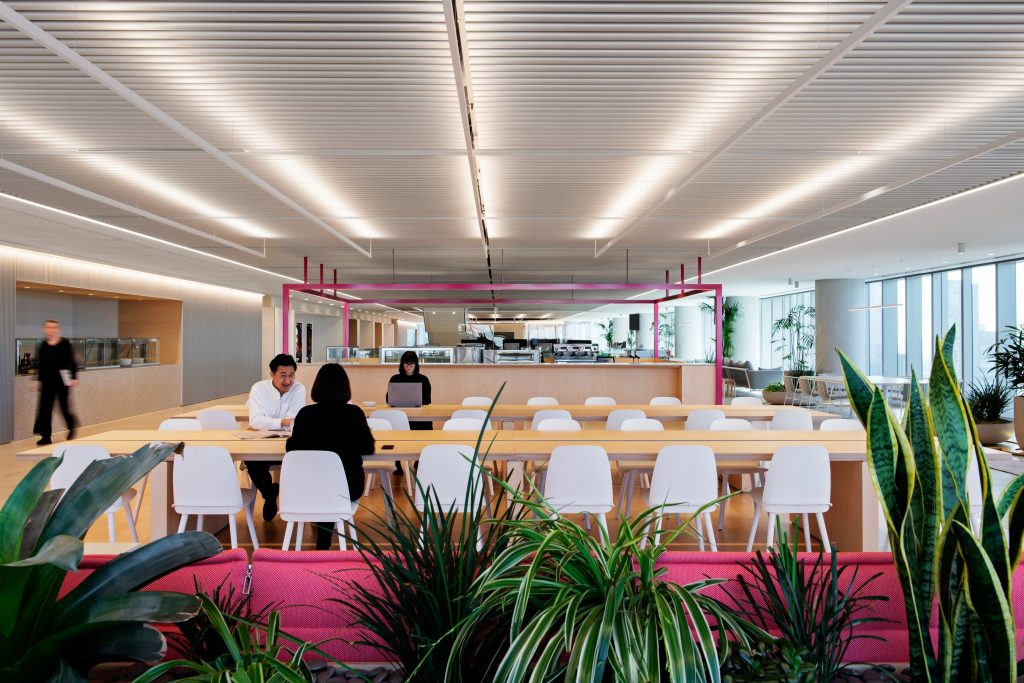 Hassell 2022 Workplace Future Survey
The results from Hassells' annual survey include the compelling finding that the traditional 9-5 office culture may never return.
To attract people back to the office, it is crucial that employees now seek considered and robust workspaces with social spaces, great coffee, gardens or greenery, a place to rest, and spaces without distractions.
Hassell principal Scott Walker says the future workplace is a shared agile space that "feels comfortable as home yet is more enticing".
"We don't think in terms of home or office but rather home and office, as both offer people choice of balance."
Photography by Nicole England.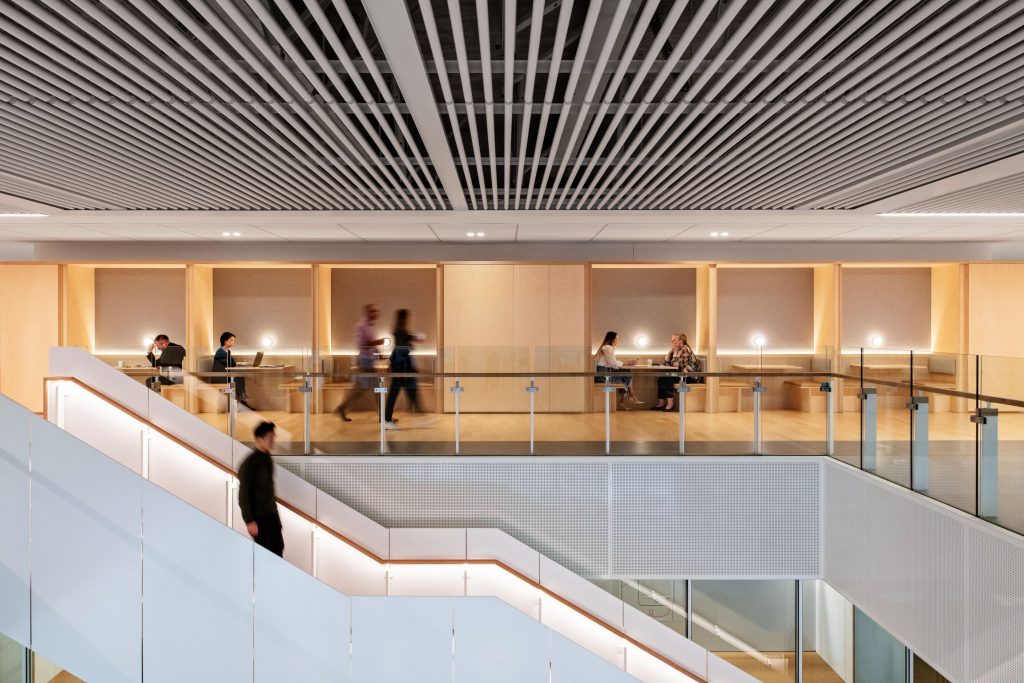 Hassell is an international design practice with studios in Asia, Australia, the US, and the UK. Its purpose is to design the world's best places – places people love.
Hassell was also a Designer of the Year finalist for IDEA 2022. Learn more about the practice by checking out ADR's interview with principal interior designer Dan Cox.