The traditional concept of a library is rapidly evolving to maintain relevance in a paperless society filled with Kindles and e-books. The Library at the Dock project is an exemplar of a library designed specifically for the 21st century, which fosters a sense of community through its diverse offering – including a recording studio and a gallery space  – and its considered application of spatial design.
We speak to Lindsay Clare of Clare Design about the project, which was acclaimed in the Commercial Interior category for this year's Intergrain Timber Vision Awards.
How did Clare Design become involved in the Library at the Dock project?
The City of Melbourne had commissioned us to do a series of design studies around Docklands, to look at various community buildings or student housing or institutional buildings that could be planned to perhaps create a stronger sense of grain or better urban outcome for the area. We acted as design architects for a tripartite client, Lend Lease, the City of Melbourne and Places Victoria, in association with Hayball as architects of record who documented the designs.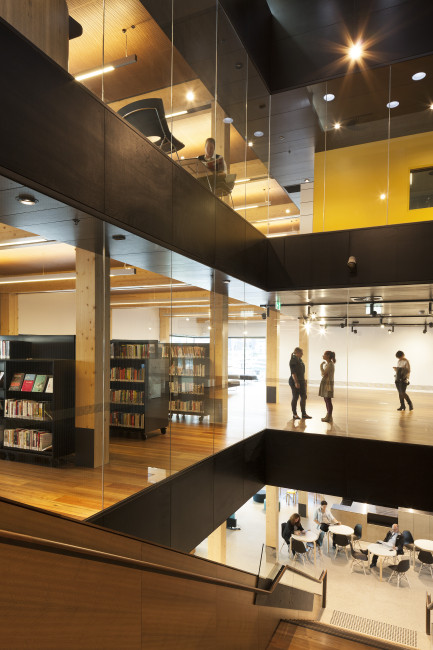 Considering that wood is so integral to the structure of the building, being made of cross-laminated timber (CLT), had you always intended on making timber a feature throughout the project?
The Library is built on a heritage-listed wharf, and the timbers there are 75-odd years old. If you'd built a traditional building out of brick and concrete, it would be much heavier. And if you'd built it out of steel, which is lighter, generally you'd have bigger loads at the columns, because you get thicker spans with steel. So we decided with Lend Lease that investigating the use of CLT – which hadn't been used in a public building in Australia before – would be an appropriate way to build on the wharf.
But we had to convince the Library that the closer spacing of the columns would work for its internal structure. So when we started thinking about the structure, being posts, beams, walls and flooring in timber, we then thought that it should somehow be taken throughout the building. We looked at using timber acoustic panels internally, and also using recycled hardwoods on the exterior.
Our practice is originally from Queensland and we grew up on the tradition of timber buildings, so it wasn't an unfamiliar concept, though the use of CLT and GluLam technology was an entirely new technique. We went with Hayball and representatives of the City of Melbourne to investigate projects in the UK and Europe that had used CLT to see what worked and what didn't, and that was really valuable.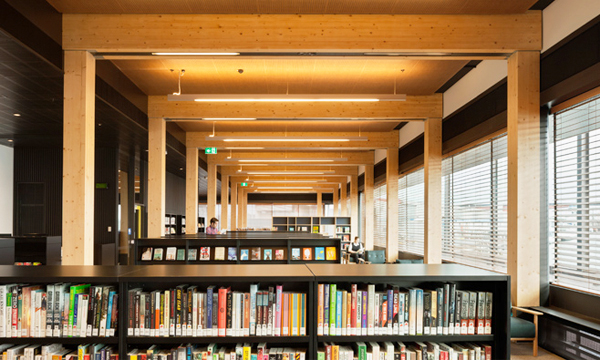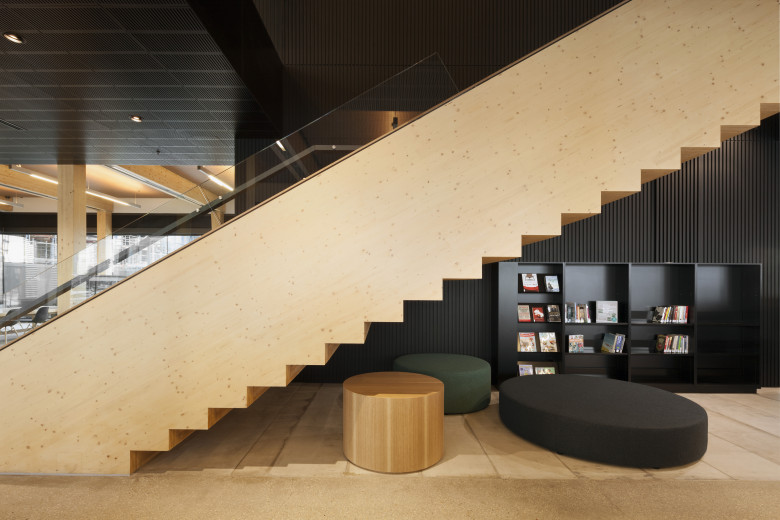 Did you come up against any challenges in working with the new material?
No one had used CLT in that way before in Australia, so it was very important that we had that insight into those European buildings, because we did see a number of issues that were difficult in terms of resolution. There is an apartment building that had been done by Lend Lease (Forte Apartments, Melbourne), but its CLT structure is actually covered with other fire-rated materials. So we had to go back to first principles and investigate how to make it all work from an environmental, cost, construction and durability point of view. It was really quite a task to get it all right.
In the end, six carpenters put the frame up in only 60 days. It was all pre-engineered with holes drilled in the right place for services. There was a lot of design co-ordination involved to ensure it was made to fit together, as it was all pre-fabricated.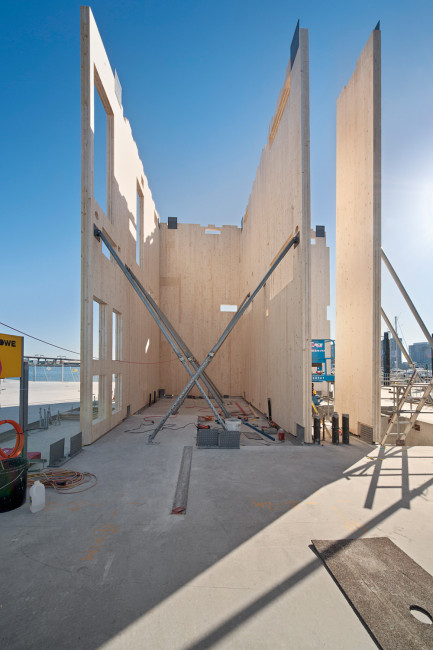 Whereabouts were the CLT elements manufactured and can you give us an insight into this process?
There are roughly 17 factories in Europe that are producing CLT, and they are extraordinary – they're huge and highly engineered, and it's a big industry in Europe.  In Australia we don't have a CLT factory yet. Interestingly, the Library still received a 6 Star Green Star rating, and was the first public building in Australia to receive that – and this took into account the travel by boat from Austria to Australia. It seems contradictory, but when you're using local timber to build in Australia, quite often the energy involved in trucking is comparable to having materials put on a boat and travel from Europe.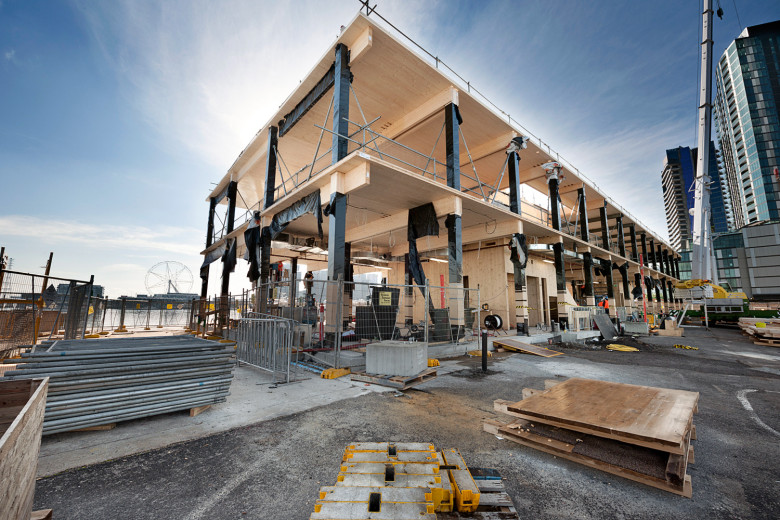 Being a new material, have you considered using it in subsequent projects?
Absolutely. In the future, I think you'll see a lot more buildings made out of CLT, or engineered timbers. There are so many environmental problems in dealing with steel and concrete that we need to look at minimising our usage of those materials. I think it's the way of the future.
What in your opinion are the most successful features of the Library?
First of all, the uses within it – it's not just a library; it's actually a multi-purpose community centre. There is a coffee shop, a 20-seat theatre, gallery and exhibition spaces, dedicated children's areas and a recording studio. So it's not a traditional library. We've even heard of people taking their work and conducting their businesses from there. And that goes back to the initial brief from the City of Melbourne of providing a building of a different grain that people would be attracted to.
Another great aspect is that the building can open up; there is an area that is an indoor/outdoor room with doors that open to Dock Square. On the other side, there is a canopy, which can become an alternate venue for people using the park if it's raining. The building engages with its place and the program within it is innovative and interesting.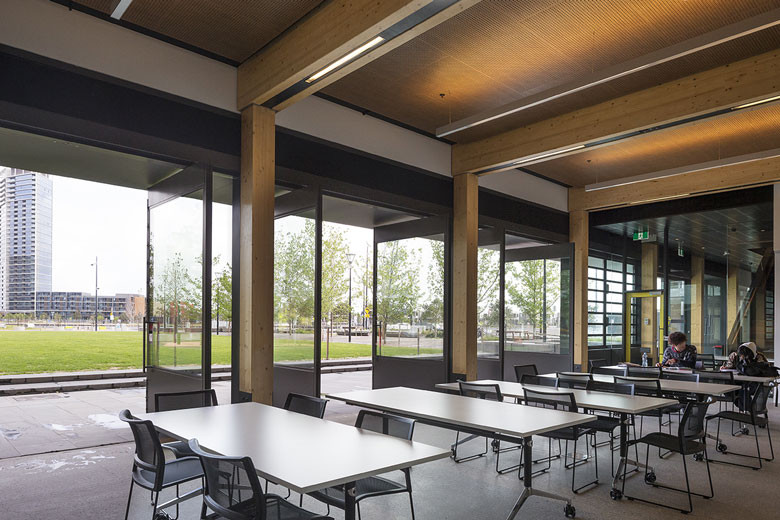 The use of timber is quite a strong feature, and much of it is recycled timber, some of which were sourced from the original wharf and used on the exterior. These are highly durable class 1 timbers, which will weather and soften on the exterior.
Within the building itself, there are a whole series of environmental initiatives, including passive ventilation to the ground floor and the top floor. The middle level is the traditional air-conditioned library space, whereas the top floor, the third floor and the ground floor can be naturally ventilated with mechanical louvres.
This interview is one in a series ADR is conducting with the winners of this year's Intergrain Timber Vision Awards.