SCHIN Architects has refurbished a once ominous library, bringing it up to speed with the latest technology and ensuring engagement with the student community along the way. This project recently took out the People's Choice in Shaw Contract's Global Design Awards, a program that received a staggering 12,751 total votes.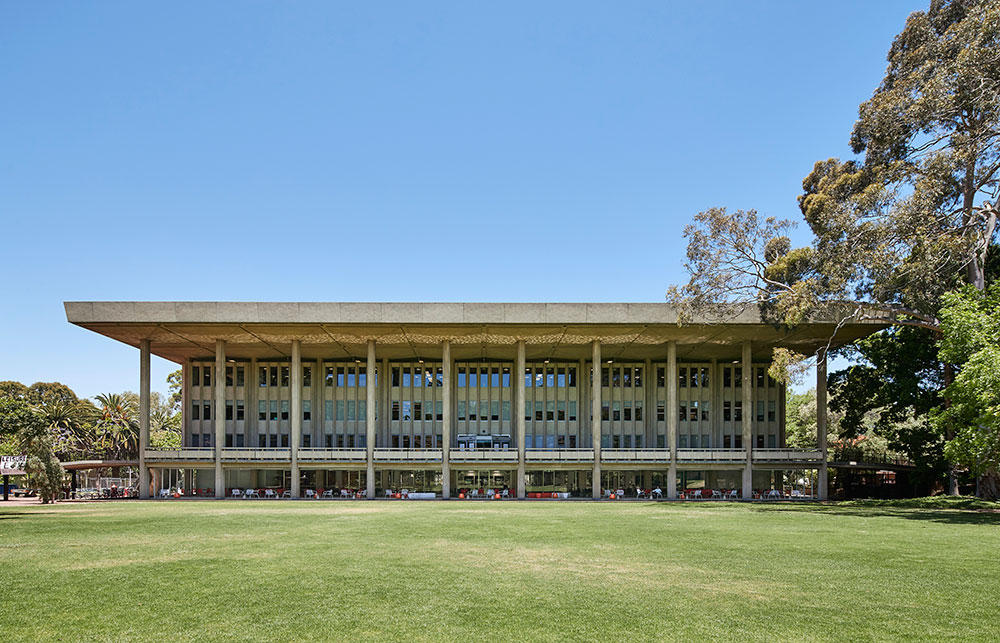 When explaining the brief for the project, Phivo Georgiou of SCHIN Architects explains, "The Reid Ground Floor is a renovation of an existing sixties building on the UWA campus. It's a group study facility with a few different other services provided on the ground floor, including seminar rooms that can be used for a variety of different purposes. We also put in a new café and a variety of different styles of seating to cater to the different styles of student study. So far the ground floor has been overwhelmingly popular."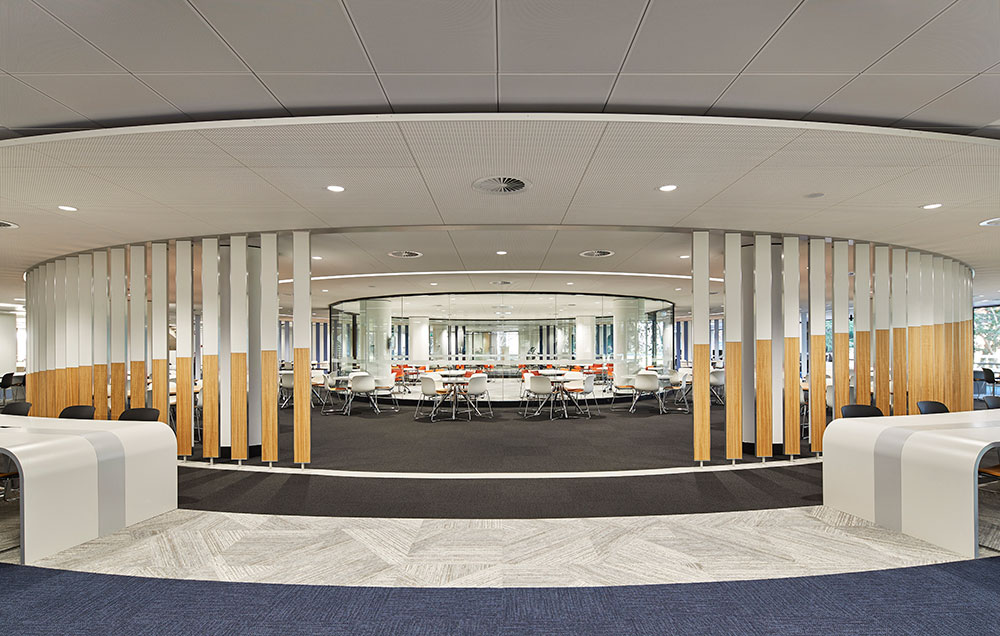 Working in a challenging shell
Even though the building is not classified as a Heritage structure, the architects were working within an existing shell that proved rather challenging in more ways than one.
The first challenge was to change perceptions of the existing structure. "The building from the outside is a very ominous structure – constructed in heavy concrete. During the library focus groups they discovered that some students, in particular Aboriginal and special needs students, found this building very unwelcoming and not pleasant to enter. So a huge part of the design was to make it more open and transparent," explains Georgiou.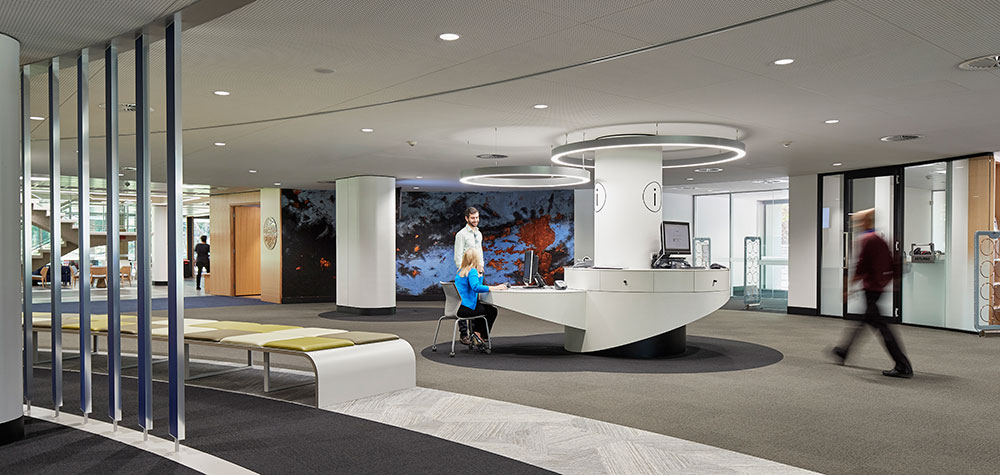 In addition, there were technical construction issues that arose during the process. Georgiou says, "It's quite a strange building because it was built in two stages, the first half in the sixties then it was doubled in size in the seventies. So there are two halves to the building, which are almost identical but were built 10 years apart. All of the services are split down the centre of the building and there are big beams that run basically across the boundary of two buildings."
This presented some marked challenges with services, as Georgiou explains, "There were big complications to run services in this building, which were compounded by the type of concrete slab. It was very difficult to penetrate because it was tensioned as a composite system, and if you penetrate in one area then you lose integrity in other areas."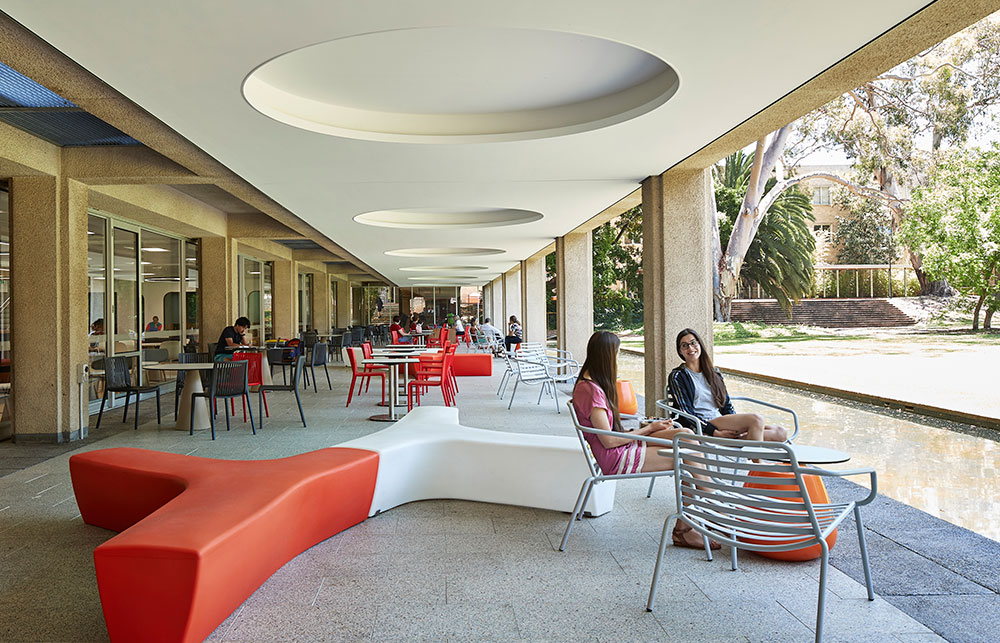 Delineating space
Having removed much of the internal structure and partitioning to create a more welcoming building, the different areas still needed to be distinguished from each other. In order to do so, flooring, which is from Shaw Contract, became a key element in the overall design.
"We needed to be able to delineate space and function within the building and we did that in large part through flooring materials. The different patterns were a really big part of the design and how we delineated space and function," says Georgiou.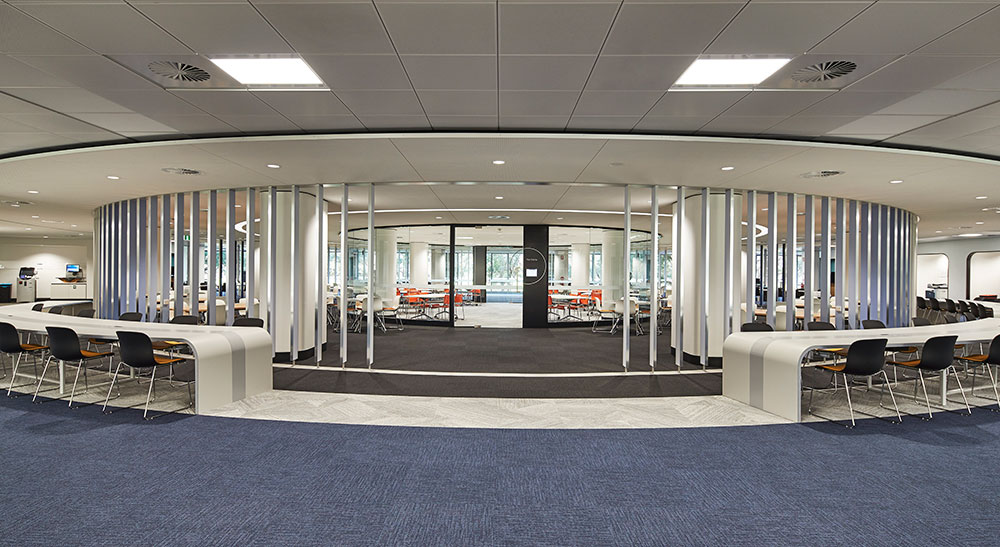 For example, The Circle, a glass-enclosed multi-function room, is ringed in Alchemy Talc Platinum from Shaw Contract's Noble Materials collection. The metallic glints and vibrant orange furniture draw the eye to this space, which has variously been used as a gallery, workshop, lecture room, and group study space. Conversely, semi-private study booths are framed by Waimea Volcanic, for a more subtle finish.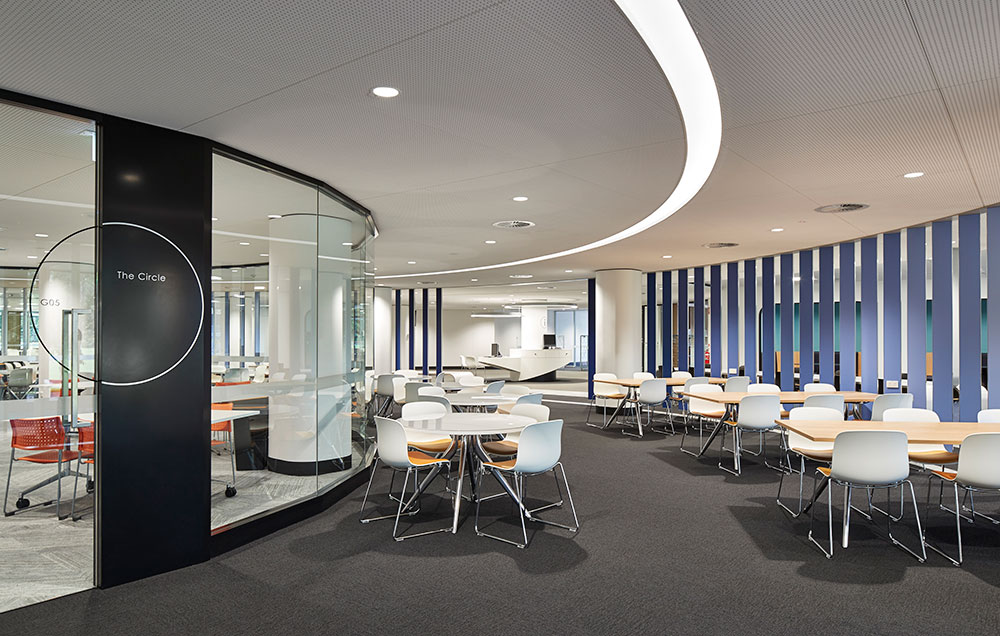 Passive sustainable design initiatives include recycling and re-purposing finishes from the original fitout and specification of Good Environmental Choice Australia (GECA) certified furniture, fixtures and fittings, as well as Shaw Contract's cradle-to-cradle certified products.
Banking on success
It's often hard to quantify whether a project has been deemed successful. For the Reid Ground Floor Library however, the team received some figures that they can definitely be happy about.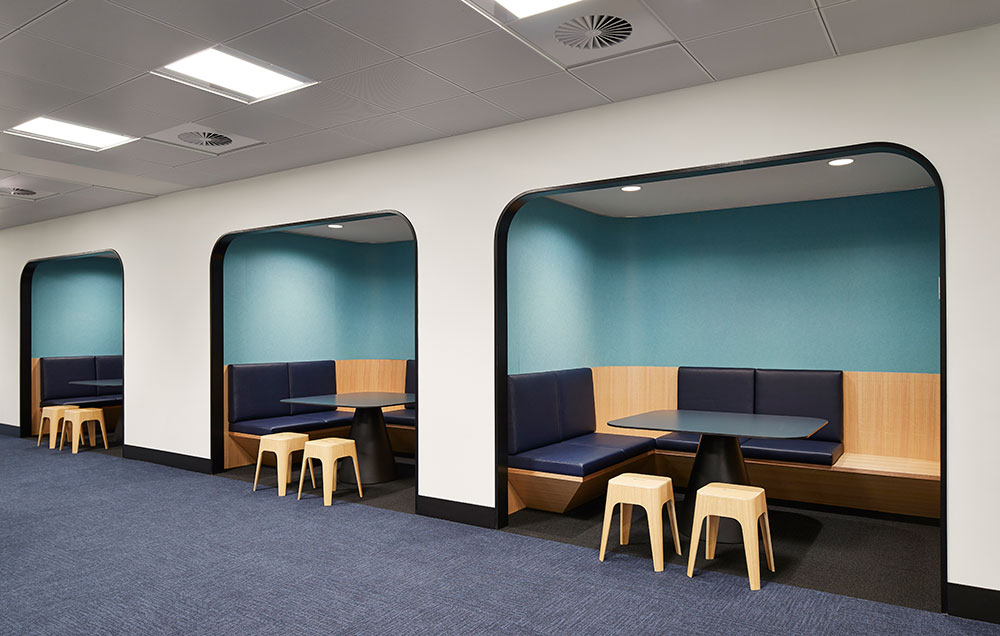 "The number of visitors to Reid Library has increased by 50 percent (on top of the additional seats added through the refurb). The response has just been overwhelming and the main complaint has been that there are not enough seats," says Georgiou.
Photography by Peter Bennetts. Shaw Contract is an ADR content partner.
–
Read about how flexibility can be applied from products through to workplaces, here.