The small town of Corowa is the unlikely setting for thriving architecture and design studio Regional Design Service. The studio's founders talk to Isla Sutherland about demystifying and democratising good design for regional communities.
Phillip Nielsen and Aaron Nicholls began their practice in 2017. At the time, Corowa had not had an architect in residence since 1973. Nicholls, the practice's business director, was originally from Corowa.
But since 1991, both he and Nielsen, a registered architect, had considered themselves for all intents and purposes seasoned city dwellers. "I left here when I was 18, and I didn't think I'd ever be coming back," says Nicholls wryly.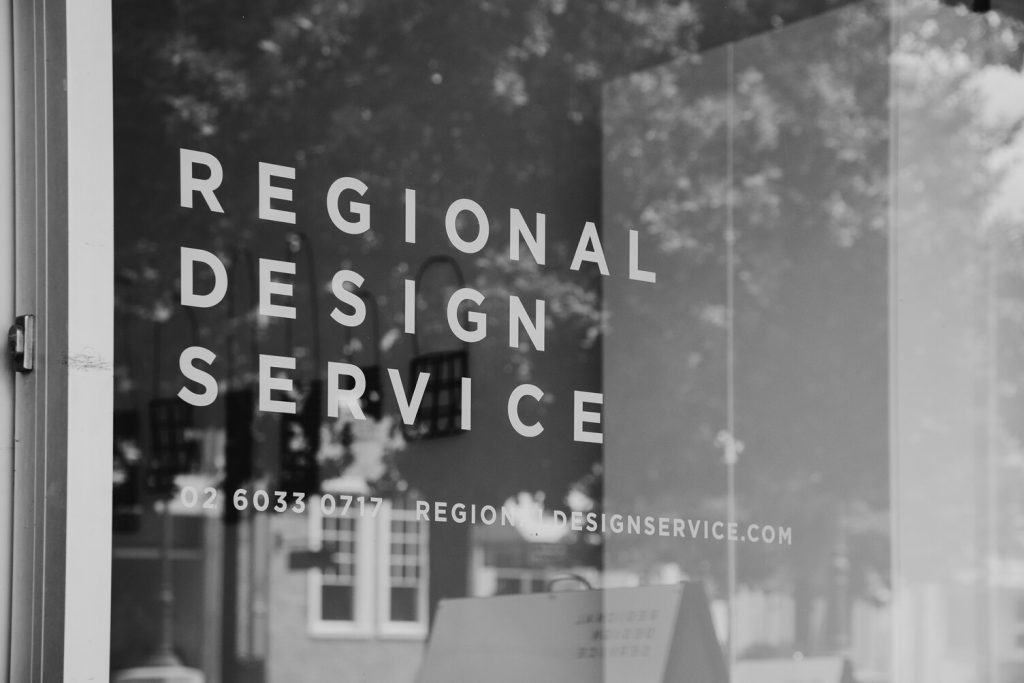 Both men were working in Melbourne when Nicholls inherited a property in Corowa, initially intended solely for investment purposes. After pitching for a local grant-funded project, the pair realised the town had a wealth of potential that could benefit from their particular expertise. It prompted them to consider if there may be a need for an architectural practice in the area.
Neither their mentors nor their peers endorsed the move, with some pronouncing regional relocation the final resting place for burnt-out city architects. Since opening its doors, however, Regional Design Service has been inundated with opportunities, including new residential projects, alterations, revitalisations, public architecture, strategic community planning, Heritage sites and commercial projects.
One of the greatest drivers to the area is the fact that more and more people are inheriting anachronistic country homes – some of which have entire service wings. As these buildings are onerous from a maintenance perspective, the pair is finding that a lot of what they are starting to do is Heritage architecture based on adaptive reuse of these buildings.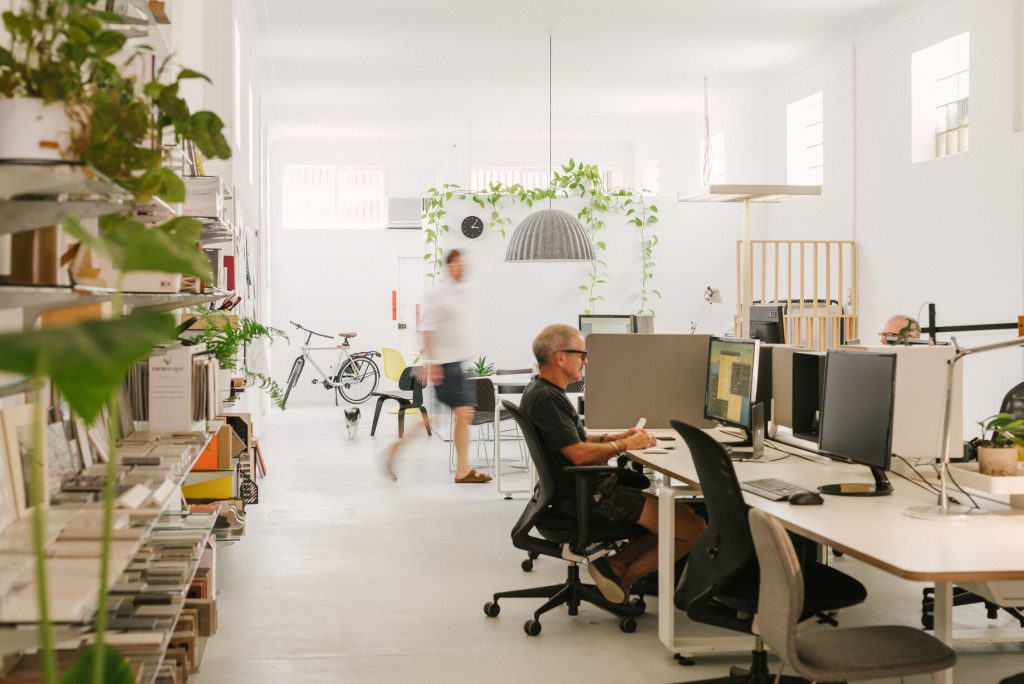 Nielsen and Nicholls share a passion for advocacy and education. They both believe that living or working in a regional or rural context should not pose a barrier to enriching the lives of residents.
Visibility was one of the principal tenets in designing their main street studio. "Part of what we want to do is educate the community on the value of design. Being visible is very much a part of that," says Nicholls. The gallery space in the studio was intended to draw people in as often as possible.
Their office is equipped with 40 stackable chairs to allow the team to host educational evenings for the community. Being a visible part of such a highly engaged community also means higher accountability: the impetus is on doing a good job all of the time.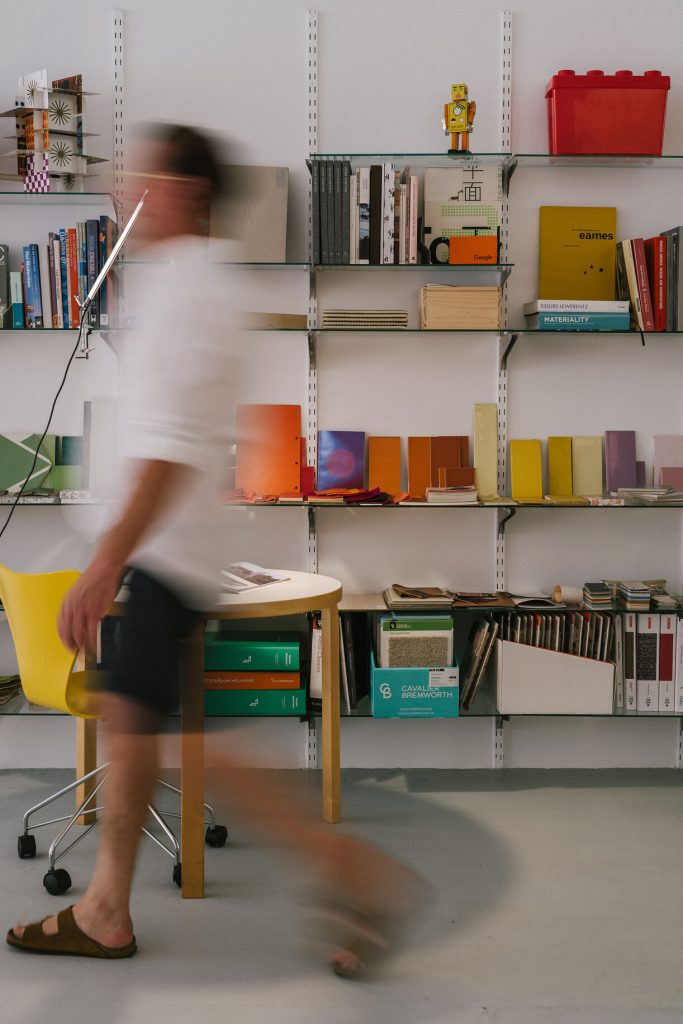 Architecture in its first chapter in the town was hierarchical – it was generally perceived as unattainable for anyone but the wealthy. These educational evenings serve as a mode of outreach to the everyday person in the town.
Nielson and Nicholls try to break down design to its basic level, revealing how a designed object is one that is created with care and intentionality, and that the quality of a design environment can determine how we behave in it.
One of the impediments to approaching an architect is that many feel they cannot communicate with designers because they don't know design. "The moulded plywood chair is a derivative of the leg splints from WWII, designed by the Eameses," says Nielsen.
"We try to get the community to realise that they already know about design and they probably own something that is well-designed."
The practice's open door policy has helped to demystify and democratise design and architecture in the community, breaking down the perception that it is only for the wealthy.
Further enforcing this ethos is the fact that virtually everything in their office space has been upcycled. Nicholls' background is in commercial workplace design. Continued contacts in the industry have enabled him to salvage quality materials from corporate revamps. Their boardroom chairs, for example, trade for $650, but Nicholls sourced them for a meagre $40 each.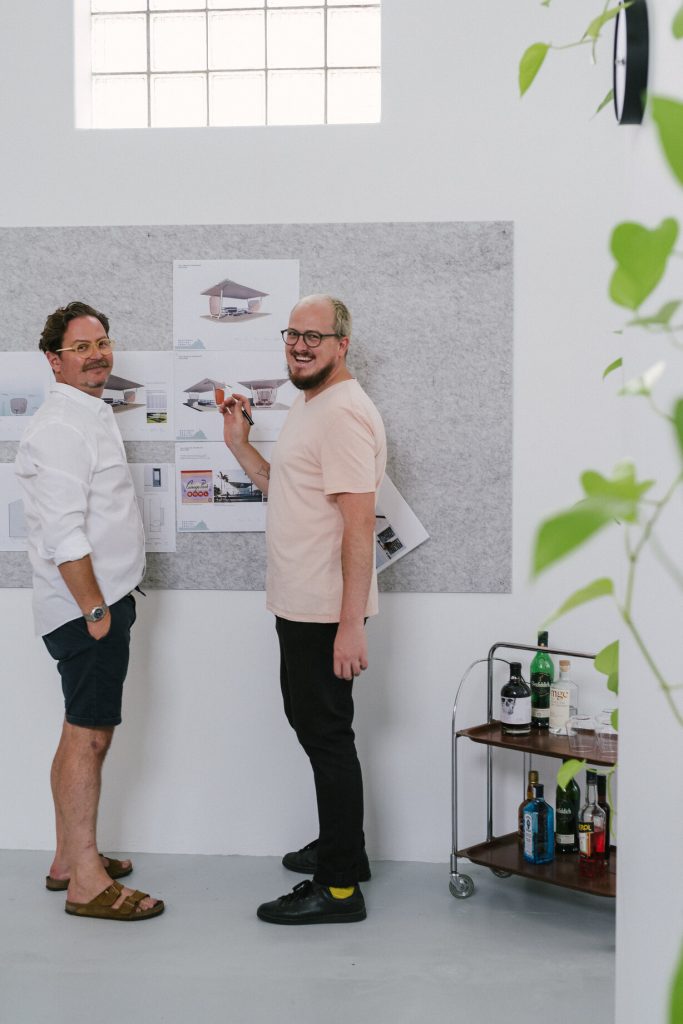 Their office design communicates an important principle for their practice, which is that design should be high-quality, durable and sustainable. "You don't need to buy every time," Nicholls insists. "And if you do buy new, buy well so that it lasts a lifetime."
Nielsen and Nicholls have observed a greater push in this direction in the wake of 2020's particular difficulties and disasters. The liquidation of furniture retailer Matt Blatt earlier this year reflects how people are now considering the longevity and sustainable impact of their lifestyles.
"People are more aware that, while IKEA is a good fix, sometimes it's not a long-term investment," says Nielsen.
"That has been bubbling away, but I think the bushfire crisis in terms of our environmental impact and now COVID in terms of how we live our lives, is maybe going to fast track a shift in the mind-set."
Operating in the country has posed its own unique challenges and idiosyncrasies. One of the difficulties in Corowa is that the absence of an architect in the town for such a lengthy period has led to a perception that builders can do the architect's job.
"Our early clients were shocked that we were drawing furniture in the plans that would actually fit," says Nielsen. Clients had become so accustomed to seeing developer plans with the formulaic two-seater sofa and an armchair in the living room, devoid of any considered interior design.
"They had no idea how they would plan their houses; they just had a floor plan and no sense of scale or space."
The practice has also struggled working with a local government that does not always understand the value of what they do. "Design is not at the forefront of their delivery of projects.
As long as they deliver the project on budget and it's close to what the community wanted, it's a job well done. So the hardest thing to date has actually been working with some local government who don't see the value in better places for regional communities," explains Nicholls.
Working regionally also has its own particularities for acquiring business. "The way that we are filtering our clients is not necessarily based on how much money they've got, but how nice they are," says Nicholls.
"Coming up to the country has meant that we've realised the value of meaningful engagements that are genuine, as opposed to the money-driven conversation about how cheap we can be driven down to. We're getting to do the work we really want to do, and work with the people we really want to work with – putting design first, not price."
As a result, the local community has embraced the pair. "We're regularly stopped in the main street and congratulated by strangers or thanked for the designs that we're doing. You would never experience that in the city," says Nielsen.
"That counts for a lot; it counts for our own well-being, our sense of pride and also keeps us accountable," he concludes.
Photography by Georgie James.