In line with an ongoing commitment to deliver sustainable product development, Melbourne-based furniture brand Eva releases Slideaway Sofa Bed, Australia's first 3-in-1 sofa bed.
With an ongoing ethos in thoughtful and uncomplicated design, this latest product release from Eva reinforces its constant pursuit towards sustainability.
"We designed the Slideaway Sofa Bed with simplicity and sustainability at its core. We took all the elements that our customers love from some of our bestselling products and created it into this lasting, beautiful piece that will seamlessly integrate into everyday living." says head of design at Eva, Tom Shaw.
The Slideaway Sofa Bed has been crafted from sustainably sourced timber and recycled cushion offcuts – promising to deliver comfort while minimising the impact on the planet.
ADR: What was the inspiration behind the design of the Slideaway Sofa Bed?
TS: We wanted to create a sofa bed that sets a new standard. Sofa beds have historically had a bad name for being only an average bed and sofa, or one at the expense of the other. They can be a clumsy piece as they try to be two products-in-one, so something is often compromised including its aesthetic appeal in both forms. By combining our experience with mattresses, timber frames and sofas, we set to achieve the next generation of sofa bed innovation. Being an incredible sofa and an incredible bed, that's effortless when transitioning and looks beautiful in either form.
The EasySlide feature effortlessly transforms into a durable everyday sofa, a comfortable 2-sleeper bed, and a convenient daybed – all without the need for tools.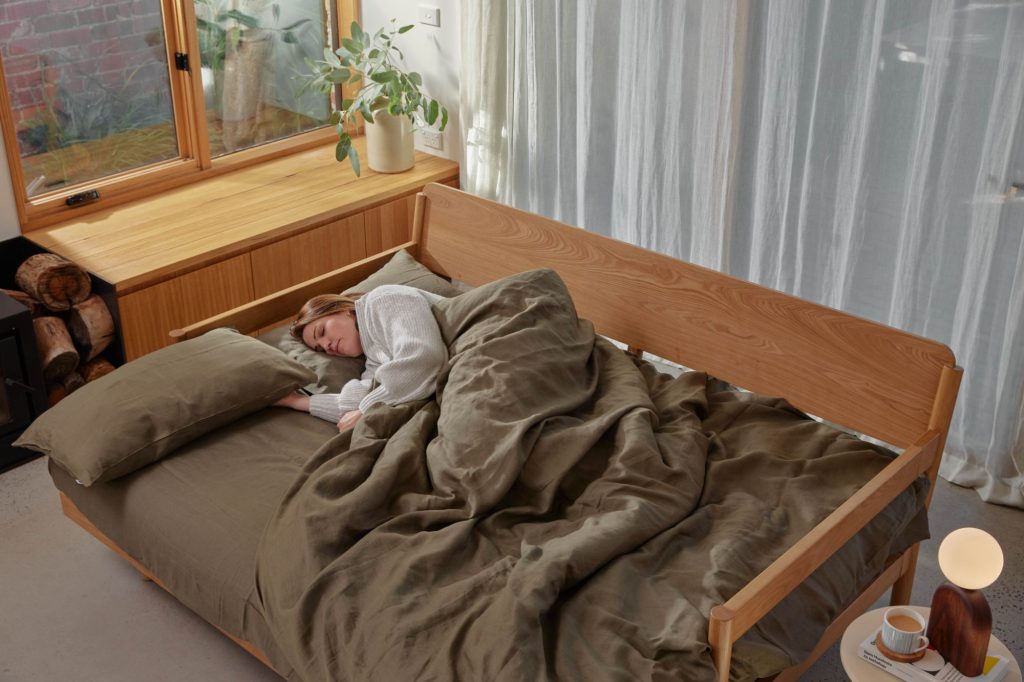 Founded in 2017 by Amanda Niu and Ken Lau, Eva has always remained committed to its original vision of revolutionising furniture-making and customer experiences while prioritising sustainability.
As the brand continues to evolve, Eva has diversified its offerings to include versatile furniture for living and dining spaces, as exemplified by the Slideaway Sofa Bed.
What makes the Sofa Bed so unique?
TS: What makes the Slideaway Sofa Bed unique is its ability to transition from sofa to bed in one seamless motion. This feature is made possible by the unique construction of the slatted base that effortlessly slides back and forth without the need for a clumsy metal mechanism. This sliding base also allows the user to experience the sofa bed in 3 modes – sofa, bed, and what we refer to as 'Netflix mode'. Netflix mode is the unique state where the sofa bed is in the transition phase between sofa to bed.
This gives the user a unique experience, where they can lounge with their feet up on their extra deep sofa. The unique frame is made from a combination of sustainably-grown hardwood and birch plywood. The frame is also uniquely flat-packed and can be easily assembled and disassembled without the use of tools.
The seat and back is constructed using a multilayer technique that has been developed for the Eva mattress category and brought across to the sofa bed to create the ultimate sleeping experience. The sofa bed cushions are filled with a combination of chipped memory foam and medium-density form, a by-product of our mattress manufacturing process.
By way of design, how did you approach designing this particular piece?
TS: As with all new products we design, we start with a really detailed brief that outlines the objective of the product, the target market and possible areas where we can differentiate ourselves and challenge what already exists. We saw an opportunity to create a Sofa bed that really that challenged the idea that sofa beds are neither good bed or good sofa. We said to the team, can we create a sofa bed that both an incredible bed and sofa while also eliminating the clumsy mechanism.
Over 18 months, we undertook three rounds of user testing resulting in several prototypes living with staff before deciding on a three-layer cushion with a plush duvet wrap and an easy sliding mechanism for the bed. CNC manufacturing was utilised to remove labour intensive processes and ensure costs at a minimum. To save on unnecessary fixings, the assembly comes together easily in two parts with only hand screws to hold the sofa firmly bed together. Key roadblocks were finding the lowest variation in firmness perceptions between sofa and bed mode. The end result is a product that is uncompromising in both comfort and aesthetics.
Eva proudly earned its B-Corp certification, solidifying its dedication to creating positive impacts beyond profits. In a world of 'fast furniture'' where disposable pieces contribute to waste, Eva stands firm in its mission to provide long-lasting, thoughtful, and versatile furniture.
As Australians face shifting living situations, Eva's pieces promise to accompany them on their everyday journeys without harming the environment.
"While the industry is shaped by seasonal trends, we want to distinguish and grow Eva as a brand that brings a long-term living promise to Australians. We want our customers to be connected with our pieces for their everyday moments and take comfort in knowing that each piece is ethically and sustainably considered" says Eva co-founder, Amanda Niu.
Photography supplied by Eva.
Check out the 30under30 panel discussion on the true cost of sustainable design.