The Sydney director at CplusC Architectural Workshop takes us inside his Darlington home, which he describes as a "direct response to the climate emergency facing our country and our planet".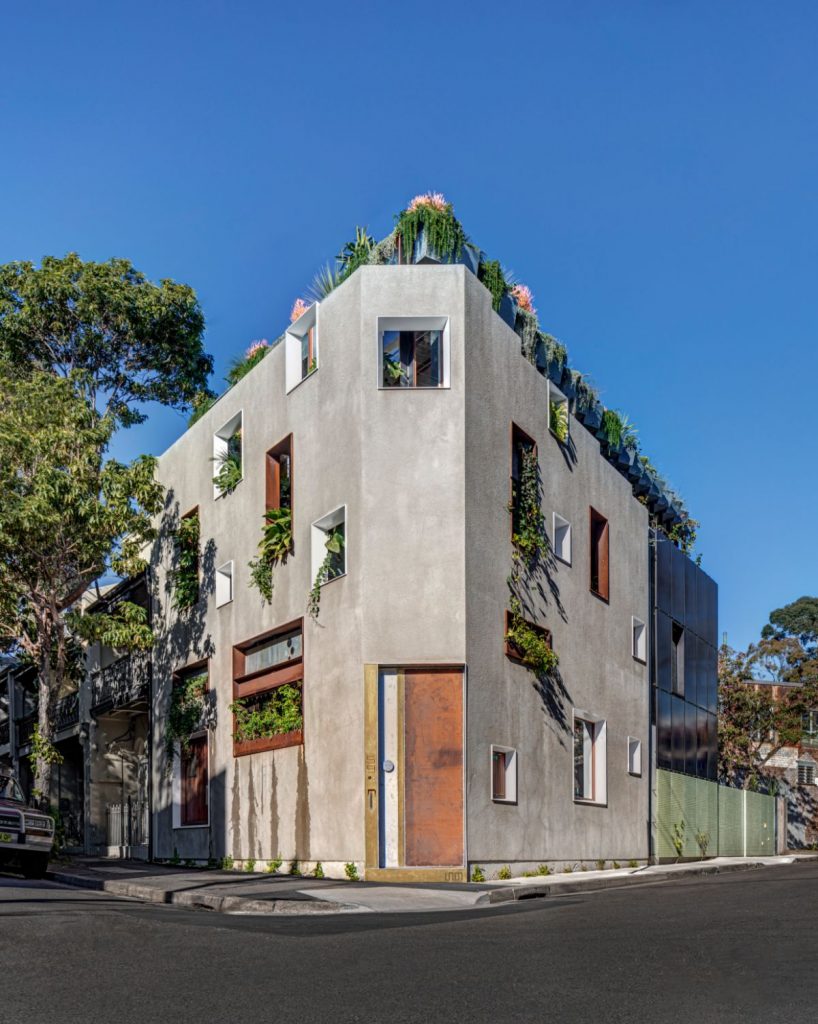 How long have you lived here and what drew you to the property?
We've been living here now for two years. We purchased the home in 2015. Four years of design, approvals and construction followed. Council took a total of 414 days to approve the project and that was only achieved after we lobbied the elected council members to intervene with the Planning Department, which was about to refuse the development application.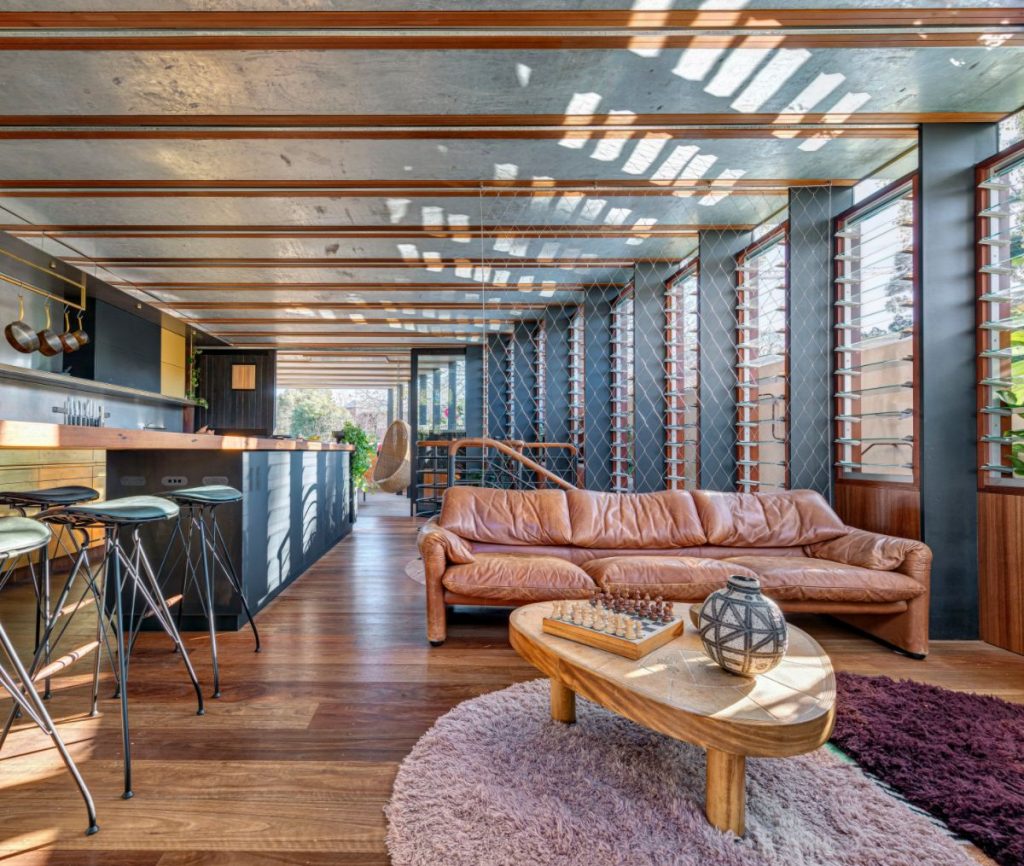 What was it like working under such strict Heritage controls? You could have potentially found a new site with no restrictions, so what drove you to embrace such a challenge?
A two-storey shop-top house in disrepair and close to collapse originally occupied the 90-square metre site and we are situated in an inner city Heritage conservation area typified by late Victorian row terrace housing and post-industrial warehouse conversions. The house itself is built within a rejuvenated Heritage façade of rendered masonry, steel, timber and greenery.
I may have considered a different site if I had checked whether the building was listed as a contributing Heritage item before we purchased it. After 15 years of being professional and thorough with my clients' properties in this context, I didn't do myself the same favour.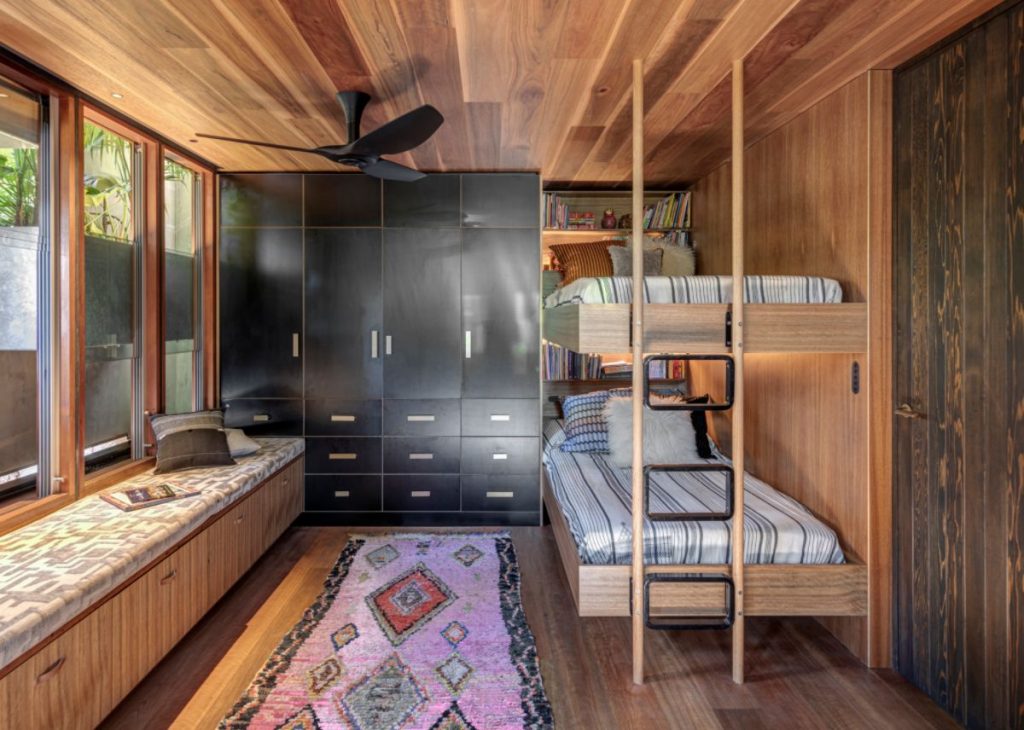 To be fair though, the original Heritage consultants (engaged by the council to identify all contributing Heritage items in the area) advised me in no uncertain terms that they had made a mistake. By the time I received that advice, it was too late to do anything without going back to the drawing board and further delaying the already protracted approvals process.
While the development is pushing many boundaries with respect to sustainability and regenerative concepts and systems, the bulk, form, scale and façade were relatively predetermined by the retention of the existing façade.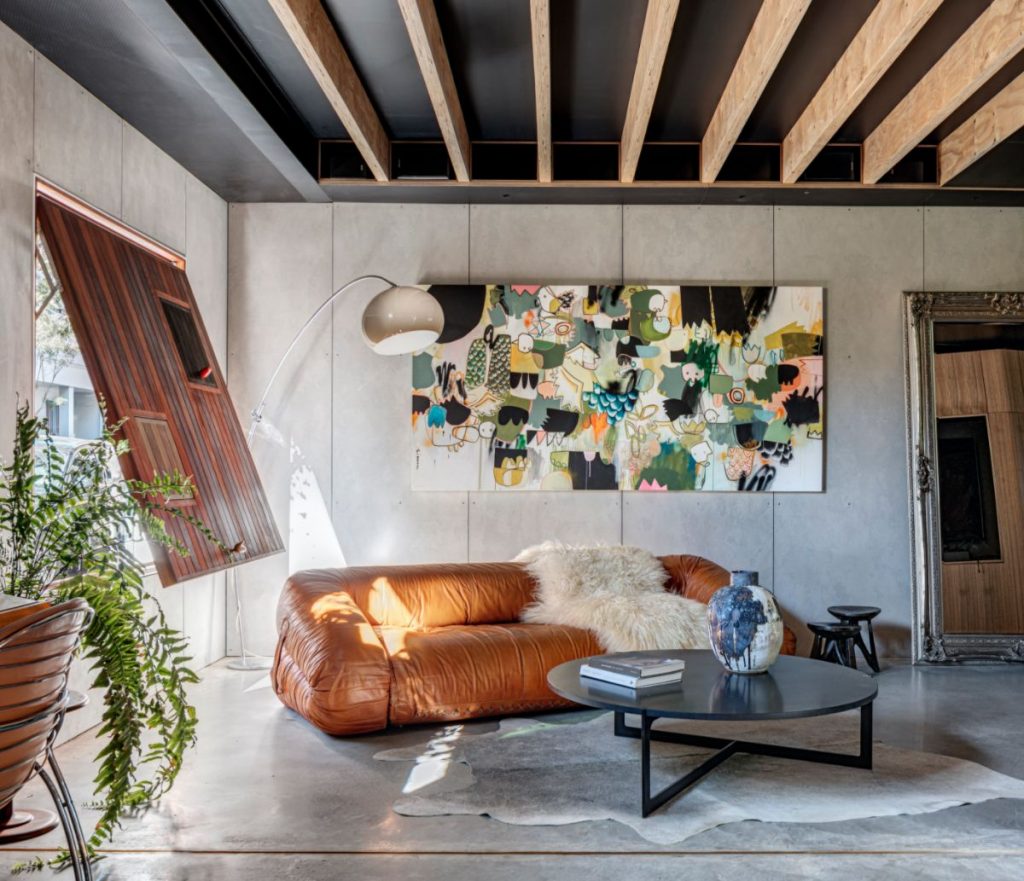 Tell us about the materials you used. They are so diverse and unexpected from pre-rusted steel to burnished concrete and fibre cement (FC) panels.
The rusted Corten frames indicate the original openings in the façade, while the white steel frames indicate the new openings. There was a conceptual direction established very early on in terms of the internal materiality where the ground floor utilitarian spaces were defined by hard and resilient masonry (FC sheet, tile and burnished concrete).
The first floor sleeping level was defined predominantly by warm and nourishing timber finishes and the second floor living spaces were defined by various metals, including galvanised steel, stainless steel, brass and anodised aluminium.
The diversity of materials employed is mostly representative of the opportunity we had to be very experimental as architect, builder and owner.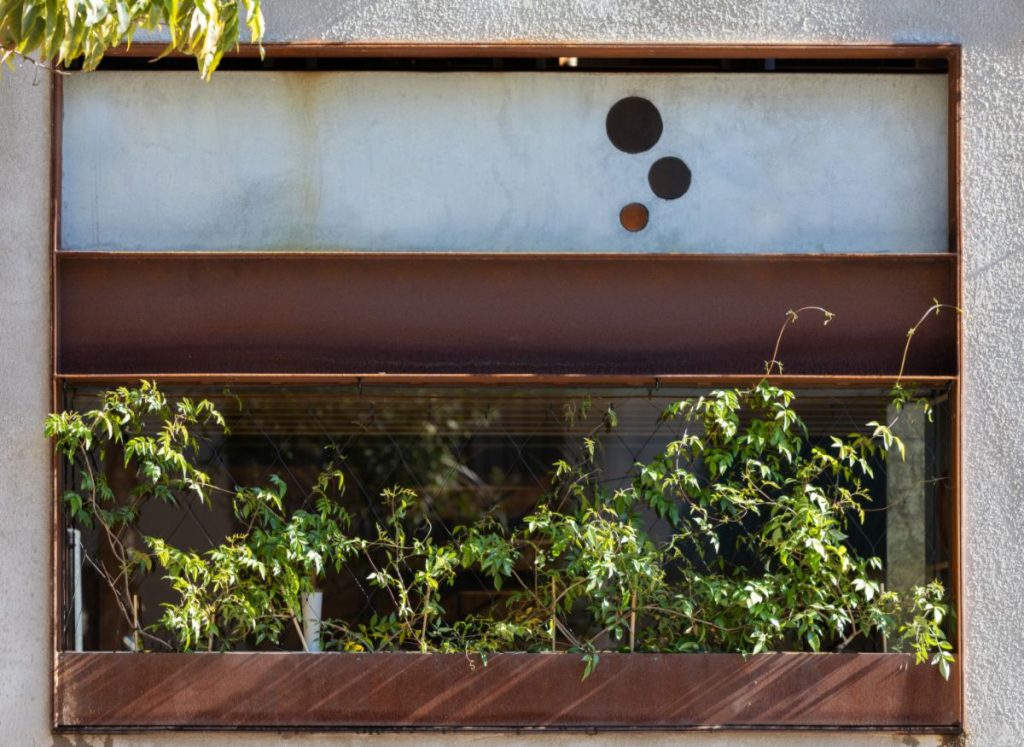 The roof is such a beautiful feature of the project. How did it come about and why did you choose to fill it with native plants and fruit?
The roof is made of galvanised steel planter bed troughs. This roof system is the structure, framing, lining, insulation, ceiling, drainage and garden beds all achieved in a single solution.
The concept stemmed from the desire to have a working garden with native perimeter from the very outset, as we knew this was the only place to have a garden on the site due to its small footprint. It also hosts compost, worm farm, native bees and a wind-powered generator.
The garden beds are irrigated from the fishpond, providing nutrient-rich water created by the edible silver perch (fish).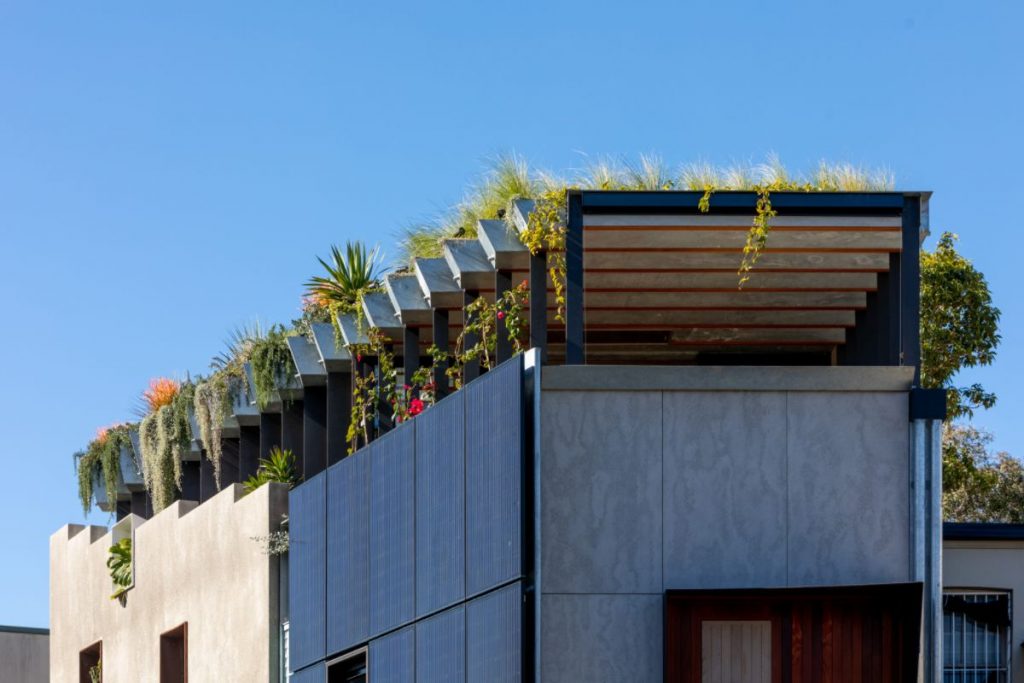 Sustainability is really at the heart of this project. It won the 2019 National Sustainability Awards for both New House and Intelligent Building and was Highly Commended at the 2019 World Architecture Festival Awards.
Why was it so important for your home to be an example of sustainable living?
Climate change must be reversed, and human beings must become sustainable in every aspect of their lives. Conserving our resources and becoming more sustainable as a species is now critical to our very survival. Almost 100 years ago Le Corbusier famously said that "a house is a machine for living in". If we are to survive the next 100 years, a house must be 'a machine for sustaining life' and it must promote those values in its architectural expression to the public who largely consume architecture through the media, where image is everything. If we are to promote these values, they must be an intrinsic part of the conceptual fabric of a project.
The project is on the path that university students walk every day from the local train station to both Architecture and Engineering faculties, in addition to being in quite a prominent position to the community and the public.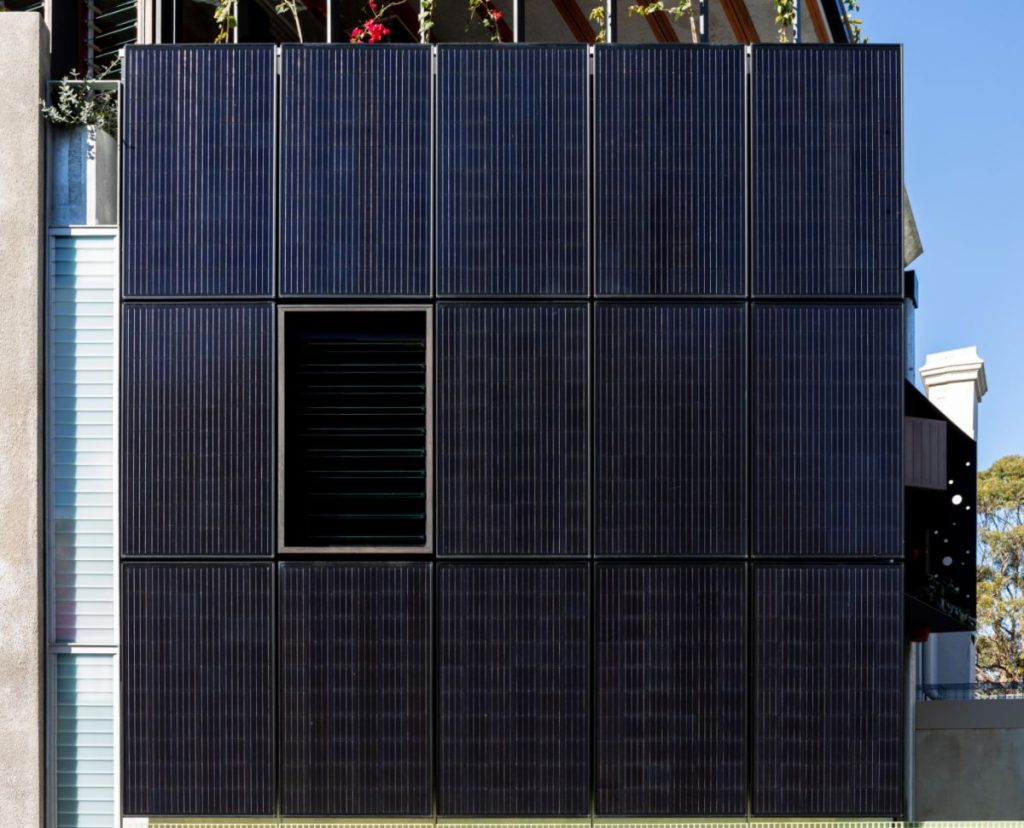 One of the sustainable features of the home is its black photovoltaic panel array, which signals the new addition to the original northern façade, harnessing sunlight throughout the day, acting as a billboard for the sustainability attributes of the architecture, and starkly contrasting the original rendered Heritage facade.
It is important to note that installing solar panels vertically is very inefficient so unless it is being done for similar reasons as my own, I don't recommend it on an optimal performance basis.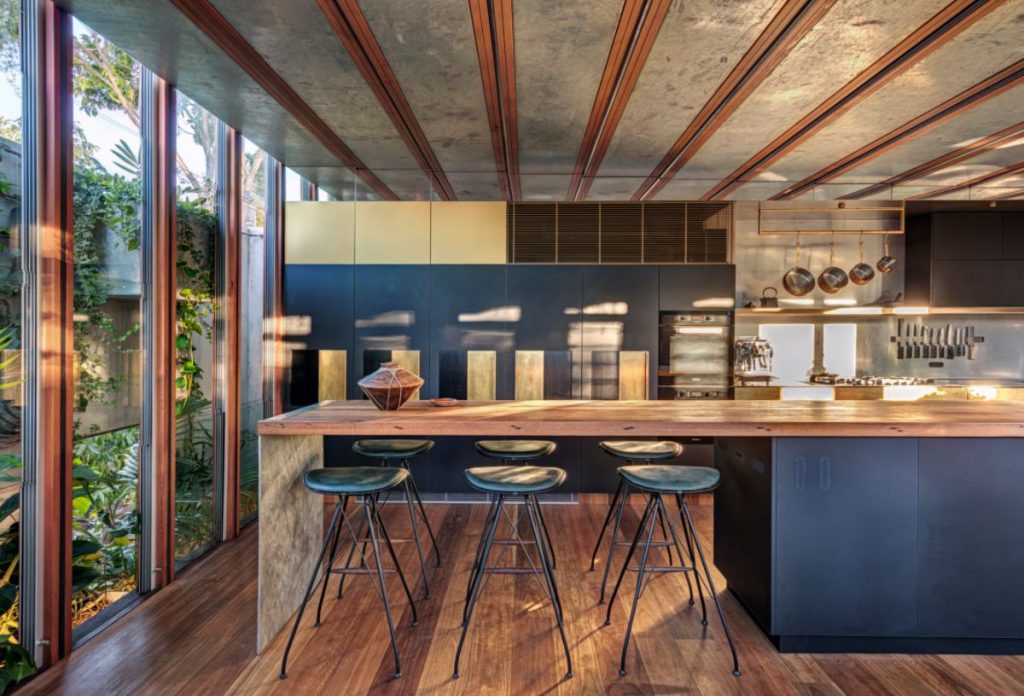 Are you a good client?
The worst ever. I changed my mind so many times it drove my project architect to hand in her resignation after over 3000 hours of documentation. Despite this outcome, we remained friends and she eventually came back to the team a year later in a new role as our project manager.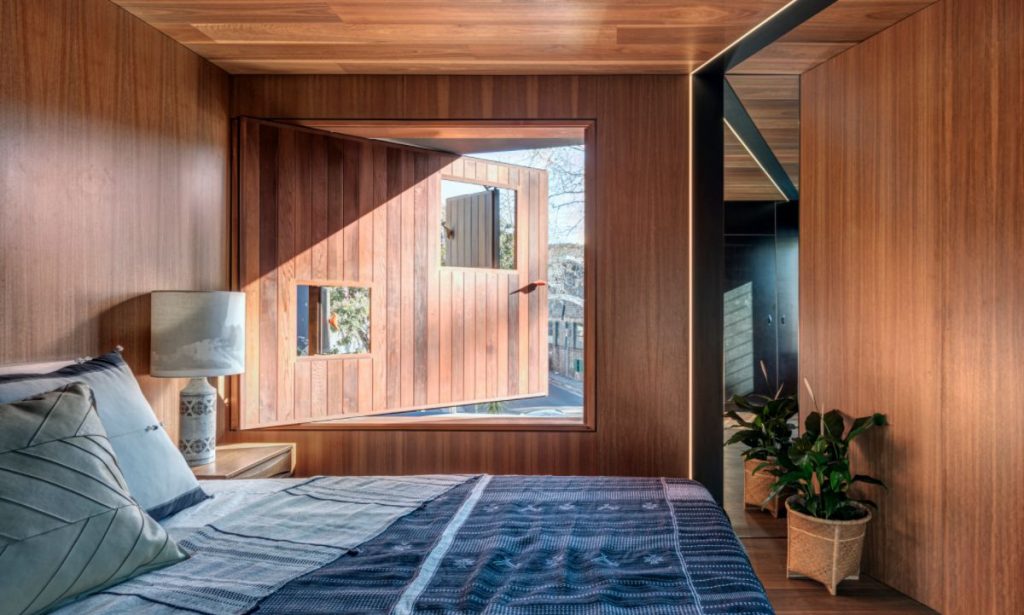 Which is your favourite room and what makes it special?
The outdoor living room on the top floor is my favourite place. I designed it to catch midday sun all the way through to sunset in both winter and summer, so when entertaining, this is my go-to space.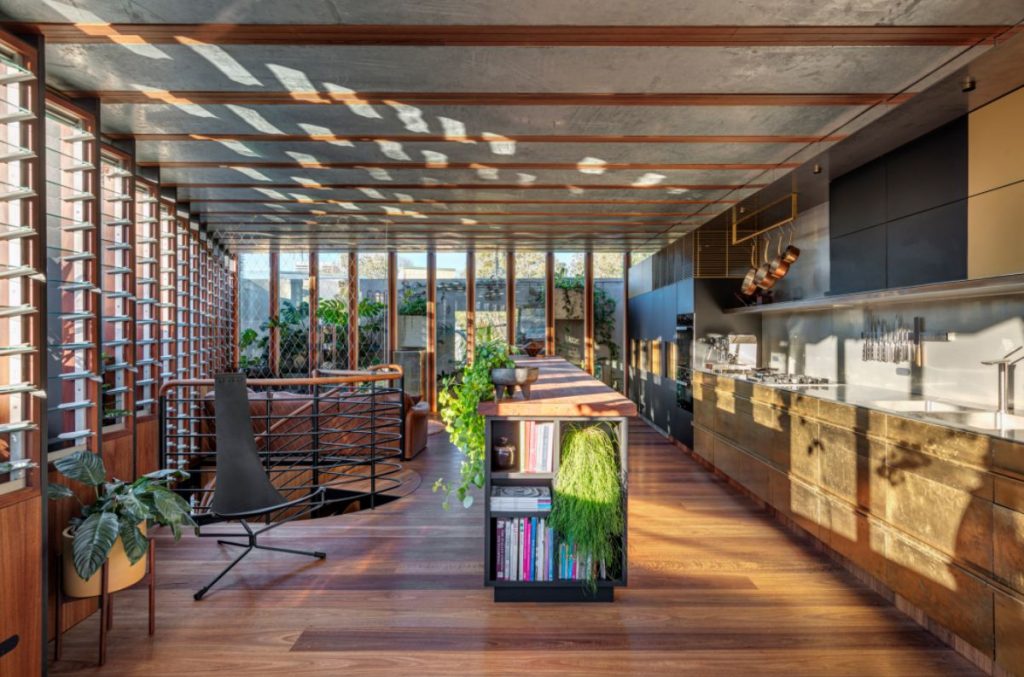 What is your favourite thing to do at home when you're not working?
The ground floor has become one of the places we have gravitated to as it has our home office, movie/games room, and kids' arts and crafts spaces. It has become our go-to place given the recent work from home and home schooling lifestyle changes. Unsurprisingly, this floor also has a mini bar!
This article originally ran in inside magazine. Grab a copy on newsstands now or online from the ADR store.
Photography: Michael Lassman, Ryan Ng and Murray Fredericks.
Founded in 2005, CplusC Architectural Workshop is a boutique architecture practice based in Sydney led by architect and builder Clinton Cole.
Earlier this year, CplusC Architectural Workshop was influenced by the Japanese concept of shakkei (borrowed scenery) for this Sydney home.