While 2020's pandemic has shone a light on the dangers of being overly sedentary, not enough attention has been paid to the health benefits of great ergonomic design, particularly in the chairs we use every day for work.
Ergonomic design has been studied for thousands of years and yet the health impacts of bad design, which can be profound and long lasting, are still often overlooked.
In 2017 ergonomic expert Professor Alan Hedge told Facility Management magazine, "When you look at musculoskeletal problems, which account for about two-thirds of all compensable injuries in most developed countries, those are occurring because of how people are working with computers in office workplaces."
We can now add to that 'people working with computers in hastily set-up home offices' where the problems can be exacerbated.
Apart from the health impacts themselves, there is a financial consideration associated with the application of ergonomic principles and equipment.
A report in the Journal of Safety Research collected 250 different case studies looking at the benefits of ergonomic programs in a range of commercial settings, including office environments.
Aside from the reported reduction of injuries, increased productivity and lower turnover rate of staff, the report also found that the average payback period for such ergonomic interventions was less than a year. Indeed, it was often as little as six to seven months.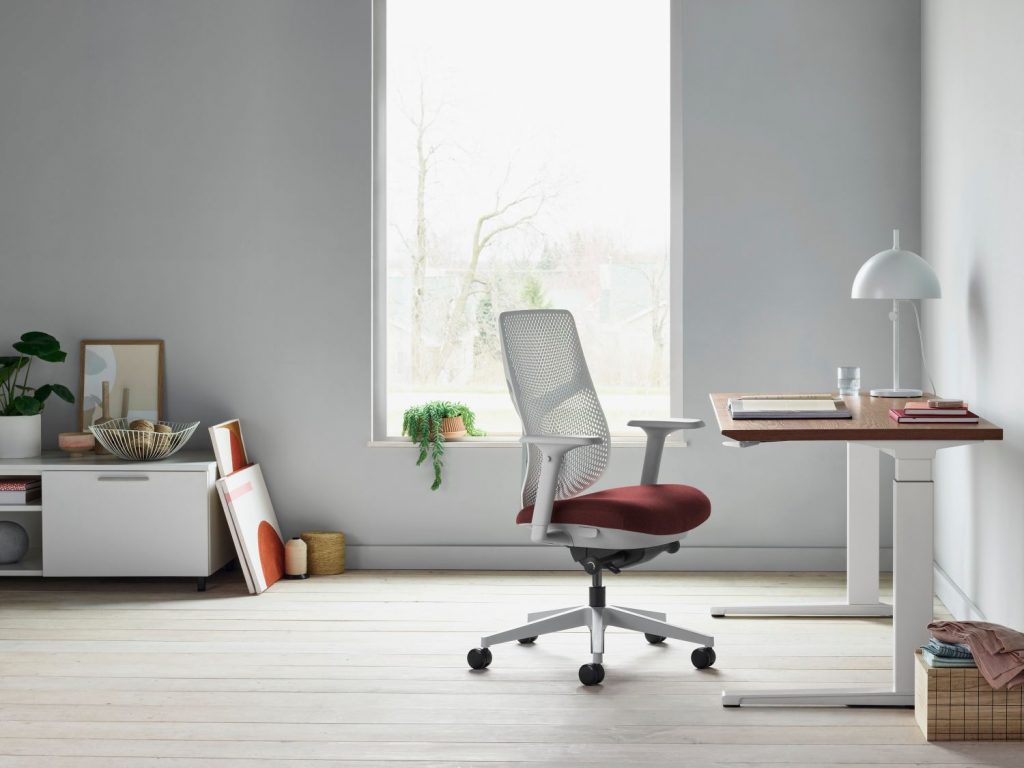 Take a seat
So, if the evidence overwhelmingly supports the efficacy and myriad other benefits of ergonomic programs, fixtures and fittings, where do you start? Clearly the best place is the bottom line.
By this we don't just mean those financial advantages of ergonomic investment, but actual bottoms; i.e. where and how your employees are sitting to carry out their everyday work responsibilities.
As an innovator in contemporary interior furnishings, solutions for healthcare environments and related technologies and services, Herman Miller is renowned for its products in the ergonomic task chair space. All of the chairs it produces focus on the key ergonomic requirements.
They offer total spinal support, a dynamic fit and natural balanced movement. The aim is for postural equilibrium no matter what the spinal curvature, which can be achieved with dynamic surface pressure on the chair back and seat.
They are designed to work with the user, supporting and protecting the body to ensure that the user can focus on what's really important – the task at hand.
Following are five of the best offerings in the range:
Embody
Designed by Bill Stumpf and Jeff Weber, Embody is an intuitive amalgamation of pressure distribution, natural alignment and support for healthy movement.
Weber is the designer who once said, "You can't design a chair without empathy" and this is reflected in the ethos of Embody, which was created not simply to 'do no harm' or be merely health neutral, but to go much further and actually be therapeutic and physically beneficial for the user.
During the design process, Strumpf and Weber consulted experts and following Stumpf's death in 2006, Weber built on the duo's early research and amplified it with laboratory experiments involving kinematics, preferred postures, pressure distribution, seated tasks and metabolics.
The result is a chair that automatically conforms to your body's micro-movements and distributes your weight evenly as you sit, giving you the sense that you are floating while feeling perfectly balanced. The ensuing reduction in pressure is key to good circulation and assistance in retaining focus.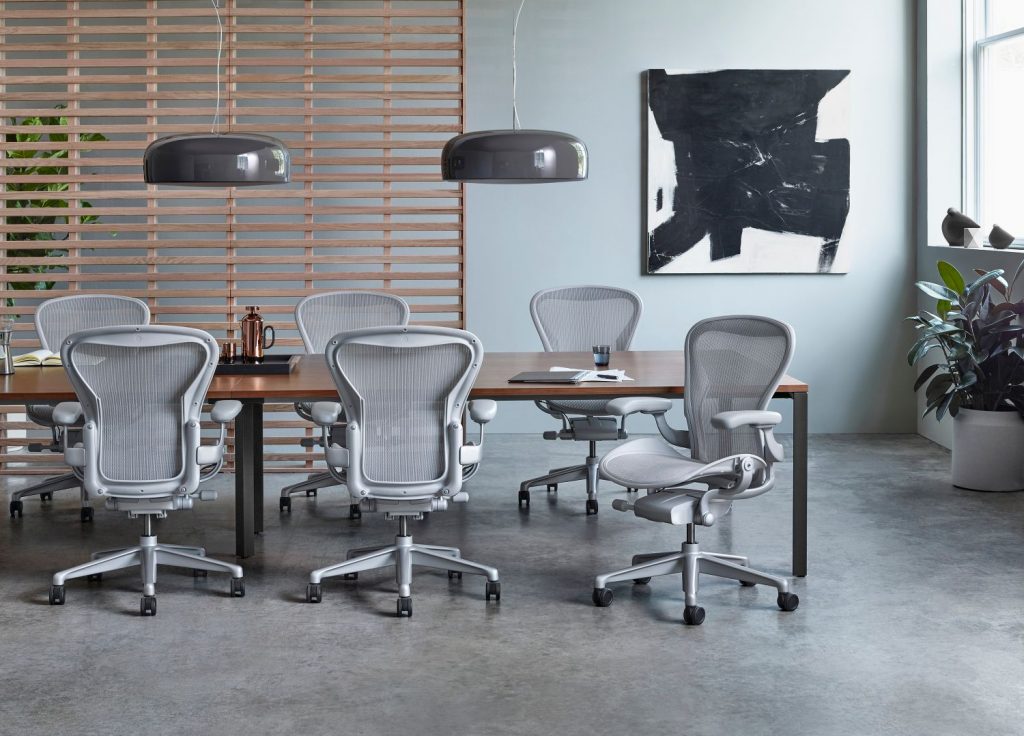 Aeron
Iconic may be an adjective that is bandied about far too freely these days, but the Aeron chair, designed by Bill Stumpf and Don Chadwick, surely merits the description.
A pioneering product in ergonomic design, the Aeron was created to be a health-positive, cross-performing, inclusively sized and environmentally sensitive chair.
Changing the world's perception of what an office chair should look like and be made of, it cemented its place in popular culture and design history by providing an extraordinarily comfortable solution without the standard use of foam, fabric or leather.
In 2016 Chadwick remastered this classic, utilising Herman Miller's latest research in the science of sitting, innovation in materials, manufacturing and technology, and the current workplace landscape.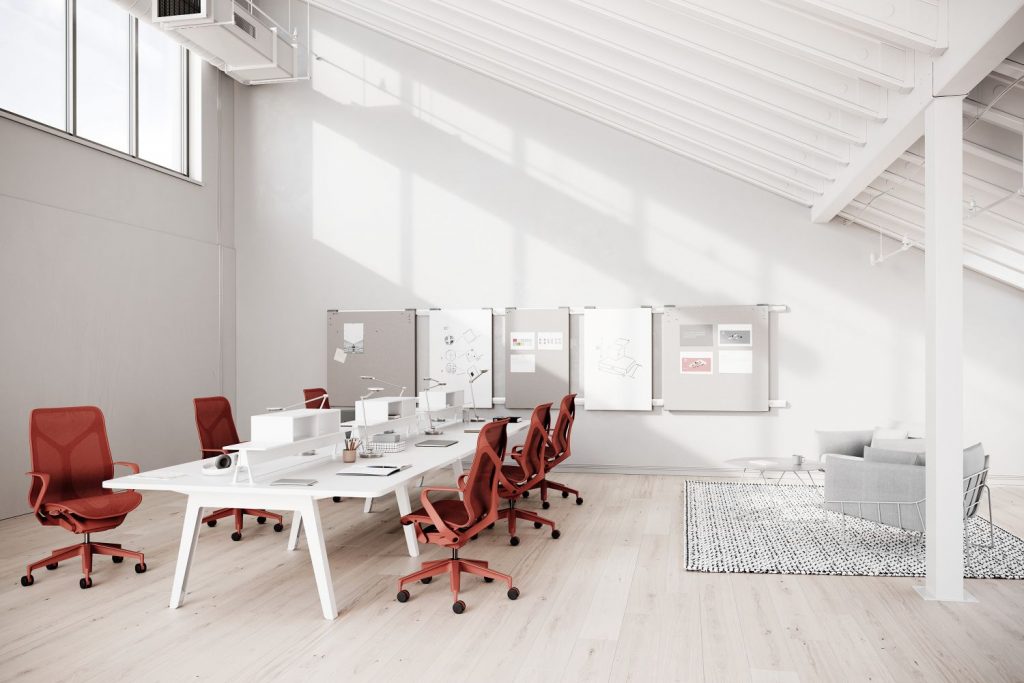 Cosm
Deceptively simple and sleek in design, the Cosm oozes sophistication with a design that instantly responds to the body using it.
Available in a range of colours, including a glorious dusky dark pink called Canyon, the Cosm features an auto-harmonic tilt, Intercept suspension and flexible frame that together give the sitter a feeling of weightlessness, combined with balanced support.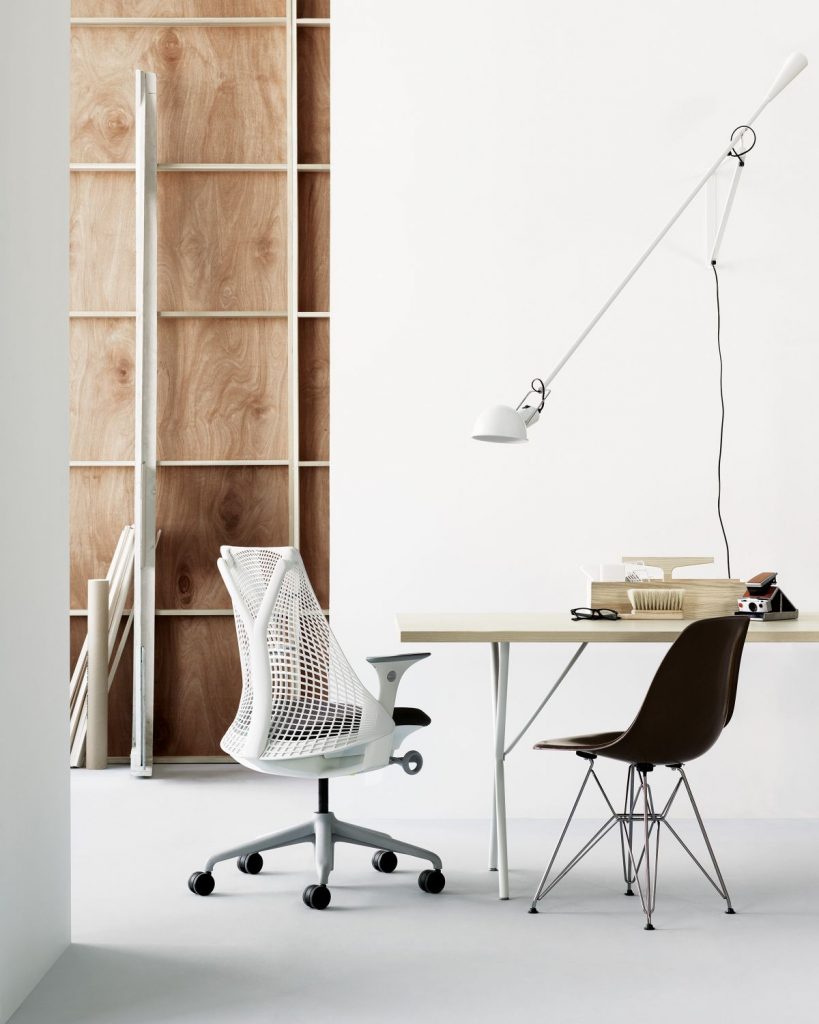 Sayl
The space age contribution to Herman Miller's ergonomic seating range, is an exercise in restraint and simplicity. It features fewer parts and less material, so is able to offer the trifecta – great design, healthy support and exceptional value.
Designed by celebrated San Francisco-based Swiss designer Yves Béhar and the Herman Miller design team, the Sayl features a suspension back with elastomer strands that vary in thickness and tension to provide superior support in the transition areas along the spine.
And if you're looking at the Sayl and thinking it reminds you of something, but you can't quite put your finger on what, Behar's engineering principles were inspired by no less a global landmark than the famed Golden Gate Bridge.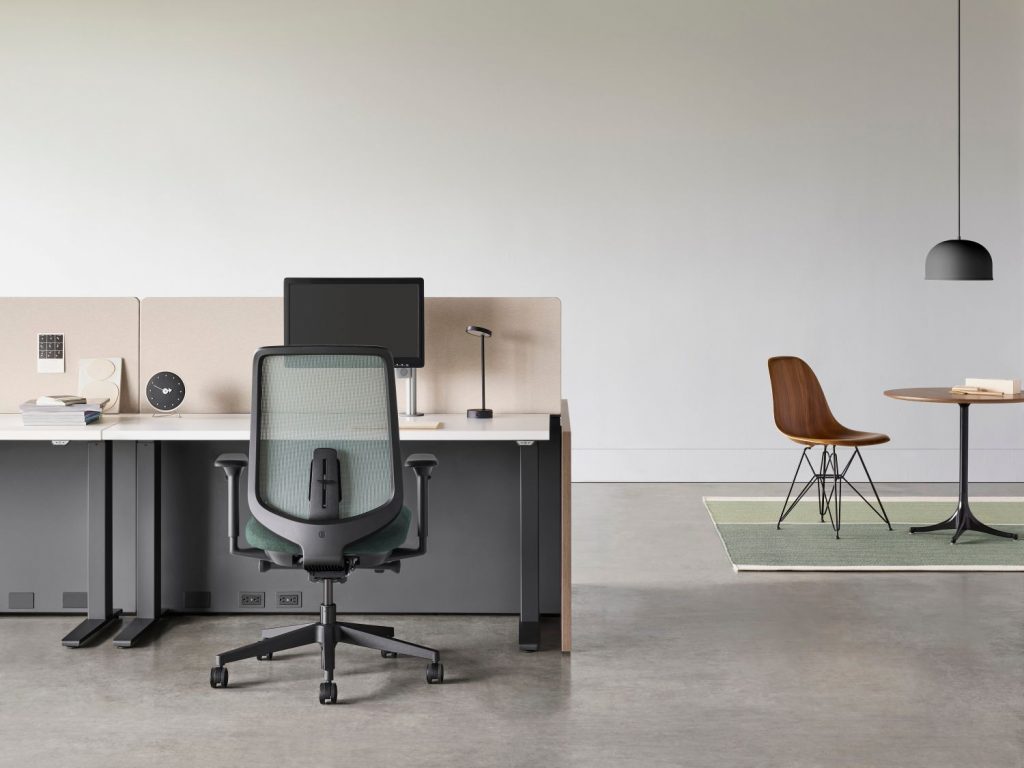 Verus
Emphasising the fact that great ergonomically designed products don't have to break the bank, the Verus offers short- and long-term comfort and well-designed ergonomic alignment and support at an attainable price.
Redefining what an affordable work chair can be, Verus is an unobtrusive, but versatile contribution that comes in a range of fabrics and colours, while providing built-in sacral reinforcement and options for adjustable lumbar support.
Lead photo: the deceptively simple and sleek in design Cosm. Photography supplied.