Written by: Elizabeth Chu Photography courtesy of: Tokujin Yoshioka 
Few designers transition between the world of design and art with the grace of Tokujin Yoshioka. Perhaps best known for designing Issey Miyake stores from 1995 through to the most recent iterations for London 2014 and Marunouchi, Tokyo 2015, he has a style just as married to Swarovski, Lexus, Cartier, Hermès and Moroso. And these are just the brands with a consistent and ongoing aesthetic relationship, as opposed to the occasional engagement with Bang & Olufsen, BMW, Peugeot and Apple.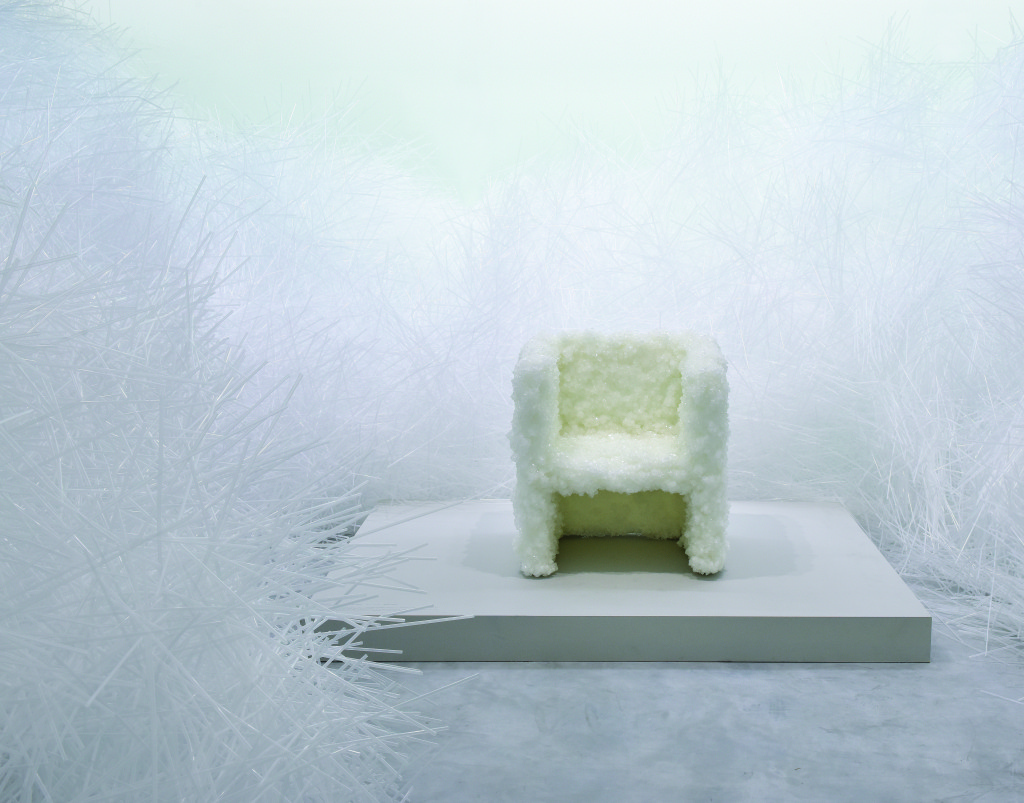 Add to this a product range of extraordinary scope and agility that includes design icons such as Water Block 2002 (permanent collection Musée d'Orsay, Paris, Museum of Contemporary Art Tokyo and Leeum, Samsung Museum of Art, Seoul) and Honey-Pop armchair, 2000-2001 (permanent collection Museum of Modern Art, New York; Vitra Design Museum, Switzerland; the Pompidou Centre, Paris; and Victoria and Albert Museum, London). He is, however, far from static and this year alone saw work for Issey Miyake, Kartell, Glas Italia and Moroso presented at the Salone del Mobile, Milan.
Art and artworks, exhibitions and installations have consistently informed his oeuvre, with the same detailed aesthetic of form, light and spatial acumen. His latest exhibition, Tornado, for the Saga Prefectural Museum Renewal: Special Exhibition, explores this duality as a refinement of the design object, as installation, concept. He was engaged as a supervisor for the museum's recent renovations, and the exhibition effectively positions the entire museum as an installation. Unique in its manifestation as a contextualisation of his design work, it is the experiential presence of being within the work that astounds.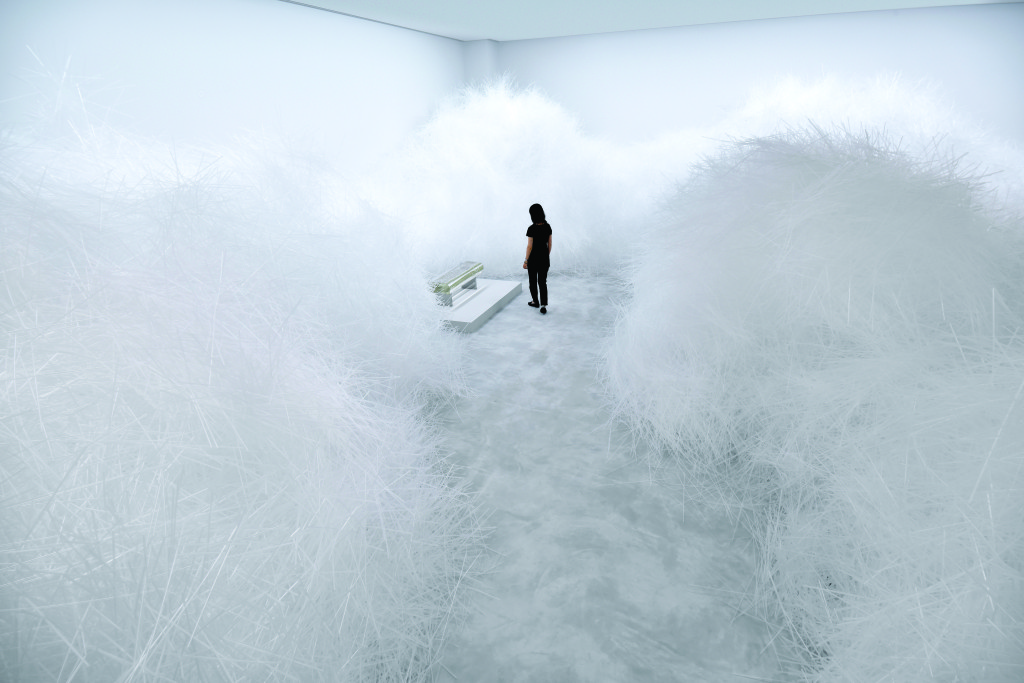 Comprising more than two million clear plastic straws, the installation work, Tornado (originally presented in 2007, Design Miami, where he was named Designer of the Year), undulates, flows, eddies, expands and contracts through the interconnecting chambers of the museum space. At one point this glorious ephemeral cloud spills through an entrance way like an ocean wave caught in time, halted mid-air in an attitude to be interpreted as either retreat or onslaught, past or potential. And it is here that Yoshioka's concern subtly pervades the work and asks the audience to consider the future. The wave, either benign or destructive, is effectively determined by the audience's psyche.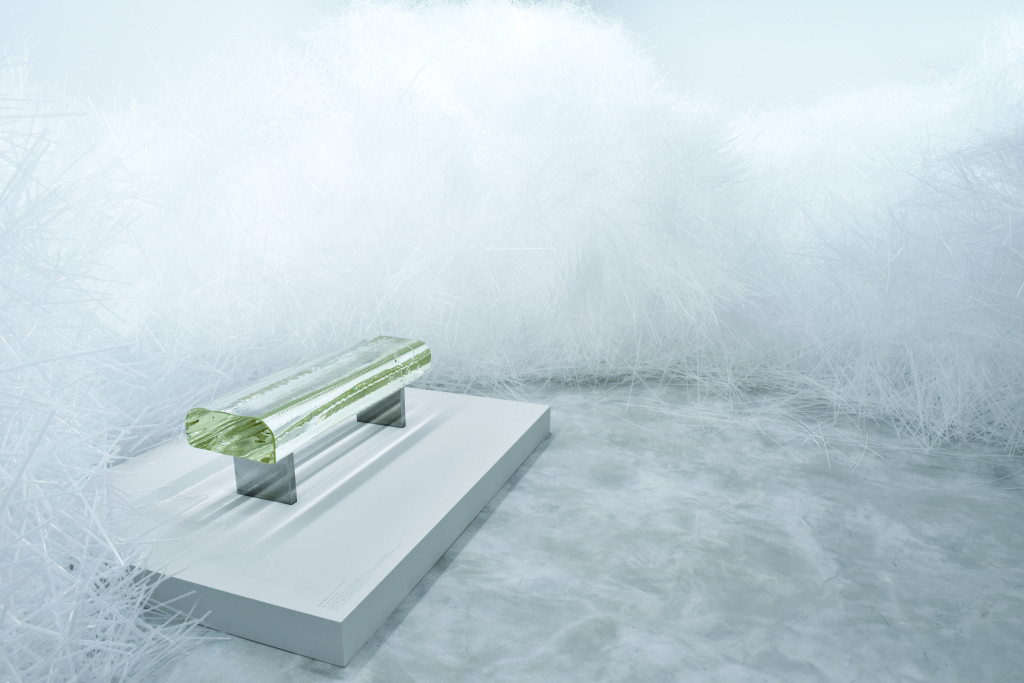 In naming the work Tornado, the artist is alluding to the phenomenon of tornadoes touching down as seemingly random acts of violence, destroying one home while leaving its neighbour untouched. To some extent this narrative works with the design objects of his catalogue holding fast while encapsulated by the flow of straws. As a wave metaphor, which flows around islands, gaining strength and turmoil as its flow is stymied, it is far more visually keyed to the experience of the work. And herein lies the rub; it is the experience of the work, rather than its intellectual undercurrent that is most effective. It is vast, opaque, tremendous, beautiful and suffused with an eerie tranquillity and elegance. The passage through it opens to moments of absolute calm where a design piece – such as the Venus, which was grown in a tank's crystals, attracted to a sponge form 2007- 2008, Pane Chair 2003-2006, Honey-Pop 2001 and Waterfall 2005-2010 – exists as a jewel in a storm of activity. It is, in fact, an exceedingly immersive engagement that at once contextualises, rarefies and makes intimate.
tokujin.com/en
Inside 89 is on newsstands now, and available through Zinio.