Written by: Penny Craswell, Images courtesy of: WilksonsonEyre.
Penny Craswell How did the idea for the exhibition come about?
Chris Wilkinson The point of the exhibition is that I've been using drawing as a part of my design process for a long time. There are two aspects of drawing: there's the sketching, which could be just working through ideas, and proper, finely worked drawings. There is no real need for these freehand presentation drawings anymore, but sketching is still important.
Over the years I've accumulated 25 sketchbooks and I started to think about these books piling up and thought I might publish them. I'm an academician and the Royal Academy of Arts said they'd like to publish my book and that they could give me an exhibition as well.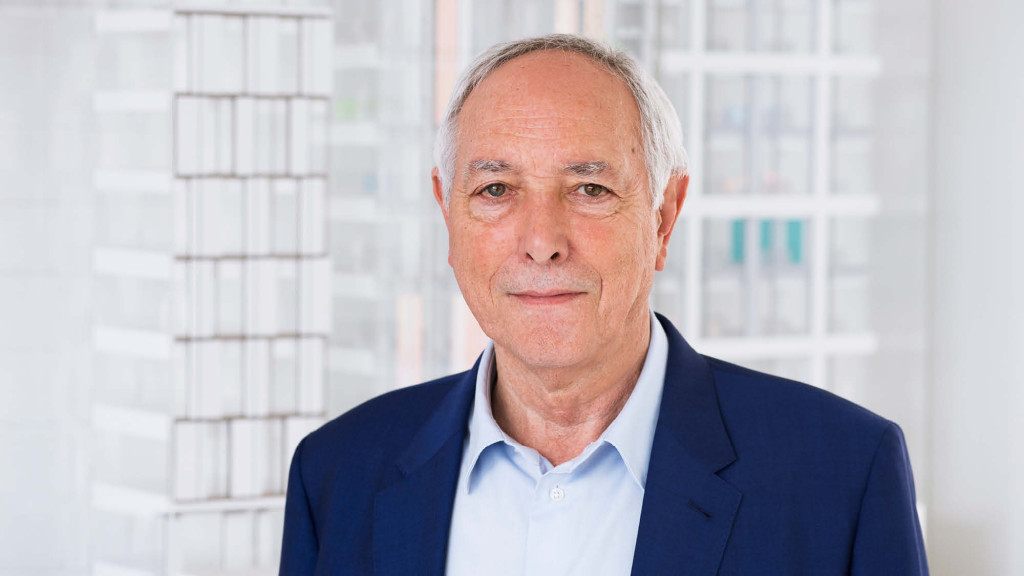 PC It's a nice way of showing your work in an unusual way, because you have monographs as well. So this is a retrospective, but from a different point of view.
CW Yes, it's more personal as well, because I've spent 30 years building the practice, from starting on my own to now having 190 to 200 people in the studio. There was this slight worry about showing the sketches and publishing them because it's quite an intimate thing, a bit like showing your personal diaries.
The drawings show different kinds of buildings and different ways of drawing, some being very early sketches. Kate Goodwin, curator at the Royal Academy, was interested in the idea of drawing as part of the creative process. I like to sit down and sketch ideas. When I start I don't necessarily have any ideas, but they start to emerge as part of the process.
PC Can you tell me a bit about your sketch of Queensbridge Hotel Tower in Melbourne?
CW It's a joint venture between Crown and Schiavello – part hotel and part residential. The site is close to the other Crown Hotels and joins the Crown Metropol with a bridge. It's interesting how well that part of Melbourne has been regenerated. It's been very successful and I found it quite exciting – not like the old part of Melbourne but still on the river. These drawings of the project were done on the Qantas flight back to London. I've got to the point where I'm quite happy drawing on a plane – because I have a lot of time to think.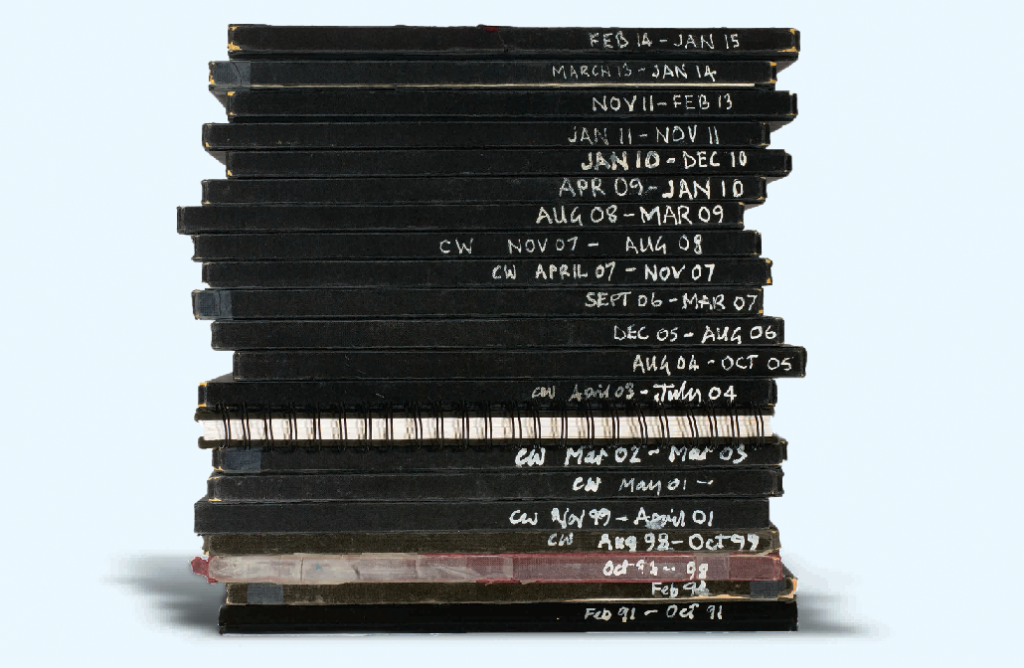 PC There are a lot of beautiful geometries and forms in the sketches. Tell us about the drawing of Crown Hotel at Barangaroo. Did you start with the geometry?
CW This is one of the very first drawings from when we first went to the site in January. The brief came out on the day we broke up for Christmas, so I spent Christmas looking at the brief. I came up with this idea of three petals that twist as they rise up. The sketch shows me exploring the possibilities of the three petals and how they become a three-dimensional sculptural form that encloses usable space.
The client said that they like the scheme in which the tower is mainly glazed, but they were interested in more luxurious materials for the podium level. I said, what about some marble stone trace work, which doesn't really exist in Australia. We have a lot of it in Gothic architecture here in Europe. They said yes, they were interested in it – so we developed the idea with Arup. It was all very well in the 12th century when you had stone carvers with generations of experience building stone tracery, but we had to find a new way of doing it in the 21st century. This is an early drawing, where we had the structure exposed, but actually the structure is steel rods within the stone and tensioned up. Some of these sections are over 20 metres high, so they have to be strong enough to span on their own.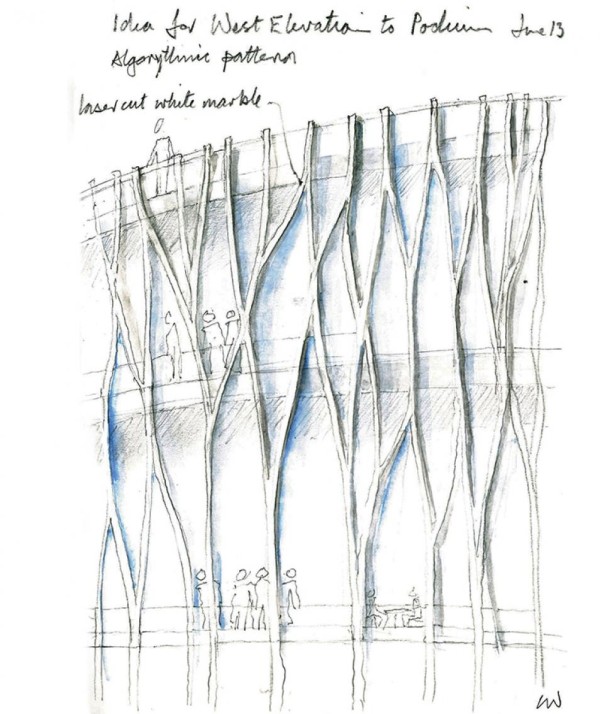 PC Barangaroo has had a lot of controversy regarding the public space – do you have any thoughts on that?
CW Every big urban regeneration project has this – in London's Kings Cross there were almost riots in the early years but now everybody's happy. A lot of it is political, but what I can't understand – as an outsider looking at Barangaroo – is that half of the land is parkland and it's been beautifully landscaped. The main buildings are on the waterfront, which is an important site for Sydney, and it's part of the CBD so it's not surprising that there are taller buildings, with a mixture of office, residential, retail and hotel – that's what you expect in the CBD. There will be a conglomeration of mixed-use buildings that will draw people coming from the harbour, including restaurants and retail. I think the existing harbour is quite low key, but this area will have a much higher level of interest.
PC Do you foresee any change in the design before construction?
CW No, we've developed the design and it's ready to go. It's not that much taller than the other buildings. The controversy is one of these things that happens with any big development. I'll be very surprised in 10 years' time if people aren't happy with the results.
wilkinsoneyre.com
AR143 is on newsstands now, and available through Zinio.