Written by: Peter Salhani, photography by Derek Swalwell and Ryan Strating courtesy of Core Collective.  
Ceridwen Owen and I met while working together in Melbourne for a sustainable design practice. I am a Deakin University graduate, Ceridwen graduated from Mackintosh School of Architecture at the Glasgow School of Art, with a PhD from the University of Melbourne. We started Core Collective Architects in 2002, sharing views on issues around lifestyle, sustainability and design. Chris Clinton and Emily Ouston joined us in the last few years, initially working together at Terroir. Our early focus was on sustainable residential projects, with the intent to enjoy our work and become successful enough to fund pro bono work along the way.
Key early projects include Venus Bay House (coastal Victoria) and a Melbourne house for Ceridwen. In 2011 we finished Southern Swan (house/apothecary in Cygnet) and our first pro bono project: the Tong-Len Hostel in north-west India, an assisted accommodation/learning centre for refugee children run by a Tibetan monk.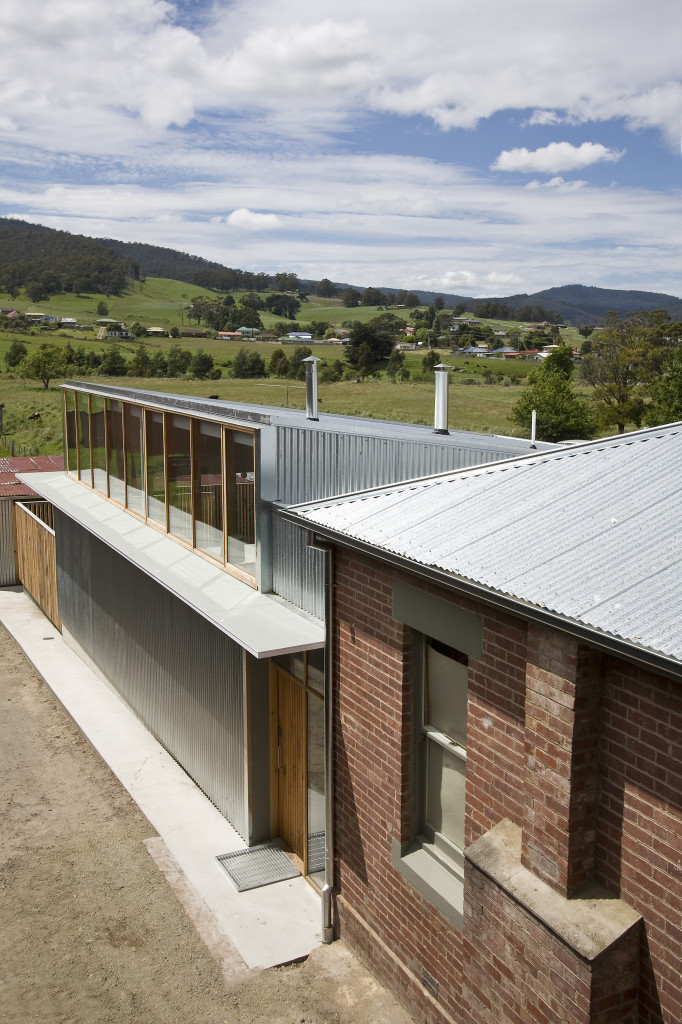 Recently, our adaptation of the Old Mercury Press Hall building in downtown Hobart won the Award for Commercial Architecture at the AIA 2015 Tasmanian Architecture Awards. Originally the City Motors showroom, this landmark is now home to Franklin Restaurant, Tasmanian Juice Press, Pigeon Whole Bakers and the Core Collective Architects' studio. Chris' house on New Town Road in Hobart won the 2015 AIA Peter Willmott Award for Small Project Architecture Award. They're different scales of project, but the everyday experience of materials and spaces are key to both. Research and education are key to our practice. Ceridwen is head of architecture at The University of Tasmania and tutorials are held in our studio.
We spend a lot of time researching sustainable materials and construction processes, which benefits all our projects. Chris' house is his playground for testing and refining details and mechanisms – that's his thing! We're currently doing a house on the D'Entrecasteaux Channel in southern Tasmania with Danish triple-glazed windows, clinkaBLOK (clay) walls and insulation, pellet-and-fire heating and a green roof that, combined, will yield an 8.8 Star (AccuRate) House Energy Rating. Beyond this sustainable engineering it'll be a house full of beautiful moments.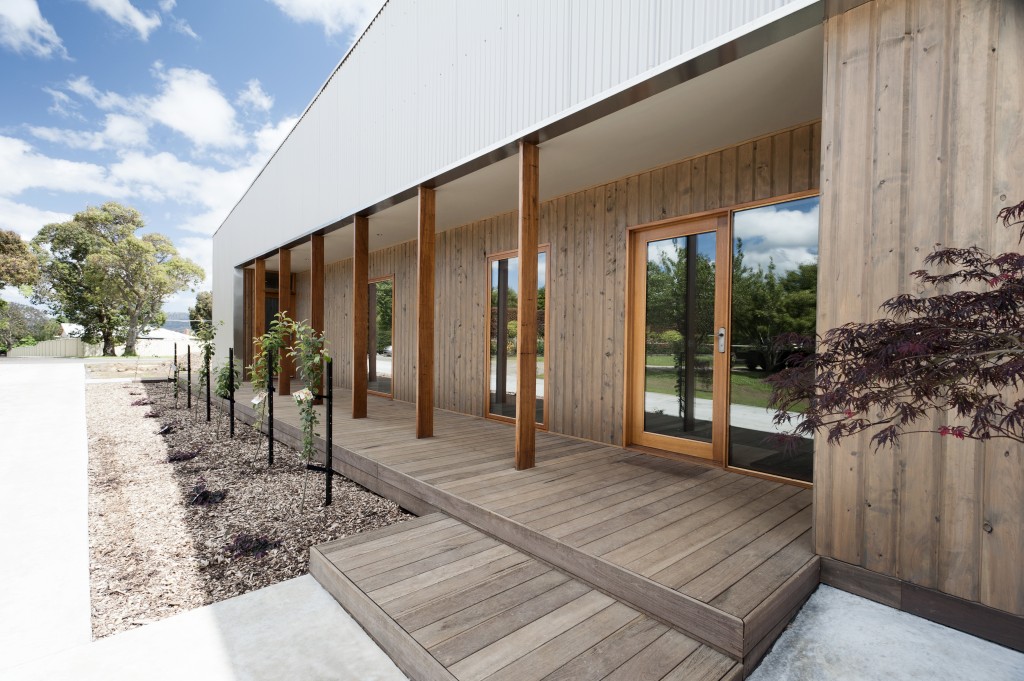 The flip side of learning is collaboration. That's what gives each project its identity. We're all registered architects, but we bring more to the table than that. Chris is the craftsman, an up-cycler of materials, a Gum Tree addict and a gifted maker of details and objects that he prototypes relentlessly. I love discussing design possibilities with clients, builders and artistic collaborators, while Ceridwen is a strategist, problem-solver and humanitarian. Emily (our archinerd) is a conceptualist, a formidable sketcher and model-maker, always exploring design options. We have a huge table in the studio where we sit and talk (a lot!), working through ideas. We often invite others to join us at the table – creatives and makers, planners and developers, financiers and farmers, even politicians.
If there's a Tasmanian vernacular in architecture, it's to do with the island: constraints, opportunities, inventiveness and the freedom to tinker. It's also about climate and biogeography – buildings here relate differently to the sun from the mainland. And there's still a proper shack culture. Hobart is a big country town, in the best possible way: a close-knit community with an accessible and enriching scale.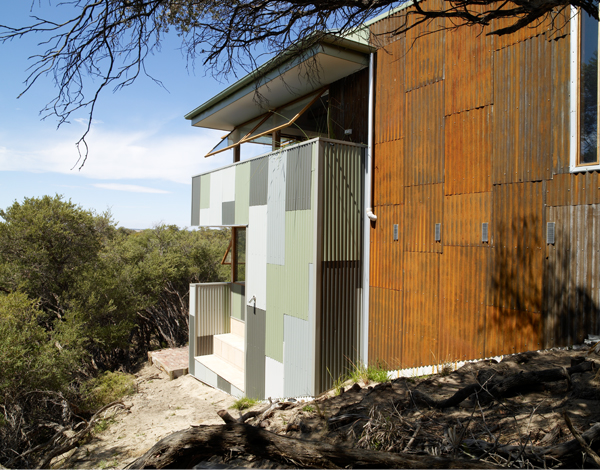 We're at a pivotal moment in Tasmania's urban development, where we can learn from other cities globally, while still celebrating our local culture and people. We want to represent Tasmania's architectural future with ecologically responsible, elegant and confident build- ings, designed for adaptation. We design for longevity and only take on work that supports that philosophy.
Currently on our drawing board is a major urban renewal project, a tourism development, a string of bespoke houses in Victoria and Tasmania, as well as furniture/lighting projects… And Chris is still fine-tuning his house.
MEZZANINE South is on newsstands now, and available through Zinio.