Every week in our Q&ADR column, ADR interviews an architect, designer, object maker or industry person about who they are beyond the work – their life, inspiration, challenges and aspirations.
This week talk to Ceci and Aydin Keyvanloo, the founders of furniture brand VUUE, to find out how they got started, what makes Australian design and how the NGV is a place of inspiration.
Can you tell us about your background and how you have ended up working within the architecture and design industry?
Ceci: It became clear early on that I was going to do something in the creative realm; I ended up studying furniture and product design at RISD and Parsons School of Design. Although engineering, interior architecture, interior design were all considerations, product design sounded more fun than engineering.
One of the reasons I chose to move into product design was because I figured furniture plays a major role in defining a space, so I can influence spaces in some way.
I like the physicality of designing objects. I find that I can connect with a product that I can touch and hold and potentially sit on. The development time for products is usually relatively short compared to most architecture projects, and I enjoy this more immediate gratification.
Aydin: When I started studying at Monash University, I knew I wanted to be a designer. Although I have an aptitude for it, I only chose to do the dual degree in design and engineering as a backup plan in case design didn't work out.
I've been lucky to have been able to work as a designer since graduating and have drawn on my engineering studies to inform my design decisions ever since while designing everything from prams to retail fixtures to furniture. Each project builds on the knowledge gained from those before it.
You recently founded furniture brand VUUE – can give us some insight into what you do and how you got it off the ground?
Ceci: It's taken a lot of faith in ourselves and a lot of dedication to bring it to this point. It's certainly been my most challenging project to date.
We both partake in the design of the product and the brand but beyond that, I liaise a lot with our clients and factories while Aydin (thankfully) manages the accounting and nuts and bolts. Both of us sometimes wish the other was the business role and we could be the designer role full-time, but we know that isn't realistic and are both involved in every aspect of the business.
Since Aydin's product design background didn't include furniture and because I'm still pretty new to Australia, we're still learning about the furniture and interior industry here. We decided it was best to launch VUUE at the International Contemporary Furniture Fair (ICFF) in New York, where I practised for 14 years.
As can be expected, the US is still our primary market. After the launch, we realised that we had enough interest in Australia to bring stock here. We continue to sell VUUE directly internationally and to residential customers but joined forces with Zenith Interiors in March to service the commercial market in Australia.
What has been the steepest learning curve and most pleasant surprise since founding VUUE?
Ceci: VUUE has been a labour of love for us. I had always wanted to extend my role as a designer to include the manufacturing side of the process, and with VUUE we have been able to take the entire process under our wing.
I knew a fair bit about manufacturing but the business and marketing side has been a steep learning curve for me. Luckily, Aydin has the experience of building a brand, manufacturing and selling product globally, so his knowledge and experience have been invaluable.
Neither of us knew a whole lot about the process that designers and architects go through to choose furniture in the concept stage and try to get it through to the final installation. We are learning that it is a journey and are so thankful to those who take us along for the ride.
What would you say has been the biggest achievement in your career?
Ceci: Hmmm. I have to say having our own booth at ICFF was a highlight and a big stepping-stone. I'm hoping my biggest achievement is yet to come.
Aydin: Being able to work as a designer is an achievement in itself. Designing is personal. It requires one to look at things in a new perspective. You do your best and hope that others will see the merit in your ideas.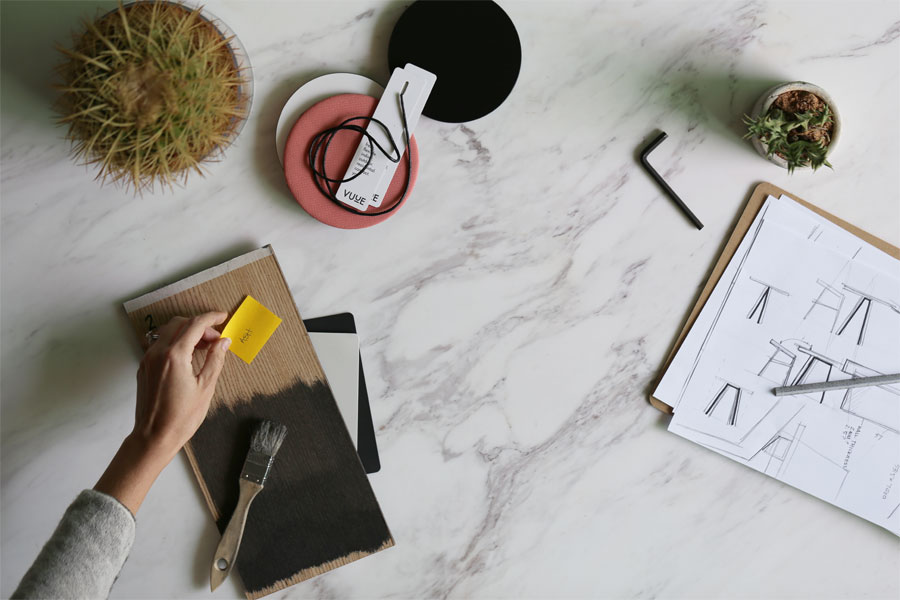 What do you think characterises Australian design?
Ceci: I would say that Australian design seems to be focused on the future and what is new rather than attempting to reinterpret the past. This is in contrast to what I see happening in a lot of the spaces in the States. Attempting to recreate the past is futile. In that way, I'd say Australian design is more authentic and relevant to today's world.
Aydin: It feels like Australians are not afraid to embrace risk. They are not looking outside for ideas like before. I'm not sure if the world has caught onto it yet since we are so distant, but I'd say Australia is at the front of the design curve these days. It is notable how thoroughly design pervades our lives.
Who/what/where do you look to for inspiration?
Ceci: I find my most rich sources of inspiration are in the details and materials used in the architecture and interior design of my environment. I travel a fair bit, so those influences can be quite varied from country to country.
The richest inspirations come from the quirky products that are specific to that culture or the older local vernacular rather than from the current global aesthetic. The visual inspiration library in my head is brimming and I find it can be more challenging to process the inspiration than it is to find inspiration.
As a highly visual person and trained designer, I've spent a lifetime absorbing the visual world around me. When I sit down to design something, second nature takes over and I subconsciously reference that visual library, interpreting the world I have taken in through my own lens and applying the hopes and constraints of the project at hand.
Aydin: I grew up in the '80s when Japan was riding high and would say that the design from that era still inspires. Japanese design tends to have an amazing balance of very considered aesthetics, quality and functionality.
For the same reasons, I'm also a fan of the timeless designs of Dieter Rams. He was a master of purity. I'm infatuated with how the details are handled. The simpler the better. I try to hold myself to that standard.
Which place or space in Australia do you wish you had designed?
Ceci: Aydin and I were just enjoying the exhibitions and garden at the NGV (National Gallery of Victoria). I don't know the history of the building, but I appreciate that it feels progressive even though it's not a recent build. It has a very confident and assured boldness about it perhaps due to its proportion and materiality. It seems like it will age well.
Another project that we both enjoy is Heide II, the former home of the John and Sunday Reed on the grounds of the Heide Museum of Modern Art. The huge blocks of the masonry walls that define its form and create honest wall surfaces that are consistent inside and out.
Its palette is very pure and natural enough to relate to. The interplay of the various indoor spaces and outdoor courtyards is masterful. It uses all of a designer's tools (scale, depth, cantilever, repetition and line) within one space without the outcome feeling overdone or contrived. Aydin and I were actually married on the Heide grounds and that makes it all the more special.
Aydin: There are so many well-designed homes in Melbourne. Through VUUE I've been able to see the interiors of some amazing renovations and conversions, like a recent Victorian extension in South Yarra by Zen Architects, where we delivered some chairs.
It's really rewarding to meet the people who have chosen to bring our products into their spaces and into their lives. Although we aren't architects, we'd like to design a house of this calibre for ourselves one day.
What's on the horizon for VUUE?
Ceci: In addition to adding new designs we would like to find the right people to represent us in Europe and the Middle East. We've gotten a lot of interest from that area but have some learning to do on how to handle that frontier.
Aydin: VUUE is exhibiting at Denfair this year and we're looking forward to getting to know more of the Australian design community. We're excited to launch the Mornington Counter Stool as an extension of the collection and in response to customers who wanted Mornington for their benches.
If you'd like to be featured in Q&ADR, simply email adrteam@niche.com.au with a little introduction of yourself.
–
Read last week's Q&ADR with Sarah Smith, who started her career as an interior designer working on prisons, and is now at Hayball, where she is working with the interior design team in the education sector.