Article by Conrad Hamann
Photography by Christine Francis
Designer
All photography by Christine Francis.
In 1934 John and Sunday Reed bought the site upon which the present Heide Museum of Modern Art complex sits. They named it 'Heide' for Heidelberg, the suburb across the river long associated with En Plein air painting, and formed a circle of artists that included Albert Tucker, Joy Hester, John Perceval and Danila Vasillieff. Sidney Nolan painted his Ned Kelly series in the original 1870s house, which the Reeds modified in 1935 and named Heide I. Then in 1963 they commissioned David McGlashan and Neil Everist to design a new house, Heide II, a modernist classic. Conrad Hamann looks back at Heide II and its architectural legacy.
Heide II was designed as 'a gallery to be lived in', and despite the rural setting, it was strongly urban in feel both inside and in its paved approaches and courts. This reflected the Reeds' connection to the Melbourne-based Contemporary Art Society of Victoria and the Gallery of Contemporary Art (later the Museum of Modern Art and Design of Australia). Sitting halfway down a low hill above the Yarra flood plain, Heide II is often cited as a triumph for modernist architecture, and as a house of radical art, it was a clear alternative to Montsalvat (1934–72), Justus Jorgensen's eclectic fantasy of castle and village in nearby Eltham.
At the time, architecture was turning away from the orthodox modernism of international functionalism and toward greater monumentality, representation and a new level of meaning. Accordingly, Heide II alternates masses and voids, loosening and tightening their connection by turns. Its masses are formed from piers in Mount Gambier limestone, a white rock with occasional bubble veins resembling travertine. The external expression of the windows is kept as clear as possible: large, plate-glass, floor-to-ceiling bays set (with one exception) well in under cornices so that reflection from the glass does not link the windows visually with the pier-walling. This heightened contrast, with its implicit reassertion of walls as masses and openings rather than continuous skins, is closer to Louis Kahn than to the industrialised window walls so dominant in orthodox modernism at the time. The interior is also much closer to Kahn's sense of plan: a 'society of rooms' rather than the open continuity of space signifying 'correct' modernism as it was. There is a positive delight in the way McGlashan and Everist turned the internal walls into mysterious corridors, turning abruptly round corners and out of sight like the maze for the bull of Minos, or coming to surprising dead ends.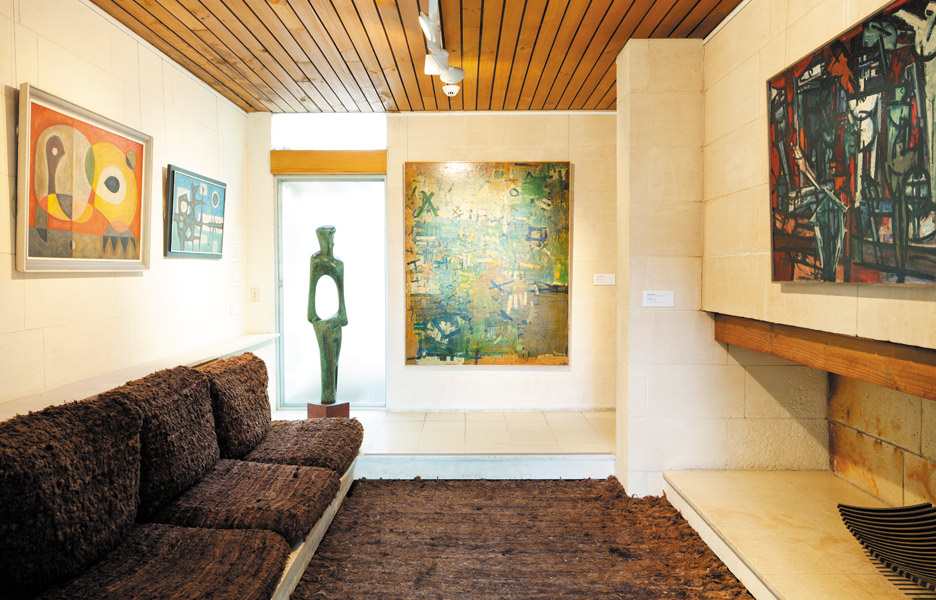 The hearth room, tucked away at the first-floor level, has a fire pit on one side, a built-in seat on the other and a carpeted trough at its centre. It sums up the theme of rooms as encounters. Flanked by two narrow passages that slide past, this room gives no real announcement of its presence until you are actually on its threshold, and it is marked out by a surprising texture change: the creaking, soft-plank floor before the hearth, the only planked flooring in the whole house. The largest space, the double-height gallery hall and its once rail-less stair, spirals upward.
It compresses rapidly and twists out of sight through a turning passage, which cranks round into a shower recess. Today, the recess, de-plumbed, serves as a small-scale gallery space but with its soap shelf and light fitting still in place.
Directly inside, the former bedroom and study, which now work well as exhibition spaces, have no doors between them and the front entry, although juxtaposed walls create a dramatic sense of refuge and physical isolation. Their visual link is with the garden and the floodplain outside. The great windows onto the garden and in the other upstairs spaces are set as surprising revelations, rather than stating the physical continuity so customary in orthodox modernism. Their placement recalls the great windows in Frank Lloyd Wright's Prairie houses, erupting in volume after the low and turning confines of Wright's entry-chimney areas.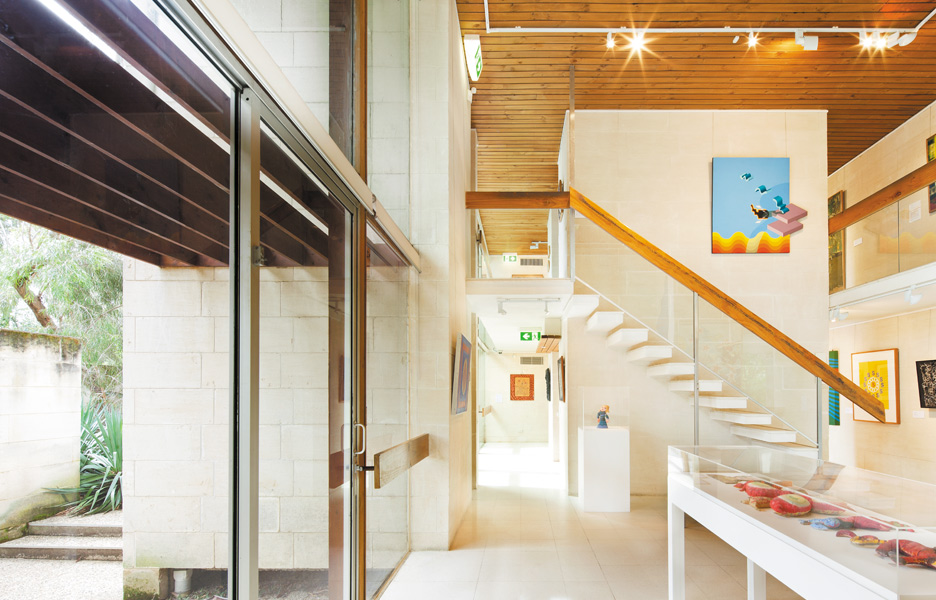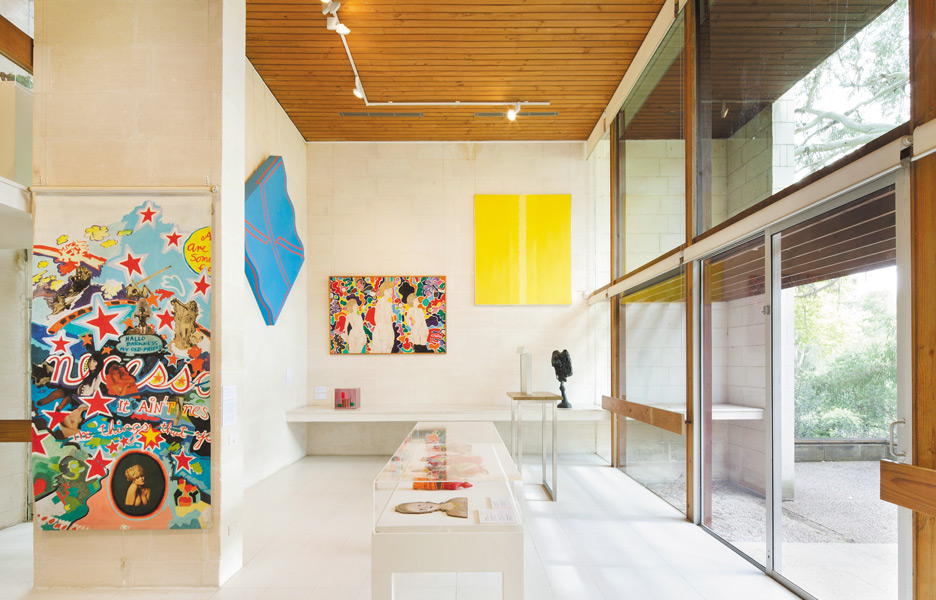 Heide II also matched contemporary changes in architecture by Kahn, who from 1957 to 1960 developed a similar argument of solid and void in his new designs for the Greensburg Tribune-Review factory in western Pennsylvania and the Salk Institute in La Jolla, California. Paul Rudolph underlined this shift to massivity with the dark corners and massive piers of his Yale School of Art and Architecture (1960–3), although the Yale building, a tight, spiralling bundle, is well away from Heide II's external expression. Once you get away from the tautly wrapped garden walls around its east side, Heide II is in general far more spread out and relaxed. The north side steps down its hillside, partly concealed by an advancing and receding pattern of garden walls set across its front. These seem compressed at points, but as you move around them they open up into spreading episodes, the windows wide enough and recessed enough to read as major intervals in the fabric, before a tall pier gathers the lines and weight up again – the house literally moving on to another 'moment'.
What of Heide II today? In 1980 the entire property was sold to the state government and became a public gallery of contemporary art in 1981. Then in 1992–3 Peddle Thorp and Walker, under Andrew Andersons, completed a large-scale exhibition space, Heide III, attached to Heide II's artists' studio, which became part of the new gallery's offices. O'Connor + Houle Architecture added the new Albert and Barbara Tucker Gallery to Heide III in 2005–6 and designed a new education centre sitting clear of the house in its sculpture park. The cafe, formed from Heide II's original garage, was reworked in 2007–9 by Chris Connell Design.
Heide's current buildings and gardens are served by seven directors and 36 employees, a hive of industry. The archives are concentrated in Heide I but the presence of research flows through the curatorial areas, which thread their way through the former studio and the former library and other parts of Heide II. The artist's studio and quarters serve as offices for the whole complex, while the Reeds' house, linked across a short bridge, houses the permanent collection and other temporary exhibitions. Its gallery hall works as before, minus its lounge furniture. The kitchen, bedrooms, study and bathrooms are now smaller exhibition spaces and the bathrooms are storage areas. The former library, right by the front door, is now a reception area.
The Reeds asked for 'a romantic building, ageless [with] a sense of mystery; a quality of space and light appropriate to a gallery'.(01) They could almost have been asking for a castle. And a castle Heide II undoubtedly is – a Hall of the Mountain King, with Nordic mead hall and roaring fires combined with arcane and juxtaposed spaces from that other half-mythical realm: the Cretan Palace. The stern epic of the interior far outweighs the soft and amiable park around, with its kitchen garden, tree-lined paths. The outer garden walls, encircling the east and north sides, mediate between the interior and the gardens, opening and closing in episodes. As an example, these elements are typical of the architecture, breathing into the building a startling and unique energy that still endures.
This article first appeared in Architectural Review Asia Pacific #125: Architecture and the Arts.
WIN
Thanks to Heide Museum of Modern Art, we've got five copies of Living in Landscape: Heide and houses by McGlashan and Everist to give away. To win, email adrteam@niche.com.au with 'Heide giveaway' in the subject line by 12pm Wednesday 18 July.
Giveaway has now closed. Thank you for entering!