Product designer Adam Goodrum and straw marquetry artisan Arthur Seigneur, trained in Paris by straw marquetry master Lison de Caunes, are partners in crime when it comes to creativity.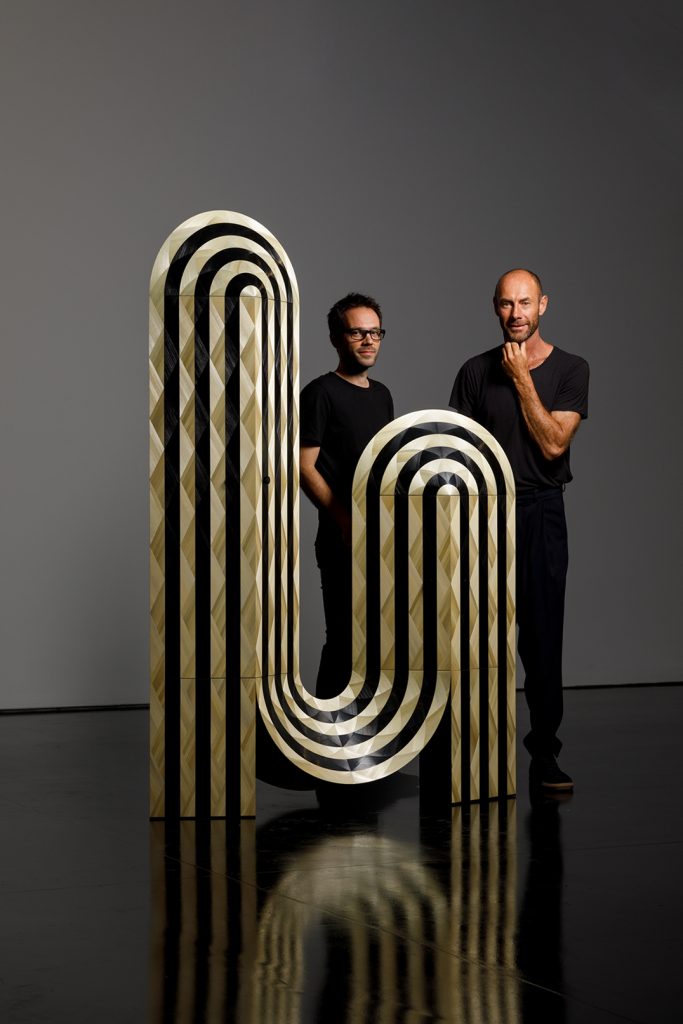 Together, Goodrum and Seigneur formed Adam&Arthur in 2015, and have been unstoppable ever since, as shown by the number of honours, exhibitions and awards the duo has amassed. Not to mention they are also represented by the esteemed Tolarno Galleries, have been commissioned by Louis Vuitton for two bespoke pieces, and recently won Best Furniture Design of the Year at the Dezeen Awards. Their collaboration is about bringing Australian endless possibilities to the very strict and ancient art of straw marquetry, to export this craftmanship down under as well as giving it a multi-coloured twist.
The duo had a chat with ADR about what drives them in life and in their creative process, and about why every day is about pushing their own boundaries.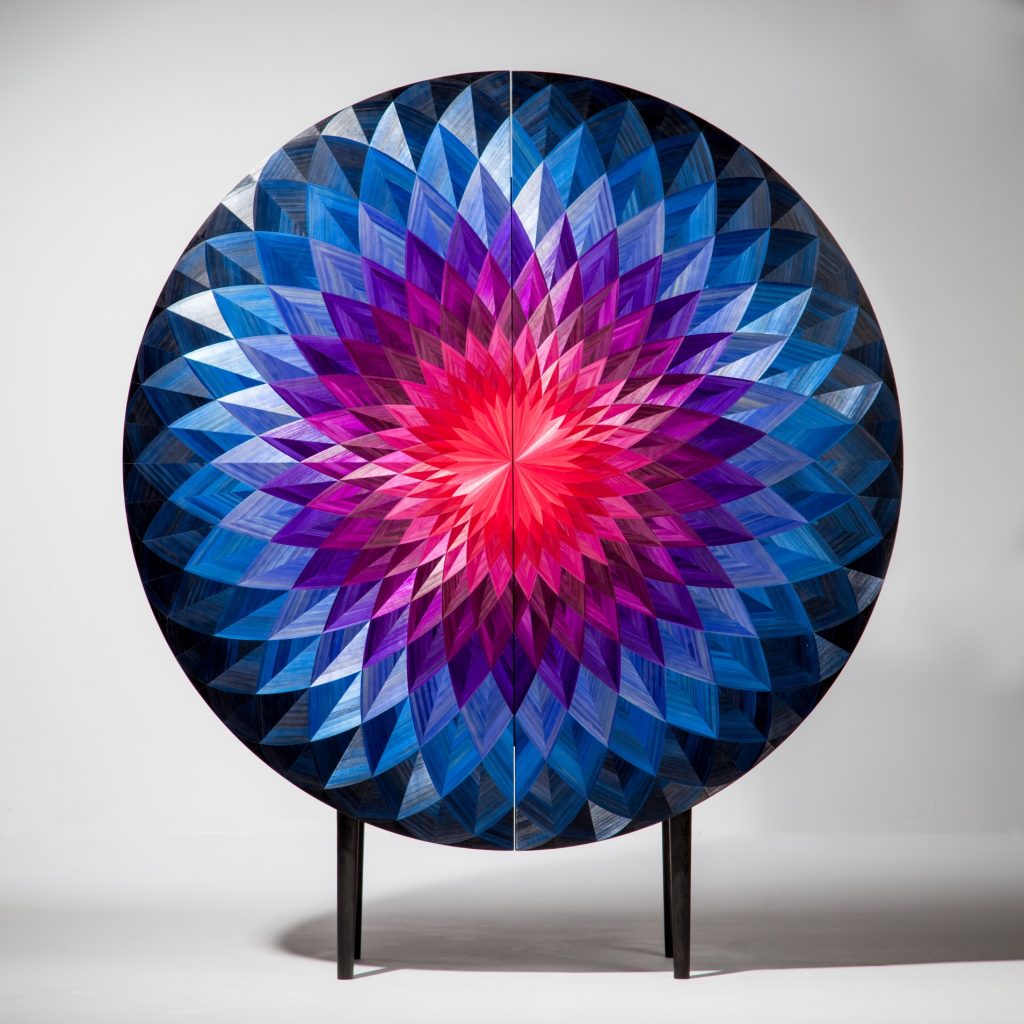 ADR: What was the genesis of Adam and Arthur?
Adam Goodrum: We met shortly after Arthur arrived from Paris via New Orleans. He reached out by email and it just so happened that Arthur's studio in Sydney was only a few meters from mine. He showed me samples of his art, straw marquetry, this beautiful craft that I had never seen before. We connected and hoped that we might do something together.
Arthur Seigneur: We first collaborated on a reinterpretation of Arne Jacobsen's iconic Series-7 chair for the Chairity Project organised by Cult. That was in 2015.
Adam&Arthur: This inspired us to explore the nexus of our practices through the creation of our first purpose-designed and committed pieces, the Bloom cabinet in 2018. This opened the door to possibility. We started to think of other pieces and realised that we should formalise the relationship; that's when we became Adam&Arthur.
What's the product you're most proud of?
Adam&Arthur: Each product has represented a milestone. After debuting in Milan in 2018, Bloom was acquired by the National Gallery of Victoria in the same year. Prestigious Tolarno Galleries then offered representation and a solo show which was huge, because they usually represent fine art, not design. Our first solo exhibition followed in 2020 with the Exquisite Corpse/Cadavre Exquis collection. Its three pieces were a technical challenge, featuring curvatures and complete coverage, quite unusual in the straw marquetry tradition. Our second solo in 2022 featured two pieces incorporating transformation between its closed and open forms and a departure from the riot of colour in previous work to a monochrome palette featuring a pearlescent ivory shade that is hard to achieve. An important part of our identity as Adam&Arthur is ambitious expression achieved through innovation and surprise. So, perhaps the product we're most proud of is always the next product!
Adam Goodrum: Between the two exhibitions, we created a single piece, the Klaatu tallboy, acquired by the National Gallery of Australia in 2021. We are proud and humbled to say that all our work has been acquired by galleries or collectors.
What are you working on at the moment?
A&A: Our next collection, a series of tower-like cabinets, is the most challenging technically so far. We are excited because these involve so many technical challenges and that's what drives us. Our pieces integrate modern technologies and hand processes. We use 3D printing, the most modern form of computational manufacturing and prototyping, juxtaposed with hand dyeing and meticulous laying of the straw. Up to now, we have been importing straw from France, which is a bit tricky with Australian border control, so we have begun to look at growing our raw materials within Australia and harvesting ourselves and are excited about this expansion of our holistic process.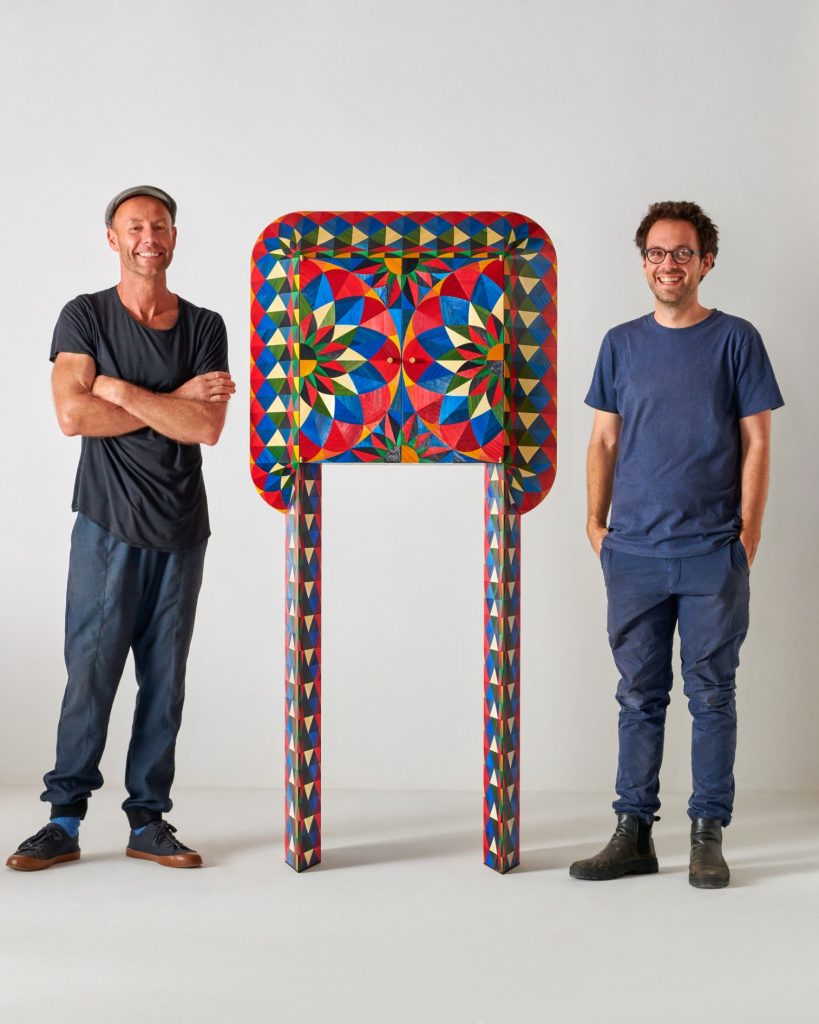 What's the motto at Adam&Arthur?
A&A: With every new piece, we want to challenge ourselves and push boundaries. This intention seeks to contribute to shifting conceptions of art and design, design and craft, and the synthesis of modern and traditional technologies. As creativity underpins our collaboration we endeavour to only move forward and so each piece is bespoke and unique. Our collaboration is about enhancing each other's creativity and creating pieces that strive to be exceptional, to create things that have never been done before. Our philosophy is to never make the same piece again, and to keep challenging ourselves we never do editions.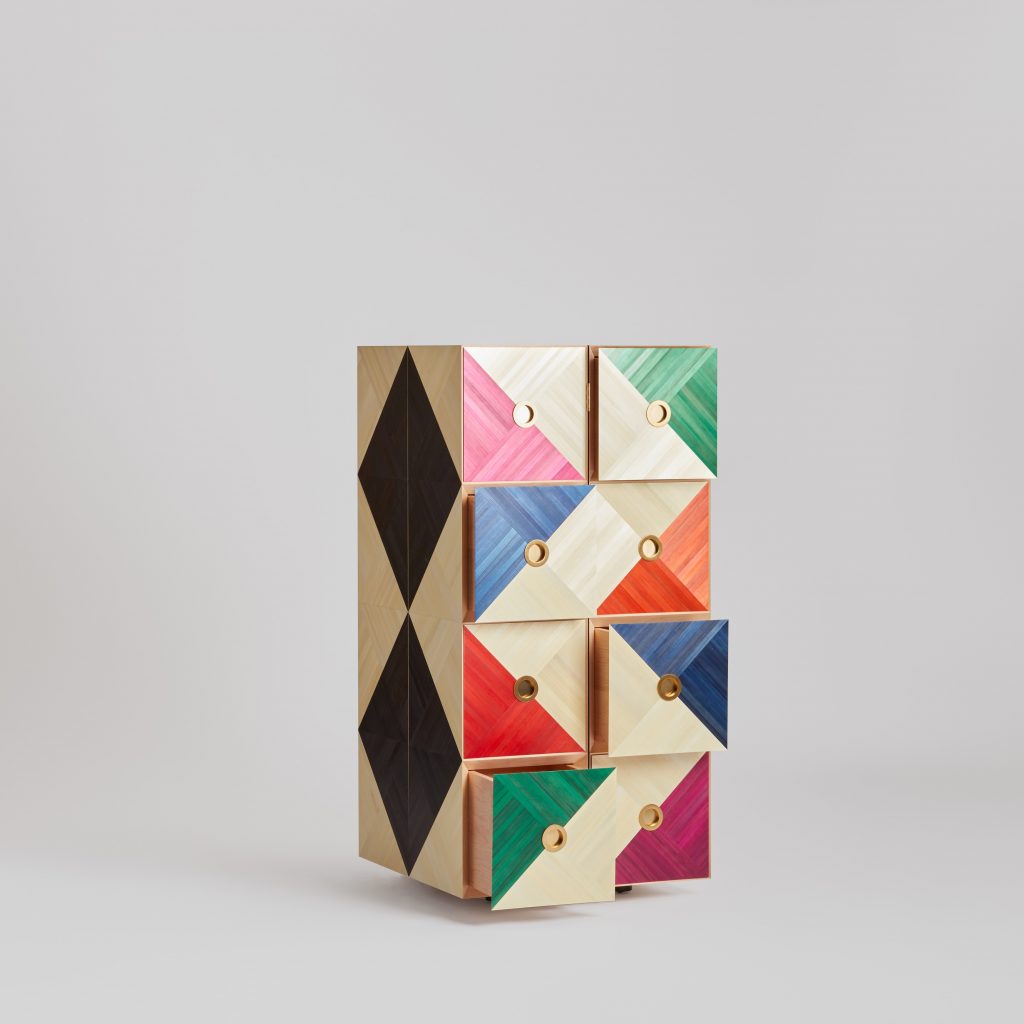 Do you think the fact one of you is Australian and the other is French brings new ideas to the table?
AS: Straw marquetry is an ancestral art in France with origins in the 17th century. It's sometimes a bit blank and linear and also involves very strict craftsmanship and patterns. Working in Australia with Adam, I've been able to step away from the traditional requirements that are linked to its form. It's relaxed here, there are no barriers stemming from tradition so the use of colours and curved patterns feels right. In Australia, when it comes to creativity, everything is possible. Working with Adam is a breath of fresh air.
AG: It's unusual to use straw marquetry on every surface of a piece of furniture because it's intensely labour-intensive and thus quite time-consuming. But we do it, it's decadent, but it boldly liberates the craft from any restraints and modernises it. We each bring different strengths and creative sensibility to our collaboration, but every aspect and stage of the creative process is a duality. What is really important is that neither of us could have done this independently, and in combination with Adam&Arthur, somehow a little magic happens.
Goodrum is also one of Australian Design Review's 30UNDER30 judges – discover more about this program, which celebrates young, talented Australians by providing those under 30 with a unique opportunity to reveal their potential.