The Overall Winner of the 2022 Architecture Drawing Prize was announced today by the World Architecture Festival and Prize co-curators Make Architects and Sir John Soane's Museum.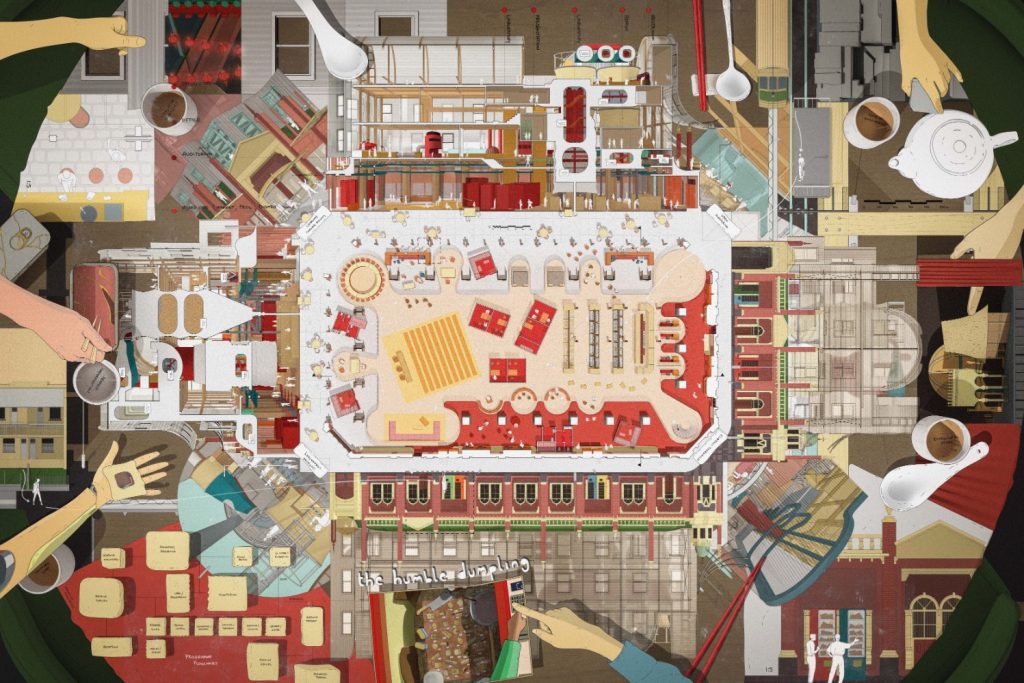 The winner is a hybrid drawing titled Fitzroy Food Institute by Samuel Wen and Michael Ren, combining different rendering techniques.
The Architecture Drawing Prize is an annual event receiving entries in three categories: hand-drawn, hybrid and digital. Each year there are three category winners from which the judges select the overall winner.
Fitzroy Food Institute was selected as the Hybrid Category winner as an example of a highly-skilled, rich composite drawing using different media and consisting of a plan, two sections, two elevations, four views, six diagrams, one detail and two call-outs. 
These are imaginatively arranged in a top-down view of a typical Chinese roundtable dining experience. 
The winners describe their joint entry as a project about a dumpling institute that deviates from a traditional orientalist attitude towards Chinese culture, while also examining ideas of globalisation and automation.
"We feel honoured and beyond grateful that our work has received such recognition," says COX architect and Design and Master of Architecture graduate from the University of Melbourne Samuel Wen.
"Being able to convey such ideas and a captivating narrative through drawing had been the aim from the beginning.
"This project meant a lot to us because the broader intention of the drawing was to use architecture to challenge traditional oriental stereotypes about our Chinese heritage."
"Collaboration under a remote academic setting proved to be a challenge," says Master of Architecture student at UC Berkeley and designer Michael Ren.
"However, we were able to work through this project by identifying individual strengths and weaknesses.
"For example, Samuel has always been passionate about hand-drawn illustrations whereas I have an aptitude for digital renderings.
"Incorporating both methods of representation acknowledges a post-digital era in architectural visualisation."
Founder of Make Architects and prize judge Ken Shuttleworth commented on the jury's decision to choose Wen's and Ren's entry as the overall winner of The Architecture Drawing Prize.
"Fitzroy Food Institute stands out for its well-considered and subtle use of colour," says the studio founder.
"It's a very accessible drawing looking over a shared meal at a table, yet it is full of architectural interest featuring not only a plan but sections and elevations as well as detail. 
"A conceptually original and genuinely delightful entry."
Discover also how an Australian project named World Building of the Year 2022 at World Architecture Festival.