Photographs by Dave Wheeler.
MEZZANINE speaks with designer Matt Woods and Les Huynh, owner of Beccafico in Danks Street Waterloo, about the challenges that face both designer and client.
Matt Woods, designer
Was the client clear from the outset on their expectations and budget? Or did you need to guide them to the point where they could brief you?
Yes and no. Even though it is a relatively small restaurant, my preference is always to spend a decent amount of time in the masterplanning phase. I find bouncing quick plans backwards and forwards ensures we get the structure and operational side of the venue down at the very beginning and everything seems to flow on from there. In the initial briefing phase, the client was quite clear on what overarching aesthetic influences he wanted to guide the design, but, other than that, I was left free to do my own architectural thing. The client had an initial fit out budget in mind, which was a little unrealistic, but this was identified early and we discussed that a larger investment would likely be required. After the documentation was finished, we were still a little beyond what the client wanted to spend, so ways were found to value manage the project to within the client's budget expectations.
Was there a set time-frame for the project?
There was at the start and, as with most hospitality clients, it was ASAP! My design process began in late 2013 and I'd fully conceptualised the interior before our individual site was handed over. Due to various unforeseen and mitigating circumstances, the entire development was delayed and construction on our site didn't really begin until late 2014. Additionally, just as we were ready to begin, there were further delays in the approval processes. So, in the end, this was well over 12 months from conception to completion.
Were there any major changes made through the construction phase?
My preference is to always produce an extremely resolved set of documentation for the builder, so our value management was done and a final cost was nailed down, well and truly prior to starting the build. That largely means we avoid curve balls during construction, but there were a couple of surprises sprung on us after our initial documentation was completed and issued. The complete development was/is a new build and information wasn't always being filtered downstream. As such, some last minute advice included the fact that we shared a services riser with the tenant next door and their mechanical exhaust needed to be run into our tenancy. Luckily, our back of house areas were in the right spot and I'd planned in some extra wriggle room, so it didn't adversely affect the overall design.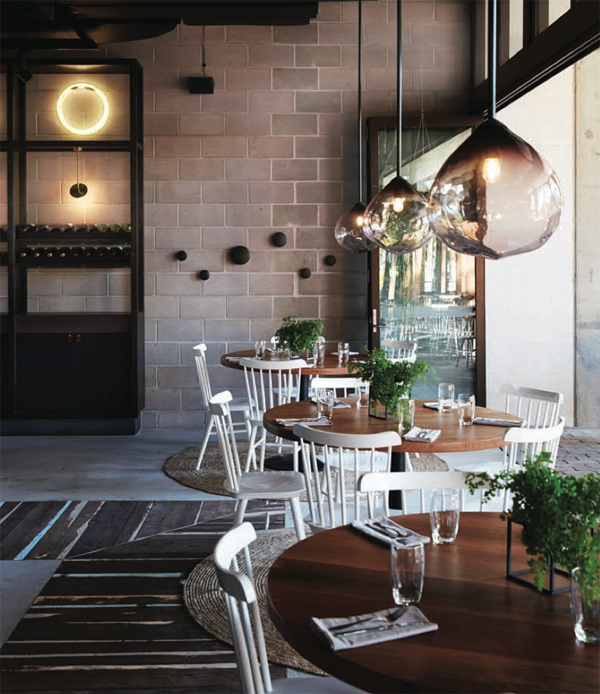 Beccafico is a mix of Italian, Scandinavian and Australian styles, was the client open to exploring new approaches or did they have preconceived ideas?
The initial concept was very much led by the client. At first it was a little bit of a head scratcher, as the three individual ideologues didn't seem to be obvious bedfellows, but I worked hard to find a harmony within the brief. The response was guided by the exploitation of the site's raw and unfinished architecture, which has all been put on show to reinforce the idea of a minimally treated environment. This is very much reflective of Scandinavian and beachside architecture and fits in with my constant approach to dematerialisation, which in effect reduces all elements to their bare essentials.
At what point did you specify the furniture and did this present issues around design and delivery?
Within the concept presentation, there was an initial outline of the furniture direction. Rather than being a full specification, it was imagery in conjunction with an individual unit cost and lead time. While the initial outline suggestions met the expected lead times, it was, as with most jobs, the budget that made that final determining factor. As such, I pulled together some other, more cost-effective options that still worked within the conceptualised scheme.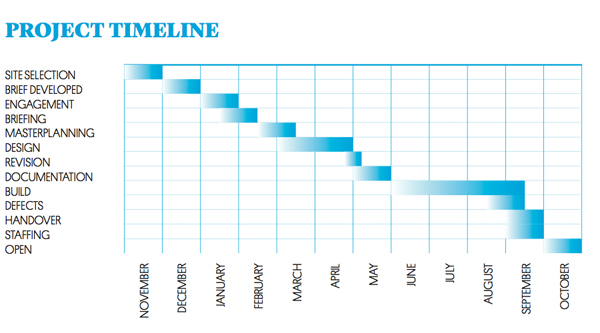 How do you introduce new ideas to your clients to ensure they are understood and accepted?
It depends on the client and what I'm trying to articulate, but in most instances I like to fully sketch it up for them. I find that a good quality sketch allows a client to become comfortable with my design approach and, once they are comfortable with the overall methodology, I get given enough rope to execute the details in any manner I see fit. So basically my approach is a series of pretty pictures to woo the client, then a really well-resolved set of documentation to get it built properly!
Do you have any strategies for avoiding replica furniture in your work?
As with a sustainable approach to design, it's a matter of spending the time to find products that suit the brief and incorporating them into the overarching direction. Furniture does, however, seem to be an easily quantifiable commodity for a client, so it's rare for its cost not to be picked apart immediately. To that end, if a replica is ever suggested, I simply explain the moral principled position in conjunction with the simple economic reasons to avoid low quality products and clients have so far fallen in behind my recommendations. Failing that, kicking, screaming, crying, all seem to work…
Les Huynh, owner
Les Huynh, one of the co-owners of Beccafico and owner of Chi and Co (chiandco.com.au), recommended and re-engaged Matt Woods after their first successful project together, where the design was shortlisted for Hospitality Design at IDEA 2013.
How did you prepare prior to approaching Matt Woods?
The inspiration for Beccafico was a strong food focus on a selection of smaller bites, in an open coastal environment. The overall development (Casba – www.casba.com.au) had influences from southern Spain and we believed that this worked well with our concept for a relaxed Italian bar and trattoria.
Were there any decisions that came through the design process that have benefited the business and its operation?
The aesthetics and ambience of the space were made possible by Matt's use of soft furnishings, against the hard polished flooring and exposed ceiling services. The vignettes within the wine racks and other key areas added to the relaxed atmosphere we were trying to create, making it feel very homely and inviting. We felt this conjunction to a classic Scandinavian approach to furnishings would add a timeless sense to the design. Matt's eye for detail meant that subtle suggestions of coastal influences – from the recycled timber walkway to the canvas sails along the bar and selection of furniture – resolved the brief perfectly. We've only just opened, but we believe that it will definitely help to draw crowds to Beccafico during the warm spring, summer and autumn months.
Is there anything you would have done differently?
Not that we can think of.
How important is the client/architect relationship in achieving the right result?
Very important, which is why we chose to use Matt Woods Design again.
killingmattwoods.com
beccafico.com.au
MEZZANINE issue #1 is now on sale and can be found in leading newsagents Australia-wide for only $7.95. You can purchase a yearly subscription here for only $29. Digital subscriptions are available through Zinio for $19.