It's a new way to work out and go clubbing… at the same time. So what is this place? inside co-editor Jan Henderson sees Ascot Vale in a different light, albeit a dim one inside a gym with attitude, and discovers getting fit can be so much more than working up a sweat.
They say all roads lead to Rome but these days many people are taking Mount Alexander Road to Ascot Vale in Melbourne's inner north for an experience that, for some, is better than a Roman holiday. The sleepy suburb of Ascot Vale has been shaken awake and both the locals and those who live further afield have embraced the newest business on the strip.
It's a hybrid that combines the atmosphere of a nightclub with the facilities of a gym – and it's a winner. This new way to work out is the first of its type in Australia and caters to the 20 to 40-something age group looking for something different. As a gym it's cool and so is the branding by Mr Legacy, who designed the logo F*IT, after the name was created by the owners. As the title alludes this gym is all about changing perceptions of the stereotypical way that gyms present and the flagship premises in Ascot Vale is just the beginning, it seems.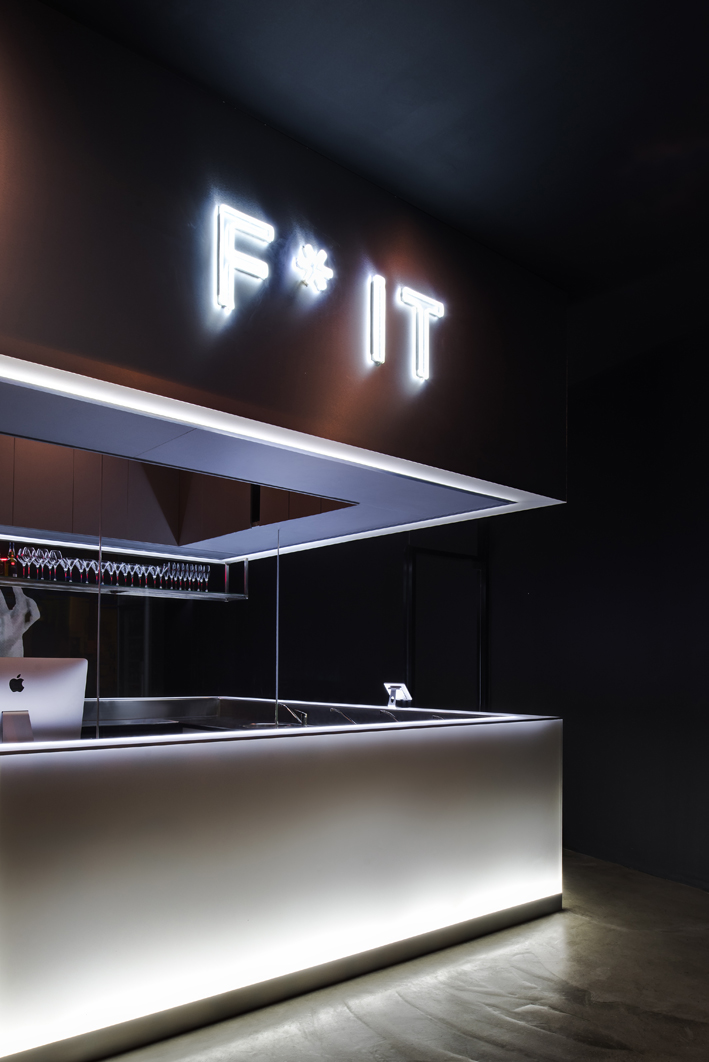 As an idea it couldn't be better. To realise their vision owners Tanner Basol and Jessica Endler commissioned Aaron Wong, principal designer of Alexander Pollock, to translate their dream into a physical reality – a very physical reality with all the usual gym accoutrements such as treadmills, benches and boxing bags. The brief was to create a nightclub environment combined with expert gym facilities and teachers, include a bar that serves smoothies and alcohol at events for members, and create an interior with attitude.
There were constraints, building limitations and a strict budget but Wong knew exactly what was needed and has created the perfect environment for workouts and play.
The building's façade is a floor-to-ceiling window, a normal shop front, but once inside there is the reception desk and merchandise on display and members can key into the conveniently located iPads positioned next to the glass security door.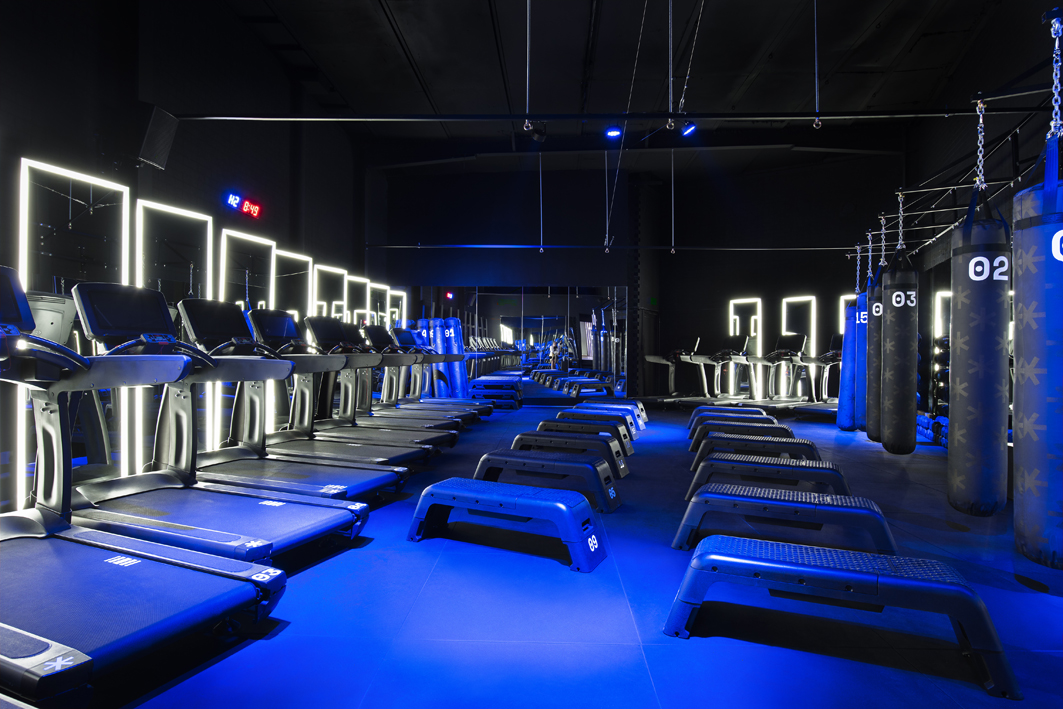 Once inside, the back of the reception desk becomes a bar and serves the ubiquitous 'smoothie of the day' and cocktails when there are special events. The scene is all nightclub: low lighting, black walls and ceiling (Taubmans, Black Night) with slashes of white on the bar façade (Baresque, Ice) overhead Laminex paneled cabinet (colour: Brushed Stainless Steel) and counter top of stainless steel.
The focal point of the room is a stunning three-metre high Vintage pixelated image of Cindy Crawford sporting a neon graphic overlay in hot pink that covers those steamy Crawford eyes. The corridor ahead is indeed reminiscent of entering a cavernous, New York city nightclub – suitably disorientating, all black with white LED neon ribs on the ceiling and slim LED rectangular outlines on the walls.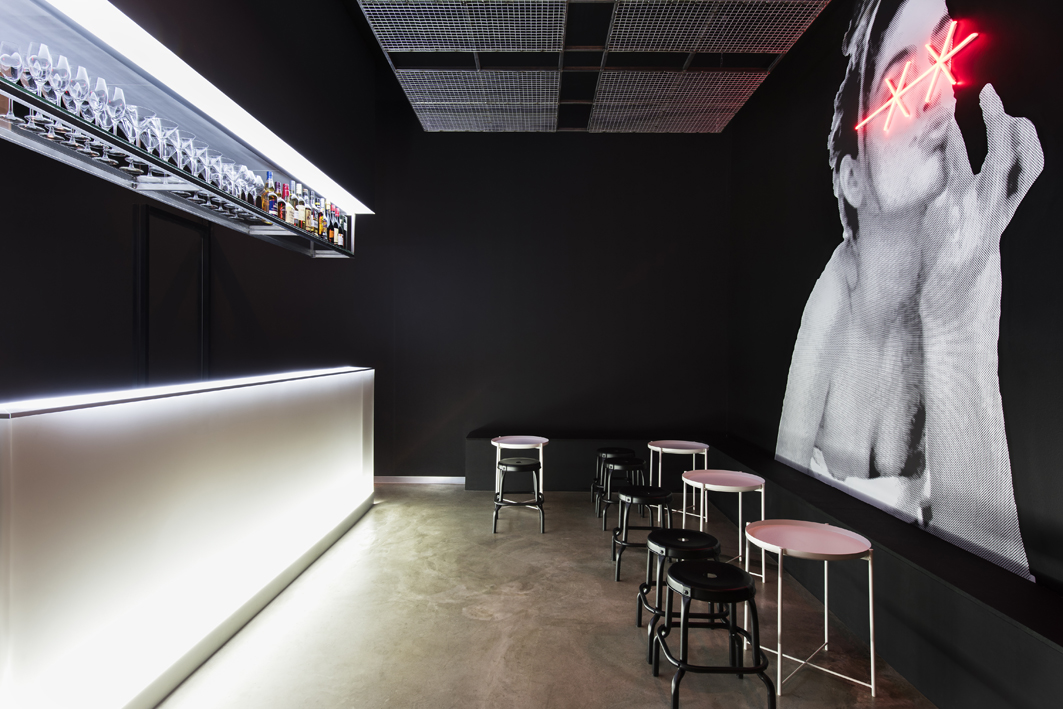 The bathrooms are located off this corridor, the first doorway for women and the second for men, and both feature tiles in the shower areas (Johnson, Black Satin) and grey/beige tiled floors (Pave, Terrazo grey). However, Wong has differentiated each area through colour, a soft putty mauve for the females and grey for males. In both there are separate wall lockers, toilets, shower cubicles and a counter bench with two basins and mirrors. Neon graphics perfect for Instagram opportunities also feature; pink letters spell out 'b*tch please' in the women's bathroom and cool white neon reminds the guys to 'Hustle for that muscle'.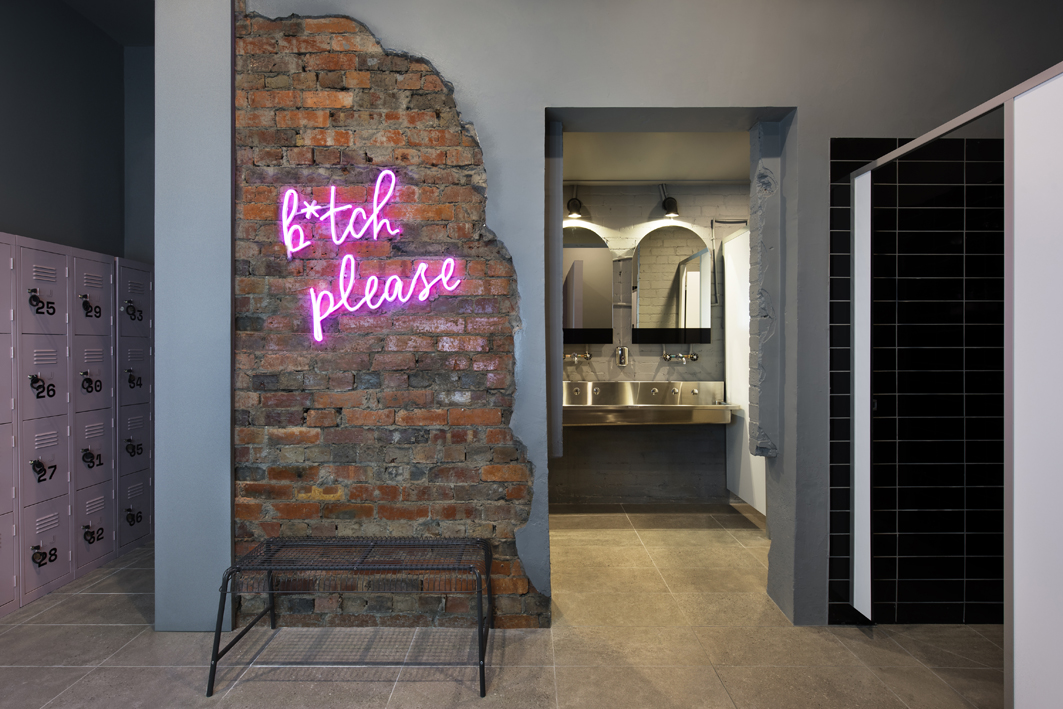 Moving down the corridor to the studio, the music boom is ever increasing. The expectation is to see bodies gyrating as the 'nightclub' comes into view but, although it looks like a disco, it is the workout room totally blacked out with rubber floor (The Fitness Shop), reflective mirrored walls, 15 boxing bags, 15 benches and 15 custom-made treadmills all in a row.
Certainly the bodies are moving but to their own workout routine that is enhanced by the music. The juxtaposition of the dark room, dim lighting and loud, loud music does indeed stretch perception. However, it's brilliant. You can lose yourself here, work out in your own world to the best playlist and feel like you have been to a rave.
The interior, at 250-square metres, is a good size for all the facilities and there is room to move in the gym, even with the bespoke, centrally hung ceiling track for the boxing bags.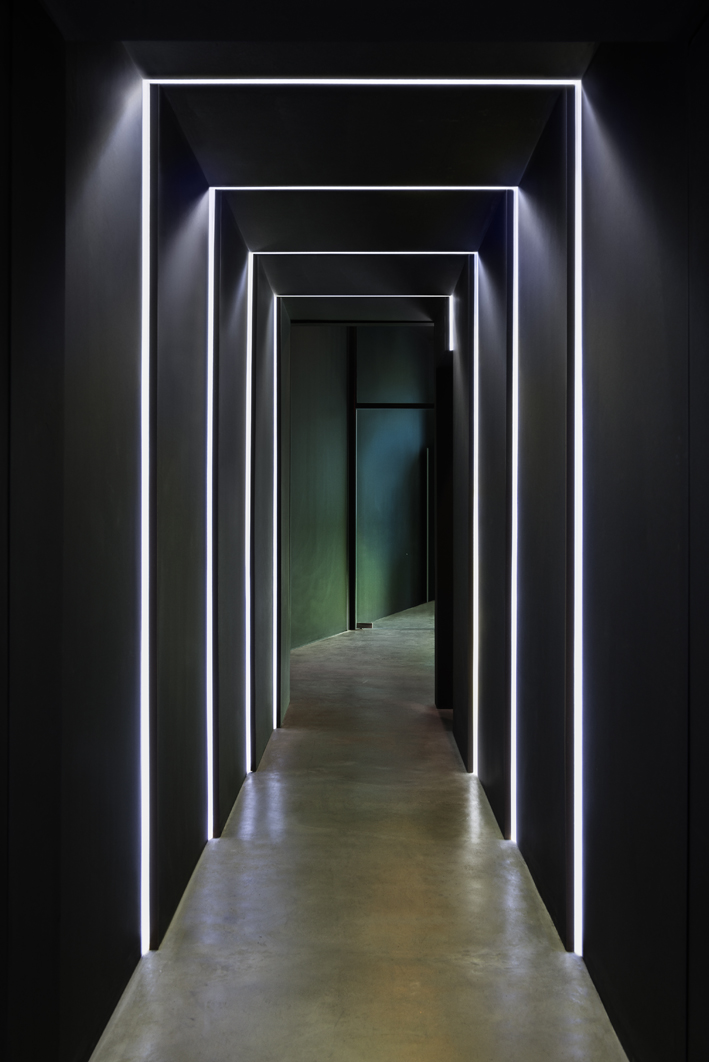 As a project this was a challenge, but an intriguing one. Although the fit out is more architectural than decorative, Wong has injected surprising inclusions through the reception-cum-bar with the use of neon and the giant graphic. Really, F*IT is all about the atmosphere, the nightclub vibe that has been captured and recreated by the designer.
So, if you need a pick-me-up or a chance to get healthy while you feel like you're staying out late, then F*IT is the place to be. With classes from six am to eight pm weekdays and eight am to 12pm on Saturdays there is ample opportunity to discover a new way to get fit and socialise. F*IT has only been open since December and already the clientele is increasing daily. It's a new way to work up a sweat but with this stellar design, success is already assured.
Photography by Nicole England.
This article originally appeared in inside #100 – available online and digitally through Zinio.