Written for Inside 89. Images courtesy of: Nic Graham.
To some extent, the QT and Chillax collection reflects Graham's own Australian experience. "I think in Australia we have an obsession with vintage. Now whether that is because we inherit Mum and Dad's furniture and take it with us, I don't know, but I certainly know that is what it was with me. There is a sensibility and purity about that sort of stuff. They were well-made, there was a lot of hand finished timber and they lasted well." Moreover, Graham has developed a relationship with clients that facilitates experimentation and prototyping, which effectively absorbs part of the costs associated with expanding an idea. To date, this has been the case with the W in Hong Kong, the QT hotels in Australia and, most recently, the Executive Restaurant for Telstra. "With the hotel work we do, we are always designing new pieces. Then, with the blessing of the owner, they allow that collection to be prototyped for that project, then it becomes part of the collection," says Graham.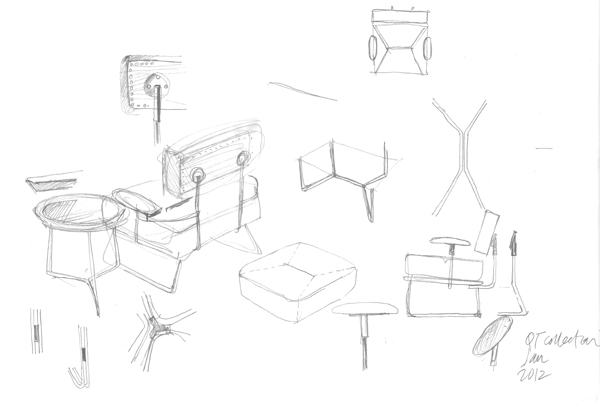 Driving the process is an incredibly strong relationship with Stellar Works CEO and founder, Yuichiro Hori, described by Graham as, "A very switched on character with a Japanese sensibility and traditional methodology of construction: very fine detailing. His partners in Europe demand a very high level of skills." With extensive experience in fitouts for high-end boutique hotels around the world, Stellar Works has honed its process to a cost effective means of producing casegoods without sacrificing quality.
"The reason I fell in love with this company, was because they are so impassioned about hand finishing their timbers," says Graham. "They are licensed to do a lot of the Hans Wegner collection and have that down pat. So not only was their upholstery really superior, but they can do brass and bronze metal works really well." For Graham, designing the QT range was essential to the project from both an aesthetic and cost-effective strategy. Additionally, as he has worked with overseas hotel brands that expect a signature product, the step towards this outcome was somewhat inevitable, though potentially cost prohibitive. "When the project is in Asia it is easier to produce, because all the factories are local and the cost of production cheaper than what we can do in Australia," he explains. The fortuitous meeting with Hori negated these concerns and made the project viable.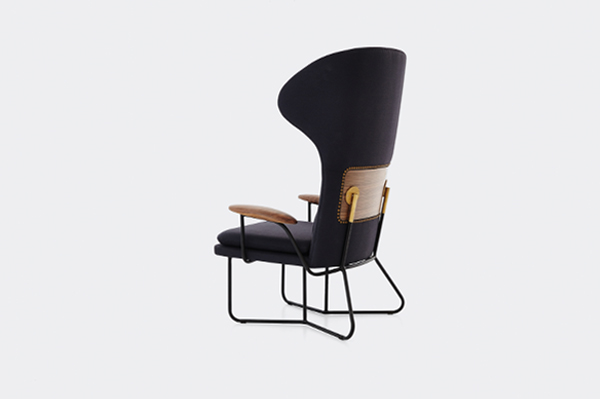 Having been at the forefront of Australian furniture design with his Ecru range – the first Australian range offered by Space Furniture – Graham is comfortable exploring furniture as a means to differentiate his interiors. "The QT product always has a vintage slant, so it was always about creating pieces with a slight vintage feel and that has been the basis of the collection thus far." To this end, brass and bronze are worked with timber and upholstery through a melded vernacular of vintage and contemporary. The rods, for example, convey vintage, while the spacer and mix of metals convey contemporary, while the studded walnut back provides another unexpected vintage detail. Practicalities of form are also considered in the very early stages. "We always had this joke with our clients and manufacturers out of Shanghai about the size.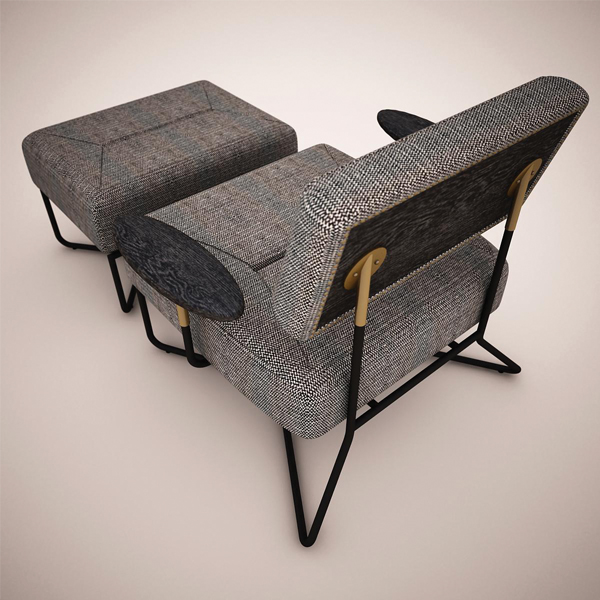 I wanted it a little wider than normal because I think the butts in Australia are a little bit wider. Or it's just that men in general like a little bit more space. So it is a wider chair than normal." CAD (computer aided design), 3D Max and V-Ray have facilitated the design process exponentially, as Graham explains. "We start with sketches, then I develop in 3D in the studio. It starts with a sketch on a piece of butter paper and turns into reality. This way, by modelling it out of 3D we are able to turn the chair upside down, look at the way the structure works; 3D modelling the arms and the shapes and the profile, the curves and the angles of the back and even delineating where the stitching detail goes in." Effectively, this allows Graham to pass the information to the factory with a comprehensive understanding if detailing outcomes. To some extent, Graham's experience and feel for design allows him to make calculated assessments.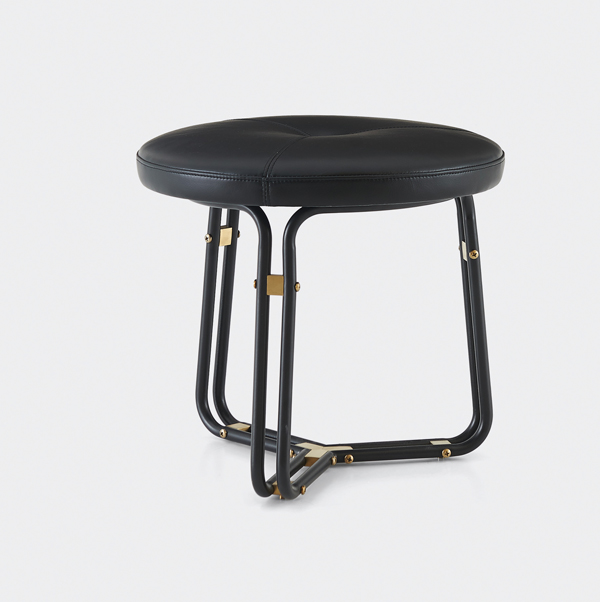 "Visually you like to think you have it right – the balance of aesthetics of form and shape with your understanding of ergonomics and essential heights – and you always gauge off some existing chair you might have in the office or what is comfortable under your bum." That said, the difference between a chair real and imagined is manifold. "We certainly didn't get it right the first time, but we got the QT chair prototype pretty much right. We had the seat sitting on a separate base, as a loose cushion. I quite liked it, but it made it a little bit bulky and meant the cushion was loose. It also added to the cost, so we deleted the additional base, got rid of the loose cushion and made it fixed." From a design perspective, making changes in the prototype phase is facilitated by his palpable affection for the hands-on part of the crafting that sees him a regular visitor to the Shanghai factory. "When you are a small office like mine, passionate about design, I don't do this to make me a rich man; I do it because I have a passion for design.
I love the hands-on feeling. Whenever I'm in Shanghai, I see the pieces in raw form. We can view the mock-up shells and make changes on the spot, returning from lunch to view the modifications," says Graham. Expanded to include highback versions, sofas and lounges, pieces from the collection have now been included twice in Milan and most recently Clerkenwell Design Week and, of course, as a continuing part of the personalised approach to the studio's hotel portfolio.
INSIDE 89 is on newsstands now, and available through Zinio.