White "fins" cast "dynamic patterns" of natural light across the surfaces of this new Brisbane coffee shop by Platform by Design Office.
Industry Beans in Newstead is the latest project from Platform – a strategy-led design service launched by Melbourne's Design Office, which focuses on the commercial sector.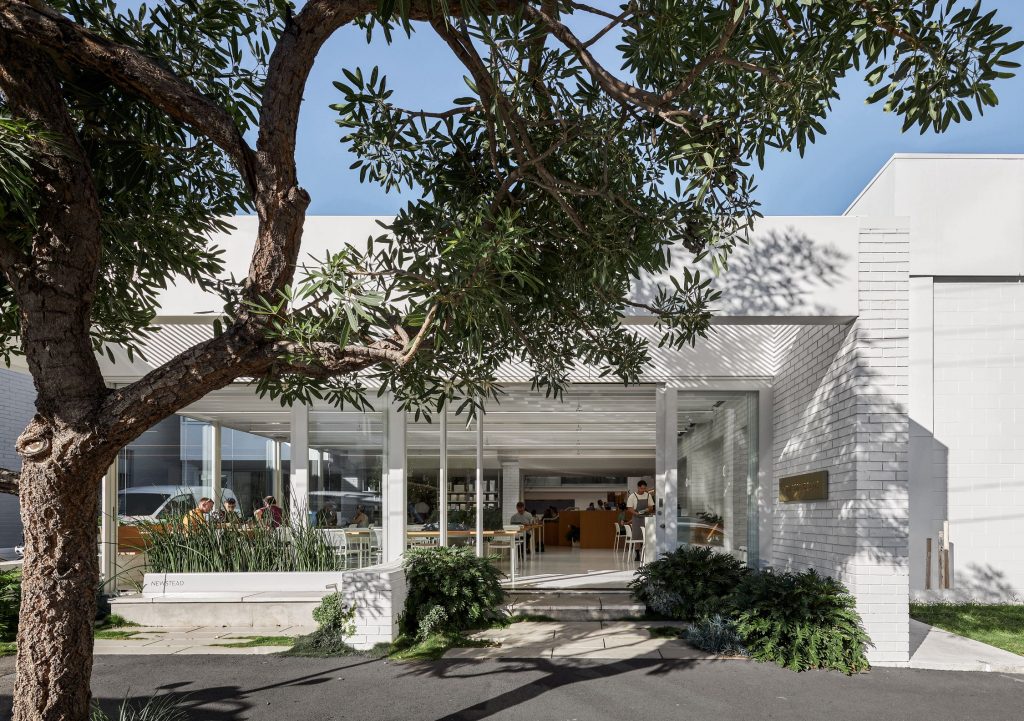 The new cafe is the third brick and mortar for the Australian roastery, which has sites in Melbourne and Sydney.
"Industry Beans, an icon of Melbourne's globally influential coffee scene, is inventively re-imagined for this Brisbane outpost," says Platform by Design Office.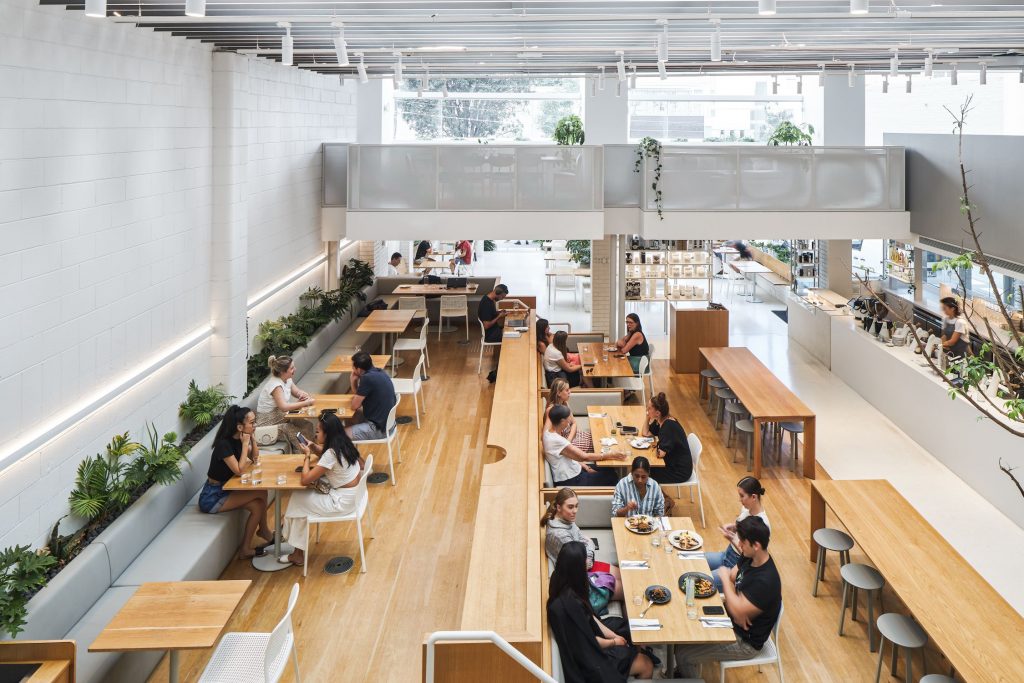 "Reflective of the elegant minimalism of the brand, the remodelled warehouse venue comprises a cafe, roastery and laboratory, providing a thoroughly immersive experience of coffee culture."
Following with the brand's signature look, the multi-level space features white brick walls and concrete flooring.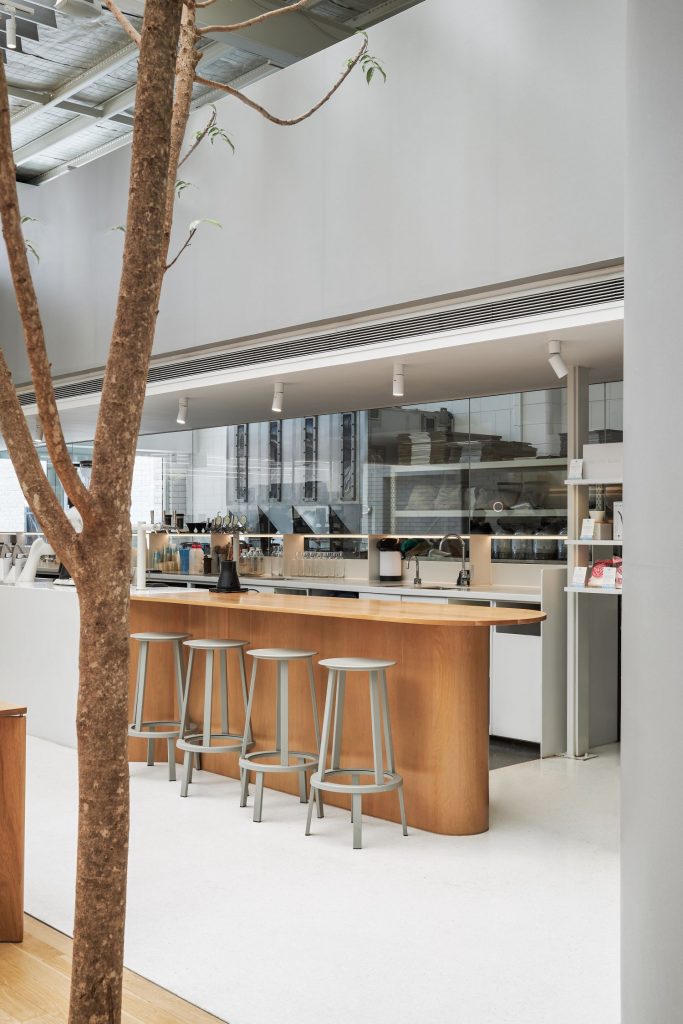 A new pavilion and "layered main volume" are outlined in honey-coloured Italian Oak Palido flooring and timber partitions.
Tables in a similarly coloured timber are paired with white metal Kartell Audrey chairs from Space Furniture, Hay Revolver stools from Cult and leather banquets in a light grey.
"Against a restrained, minimal backdrop, Industry Beans Newstead treats human interaction as a key component of the design, strategically framing movements to form a visibly celebrated dynamic feature," explains Platform by Design Office.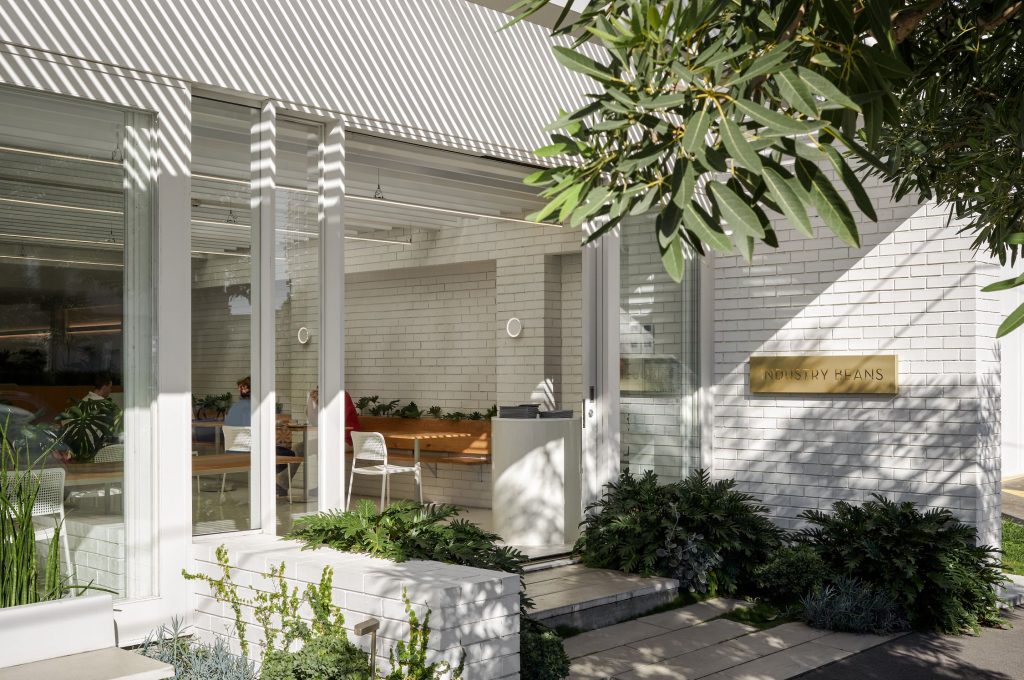 "The brief called for an inviting venue, easily and intuitively navigable with a breadth of spatial experiences to encourage return visits.
"The new pavilion introduces a welcoming threshold to transition from the warehouse's industrial surrounds into a more human-scaled environment."
A designated tasting table fosters an "engaged coffee journey", while planters and trees on the ground floor add greenery.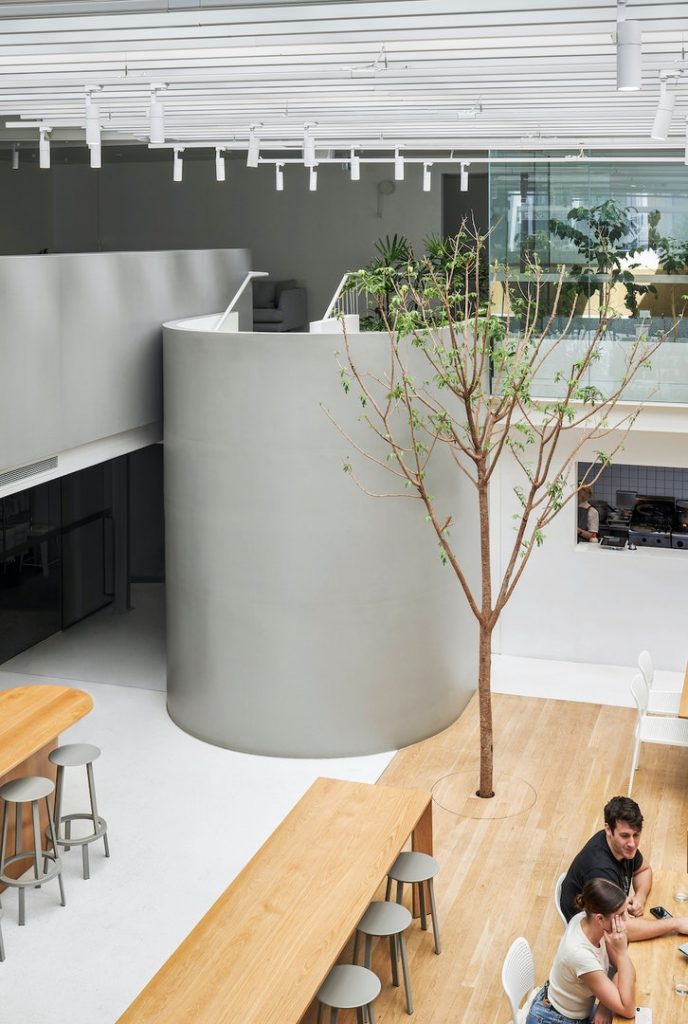 At the rear of the remodelled warehouse, a grey circular staircase, clad by Regupol, leads to the retail, back of house and coffee bar.
The back-of-house area and glass-walled cupping room allow diners to observe the intricacies of coffee preparation from a light ash bar by Corian.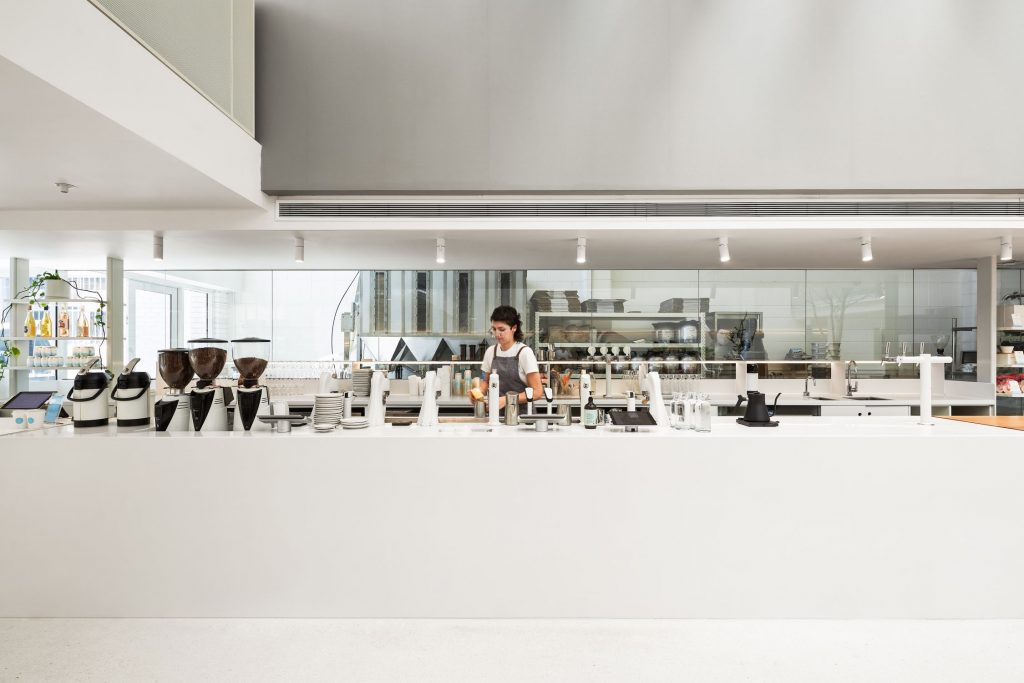 "Through the insertion of new floor levels, an internal topography is created to provide opportunities for diverse spatial experiences throughout," adds the Melbourne studio.
"Besides the tiered dining space, the generous volume is split into two levels enabling a bird's eye view of the space and heightening the sense of connection."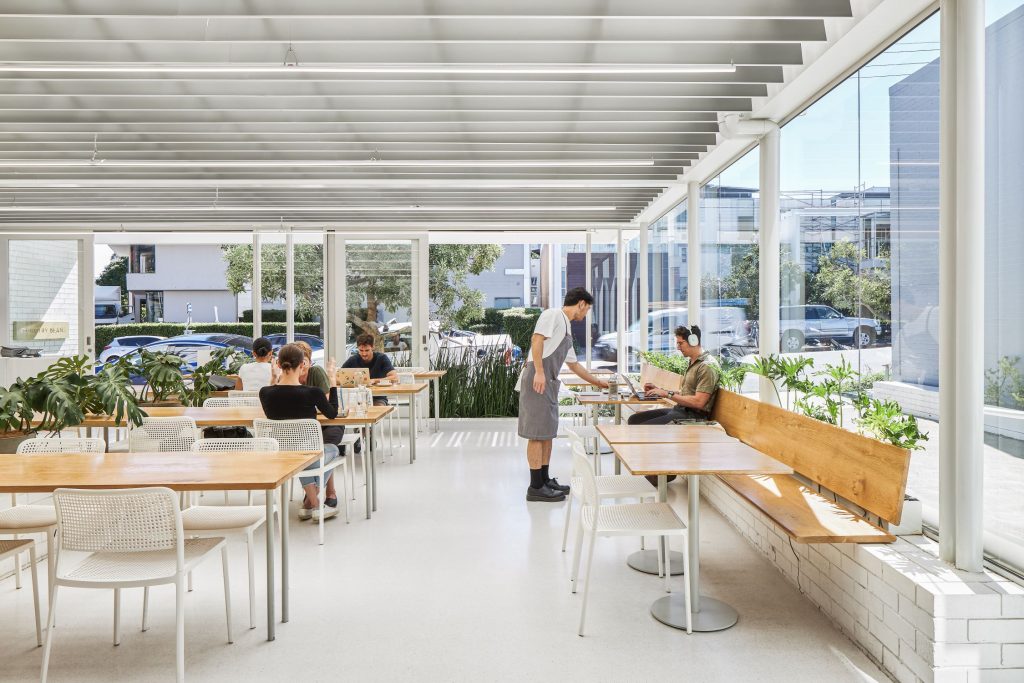 The white "fins" that line the ceiling inside continue to the outer pavilion, opening directly to the front of the cafe, where a landscaped outdoor bench welcomes takeaway patrons.
"Defined by clean lines and a refined minimalist approach, Industry Beans Newstead demonstrates a continuation of brand language," concludes Platform by Design Office.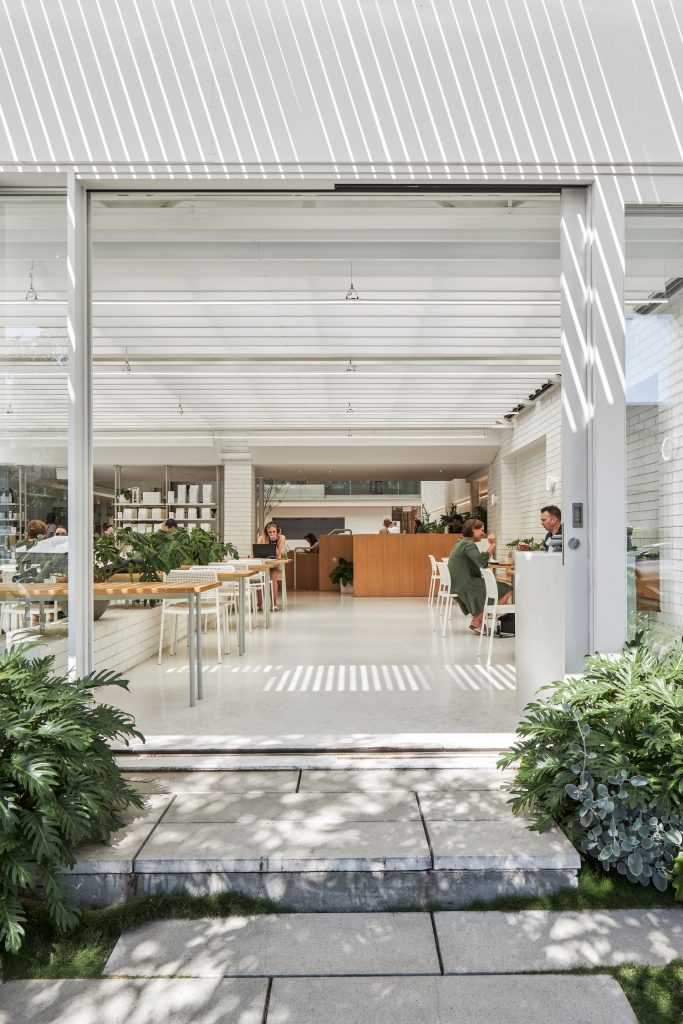 "White walls and concrete floors create a crisp, uplifting interior, softened by abundant greenery and grounded by an edited material palette of brickwork and timber.
"The design is relaxed and unpretentious, inviting exploration."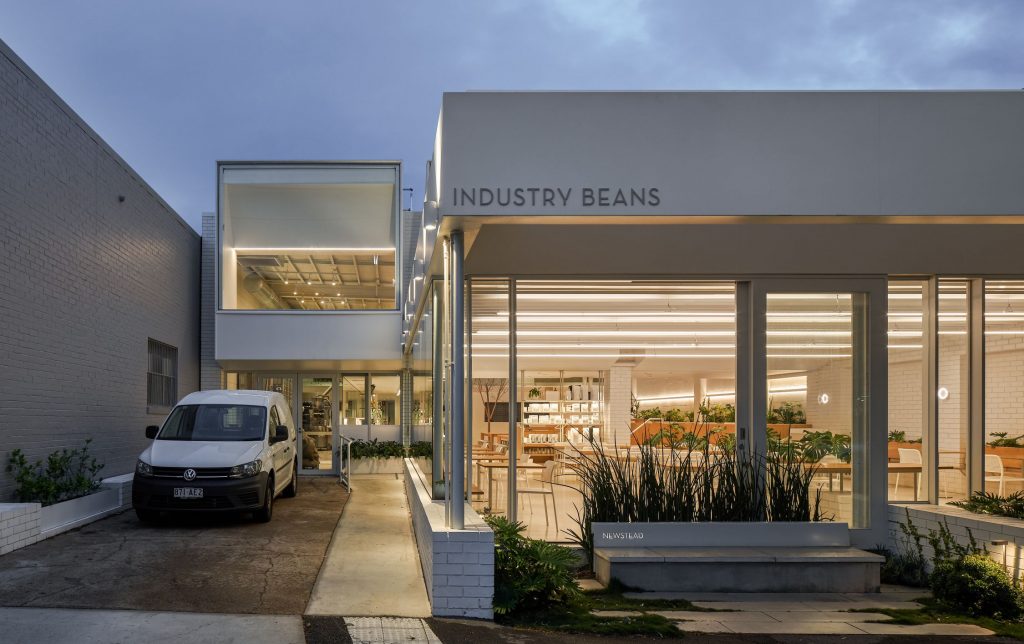 Platform is a strategy-led design service from the Melbourne-based architectural and interior design practice Design Office.
It is focused in the realm of the built environment to facilitate the creation of branded architectural signatures.
Photography: Andy Macpherson.
Also in Brisbane recently, Wilson Architects pays homage to the iconic Queenslander in this AIA award-winning home.