Photography by Felix Frost. Written by Gillian Serisier.
This article originally appeared in inside 92 – available now on newsstands, or digitally through Zinio.
The concept of layers that finesse and adjust from foundational architecture to interior architecture, interior design and inhabitant specific accoutrement and styling is generally reserved for end user engagements. And, to some extent, creating a temporary home for renowned photographer, Mario Testino fulfils all mandates for end user needs. The story then is how the layers work and how good interior design creates foundational narratives that absorb and reflect myriad nuance. In doing so, Pacific Lighthouse effectively functions as a lesson in exemplar interior design.
Developed by Eduard Litver of the Capit.el Group and Allen Linz of Rebel Property Group, the Pacific is a rebuild of the former wedding cake architecture of the Swiss Grande. Andrew Andersons of PTW (formerly Peddle Thorp and Walker) provided the architecture design throughout, including the long, light-filled vaulted volume and expansive terrace of Lighthouse 511 (457 square metres over two storeys, plus a 165-square metre terrace). Key to the design is an arching curve that shapes the end wall of glass to the terrace and the interior curve of wall and ceiling of the upper floor. Sleek and singularly impressive, the volume feeds the view into the room, while the terrace's expanse acts to steadily frame and reframe the magnificence of the beach view, before presenting an uninterrupted panorama.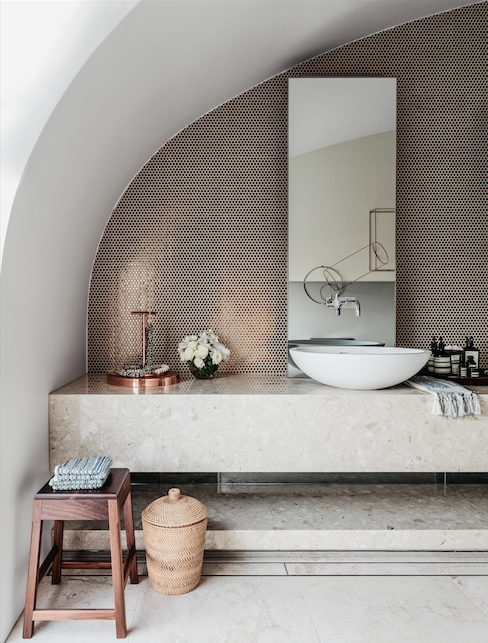 In an interesting shift, the developers have forgone the usual off-the-plan choice of thematic schemes (driftwood, beach etc); buyers are offered a choice of designer for the interior architecture governing base decorative and functional elements of layout, including flooring, kitchen and bathroom: Jonathan Richards of SJB, Koichi Takada or George Freedman of PTW. The idea, however, was far more complex than simple calibre leveraging. Rather, the developers were adamant the project be design led and actively engaged buyers in the process of interior design. Jonathan Richards, interior designer and director of SJB, explains that a process of working together, while retaining independent design integrity to create a single workable layout strategy, was not without difficulty given the requisite three designs each across three different iterations.
"We were given the opportunity to plan out the apartments as we thought best," he says. "As you can imagine it's a vertical building and I might have been placing my kitchen not above Koichi's. So there was a huge amount of coordination that went into rationalising our respective designs just to make it practical." And while initial meetings were slightly uncomfortable as the designers discussed the separate designs (Takada and Richards had never met), a camaraderie born of mutual respect prevailed. "In the end it became a collaboration rather than three designers doing their own thing; it was a cooperation where we got together a lot. Interestingly, we all came up with very different things, which was pleasing."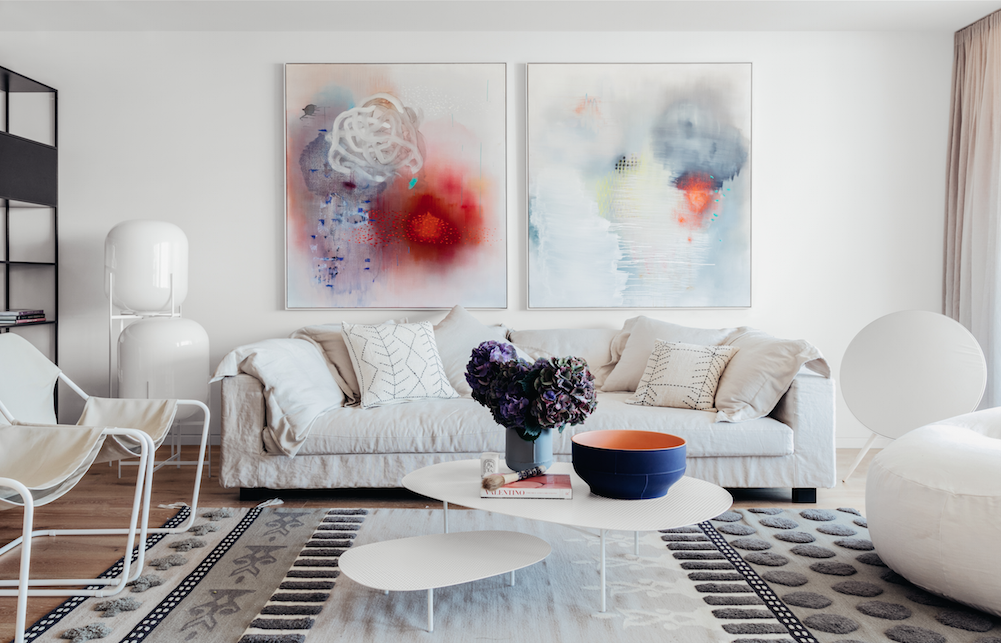 Koichi Takada agrees, "It was a very good way of presenting, as we kept raising the bar! Each week we would see what each other was doing and improving in not so much a competition, but it's human nature to do better." Moreover, the levels of mutual respect resulting from the project were unanimous, as Takada makes clear. "It is wonderful to understand how thoughts are worked through a project. Through an exchange of thought in a work in progress we can influence and push each other through a friendship and respect that has developed. We started as competitors, but have ended as very close friends: it is fantastic."
Additionally, a range of interior designers and stylists have been engaged to work with clients post-completion for personalised interiors. Richards was selected by the developers for Lighthouse 511, effectively creating a showcase of Andersons' architecture, Takada's interior architecture and Richards' interior design: their three stars in one apartment! Concurrently, Vogue was looking for a location for photographer Mario Testino while shooting in Australia. The project then switched from an exercise in finishing an apartment without an end user and became skewed towards Testino, as a resident. "It brought it back to life…bringing someone in as a person, returned it to the realm of a normal project," says Richards.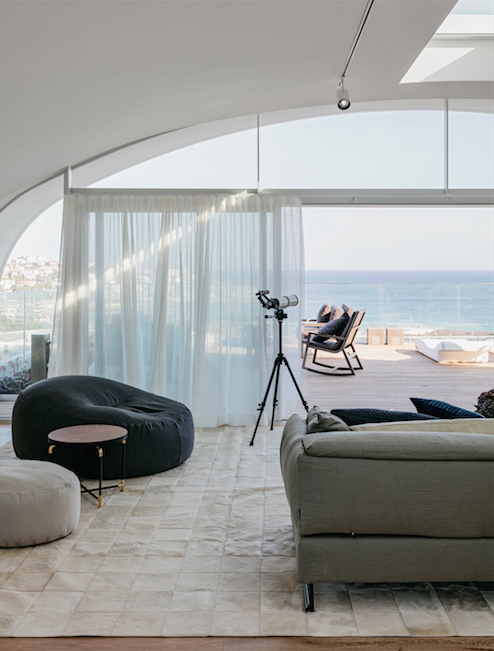 Rather than going for a stylised parody of beach, Richards pursued the experiential elements quintessential to a beach life style through textural variation suited to a barefoot lifestyle. Effectively, the result is a sensory experience of soft linens, natural fibres, leather, stone and wood that marry a high-end lifestyle aesthetic with a natural beach style of living. It's an aesthetic combination Australia is championing, where European design elements of furniture and lighting are given a softened material palette suiting both our actual and philosophical lifestyle.
The upper floor is perhaps the most striking, with the view at full volume as Richards states, "The real theatre is looking out at the horizon and beautiful Bondi Beach." In keeping with this tenet, he has optimised the view and sense of infinite space with furniture selected for its low bulk, while sculptural floor lamps create a sketchy vertical that activates the space without interfering with the view. Forming an alliance with Hub as the single supplier allowed a tight turnaround and on-the-fly specification adjustments for furniture, lighting and objects, including the beautiful linens and Loom towels used throughout. Takada's kitchen design adds exponentially to the exaggeration of the architectural form. Visually providing a long horizontal plane to run parallel with the walls, he has effectively created a perspective line that draws the eye perpetually to the sea.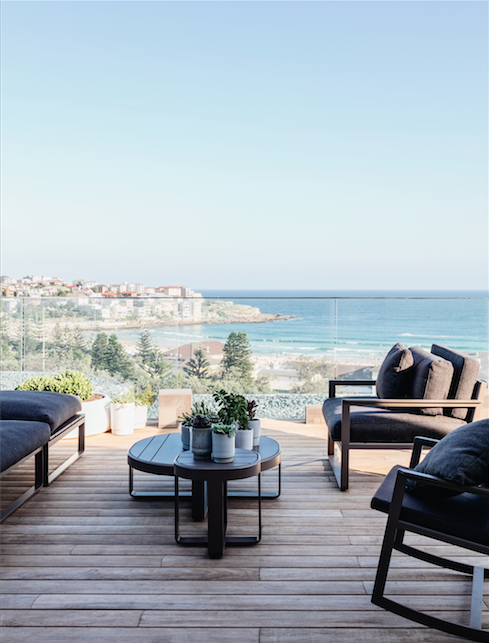 "We wanted to connect to the nature of Bondi Beach, where light is constantly changing – never singular and monotonous, but a constant changing atmosphere that we could reflect in the interior," says Takada. Moreover, the balance of mass and length is superb (few designers can work this well at this scale). During the day, the strong natural light has the effect of visually saturating the line as it proceeds to the window. At night, the island and cabinetry become a central contained hub that draws on its own weight.
The lower floor entry is perhaps the more traditionally glamorous with a white on white expanse punctuated by a slow turning staircase. Layered in form and texture through hand blown glass, linens, rugs and furnishings the main colours of deep sea greens and blues are reserved for the bathrooms. Conversely, upstairs the whole colour scheme is muted to sand, olive, grey and grey-blue.
As Richards says, "It's one of the only places in the world where backpackers and millionaires are walking the same pavement, enjoying the same lifestyle – a true city beach." As such, the decision to create an aesthetic combining a relaxed lifestyle with glamorous overtones is perfectly suited to Bondi. And then of course, there's always the view!
This article originally appeared in inside 92 – available now on newsstands, or digitally through Zinio.