Australian interior design agency Nic Graham & Associates has designed the interior for the W Brisbane hotel mixing unexpected design with laidback Aussie vibes. 
Based on the design narrative, 'A River Dreaming', the design is an ode to the hotel's location on the banks of the Brisbane River and an appreciation of the historic connection to iconic Australiana.
"We have pushed the boundaries of design, weaving the W DNA in with a free and easy Aussie attitude," says Nic Graham. "There is contrast at every corner. It's a visual feast – gone are the beige and bull-nosed interiors of the past."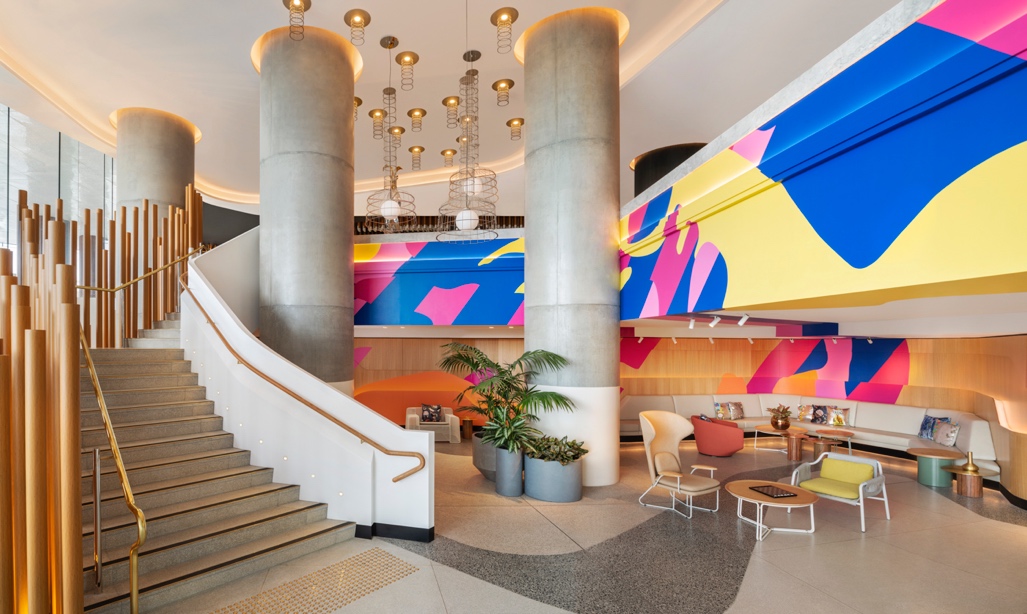 Colonial heritage, modern touches and influence from Australia's indigenous roots are revealed throughout the design with water depth markers representing the tidal flow of the Brisbane River. Curved glass on the building forms a bay, faced with a ripple effect like the water of the river.
Throughout the hotel, there are innovative design touches including a tower of tropical fruit and "an iconic Aussie thong for good measure". Polished concrete floors and metallic textures meet earth tones, while sedimentary layers and frayed edges are found, multilayered with textures of the serpentine river and mixed with vibrant artwork from celebrated Australian artist, Reko Rennie.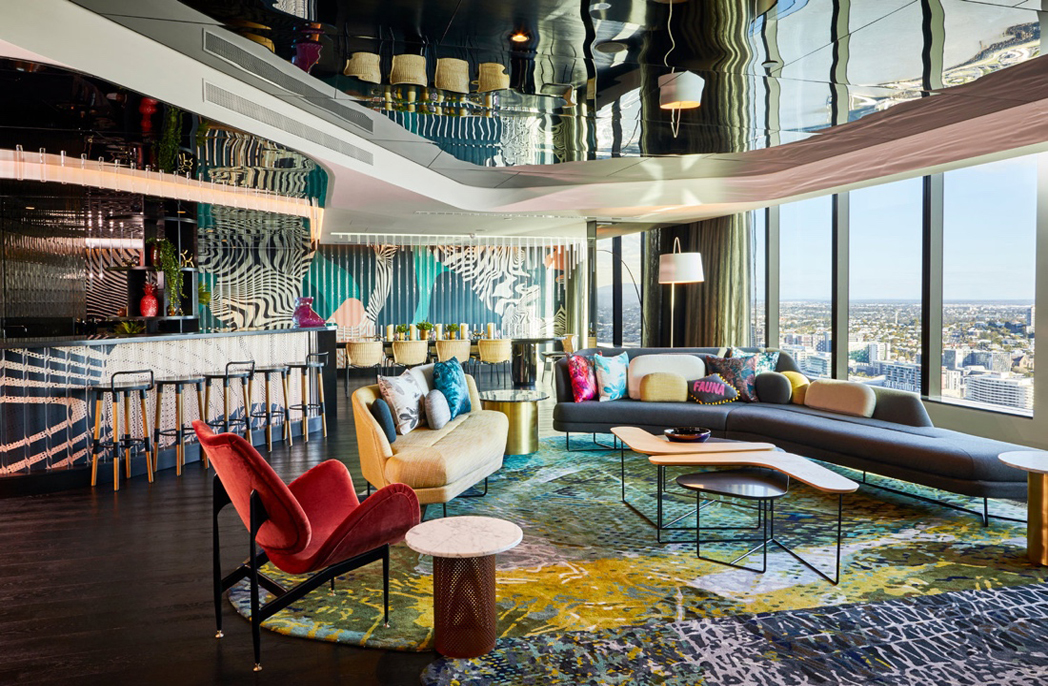 In the Living Room Bar, a backlit mural behind a long wrap around bar features hidden details of Tropicana and BrisVegas, where crocodiles, snakes and maiden swimmers lurk in the dense foliage.
In the bathroom, glamourised cane toads line the ceiling in a cheeky nod to Queensland's most beloved pest. Influenced by both Indigenous history and fashion-forward camouflage of local fashionistas, artistic and customised rugs use Australian opal colours and patterns forming a visual connection to Brisbane's famed arts precinct. Bespoke furniture creates a playful, interactive and modular space.
A connection to Australian living is celebrated throughout the 312 guestrooms and suites, which enjoy views of the Brisbane River from South Bank to Mount Coot-tha. To encapsulate the Australian outback experience, the bath reflects a 50-gallon drum, while the MixBar is inspired by a post-war food safe.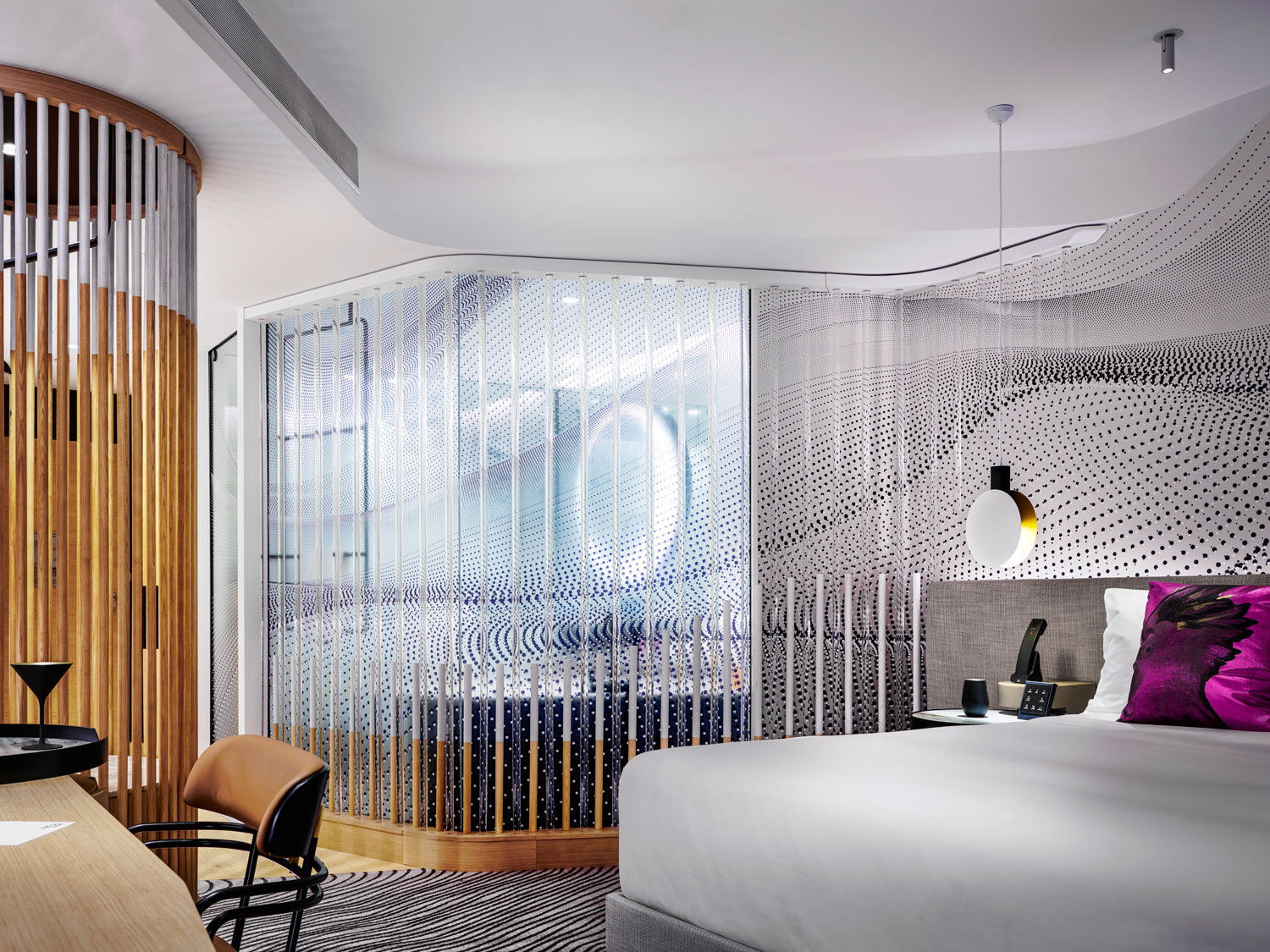 This is contrasted by overlayed Perspex rods that reflect imaginary river reeds through the glass bathroom walls with sophisticated black tapware and feature walls of reimagined timber VJ panelling found in traditional 'Queenslander' homes.