C.Kairouz Architects has designed a home in Melbourne's Northcote that balances the dynamic of old and new both visually and functionally, alluding to a home of two halves. 
The main challenge set by the owner was to transform the dilapidated-yet-characterful art deco house and create a modern family home with a 'wow factor', large enough to have three bedrooms and two living rooms with additional storage. Capturing light in a south-facing block in Melbourne also elicited its own challenges.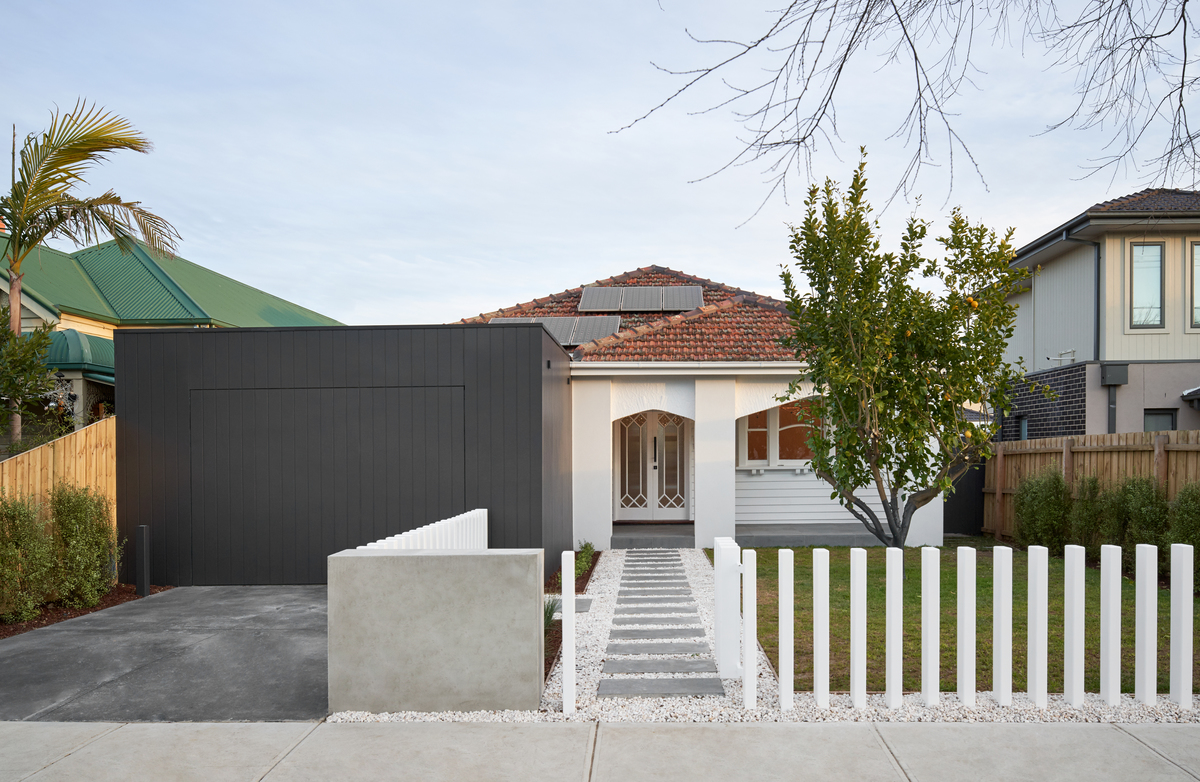 The architects utilised the generous space in the backyard and built an extension, transforming the traditional backyard into a modern one with multiple breakaway courtyards situated in different parts.
Blending the old with the new meant reviving the front of the house and incorporating a modern back. The quiet, private areas of the home are located at the front, where C.Kairouz Architects restored the existing Tasmanian oak timber flooring and revived the original ceiling rosettes with a modern, clean white.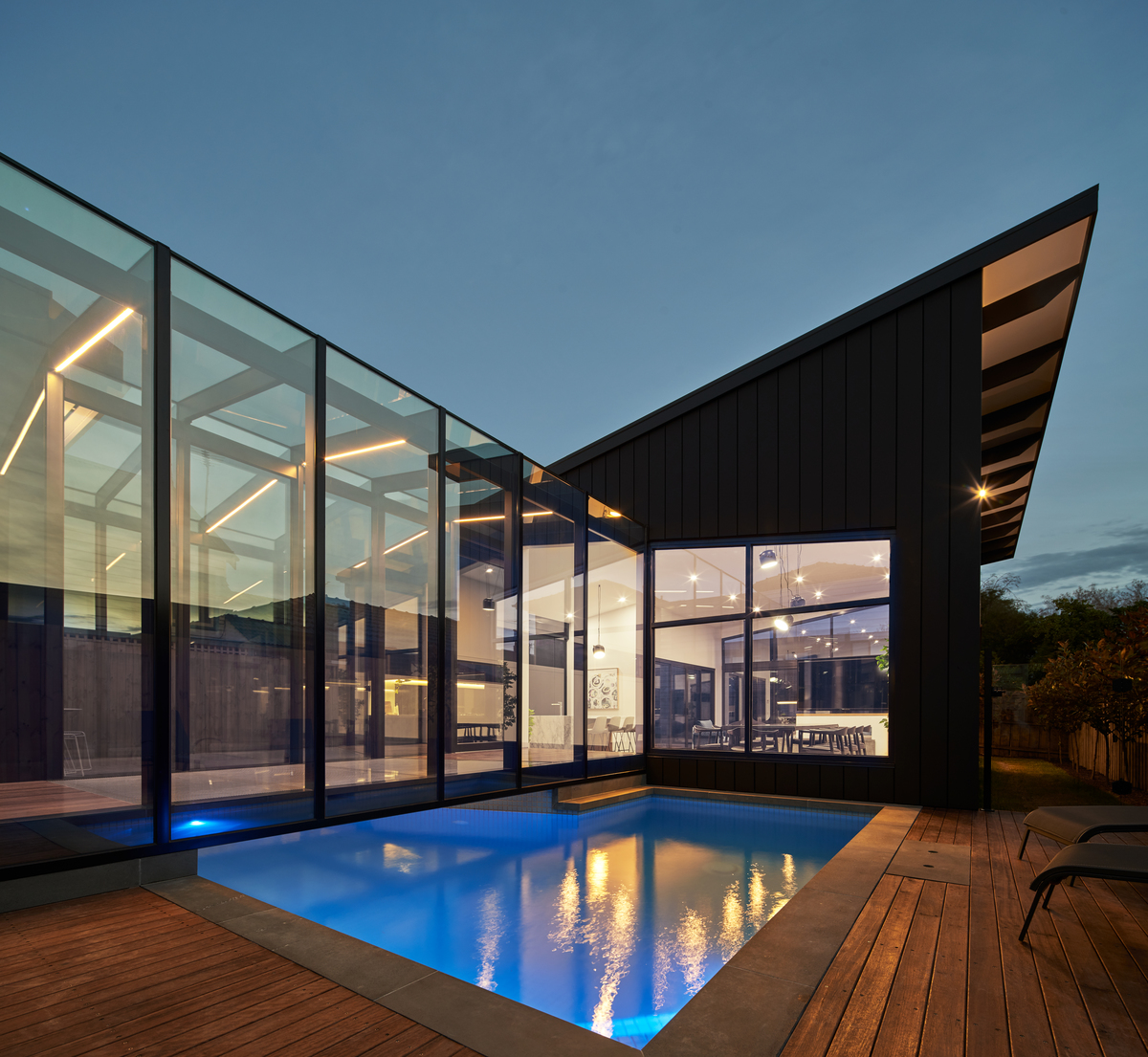 The floorplan naturally encourages people to move through the space into the open living and entertaining area at the back. Materials selections change from warm and luxurious to bold and sleek with a slight industrial undertone, with inspirations drawn from the immediate context of Northcote.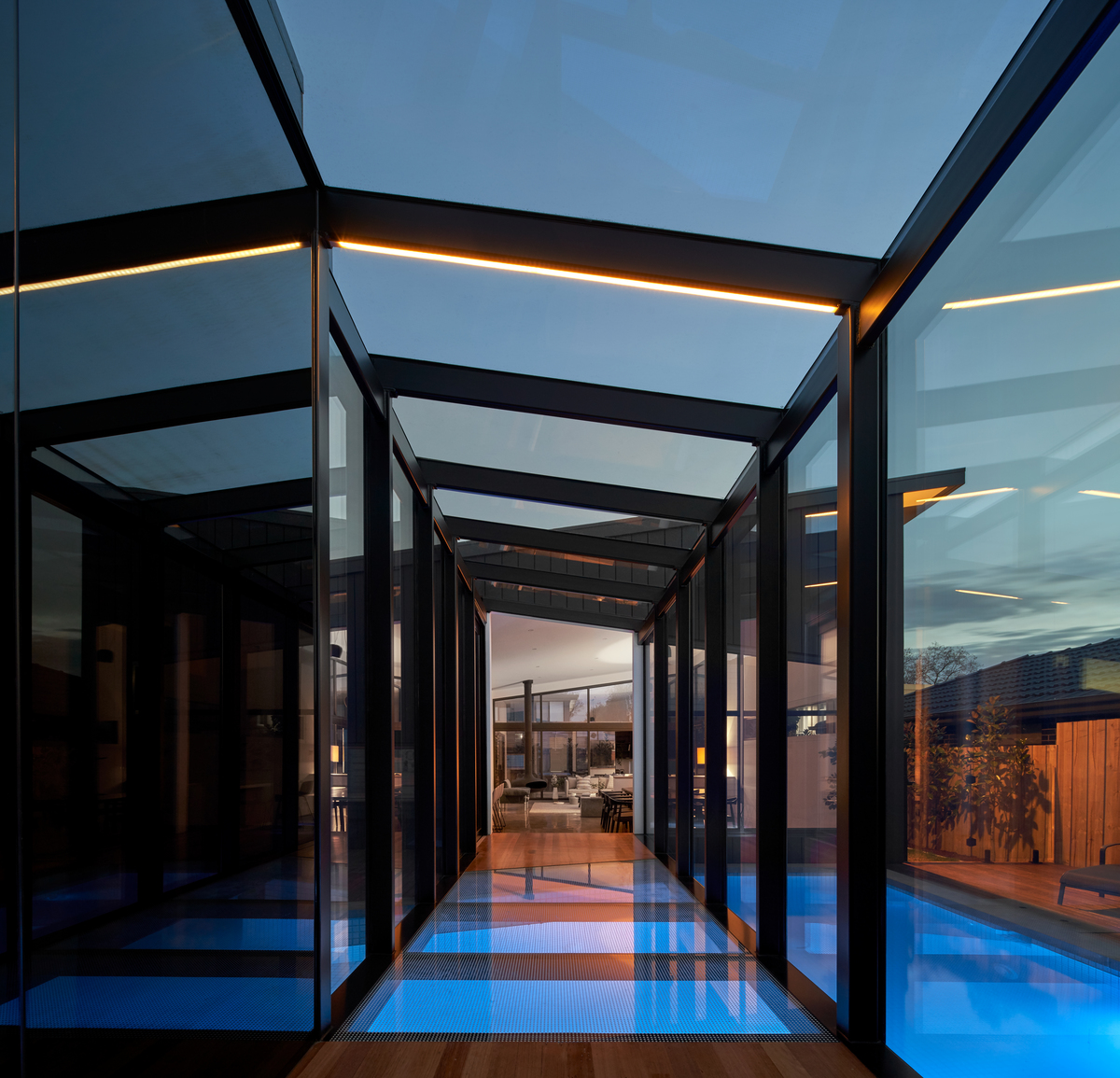 "It was decided that the perfect vessel for the journey between the old and the new would be a walk bridge, creating an impactful transition between the spaces," says Chahid Kairouz, managing director of C.Kairouz Architects.
"Made solely of steel and glass, it was strategically built to capture as much sun as possible on the south-facing block, acting as the catalyst into the new part of the home. The end of the walk bridge is met with a large open entertainment area where form breaks down into a single open space.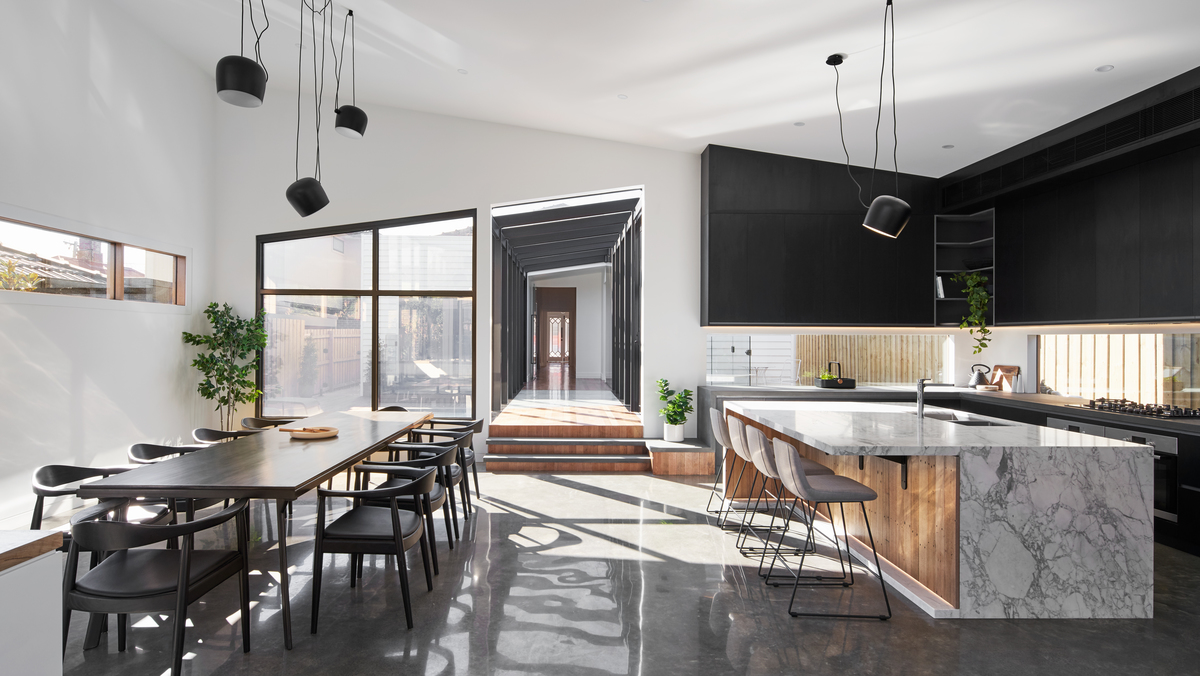 "With an angled ceiling, the room is surrounded in windows that accentuate the height and allow the northern sun to penetrate. The feature concrete floor captures the eye with its industrial vibe and facilitates a passive heating and cooling system; it warms up under direct sunlight during the day, only to slowly emit the heat in the colder Melbourne evenings."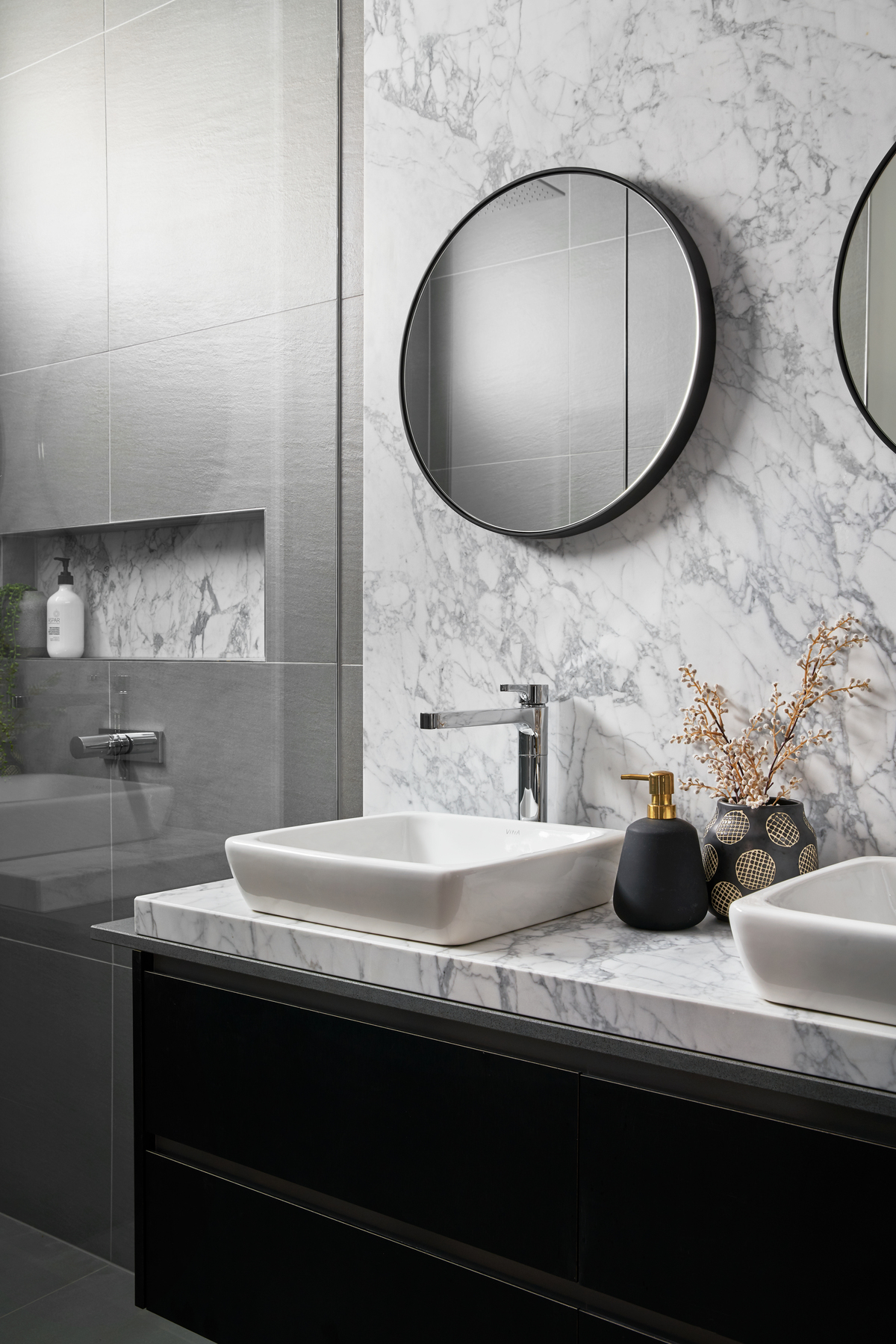 In one corner is a statement black kitchen, clad in metal-look cabinetry and topped with Calacatta Oro marble and bluestone benchtops. The oversized kitchen island features a cantilevered benchtop for additional width encouraging its practical use as a sit-down bar, buffet server or conversation space.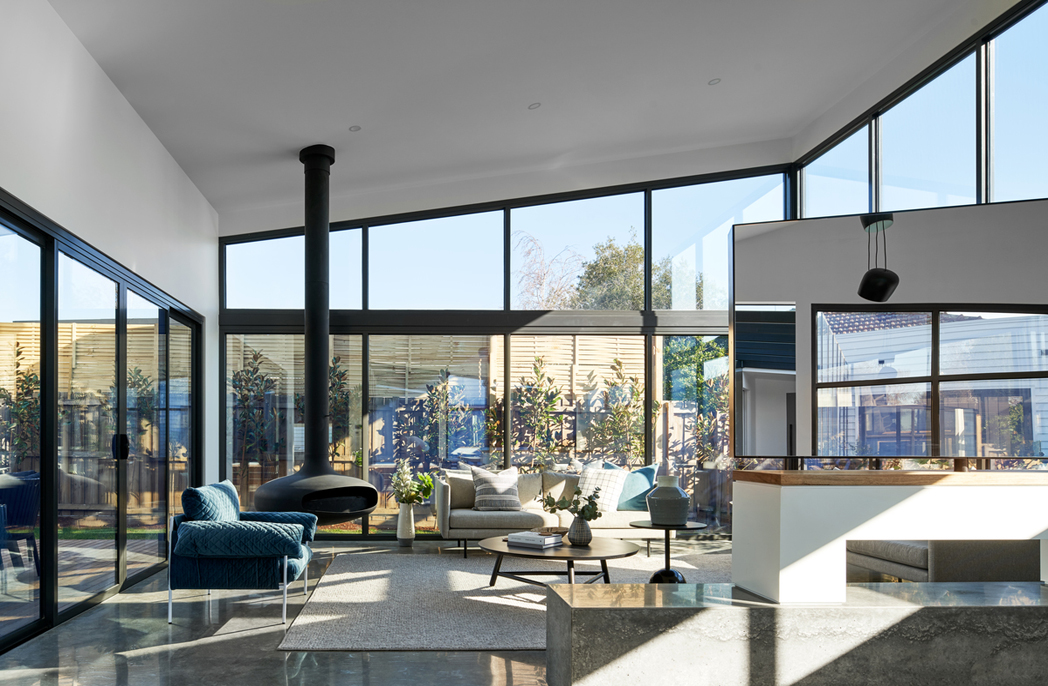 The rear of the room is separated by a concrete block, topped with a bespoke television unit with full 360-degree rotation, meaning that the television becomes highly convenient and practical as it can be viewed from any area of the room.
On the back of the unit is a mirror, further emphasising the juxtaposing theme of the house, capturing different reflections of the living space depending on its orientation, and the orientation of the viewer.
Photography by Peter Clarke