All photography by Dianna Snape.
Walking down Gertrude Street today, you are immersed in a veritable hipster paradise. The strip is abuzz with Twitter-trending cafés spruiking cold-pressed coffees and boho-chic bars perfect for lounging with a craft beer. Creative types, eccentric aesthetes and curious culture vultures flock to Gertrude, leaving with an armload of artisan homewares, rare vintage wear, and a smug dose of definitive Fitzroy-ness.
Among the vibrant hospitality and retail shopfronts sits Left: a couture fashion store considered by many to be a pioneering instigator of Gertrude Street's recent renaissance, which has seen it flourish into its own thriving precinct within Fitzroy.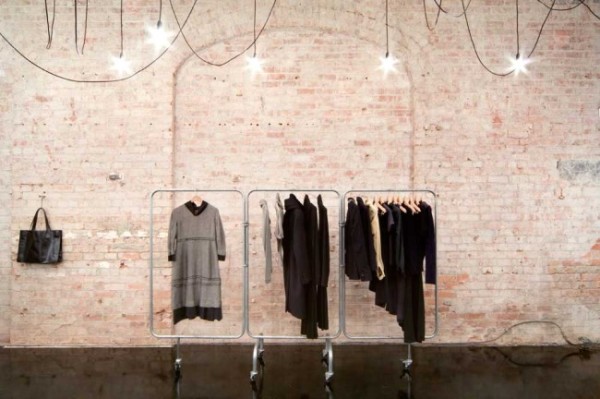 Ryan Russell was an associate at Cox Architects when he was serendipitously invited to design Left's small-scale retail interior by dear friend and passionate Gertrude Street advocate, Nellie Panay. Like the expert tailoring of Left's clothing, Russell sees his role as a designer to provide clients with a solution "that is bespoke, that fits them perfectly, and allows them to operate on multiple levels". At Left, this meant creating "a space Nellie could use to fundamentally express herself".
Panay wanted something left of centre – hence the name – that would be unique in the Australian market; with global appeal to suit the imported high end apparel. Her vision was forward-thinking and bold, at a time when Gertrude Street was, as Russell describes, "not popular," and "rough round the edges". Nellie was adamant that Left should raise Gertrude Street's profile, having definite ideas about the store's potential to introduce new standards of design and social dialogue to the community. Left's purpose was "Not just to grab attention on a retail level, but to give back to the street, for people to use it as a landmark, an artwork, to get people to stop even when the store was closed – to have a life beyond selling product," explains Russell. His approach was to consider Left's impact on a broader urban scale, and to innovate the retail experience.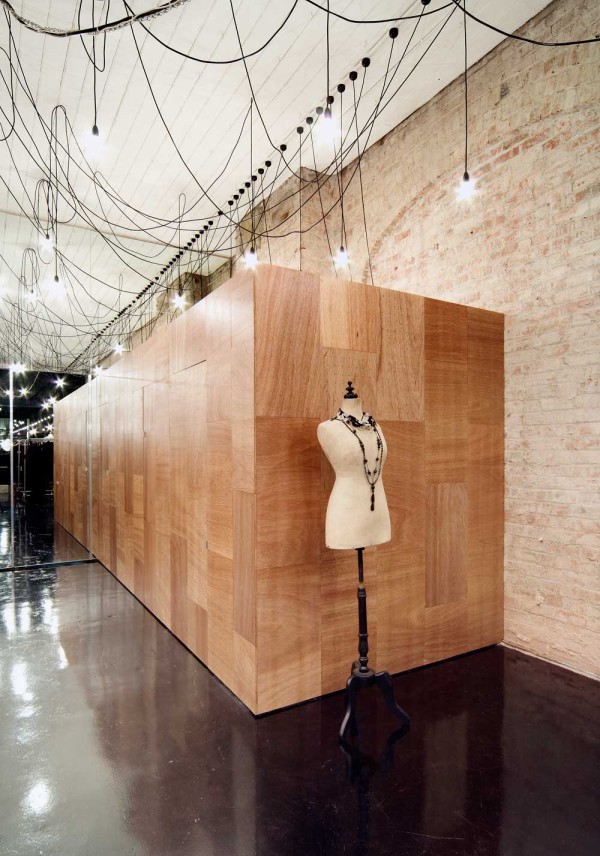 For Left's functional interior, Russell's task was to showcase Nellie's eclectic range of retailers, to "create something flexible enough to evolve to suit what she brought in," a fluidity inspiring Left's main components.
Left's most identifiable and often imitated element is Russell's ingenious lighting system. A luminous cobweb of 60 raw globes with black flex lengths and a grid of 320 ceiling hooks allow lights to be positioned at any height, in any point in the space. The lighting makes a feature of high ceilings while illuminating key displays, but it is the aesthetic quality in the linear drape and fall, simultaneously delicate and industrial, which perfectly relates to the structural fashion on show.
Bespoke joinery is similarly transformative, the premise being that you "could move anything around depending on what season and products were coming in". A portable point of sale counter houses electrics, completely free to accommodate new configurations. The only fixed elements are the large change rooms, where full length mirrors and flattering lights tempt customers. Left's every aspect encourages infinite re-invention, culminating in a living, growing retail experience; stimulated by its place in time.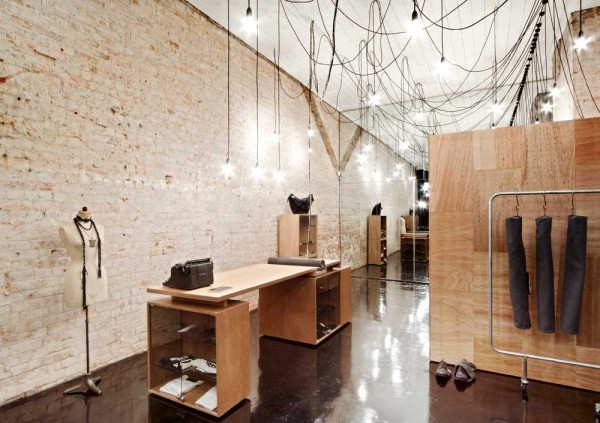 Though Russell's first interior, Left became influential in retail spheres and received many accolades from the design community. Russell recalls, "At the time Left won the IDEA award in 2007, Left was the only project on my own, the only thing to my name. Having an award when you've only got one project is really handy!" Not least for the free publicity leading to further projects, following Russell into his partnership with equally celebrated architect Byron George, and the establishment of their award-winning practice Russell & George.
As intended, Left did raise Gertrude Street's profile. The audacity of a couture boutique in a neglected part of Fitzroy forced attention on the area – and those who found a home for a point of difference in retail or hospitality followed suit. Six years on, Left's effect on the community is tangible. As the store becomes a stalwart of the strip and people enjoy Gertrude's new spoils, there is little evidence of a recent past void of culture, against a backdrop of commission flats. Where crowds once eschewed Gertrude Street for the attractions of more established Brunswick and Smith Streets, the strip has now become its own celebrated destination.
The legacy of the late Nellie Panay's vision for Gertrude Street, and the triumph of Russell's work at Left is that it "sits in a way that actually responds back to the area, allowing cultural sensitivities and the things that make a place important create a village mentality". Left's evolutionary nature mirrors a society constantly redefining itself on Gertrude Street. It remains a statement of design's infinite potential – to not only be the driver for business in a fluctuating retail environment, but to create and foster communities.
This interview with IDEA winner Ryan Russell appears as part of a retrospective series, featuring in the anticipation of this year's upcoming awards.
For your ticket to rub shoulders with a host of architecture and design luminaries at the exciting IDEA Gala party 21 November, click here.