Above image: De Bolet by Alexander Lotersztain, Derlot. Image courtesy of Derlot and Stylecraft.
How we live with light is the ultimate gesture of decoration, affecting both our psychological and physical states. Moreover, levels of illumination determine the very atmosphere of a room and therefore the ability of the occupants to perform optimally, whether pragmatically bright or romantically muted.
Light or lighting also plays a major role in the aesthetics of an environment, whether it is the light itself or the delivery structure. To wit: a glamorous parlour with soft shaded lamps, a stadium with massive spotlights, a museum where lighting is ever present, but entirely invisible, or a dining room where the feature light anchors the whole, whether illuminated or not.
The ability of lighting to specifically match nuanced needs is driven by two factors. On the one hand, technology is allowing a greater degree of control and variation, while the physical design of the luminaire determines aesthetics of form and spatial presence. Overriding both aspects is sustainability with a continued shift away from incandescent bulbs, despite the arguments claiming the warmer light source as closer to nature. That said, LED lighting, while performing well in architectural iterations, where the diode is built into the fitting, is to some extent playing catch-up with decorative lighting.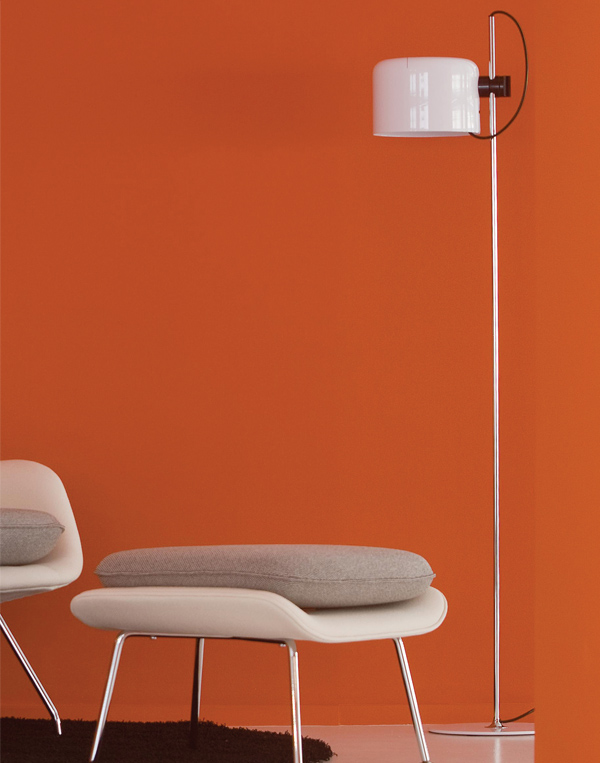 Where this is most apparent is in the midcentury designs such as Gino Sarffati's Arteluce range, which Flos is now 're-lighting' with LED technology. Model 1063, originally designed in 1954, for example, has been technically modified to replace the fluorescent tube with an LED module with variable temperature. Flos has done well to adhere to the aesthetics of the lamp in all particulars of dimension, scale, luminosity and light effect, while adding a diffuser, dimmer and temperature setting to accommodate the changed technology. Similarly Model 548 of 1951 is enjoying an LED life with the 100-watt incandescent version updated to a sustainable LED source (Euroluce).
Revisiting designs associated with particular periods has in fact never been more prolific or well done. And, while an original light from an era lends authenticity to a look, the wiring of a modern product is not to be sneezed at. Some of the current favourites include the Jieldé range of lights (Loft and Signal), from the firm founded in 1953 by French mechanic Jean-Louis Domecq in order to produce a basic work lamp (Euroluce). Another is Joe Colombo's Coupé 3321 floor lamp, which has been continually produced by Oluce since its design in 1967 (Euroluce).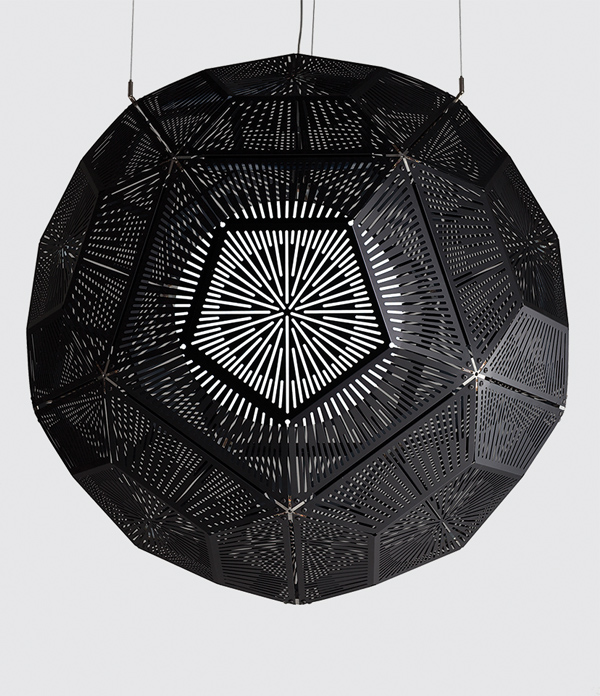 Light is, however, just the beginning of purpose when it comes to designing a showstopper. Take the sculptural forms of Tom Dixon's ball pendant lamps in copper, bronze, mirror or even Swarovski crystal, for example. Instantly recognisable as Dixon's, the design acumen of the shade adds exponentially to the credibility of the interior it graces. This will no doubt continue through the more recent Ball iteration comprising 12 black anodised aluminium panels forming a 1.2-metre wide pendant surrounding a 50-centimetre centrally located opal shade, and Etch, both of 2013 (dedece, made to order).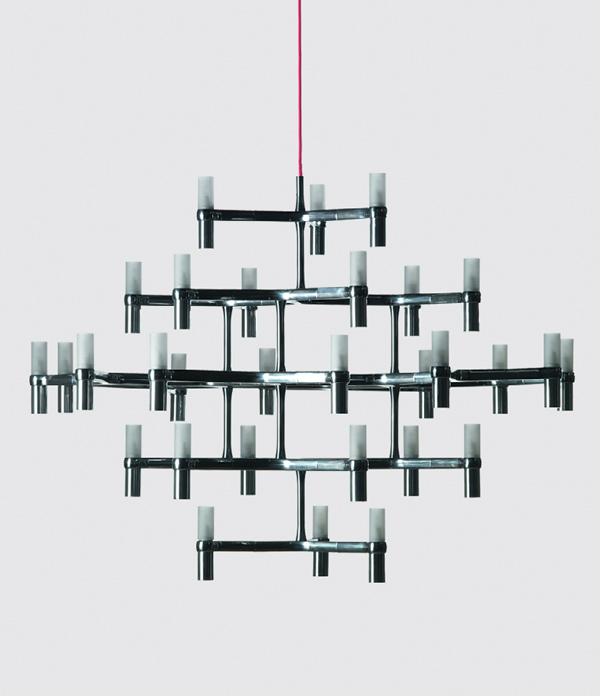 Similarly the Nemo Crown series, the latest from Jehs+Laub, is not to be ignored. Comprising a five-layered design of 30 globes, the primary chandelier, Crown Major, presents as a highly contemporised candelabra of polished aluminium and opal glass diffusers, while Crown Gigi and Crown Minor offer 12 lamp iterations suited to domestic environments (Studio Italia). Where LED drove a profusion of coloured lighting effects, there has been a return to white lights that allow the interior to assert its separate colours more precisely. Colour has, in fact, regained its importance as a defining element and a generous assortment of multihued shades are available. The Thea Kuta pendant lamp from Missoni Home is a glorious splash of colour as is the PET Pendants in iterations from singular to 21 (both Spence & Lyda). Derlot has also delivered colour with the interior of the Bolet pendant shade positively booming with orangey fun (Stylecraft).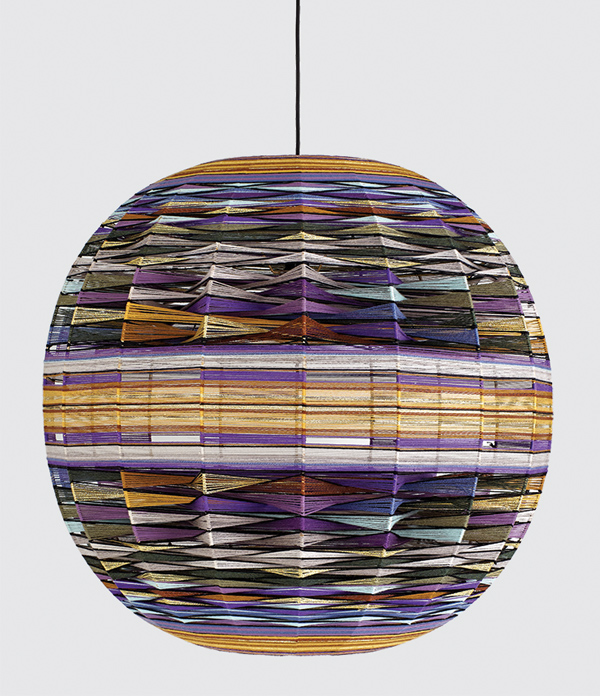 Arguably one of the most famous pendant lights, the PH Artichoke, designed in 1958 by Poul Henningsen, remains within a contemporary aesthetic. Space Furniture Singapore, for example, boasts an incredible 24-carat gold-plated limited edition (of 50 in recognition of the lamp's 50-year anniversary) in pride of place above the Giorgetti dining suite. And, while the Artichoke is a strong statement piece, it is also an ideal most interiors cannot physically support. As such, it is the expanded Louis Poulsen range surrounding the icon that is more often specified. Perpetuating the longevity of the brand is the continual rethinking and research, with the latest version of the PH 3.5-3 delivered in copper for 2014 (Living Edge). A beautiful object in its own right and entirely sympathetic to earlier versions, it is also sufficiently contemporary to feel fresh.
In Australia, manufacturing is significantly more difficult than in the rest of the world with product design increasingly artisan in nature. As such, handcrafts are enjoying a considered return with lighting in particular emerging as a medium for ceramics and timber. Stuart Williams' Touching Space range includes George and Ibis, two versions of a simple standard lamp in Tasmanian oak (Stylecraft), while his glass pods of 2008 are delicate coloured bulbs of considerable beauty. Mr Dowel Jones is another deceptively simple timber lamp that is hard not to love, while Nick Sadowsky's Spindent in American white oak and anodised aluminium is a simple delight of form and gravity (Workshopped). Also in American white oak, Ross Gardam's Oak pendant works amazingly well in clusters or alone as a beautiful artisan product (Stylecraft).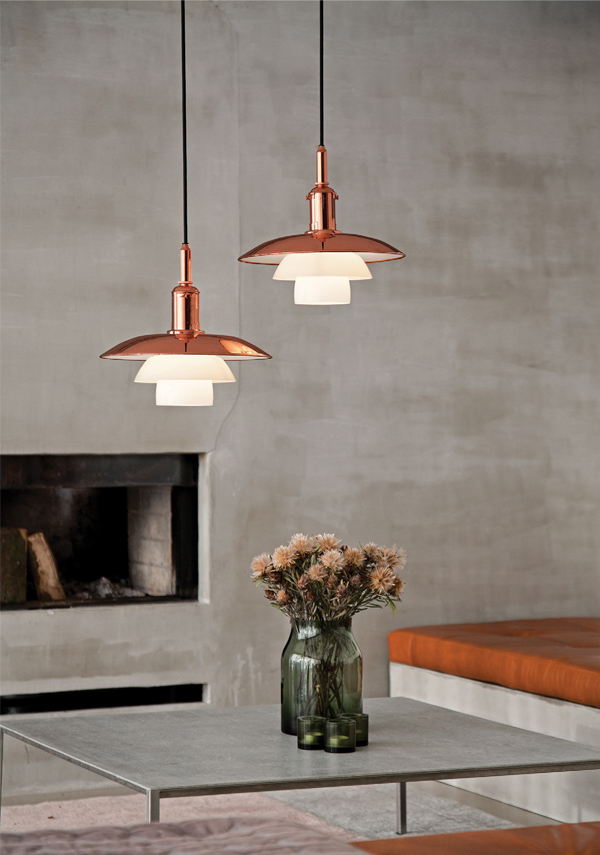 Ceramics are similarly being celebrated with Adam Cornish's Stoneware Lighting (Corporate Culture) – a beautiful example of consummate design and craftsmanship coalescing to perfection. Colin Hopkins (Porcelume), Porcelain Bear (porcelainbear. com) and Ash Allen are also producing amazing results with hand thrown and slip cast methodologies. Indeed, Hopkins' skill at the wheel is sufficiently finessed to allow the fine porcelain to be of a uniform translucence or shift into degrees of opacity, while Allen's Dollop pendant is, excuse the cliché, poetry in motion (ashallen.com).
One of the great Australian design stories of this decade is, of course, the Coco pendant by Kate Stokes. This glorious handcrafted pendant of turned Victorian ash and spun aluminium is fast becoming the statement piece of local design aficionados, with good reason. Christopher Boots is similarly lauded for his magnificent sculptural pieces, with the alchemic BCAA remaining a hot favourite. On a far more flamboyant note, Boots' crystal encrusted Diamond Ring is an unforgettable statement piece suited to gala applications.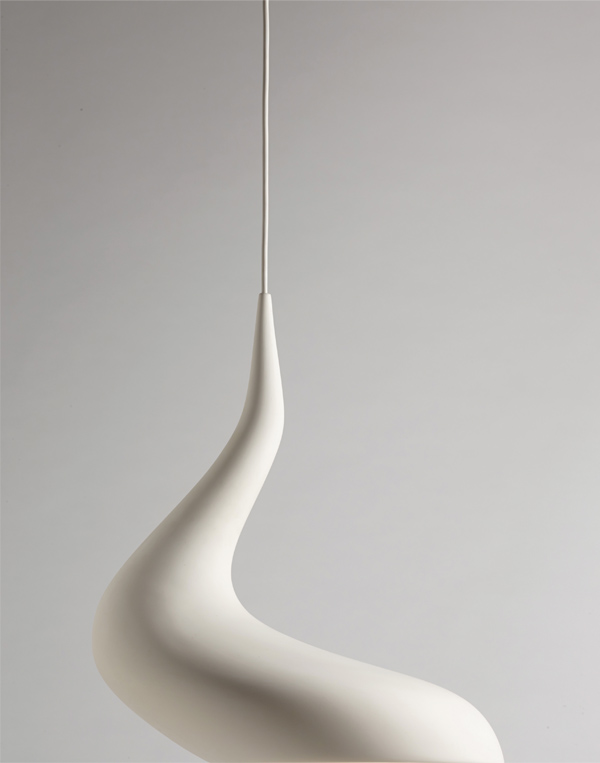 While not all Australian lighting design is artisan by nature, it is often bespoke. Mance Design, for example, of Hedgehog and Fruits fame, has almost entirely stopped designing lighting as a product. Rather, the studio works with designers to create project specific solutions. As interior designer Matt Woods explains: "There is no limit to what we do, I come to them with a big picture and a bit of detail and ask: 'How can we do it?'"
Woods has in fact every reason to be impressed by a commitment to energy conservation and originality appropriate to projects including the bar feature light for the Newtown Social Club, Genesis Café and Bar Asia.
Technology in lighting is advancing at a speed tantamount to Moore's law (US engineer Gordon Moore's 1965 prediction that the number of transistors on a chip would double every year). As such, interior and architectural designers are increasingly specifying light design be performed by a separate consulting entity.
Point of View (POV) is one such company making headway here and abroad with projects to its credit including Dubai Festival City, HASSELL Studio, Qantas Lounges (First Class, Business and Club, Sydney and Melbourne) and myriad public and private projects. Multilayered in its approach regarding aesthetics, ambience and practical considerations, it is also at the forefront of technical knowledge essentially ensuring that redundancy is not an impending systems issue.
From spectacular lighting events such as the Andrew Walsh directed White Night Melbourne to the crisp origami of Issey Miyake's IN-EI (Artemide), lighting informs how we live. It allows us to literally see in the dark, but it also lets us see who we are, what drives us and what our priorities are – whether practical, ambient, entertained or excited. Also, and very importantly, good lighting keeps us young, or at least looking that way.