Images courtesy Earl Carter.
Against the foreboding clouds of a particularly tempestuous Melbourne morning, the Lexus Design Pavilion makes its presence felt.
Standing three stories high, the pavilion appears externally as an ethereal mass of twigs, painstakingly woven into a mesh frame by sustainable restaurateur and botanical artist Joost Bakker. While the majority of other pavilions are given six weeks to install, the intricate Lexus Pavilion was constructed over two and a half months. The overall effect is a lightweight feathering over the imposing cubic structure, with recycled wire roots creating a gauzy organic membrane – a giant bird's nest inside the Flemington Birdcage.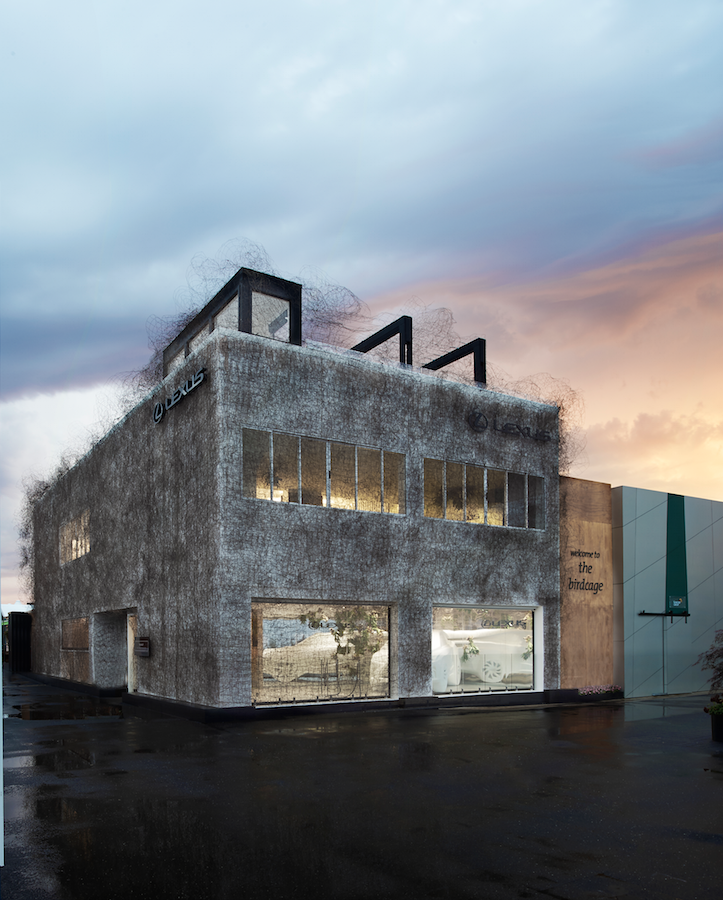 This year is the second consecutive year that acclaimed Melbourne-based practice Mim Design has been invited to design the Birdcage's most exclusive pavilion, with their exquisitely floral 2014 project winning multiple industry accolades (not to mention going positively viral on social media).
"It's not often that you get asked two years in a row, so we're lucky! We're really proud of the collaboration between us, Lexus, The Big Group and Joost Bakker, and of course, Ben Shewry and Dan Hong," says Mim Fanning, founding director of Mim Design. "To be able to work with the same team again is something that we're incredibly proud of."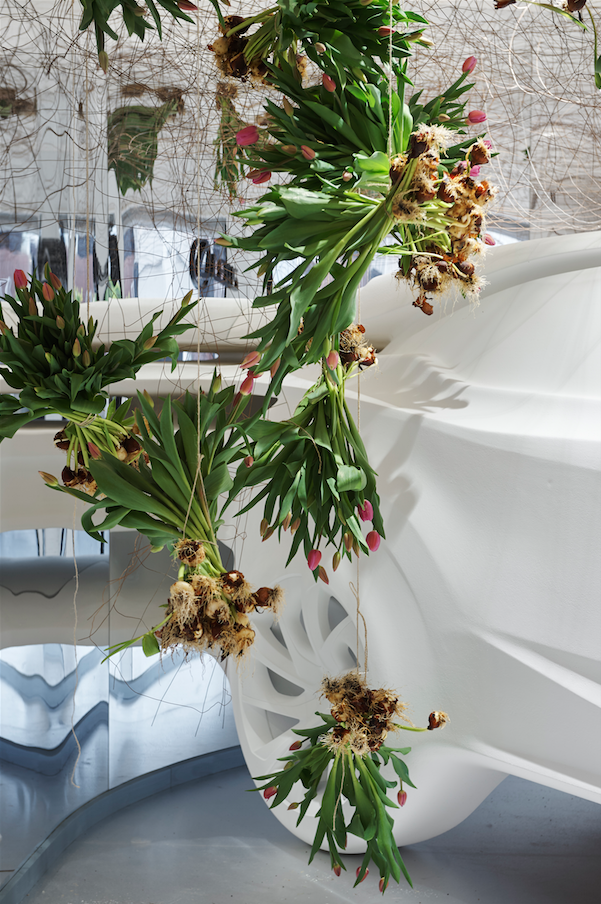 The ADR team was in attendance at Flemington yesterday to experience the Lexus Design Pavilion firsthand, and amid the conviviality, the detailed quality and consideration behind the fit out was certainly at the fore of the event.
An alcove at the entrance offers the perfect photo opportunity for glammed-up racegoers, adorned with hanging tulips, a preview of the floral display within. Once inside, another Kodak (or should that be 'Insta'?) moment – a full-scale white Lexus maquette is reflected in a mirrored front parlour, giving the feel of a futuristically minimalist showroom.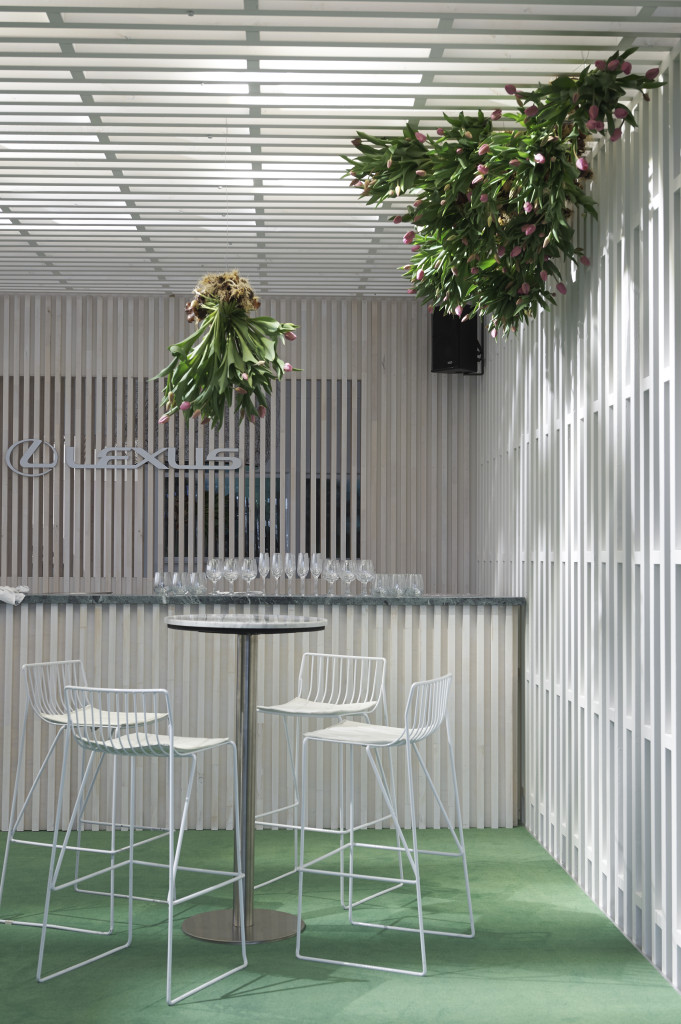 Yesterday's remarkably erratic weather – within only hours we were at risk of sunburn on the Lexus rooftop, before a tornado warning was issued and monsoonal rain delayed the major Oaks Day race – actually served to show off the pavilion's photogenic design smarts in both extremes. In the sun, with exuberant tulips blooming overhead covering the first floor ceiling, the pavilion evoked the very essence of spring. While overcast, the grey light illuminated opalescent metallic walls, creating an atmospheric ambience buoyed by the high spirits of those within.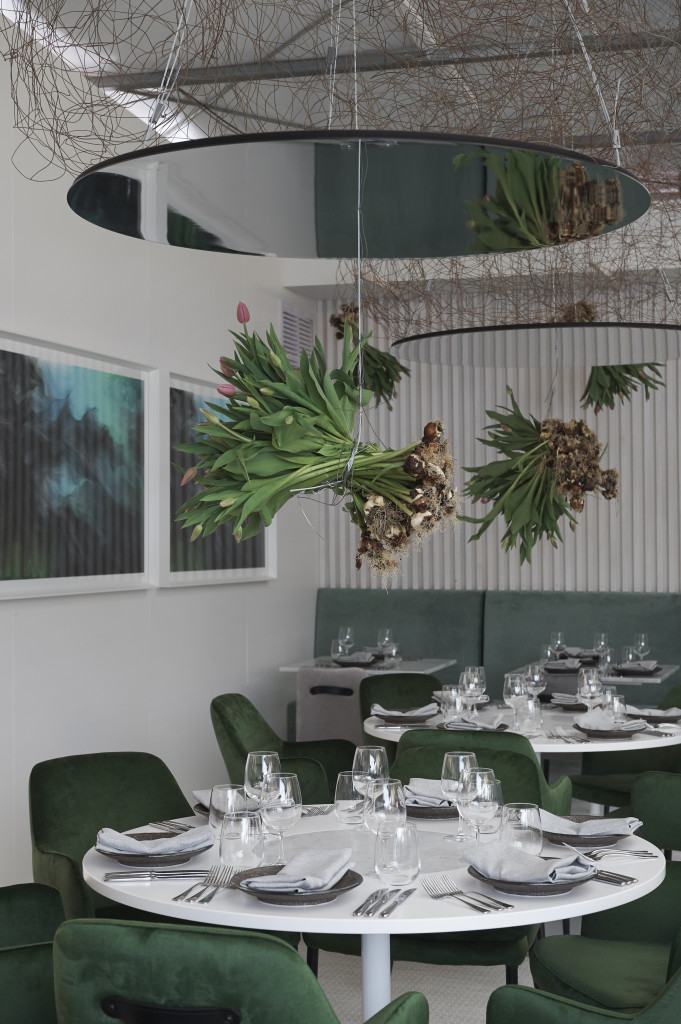 Beyond the lavish fit out, it is clear that Lexus is a firm advocate for design. "They take design seriously – they see design as a good investment, and you couldn't ask for any more in a client," says Mim, who worked closely with Lexus from the first concept to all the way through to completion. Mim also credits associate Emma Mahlook of Mim Design for her diligence with the project, as well as furniture suppliers Grazia & Co., Diadem project management, Design Depot, and 3D Comm Builders for ensuring that the pavilion was realised true to design.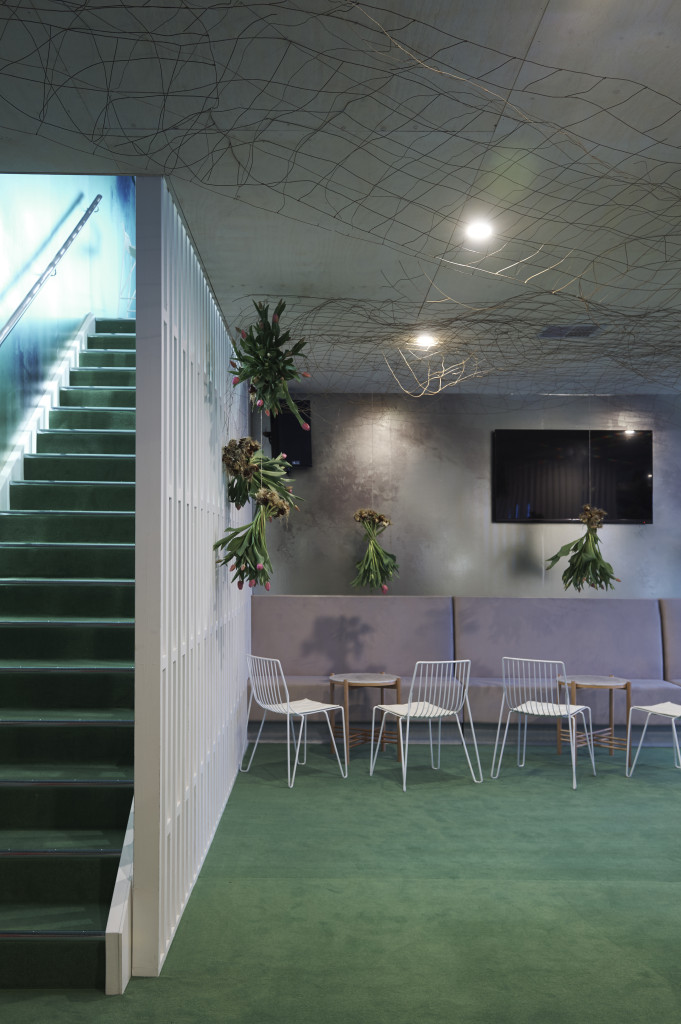 With any temporary project comes the prospect of experimentation, though Mim reflects that the opportunity brings its own challenges. "They [the pavilions] are not by any means any easier to do, we follow the same process and the workload is the same, if not more! I wouldn't underestimate the work involved, but they are extremely rewarding."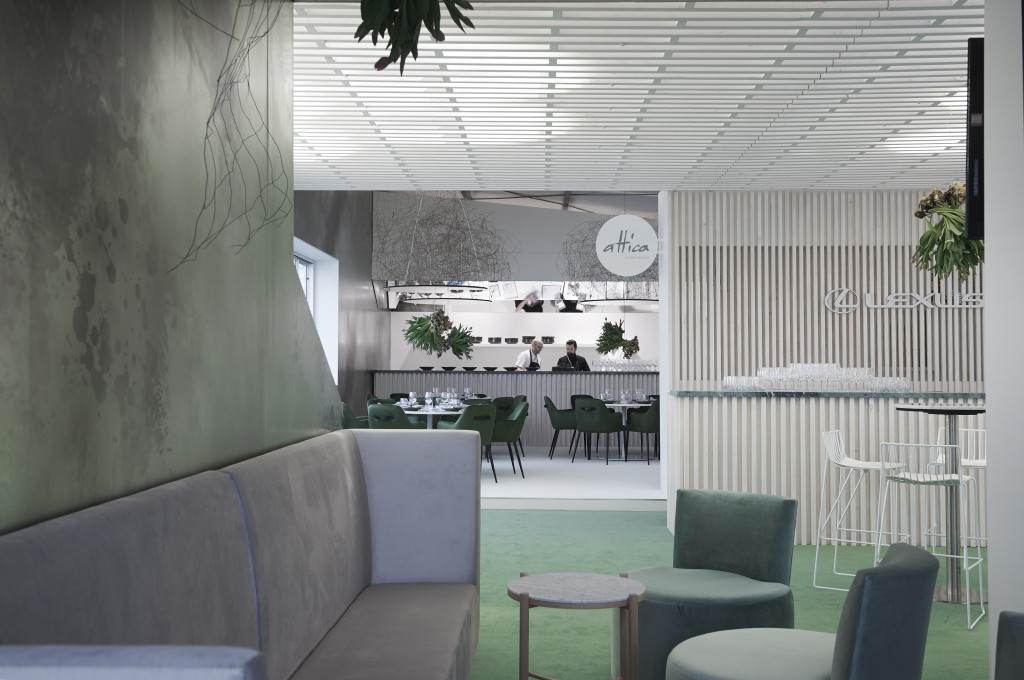 Mim herself was resplendent in racewear finery at Oaks Day, mingling with her contemporaries Hamish Guthrie, Matt Gibson, Pascale Gomes-McNabb and Mark Simpson and Damien Mulvihill of DesignOffice. On such an occasion, among the design elite, it is easy to think of design as a definitively chic, glamorous profession, though Mim would beg to differ. "No, it certainly isn't – not when Emma and I were down on our hands and knees spray wiping the floor yesterday! But when you love a job and you are proud as we are of what was created, you go above and beyond."