In the second of a four-part series highlighting interior designers, design media and the furniture designers and makers who have all played a role in positioning Australian furniture on the global stage, inside co-editor Gillian Serisier takes a look at the identity being etched by some of our finest furniture designers.
When it comes to an extraordinary lounge, Adam Goodrum's eye for detail that supports scale and weight cannot be faulted. "Any object has to justify its existence and any space is defined by the objects in it," says Goodrum, and to this end his large, luxurious, butter soft lounges, with just the right seat feel, are long enough to lie on and comfortable enough for an afternoon snooze.
Similarly, his chairs, such as Volley (Tait) and Stitch (Capellini, Cult) blend the relaxed nature of our lifestyle with sculptural form and a considered execution of both materiality and colour. Goodrum's table settings, including the Molloy range (Cult), are quintessential to the new Australian aesthetic that marries grace with the realities of the local lifestyle.
As William Smart, Smart Design Studio, states: "For me the Nau Molloy chair was a case of love at first sight: its combination of craftsmanship and exquisite proportion created an instant classic. I see furniture pieces like these as more than opportunities to fulfil a brief; they tweak the mood of the room, while supporting the architectural intent of the space. These values that we embrace – modesty, resolution and refinement – are integral to the work of many Australian designers, which is why I love them."
For many of Smart's peers, there is a conscious push to include Australian furniture when specifying. The thinking behind this push varies from supporting the local industry and sustainability, to creating a sense of place without the tropes of Australian cliché and, more often than not, simply because the pieces available are of a sufficiently high calibre to suit the project.
Pascale Gomes McNabb, principal of Pascale Gomes McNabb Design, is a formidable designer with a history of including Australian content, from original and now licensed Featherston (Grazia and Co) pieces to the highly contemporary.
Her work for Penfolds, for example, included a specification that equated to 90 percent of the furniture being Australian. "Keeping things in Australia is important to promoting and maintaining our industry more generally," says Gomes McNabb, who notes that local design has exponentially shifted over the past 10 years.
"Australian design has made leaps and bounds in terms of manufacturing quality and design intent. They are not just copying international designs, but keeping abreast of what is happening overseas and meeting that challenge. It's important to promote what we have, and there are some amazing things out there. The design that really struck me from Milan was Nick Rennie's marble table for Artedomus; it is stunning," she says.
As a designer, Rennie believes the quality of Australian design has been a constant; however, access has been limited and only now has it been readily available.
"Even as recently as 10 years ago, there still weren't many options for a designer to work together with a local manufacturer to produce a collection, but this has drastically changed, to now where there are many companies wanting to engage local creatives. [There has been the] incredible support of local manufacturers such as Made By Pen, United Products, Artedomus, ISM, Tait and Nau, to name a few, engaging Australian designers to collaborate with, which I feel has been the major difference," says Rennie.
There has also been a shift in the way designers work, in that rather than waiting for opportunity, they are creating their own.
"The second aspect has been the local trend for designers to establish their own company and self-manufacture. The likes of Derlot, Ross Gardam, Skeehan, LEN, Keith Melbourne and Dowel Jones quickly jump to mind," says Rennie. He also notes a social media-charged change in consumer attitude, with greater desire for Australian design than 20 years previously.
"The explosion of social media and the ways of using it to bypass traditional avenues of promotion and sales has allowed for many young designers to establish their own brand without the need for reliance on others," says Rennie.
That said, Rennie also notes a disconnection between Australian designers working with international manufacturers. "At last count there were still fewer than 20 Australian designers to work with a European company over the last 20 years in furniture. I feel this is extraordinarily low given the quality of design that is being created locally," he says, adding that international curation could be key to a wider uptake of Australian design.
"With the help of amazing people such as Emma Elizabeth organising exhibitions of Australian design internationally, this will be the next area where we see a dramatic increase in the near future," he says.
As Rennie notes, Ross Gardam is among a handful of designers who have created their own business. As a designer, manufacturer and international exhibitor, Gardam sees the changing face of Australian design as a constant.
"It comes up in conversation a lot with peers, mainly around the number of designers now practising and the cut- through into international markets. It was especially noticeable last year when we first exhibited at ICFF (International Contemporary Furniture Fair) in New York, I thought being so far away would be an issue; however we had a lot of compliments about Australian design as a whole."
For Gardam, the experience of running his own practice fuels his decision to use internal design briefs. "We have been doing this for a while and it really helps define a successful design process for any given project," he says.
Effectively, it will take the practice at minimum a year to develop a product and, as such, a successful outcome is paramount. "Our brief analyses the end user, ergonomics, activity and ritual of use, environment of use, existing products and benchmark pricing. Then, when we look at materials of use and processes for construction, it is about homing in on a suite of possibilities we can draw upon," says Gardam.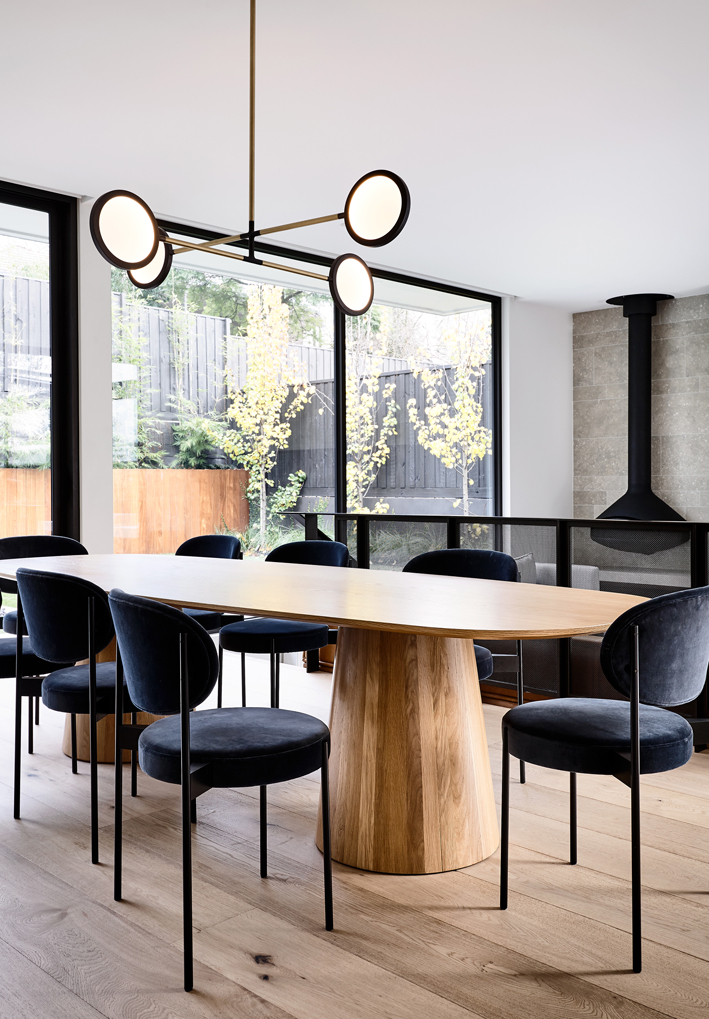 Once the how and why are established and overall brief is defined, the project's theme will be integrated. "Ideally, the theme can be defined through a process of experimentation. This is a fun way to work as the final outcome is unknown; however, the journey to get there is known," says Gardam.
As such, the brief is only the starting point and, while documented, will sit around for a while before sketching commences and effectively only serve as a benchmarking and guidance tool as the project develops.
Mardi Doherty, principal of Mardi Doherty Design and recipient of the IDEA Editors' medal for 2018, has been particularly impressed with the work of Ross Didier and has included his work in several projects. "Ross has such a strong passion for his work, and it's evident when you meet with him. The stories behind each piece demonstrate such strong authenticity, with wisdom regarding his trade and a humbleness that belies his extreme talent. His pieces are like modern day classics, just like the Featherston chairs when they were first manufactured in the 1950s. He really understands the needs of designers and clients, and responds in a way that shows he's a real craftsman," says Doherty.
Having really good local design options also helps facilitate interior designers to meet their own mandates. Arent&Pyke, for example, has a sustainability ethos underlying its practice that stretches from environmental to social concerns.
"As a practice, sustainability and well-being are always at the forefront of what we do," says Arent&Pyke principal, Sarah-Jane Pyke. "Working directly with Australian designers and craftsman, who source sustainably grown, local hardwoods, brings an intrinsic Australian quality to our work."
That said, if Australian furniture was not of the calibre the practice and its clients require, it would not deliver the results anticipated. "This beautiful solid timber table from Planet Furniture is the anchor of the dining space. Warm and timeless, we know it will be with this family for many years to come," says Pyke.
The interior designer/furniture designer equation is one of being simpatico, in that both are working towards an outcome of calibre and a unique Australian style. So, while Rennie's comments about the lack of international recognition are true, there is certainly more recognition now than even 10 years ago.
Moreover, there is most decidedly a real sense of self emerging as these fine designers continue to excel.
This article originally appeared in inside 106 – available online and digitally through Zinio.
Images by Sean Fennessy, Tom Blachford, Kate Ballis, Anson Smart and Murray Fredericks