Written by Annie Reid for (inside) Interior Design Review. Images courtesy suppliers. Pictured above: Ophelis Docks from Wilkhahn.
Amid the hustle and bustle of work life, there are still times when peace and quiet is called for. Luckily, you don't have to squirrel yourself away; all it takes is some clever thinking around privacy and screening to create a mini hub for creativity and concentration.
Ophelis Docks from Wilkhahn
Wilkhahn Australia is now supplying Ophelis Docks (pictured above) to the Australasian market. German made, the docks are essentially modular units that can be pieced together to suit a variety of commercial settings. The individual units have high backs, low backs or no backs, offering a large range of combinations so users never need to feel secluded from their colleagues.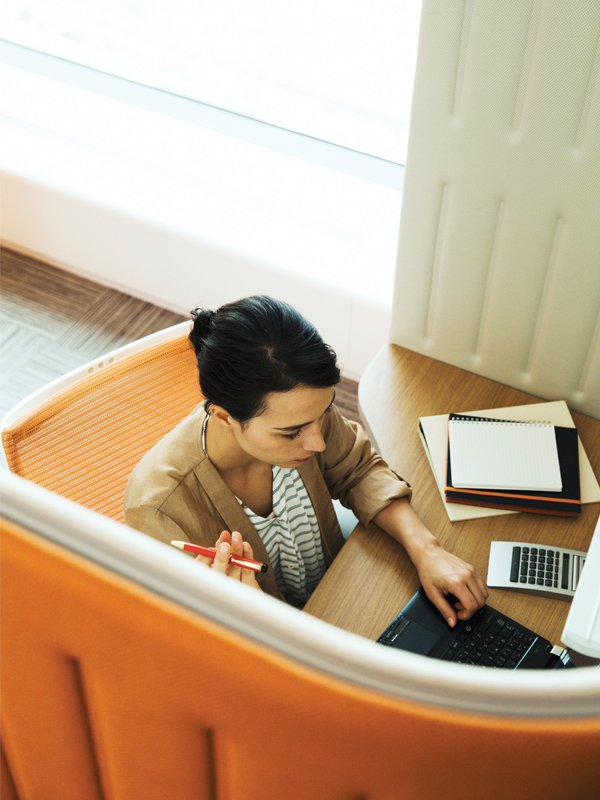 Muffle from UCI
Featuring a streamlined contour that surrounds workers, Muffle by Okamura creates a stylish balance between concentration and collaboration. There are plenty of colour and configuration options to provide a sense of security and warmth, while shutting out noise and other distractions occurring in an open plan office environment.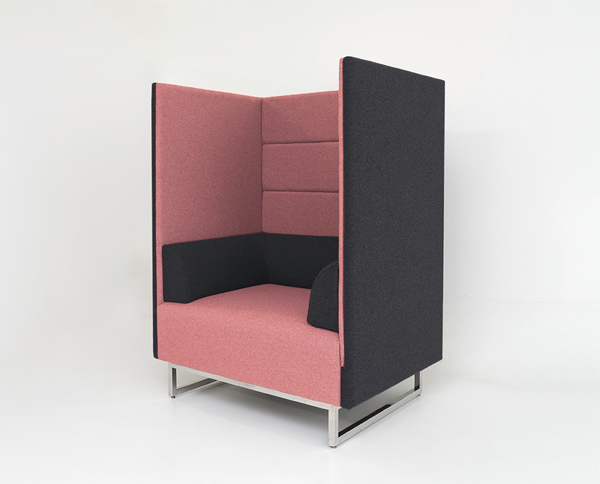 Room from Workspace
These acoustic privacy booths cater for one or two people and offer a range of upholstery and fabrics, creating a "space that can be occupied or where something can be done", according to Workspace. Suitable for commercial applications, they're formal and informal while offering space for quiet reflection or collective consultation.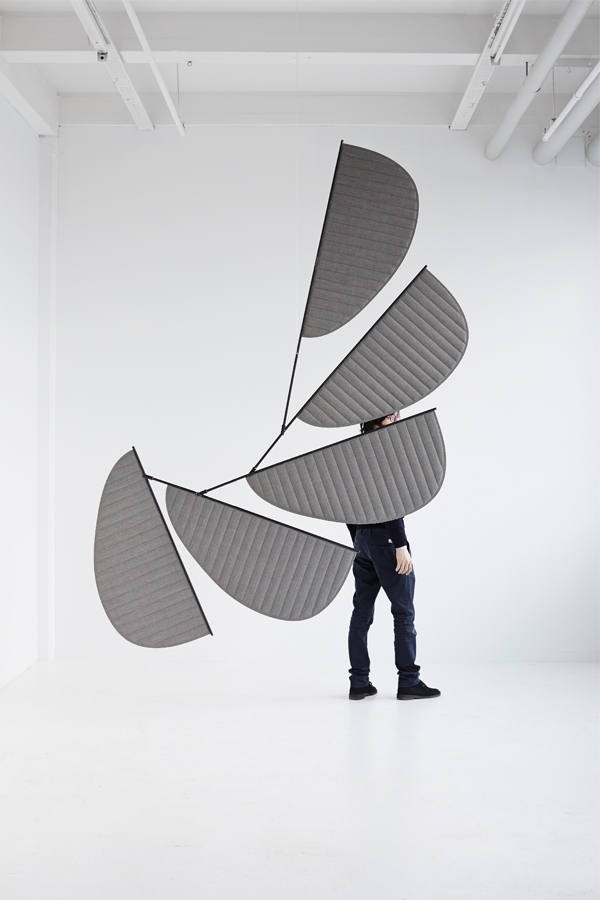 Screen Systems from Cult Design
Screen Systems is a sculptural space divider by GamFratesi for Cappellini. Hanging from the ceiling like a mobile, it's a kinetic sculpture with delicately balanced components that resemble configurations of petals. It's made from fabric pressed with a recycled material that absorbs sound as well as screens the view.
Stella Collection from Tait
Designed by Christina Waterson and manufactured in Melbourne by Tait, the Stella Collection is made from folded and powder-coated aluminium sheeting. Offering four different patterns – Rosella, Banksia, Kingii and Pandanus – the screens work as sculptural elements, way-finding devices or simply as 3D wall art in their own right.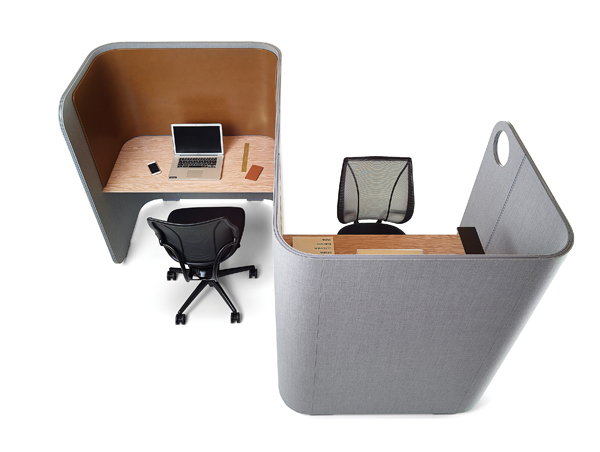 Focus from Schiavello
Brand new by Schiavello, Focus comprises a range of soft barriers and booths with high curved panels that absorb noise to create a quiet and intimate place of retreat. The panels also provide privacy from prying eyes, allowing users to shelter from visual distractions and noise.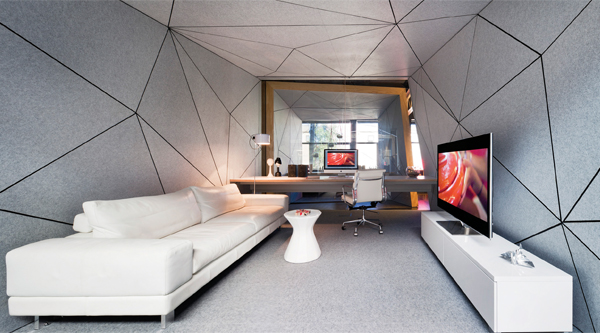 Ecoustic Panel from Instyle Contract Textiles
Ecoustic Panel is part of the Ecoustic collection by Instyle, comprising a range of panel, screen and tile products. Ecoustic's made from a minimum of 50 percent recycled polyester, and offers superior sound absorption in a selection of 16 colours. Highly versatile, the collection is ideal for screen, partition, wall and ceiling applications.
Pacific High from Interstudio
Designed by Busk + Hertzog, Pacific High suits a range of purposes – think small private meetings in lobbies or lounges or alternative meeting spaces within the office. They're also perfect for breakout areas. Available as a two-seater, Pacific High offers flexibility with contrasting fabrics and stitching to create a unique look.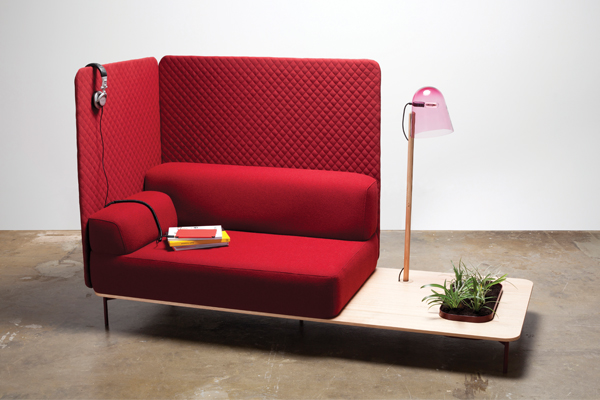 Softscape Retreat from Stylecraft
Designed by Helen Kontouris for LEN, Softscape Retreat promotes environments where people can work, communicate and connect in a softer and more intuitive manner. With soft, upholstered screens that rise above a lounge or armchair module, the Retreat offers privacy, and allows for different screen heights and fabric selections.
Brody WorkLounge from Steelcase
Think of Brody WorkLounge as your very own cocoon-like microenvironment – offering integrated power, ergonomic comfort, personal storage and lighting to help you focus and get your work done. It features patented lumbar technology to bring ergonomics to lounge design, and includes stylish footrests.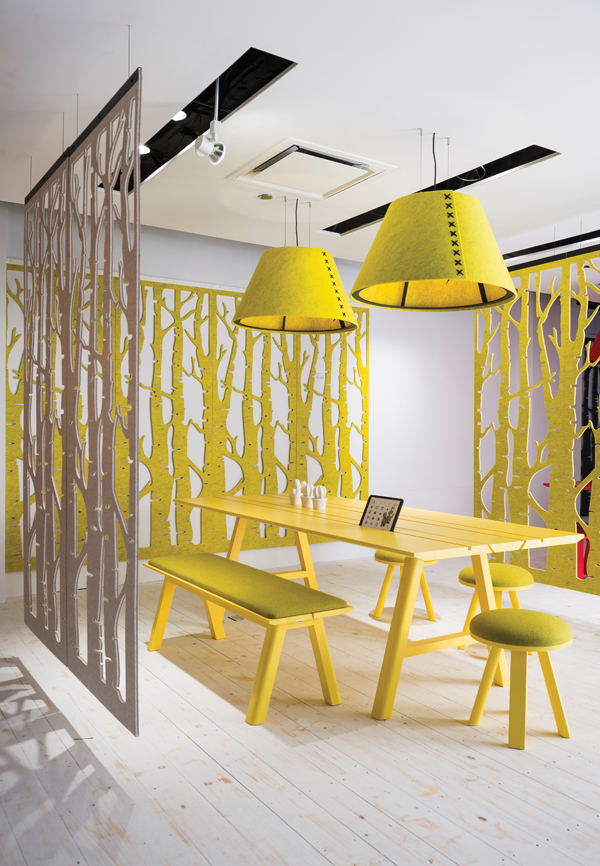 Buzzifalls from Zenith Interiors
These playful screens were launched in Sydney in August, and are suspended from the ceiling to provide artistic style and acoustic benefits. Designed by Sas Adriaenssens, BuzziFalls is available in a fixed width and two fixed lengths where it serves both as an art piece and room divider for open floor environments.
Freefold Screen from Planex
Designed by Alexander Lotersztain, the Freefold Screen is inspired by the clean lines and angles of origami. Decorated with a series of perforations, it's freestanding and can be joined to a number of other screens using the flexible hinge, allowing the user to divide a room of any size.
Inside 89 is on newsstands now, and available through Zinio.