Written by: Ben Morgan for Mezzanine Magazine. Photography by: Lucas Allen, courtesy Staron.
As more and more of us engage with design and try to push the boundaries of what our homes can be, we are turning to some exciting products and technologies to deliver the perfect spaces we envisage. Anyone who has looked into the huge range of options for kitchen benchtops, for example, is likely familiar with 'solid surfaces'. If you don't know the term, you may know their brand names, such as Corian, Staron and Hi-Macs – three major players in the Australian market.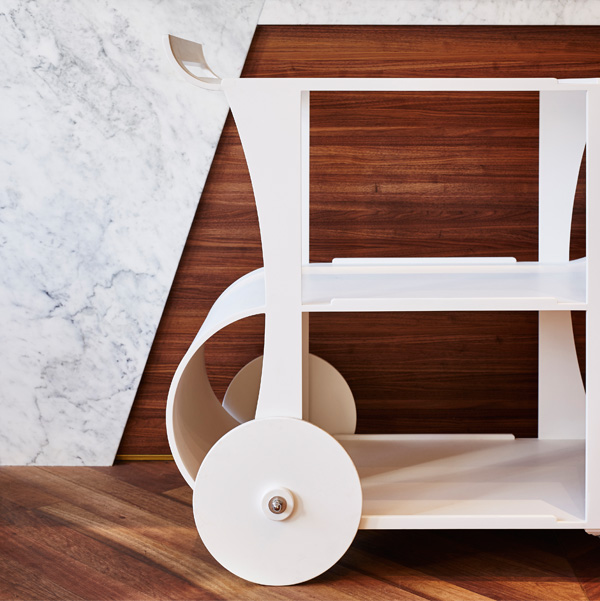 As a manufactured acrylic or polymer, they generally come in fl at sheets of varying thickness and an array of different colours. While originally used largely in commercial projects – think airport counters, McDonald's, banks – they now present huge scope for innovative design throughout homes and small-scale hospitality alike.
"There are obviously limitations to what you can do with a solid surface in a flat sheet," explains industrial designer Stephen Royce, of bathroom fixtures company Formed, who uses the material across a number of the company's products. "You're really limited to using a flat sheet and working around it. However, that can be relatively low-cost compared to casting, for example, which can be very expensive and time-consuming and you don't know how well the market is going  to react to it." Royce used Corian in the Scandinavian-inspired design B4, part of the Issy bathroom range for Reece. The high-end design uses white solid surface components for the basin, combined with timber cabinetry.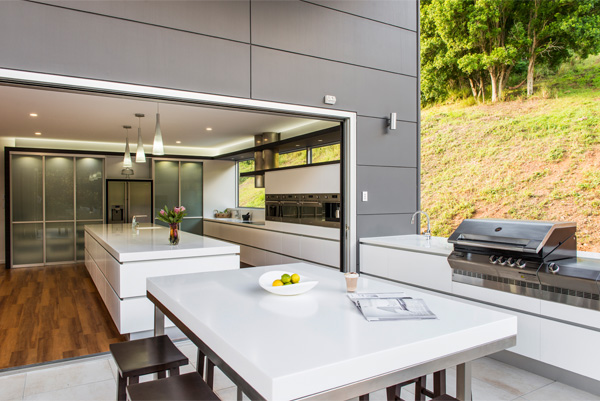 "There are two different types of solid surface – there's polyester solid surface, which is rough, and then there's acrylic solid surface." Royce uses a product made with 'monomer acrylic', which he believes to be the best. "It's really easy and safe to work with and it doesn't discolour, which is pretty important. You're dealing with a product that is perfect for the bathroom for a consumer. It's pretty easy to keep clean, it looks beautiful and it's nice to the touch. That really is a huge benefit over other materials such as porcelain, which chips easily and is difficult to keep clean." When speaking to designers and architects, it's clear that durability and flexibility of design are key factors when choosing solid surfaces. This makes them a true investment – as they're not necessarily the most economical solution. "It is hard to compare it with a more basic product," says Enigma Interiors' Lee Hardcastle, who recently used Staron's solid surfaces in a home kitchen project. "The price can easily be 10 times that of laminate and sometimes even more than solid natural stone, although when you consider its benefits and possibilities, it's in a totally different category. Repair work is also a breeze with solid surface, while most other products become throwaway."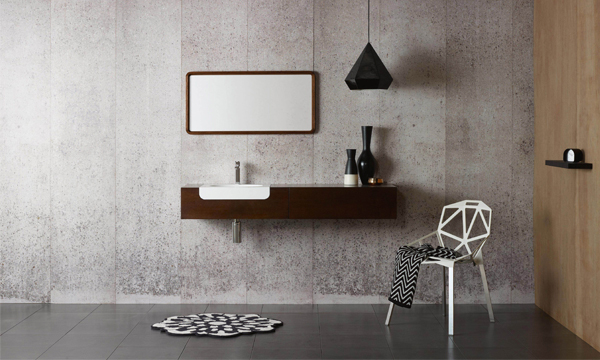 In a traditional kitchen environment, there's plenty of room to use these products in innovative ways. "If I feel the project calls for solid surface, it doesn't take much convincing. Once a client appreciates they can have any size and shape desired, without visible joins, they're instantly impressed and willing to explore it. If a design would benefit from having integrated sink bowls, coved splashbacks, unusual shaped drop-downs or features, solid surface is our only serious choice." Unlike other options, such as stone or porcelain, solid surface can have an almost translucent quality, meaning it can be backlit. You also get a uniformity of appearance, providing bold, solid colours with only imperceptible variations in texture and shades.
Of course, the applications don't stop in the kitchen and bathroom, with the products now finding their way into countless other environments and in some pretty amazing forms. "When we started doing furniture around 1994 we used [solid surface] for table inserts and began using it for wall cladding as well," says Sydney-based architect, Thomas Jacobsen, who has made everything from basins and bathtubs to marine parts and butter dishes using the man-made material.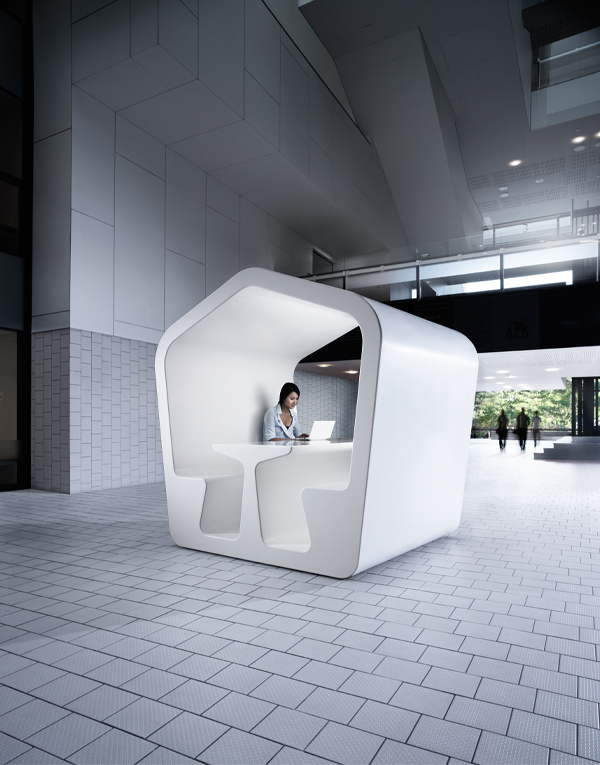 With such a long history of using the solid surface, Jacobsen has developed skills top right Split desk by Rhys Cooper, features a Black Corian table top and knowledge – as well as strong relationships with manufacturers – that allow him to truly think outside the square. In one of his latest hospitality projects, The Astor Bar in Carlton, Melbourne, he went all out to create a custom-designed and manufactured service trolley. "The reason we did it out of Corian was firstly cost, but also hygiene and longevity. We also like it because it's sustainable, it has green star ratings, it offered a point of difference as well. The restaurant is trolley service and so the trolleys had to be unique.
"It's an expensive material, but if you use the right manufacturing techniques, it is cost-effective. When comparing it to say a traditional timber or steel trolley – if you did it with those, then yes, it would be comparable or more expensive, but then you wouldn't have anything that was unique." Brisbane-based product and interior designer, Alexander Lotersztain, has taken the product outdoors and into the public realm. Like Jacobsen, he has pushed the product to its limits in various applications.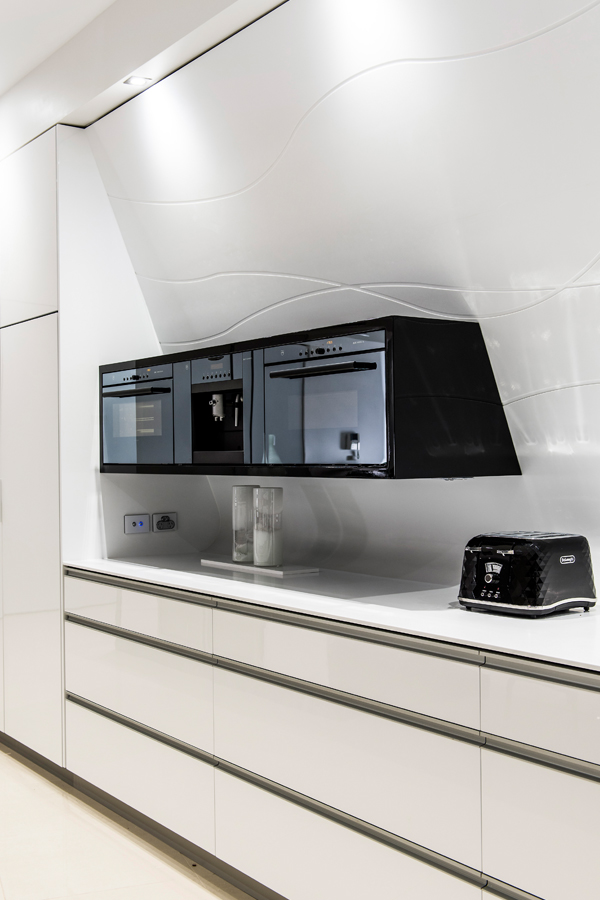 "It's great when you want to join and weld, but when you want to do different shapes like we did, you need to invest a bit on the tooling, but the result was amazing," Lotersztain says, referring to a project called Haus that was on public display in Brisbane back in 2010. Haus saw an integrated table and seating 'pod' created that was completely covered with thermoformed solid surface, which refers to the process of heating and vacuum-moulding the product to almost any shape.
Lotersztain has even utilised the product in heavy-use outdoor seating as well, demonstrating its versatility and durability. "I did a couple of projects for Sanctuary Cove's public seating. That was a bit of an innovation, as there aren't many projects around the world that use Corian in the public realm. I was there recently and it's amazing, they've stayed strong and super white. That's almost six years ago now." While every product has limitations, Hardcastle believes it's his job to "stretch these boundaries and create things that were once unthought-of ". With an expanding range of colours and patterns now available in solid surfaces, there is an increasing sense that almost anything within a home or hospitality environment can be created. "Manufacturers are also becoming more skilled and can achieve amazing results now with CNC machining and thermoforming," he says.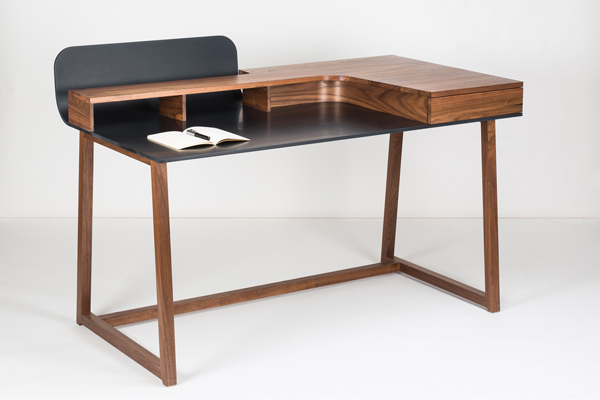 Solid surface applications seem to be limited only by the creativity of the designer or architect – and the budget, of course. They also offer the ability to develop, not just remarkable concepts, but truly long-lasting design solutions. As Hardcastle explains: "Oversized designs, curves, engraving, seamless finishes, total integration of bench and splashback… basically if I can imagine and draw something, chances are solid surface can be used to create it."
Mezzanine Summer is on newsstands now, and available through Zinio.