Written by Sara Kirby, images courtesy urban.melbourne
British architectural firm Zaha Hadid Architects has proposed another skyscraper for Australia, a 54 floor mixed-use tower on Melbourne's Collins Street. The $300 million tower is planned at 582-606 Collins Street, and is the result of ZHA collaborating with Plus Architecture and developers Landream.
It will house retail and commercial space, along with 420 luxury apartments, and is designed to use 50 percent less energy than a conventional mixed-use tower. A south-facing plaza at ground level will be available for public use and will feature 350 bicycle racks. With much of its lower level given up to the public, the design attempts to improve pedestrian congestion, while also proposing a laneway to connect Collins and Francis Streets.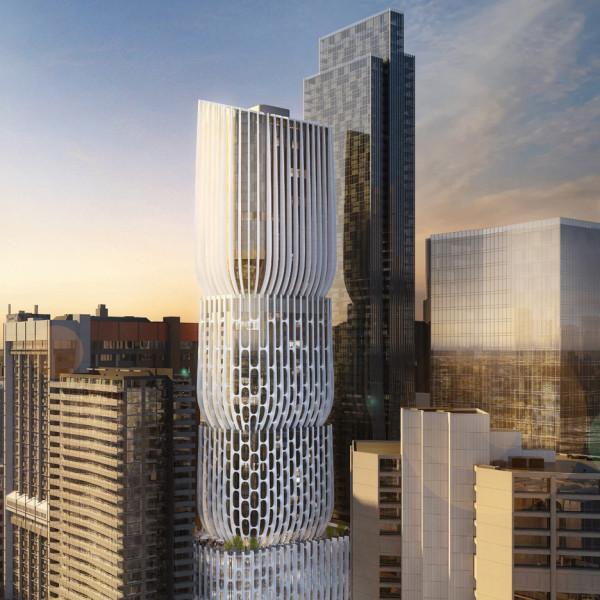 The building is presented as a trio of vase-like shapes, each level tapering inward at the base – separating residential, retail, and commercial sectors. Open space is also available around the bottom of each section. Enveloped by a filigreed façade, the tower's exterior works to reduce solar heat gain.
The design has not come without difficulty, however, as the Australian Financial Review reports that original plans for the tower were much grander. Its height was reduced following the introduction of interim planning laws for the city late last year, which state a building's plot ratio must be no greater than 24:1. The reduced plans for 582-606 Collins Street still exceed that at 29.2:1. Landream claims the building's public ground area should give them leeway in regards to the size ratio.
This is not ZHA's first design in Australia, having also worked on Grace on Coronation in Brisbane, along with Mariner's Cove on the Gold Coast. The firm attracted much attention recently for their $600 million twin tower design, also situated on the Gold Coast.

The application for 582-606 Collins Street has been lodged with the planning minister.