Australian design is once again taking to the global stage with seven Aussie projects taking out Category Awards in the 2019 Shaw Contract Design Awards.
This year's awards saw over 700 total entries submitted from around the world. Overall, 36 Category Winners were selected by a panel of international judges drawn from across the industry, with seven of the winning projects designed by Australian practices.
Take a look at the Australian winners below, where you can also choose your favourite project and vote for it to win the People's Choice Award.
Architectus Melbourne Studio by Architectus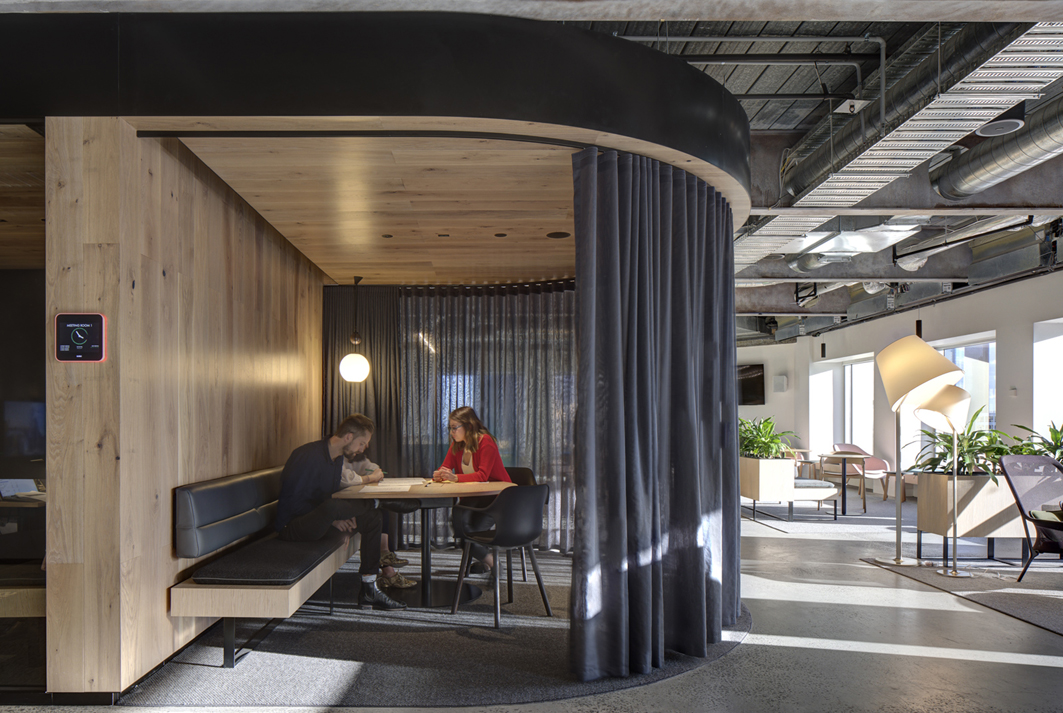 Collaboration is the core idea for the firm's new studio; an idea expressed through shared spaces which effortlessly combine commercial and residential typologies, creating a warm and inviting workplace. 
A series of spaces for a variety of tasks have been created and a casual ambience is alluded to through the varied workplace settings. The floor finishes identify and define the spaces, with the Shaw Contract Drift Carpet Tile chosen for the formal workspace, complementing and contrasting texturally with the neighbouring concrete slab.
Clifton Views Aged Care by Baldasso Cortese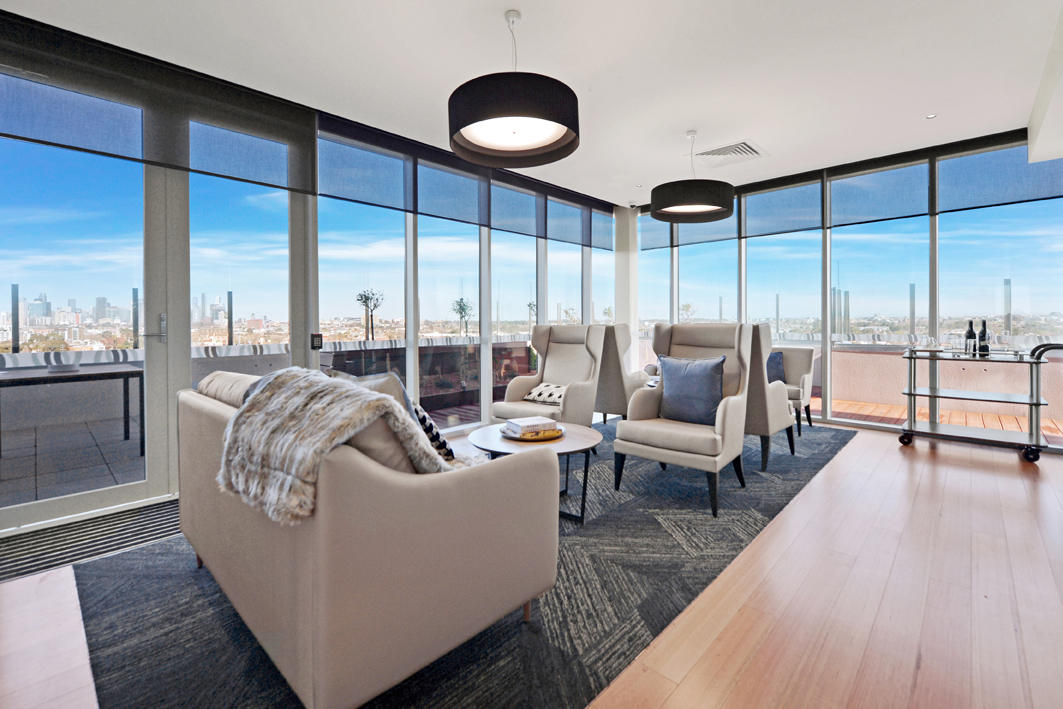 Clifton Views is one of the first new vertical Aged Care facilities in Melbourne. With the necessity to have a dedicated memory support (dementia) level and cater for residents aging in place, it was important to understand how the design, wayfinding and choice in finishes would impact their way of living without becoming clinical.
The interior design of Clifton Views borrows the Art Deco style from surrounding buildings, bringing together the old and new harmoniously. The subtle metallic geometric details within the tufting of the carpet reflects the diamond book-matched timber laminate doors, reinforcing the Art Deco design.
Frankston Primary School Early Learning Centre by Chaulk Studio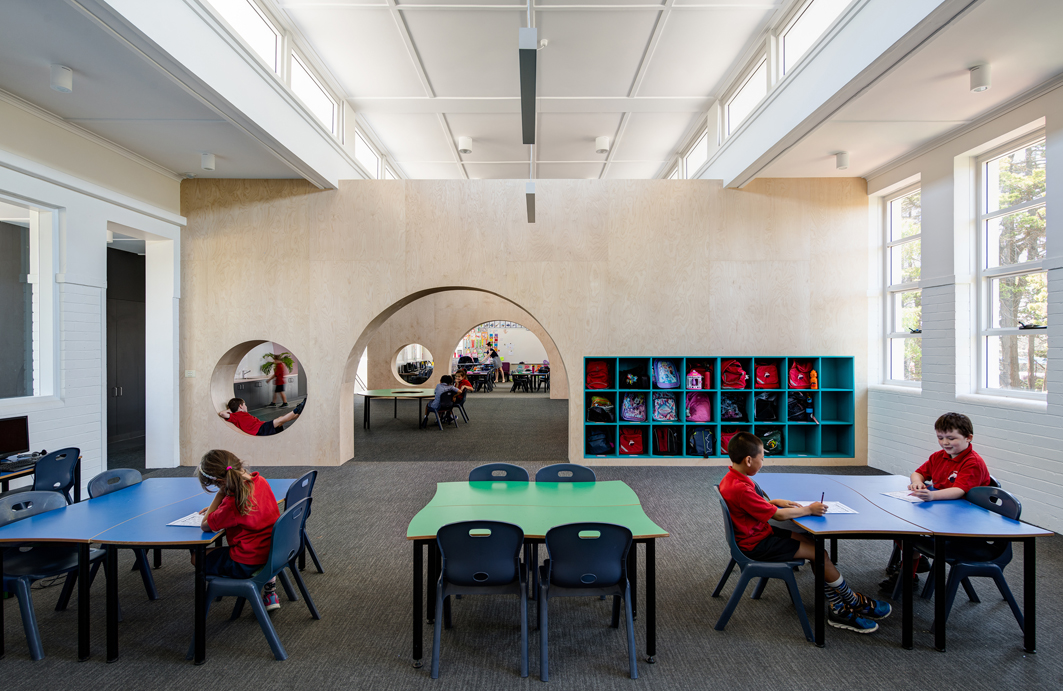 The project involved the refurbishment of a two-storey, art-deco building to create an exemplar learning facility that supports 21st-century learning.
The original building had individual cell-like classrooms accessed by long dark corridors and interior finishes of exposed brick and high-level render.
The final design sees the repurposing of the first floor of the building and the punching of large openings into the existing structure. Three key learning clusters are created, each with a break-out space, wet area and an assortment of smaller rooms that can be used as meeting rooms, teacher work rooms and or small group work spaces.
Go Kindy Childcare Centre by EJE Architecture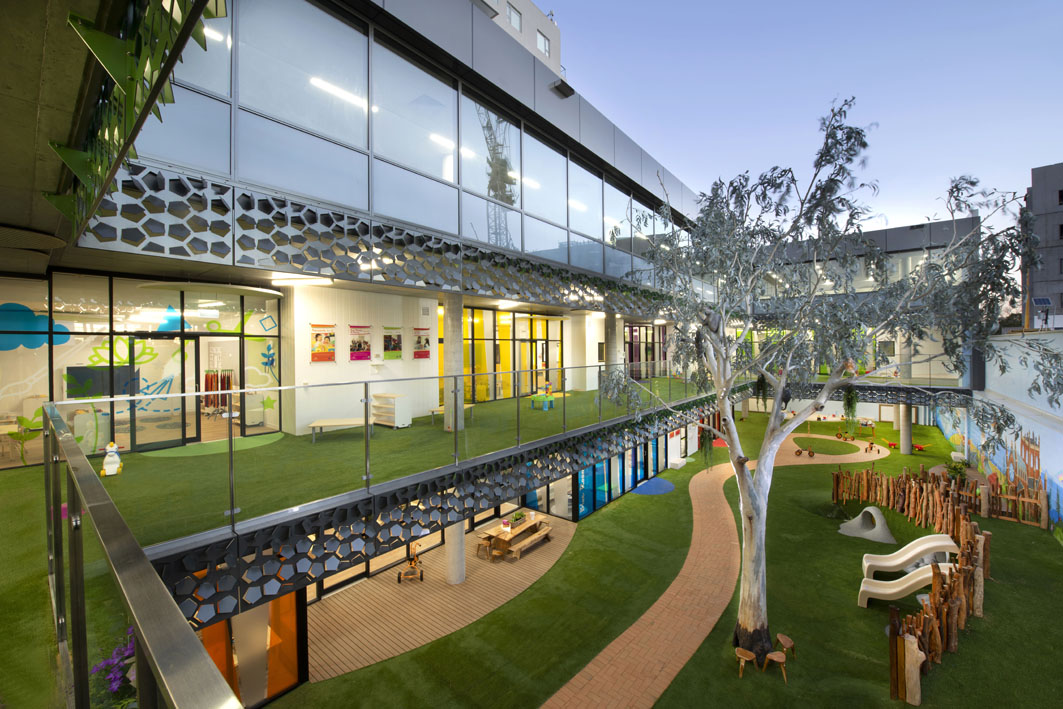 The primary challenges for the Go Kindy Childcare Centre were how to create a connection between the vertical levels of the building, achieve solar access to all rooms, provide outdoor play area access to all rooms, and deal with the drop off/ pick up traffic flow within a commercial-style building on Newcastle's main road.
By carving out a central, double-height courtyard within the building, the architects were able to provide adequate play area for all children, while minimising the 'depth' of the rooms, allowing light to penetrate well into each room.
All playrooms feature their own distinctive colour scheme which is carried through into the flooring, joinery, pinboards, room graphics and the suspended acoustic circular ceiling panels.
These colour themes assist the children in recognising their room and acts as a fun wayfinding technique.
Hale Junior School by SITE Architecture Studio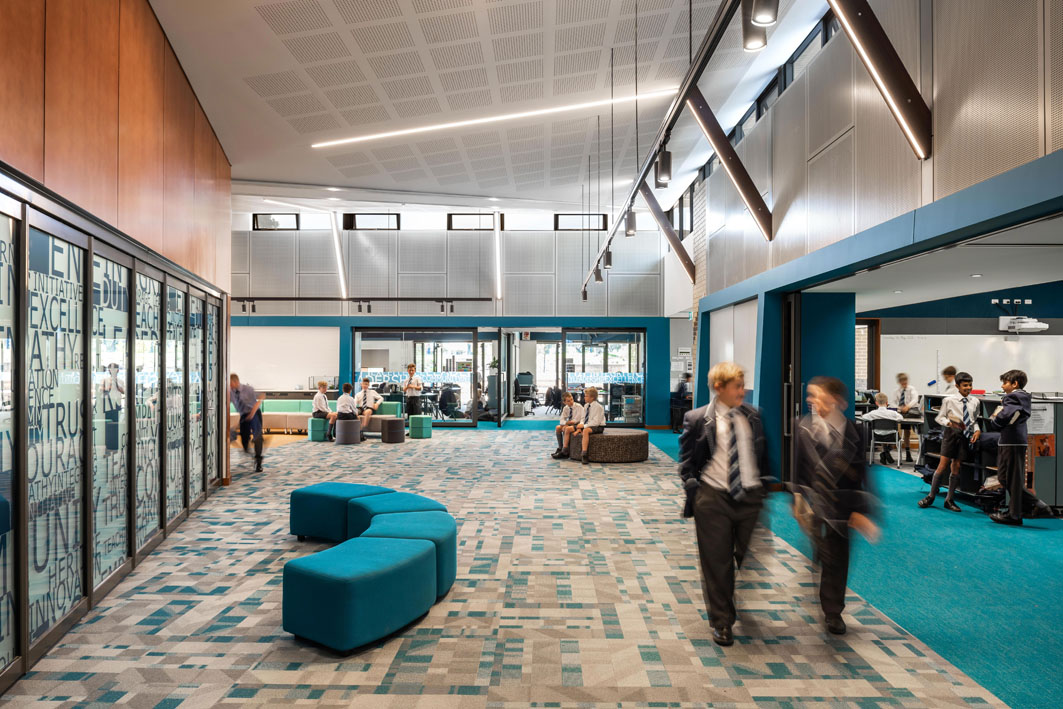 Hale Junior School is a replacement of a 1960's school with a new 2 stream Early Learning and Middle Junior Hub, and a 3 stream Upper Junior, Administration and Resource Hub.
The new buildings are arranged around a circular green connecting flexible learning spaces with passive and active outdoor learning environments. Each learning hub consists of a cluster of general learning spaces, adjoining a multi-purpose market-hall break-out area.
The architecture takes cues from the brick history of the school by creating foundations from which new pathways emerge, referenced through use of patterned brickwork. Inside, the use of Shaw Contract's Mindful Play collection gave SITE the ability to brand each learning hub and other spaces within the school in a different colour, and aids with efficient maintenance of the buildings.
Regis Chelmer Aged Care Facility by PDT Architects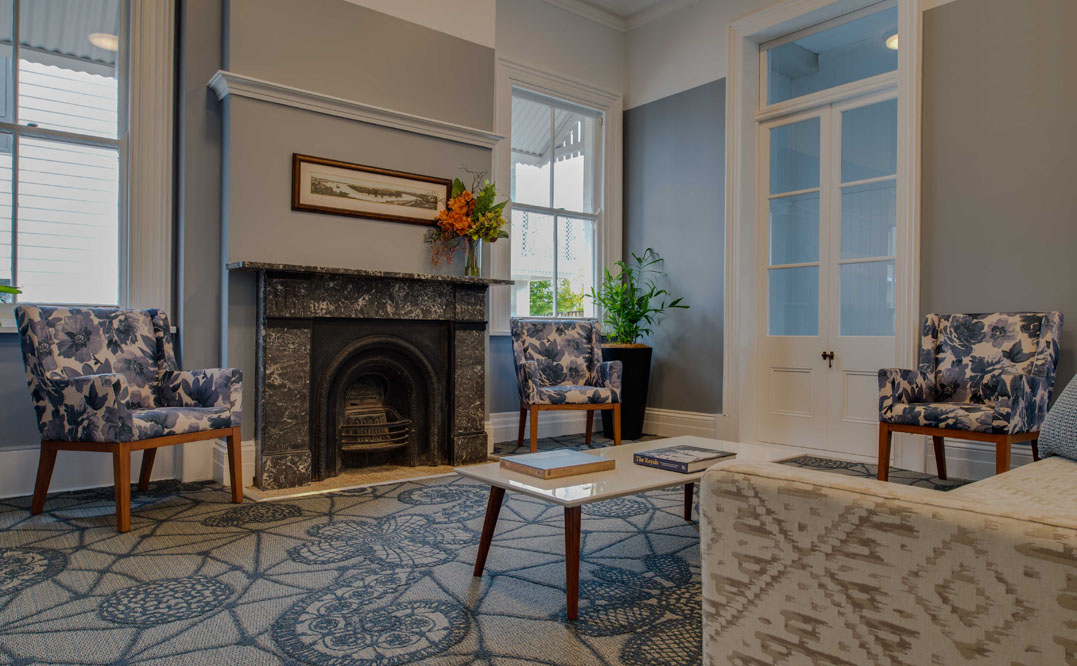 The design brief was to create a high-end protective community.
The new 120 bed ageing in place facility is designed with careful consideration of the site's existing 1890s heritage house, beautiful landscapes with a large fig tree and the existing private residential homes that surround the area.
The central core of the building is based around an internal courtyard with views from the communal areas on all levels.
From the central core are located three wings on each level for the residents' bedrooms, which boasts a sophisticated palette of finishes and furniture. Within the three-story building, a wing of 45 beds is devoted to Dementia Care, with a separate living and dining area and external courtyard.
The building also incorporates a ground floor lobby and access to the internal courtyard, with staff facilities, commercial kitchen and laundry, sales area, various sitting rooms on each level, activities room, cinema, day spa, hairdressers, café and family room which can be used by family and visitors.
Square by Hot Black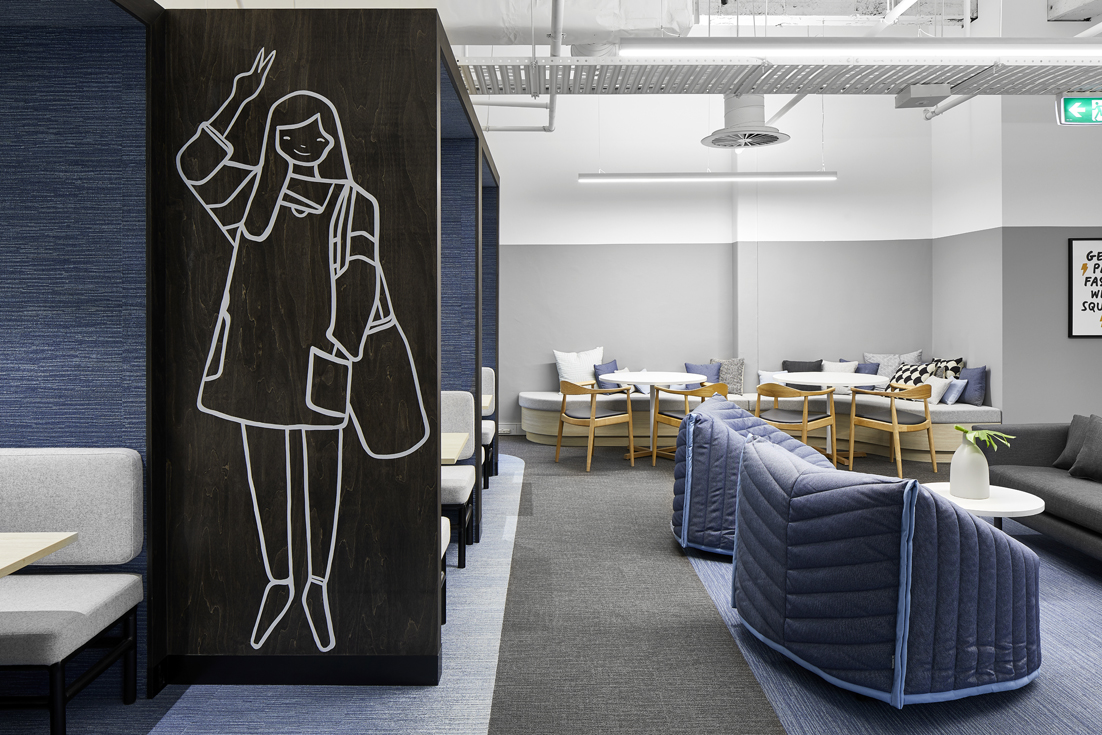 With a strong focus on collaboration and creativity, Square needed a space that would not only promote flexible working but would also encourage innovation. Despite having global standards, there was still an appetite to push the boundaries for local design influences.
Hot Black executed a wayfinding and graphics strategy that was uniquely Melbourne and engaged local street artist Ghostpatrol to produce artwork for the space.
To encourage collaboration, multiple different styles of workplace settings can be found throughout the office.
Custom cabanas were designed to facilitate group meetings and more relaxed spaces could accommodate small informal catch ups.
Shaw Contract is an ADR Content Partner