All photography by Lauren Bamford.
A Melbourne institution has awoken from its slumber. The 'grand old lady' of Abbotsford, The Terminus Hotel, is back thanks to an inspiring collaboration between Sand Hill Road and Technē Architecture + Interior Design.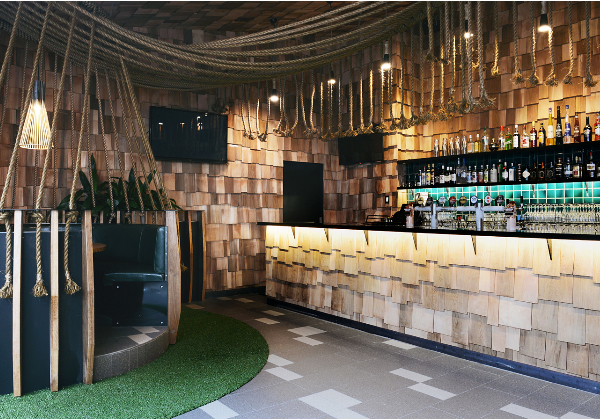 The quintessentially Melbourne watering hole has returned from its long enforced hiatus to once again grace Abbotsford's Victoria Street with its lovingly restored façade and promise of good times and frivolity within its green walls. A venue synonymous with fun and irreverence, the landmark pub was earmarked for demolition and redevelopment when it came to the attention of Sand Hill Road owners, Matt and Andy Mullins, Tom Birch and Doug Maskiell.
"When we all heard the Terminus Hotel was slated for demolition we decided then and there we had to try and save it. Having lived in nearby Buckingham Street for years, the Terminus was our local and it's an institution none of us wanted to see disappear," says Matt Mullins of Sand Hill Road.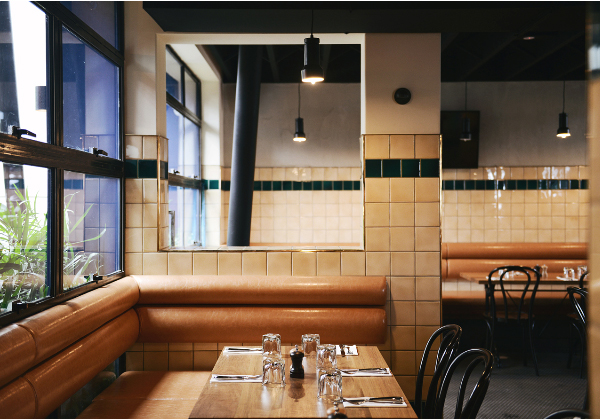 Sand Hill Road has gained a reputation for reinvigorating sites with interesting and dynamic spaces, whilst keeping true to the ideals of a local pub and this renovation is no different. The Terminus Hotel overhaul was particularly challenging and involved a complete rethink from a design and construction perspective to ensure it accurately captured the spirit of the original venue while also providing a modern interpretation of a Melbourne classic.
Following a number of successful creative collaborations including the recently renovated Prahran Hotel, Sand Hill Road once again turned to renowned hospitality design team Techné Architects to help them resurrect and reinvigorate the Terminus Hotel.
Sand Hill Road provided Technē director, Justin Northrop, with two criteria; the first, to deliver a unique design that caters for today's patrons while also acknowledging the venue's illustrious past and the second, to create a lush garden space offering local residents respite from the surrounding concrete jungle and a meeting place for their family and friends.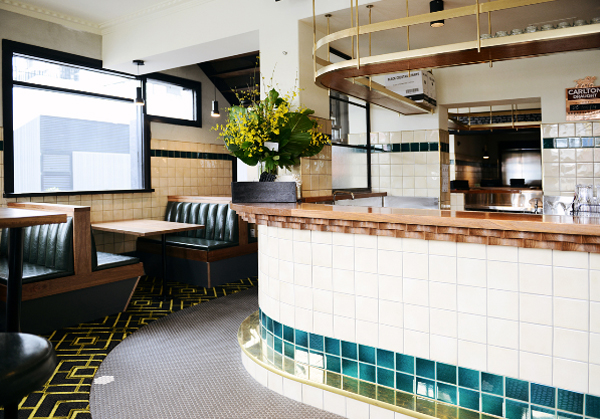 "The venue has been almost completely dwarfed by apartment developments in recent years and it seemed entirely appropriate to provide a lush oasis for patrons surrounded by the ever increasing urban sprawl. The challenge was creating a space that provides an increasing level of amenity while also retaining the much-loved character of the pub.
"The original heritage protected façade, built in 1923, has been restored, but the famous green paint-job will remain. The interiors are a modern interpretation of the original pub, with the focal point being the art deco- inspired front bar. In contrast, the spectacularly kitsch upstairs 'Paris Tropical' bar space is a nod to the Terminus' flamboyant history. The circulation between the internal spaces and the sprawling urban jungle beer garden is designed to be continuous and allows patrons to explore the pub and check out what else is going on throughout the venue," says Northrop.
The new island public bar draws inspiration from the art deco era with antique gloss tiles and is connected overhead with striking copper tanks which will pump fresh, unpasteurised Carlton Draught directly to the glasses of thirsty locals – the next best thing to tasting it straight from the brewery, located only 2 minutes away. A new stage area has also been created downstairs to cater for the much-anticipated return of the original team behind the infamous 'Termo Bingo', as well as a host of new entertainment acts.
A Tasmanian Oak staircase with a black steel piping balustrade feature leads patrons to the 1920s-inspired Paris Tropical area on level one. An assault on the senses, this boisterous and plush bar space features a bright yellow folded steel bar, lush jungle wallpaper and multicoloured furniture interspersed with booth seating overlooking the public bar, stage and outdoor area.
The upstairs bar screams fun and with a dance floor and DJ booth area, it's guaranteed to be the place to be on any given night.
The centerpiece of the breathtaking top to bottom redesign is undoubtedly its lush 150 square metre beer garden with nine metre high glass ceiling and 2 outdoor bars. Designed to emulate a forest canopy, the two level 'urban jungle' comes complete with full sized Waterhousea Floribunda trees and huge steel columns set at random angles that will become a living, breathing oasis offering patrons plenty of opportunity to chill out, relax and soak up the unique surroundings.
"The relationship between the new beer garden and the surrounding buildings was challenging. The structure of the new canopy had to have a bold design to ensure it wasn't overshadowed by the sheer size of the adjacent multi-storey blank wall. Landscaping was particularly crucial for this space with an abundance of planter boxes and mature trees vital to achieving the desired ambiance and atmosphere in the venue," continues Northrop.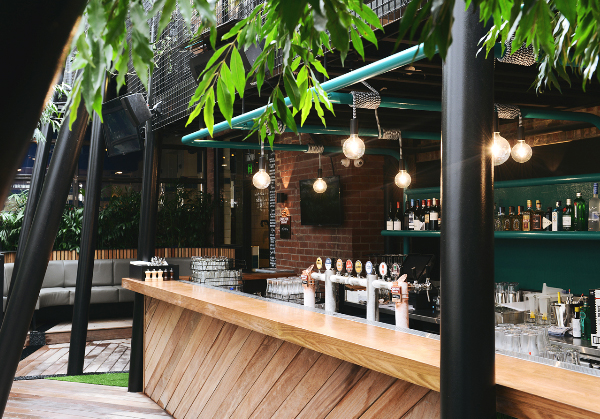 The Terminus is exemplary of a contemporary trend of ambitious pub refurbishments that aims to increase amenity while also retaining the essence and identity of the original establishment.
"We learnt with the Bridge Hotel's laneway, the Richmond Club's rooftop and Prahran Hotel's over sized concrete pipes that bold architecture can sit comfortably within a traditional pub, while also creating something completely new and different. The Terminus Hotel is all about locals and creating a sense of community for the thousands of people that now live in close proximity to the new venue," said Mullins.
The various bar areas in the pub offer very differing experiences but are all inextricably linked together to provide patrons with an interactive and connected pub experience few venues can match.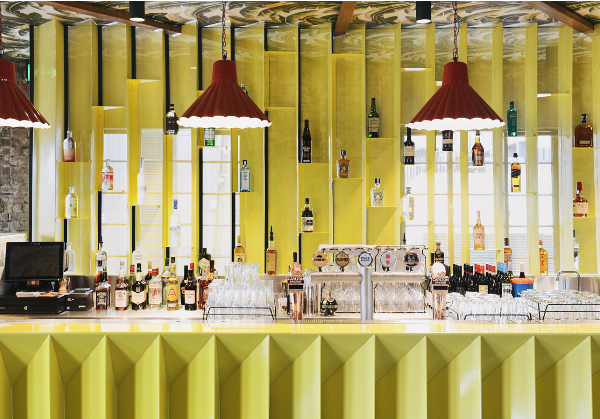 "Compared to our other venues, the Terminus is larger in scale and has its own suite of materials and finishes. Elementally it represents a consistent approach to all our pub designs across the group which all incorporate a front bar, beer garden, flexible seating, dedicated dining spaces and continuous circulation," says Mullins.
Commenting on the client/architect relationship, Mullins says, "We've known Justin and the Technē team for many years. It's hard to believe but this is our 14th project together, including all of our own homes.
"We never fail to be impressed by the innovative design solutions Techné present for each project and the Terminus is no exception. Resurrecting and reimaging a legend of the Melbourne pub world for the 21st century wasn't an easy job but we think it's one they have pulled off with great success."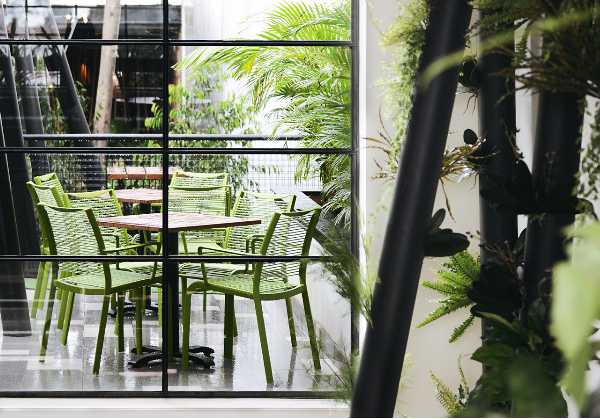 Sand Hill Road again chose Tony Lewis and Brett Walsh of Visual Builders to complete the build. "Tony and Brett have built all our pubs for nearly a decade, and our houses too," said Mullins. "We're so lucky to have a team of builders we know and trust so well."
With a 516 patron capacity, the pub is served by five bars and will have 72 seats available for reservation, as well as function spaces for up to 80 people on the outdoor terrace and 150 people in the upstairs lounge.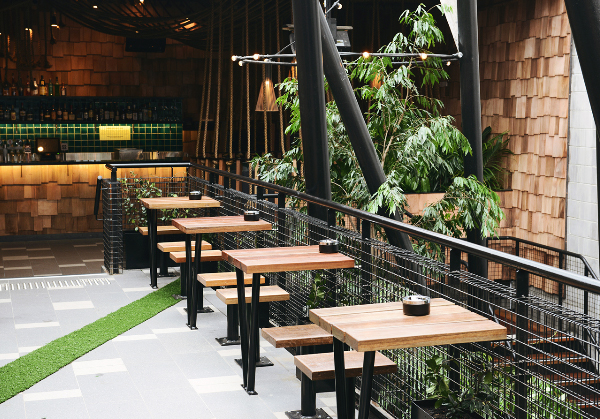 The Terminus Hotel is the sixth installment of the Sand Hill Road group's stable of successful Melbourne pubs including Bridge Hotel, Richmond Club Hotel, Holliava, Post Office Bar Pizza and the recently renovated Prahran Hotel.
The Terminus Hotel is located at 605 Victoria Street, Abbotsford and is open from midday until late on weekdays and until 3am Friday and Saturday evenings. For further information or bookings for dining or private functions, contact 03 9427 0615 or visit www.theterminushotel.com.au.