Charged with maximising views of the Moorooduc Plains on the Mornington Peninsula while minimising the impact of the surrounding suburban sprawl, Little Brick Studio has designed a home that sits among the tree tops.
The Merilyn house takes cues from mid-century architecture and places the main living areas on the second floor, which creates privacy while capitalising on views over the plains.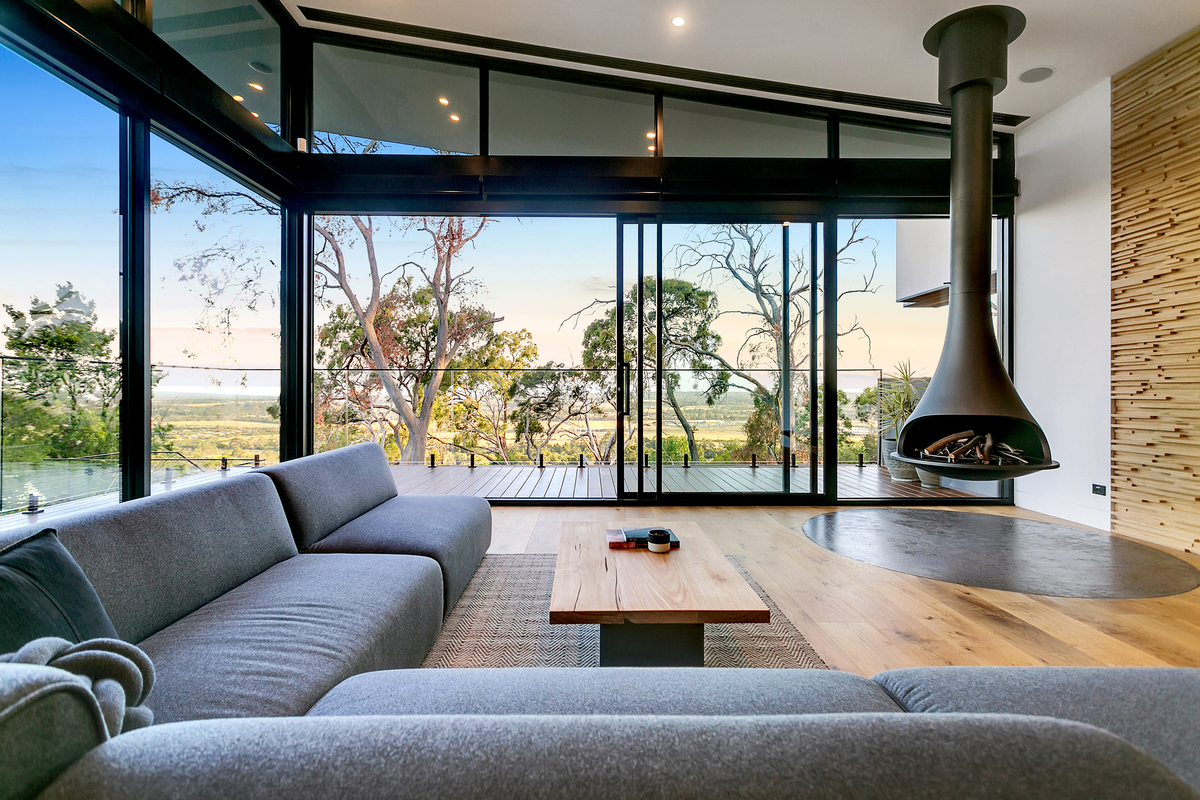 The home's exterior has rammed earth feature walls in rich organic colours, contrasting with lightweight spotted gum. Meanwhile, a contemporary feel is added via Colorbond cladding and black steel-framed windows. "Choosing the natural elements of soil and timber to create an ongoing connection between the dwelling and its surrounds was the design inspiration – it was important that the dwelling flow with the site, rather than stand out from it," says Little Brick Studio's Ben Mulholland.
Internally, an understated palette and natural tactile materials bring texture and warmth to the Merilyn house. Oak floors complement the timber feature wall in the living room while a pendant fireplace adds mid-century character. The stripped-back kitchen features timber highlights and sleek matt-grey cabinetry. The central island with breakfast bar encloses the space and horizontal splashback windows reveal glimpses of the landscape.
The open-plan living and dining area features a high vaulted ceiling and is finished with full-height glazing that opens to the entertaining deck. The lower outdoor level features an infinity pool to further take advantage of the views.
Natural oak flooring and a reading nook in the master bedroom, along with a rammed earth wall and full height window in the en suite, all help to bring the outside in. Picture windows in the bedroom frame views over the valley, while highlight windows behind the bed and walk in robe provide tree top glimpses.
The garage has been constructed at the base of the Merilyn house, allowing for the utility and pool service areas to remain hidden. The home's landscaping features native grasses and plants as well as embracing the existing trees on the site.
"The owners bought the land because of its stunning natural setting," says Ben. "We wanted to really amplify that with the design while also providing luxury living. It's a truly modern Australian home."
Photograph by Luke Boyle.
–
Interested in residential architecture? This might be of interest.