Beginning as largely untouched bushland in Margaret River, a small town in Western Australia, Treehouse by Suzanne Hunt Architect is at one with nature.
Established in 2005 by architect Suzanne Hunt, the eponymous Perth-based studio is no stranger to working in South West WA.
"I love working in the South West and have done a lot of work in the region over the past 20 years. I've worked on sites in Wilyabrup, Augusta, Eagle Bay, and Witchcliffe," says Hunt.
"I have a shack in Quindalup, so I'm very committed to the area. I feel very connected to it and privileged to work in such a beautiful part of the country."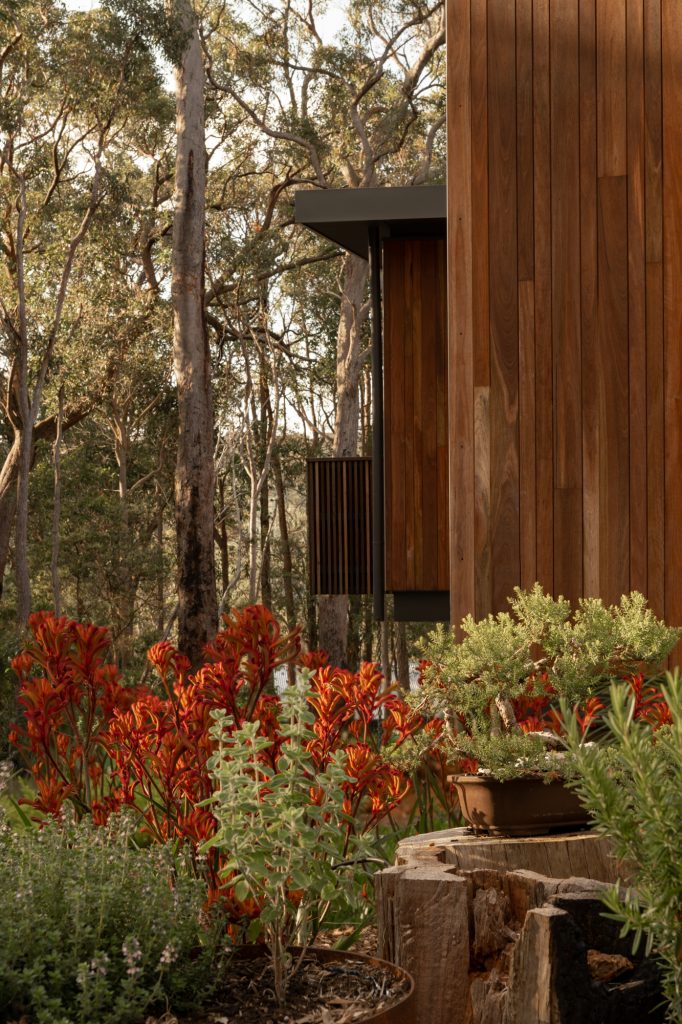 Beautiful it is. Spoilt for rolling hills, world-class wineries, and nearby crystal-blue beaches, Margaret River is an idyllic retreat – something Treehouse's clients were ready to take advantage of.
Originally residing in Sydney but relocating back to Perth to live, the clients, Anthony and Glen, also wanted to build a house on an empty block in Margaret River, which is about a three-hour drive from the state's capital.
With a conservative budget, Hunt set out to design a home among the trees that could also accommodate guests.
"The clients wanted to have visitors over all the time, especially for entertaining. Last Christmas, they had 28 people over and couldn't have been happier with how well the space worked."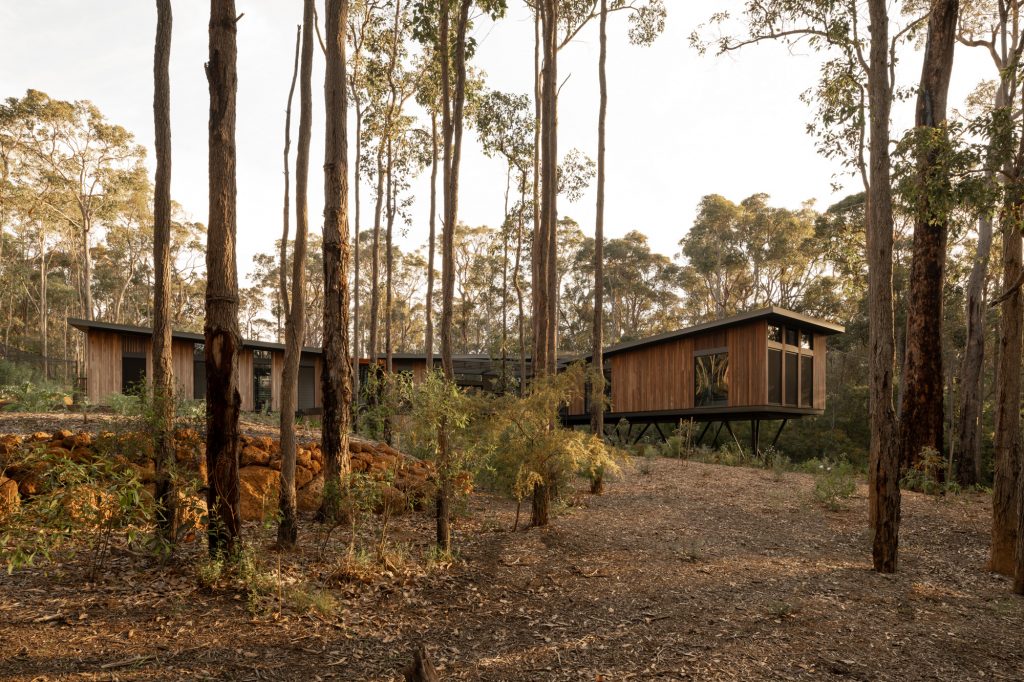 Working with an extremely raw bush block, Hunt went back to basics. She installed a 90,000-litre water tank, an environmental sewerage system, 12kW photovoltaics, and battery capacity to power the entire home combined with a solar passive design.
It's efforts like this that epitomise Treehouse's ethos of 'The Good Life'.
"There's a hilarious British show called The Good Life from the 1970s," explains Hunt.
"It follows two different couples who are neighbours. While one couple is very posh, the other couple lives a more simple existence. They've got sheep and a veggie patch and live off the land.
"I think Anthony and Glen are living this 'good life'. They love it and spend more time down there than in Perth," says Hunt.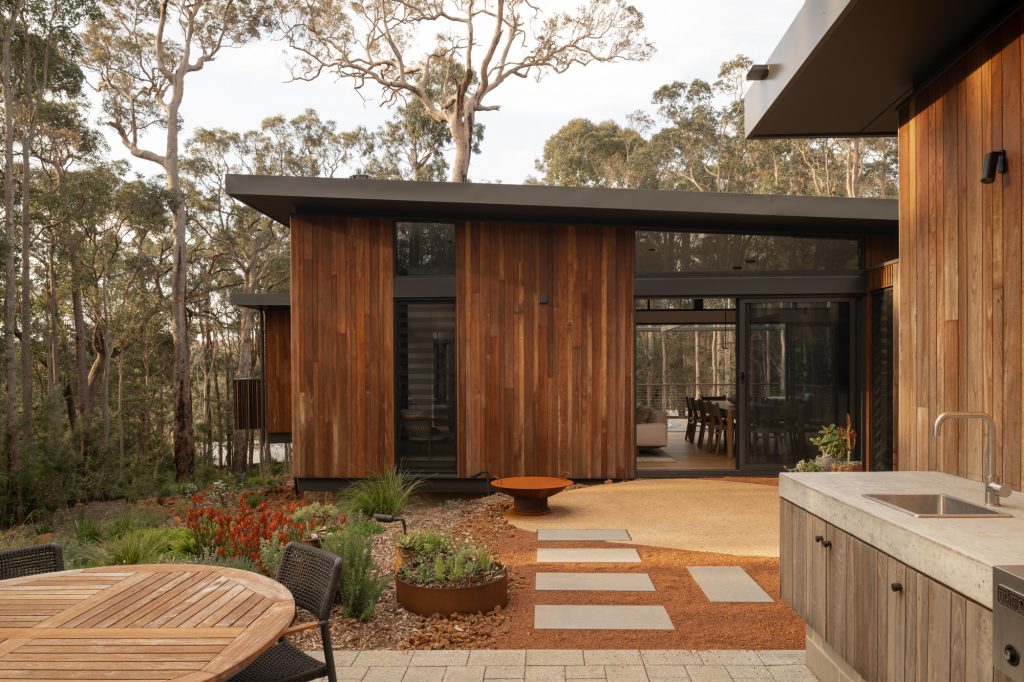 This enviable architectural experience was no accident. Hunt wanted a house to "fit as one with nature".
"This is easier said than done because the site had a flame zone bushfire rating – that can be a major design issue. We had to get the bushfire assessment level rating down to 29. We achieved that by removing some selected trees and young saplings and using appropriate building materials.
"However, Glen has planted over 2000 native trees and plants but further away from the building. We wanted to be respectful to the existing landscape as much as possible."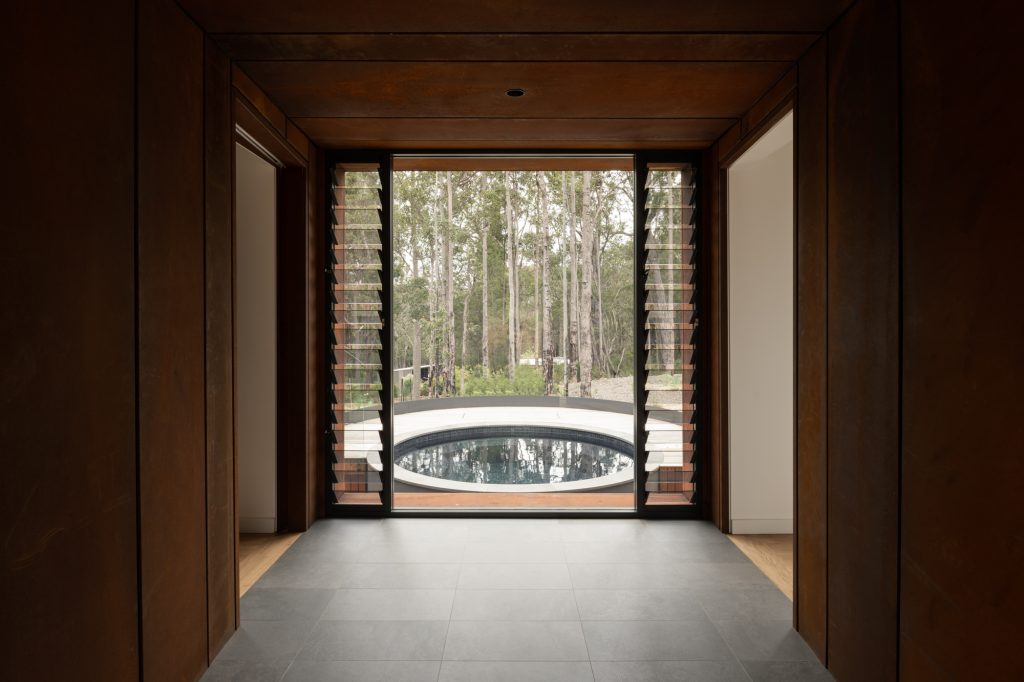 The environmental consultants in the design team even had people stay overnight in the area for a few nights to see whether there were any black cockatoos (which are an endangered species) nesting in the area.
"We were also checking for Possums. The reality is that it's a large sloping site and we wanted to be as limited as possible with our interventions."
One example is the large Marri tree that anchors the entire home. In order to keep that tree, it had to be six metres away from the house.
"When you enter, you see the view coming straight ahead. You turn either side, and you've got a framed view of the bush. If you look down the angled corridor, you will see this massive tree.
"Architecturally, wherever you are standing, you are in pivotal spots. As designers, we're trying to frame those important views of where you are placing yourself."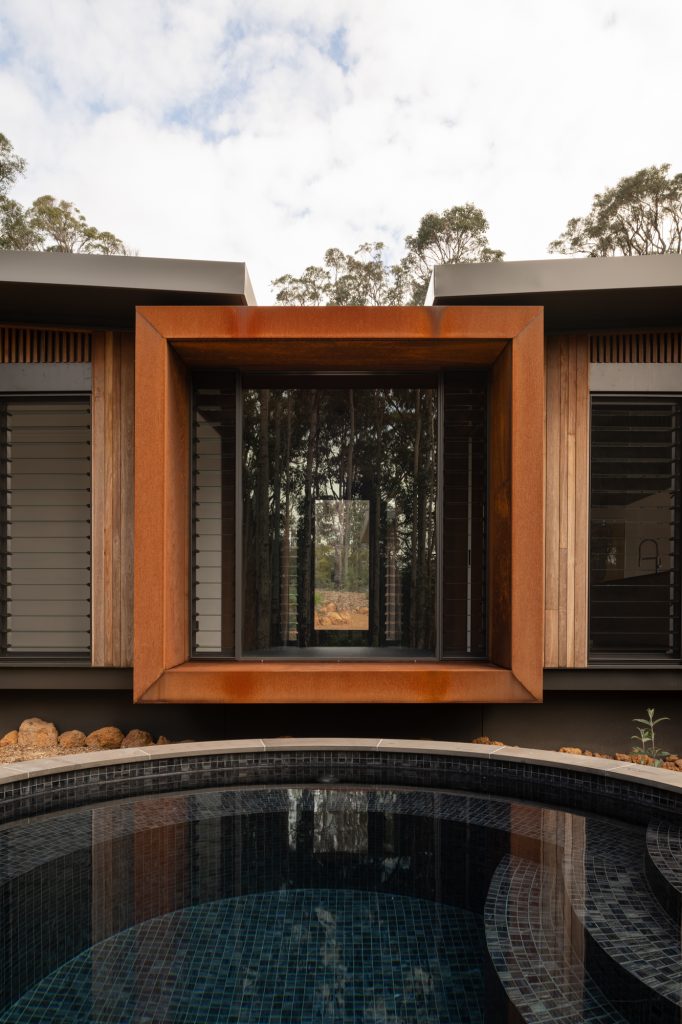 The cohesion with nature continues in the choice of materials. Treehouse is a timber-framed house, that blends into its surroundings. Spotted gum weatherboards, which are good for fire safety, were used in a vertical fashion in a changing pattern.
"There is a wider plank, then two smaller, wider again, and so on. From an architectural perspective, we saw that as replicating the trees. If you look at the trunks of the trees, they've got these different markings.
"And then with the spotted gum, for the next five years, they will put oil on it to weather the material, but eventually it will go grey to blend into the bush. On the flat roof, we used Woodland Gray colourbond roofing."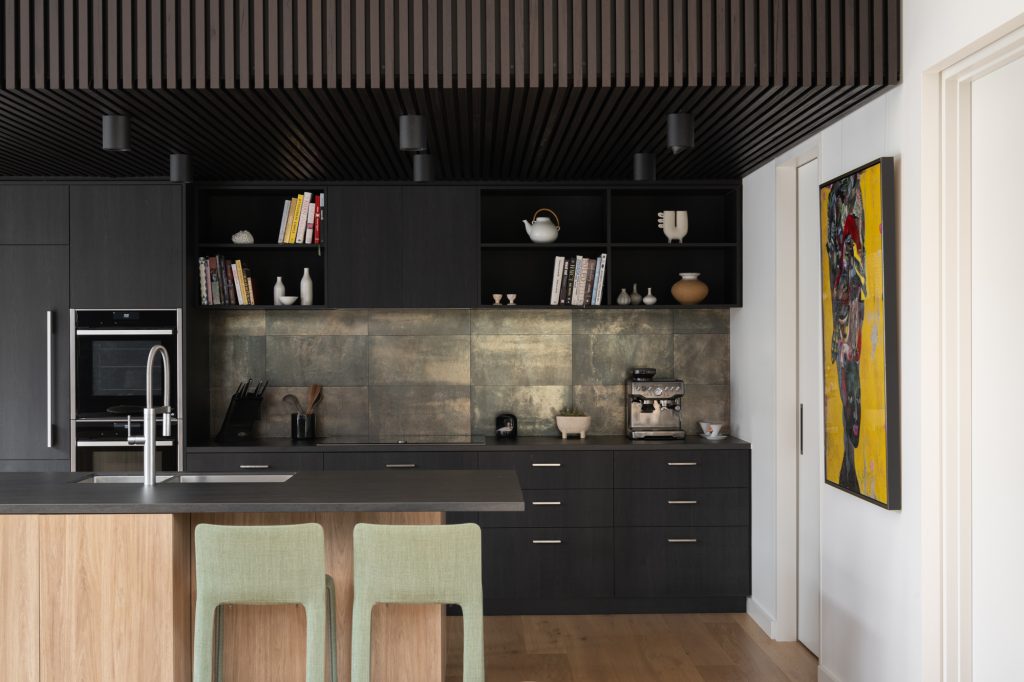 Hunt also chose corten steel in the entry to connect everything together. When left to rust, corten steel eventually becomes a beautiful, orange colour – synonymous with the WA landscape.
Having visited the site many times since its completion in 2021, Hunt is continuously in awe of the beauty of the region.
"Recently, when I was on-site, the sea breeze came in and you can hear the trees and leaves from the surroundings – the trees are whistling.
"Treehouse is a special project for the studio. We love the way the home sits beautifully in amongst the old-growth forest, new native landscaping, and Anthony's amazing veggie patch. To see Glen and Anthony not buying anything but rather regenerating and living off the land is fantastic. They said in winter they put the fire on and use Jarrah logs from fallen trees which are also used in landscaping. They really are living off the land."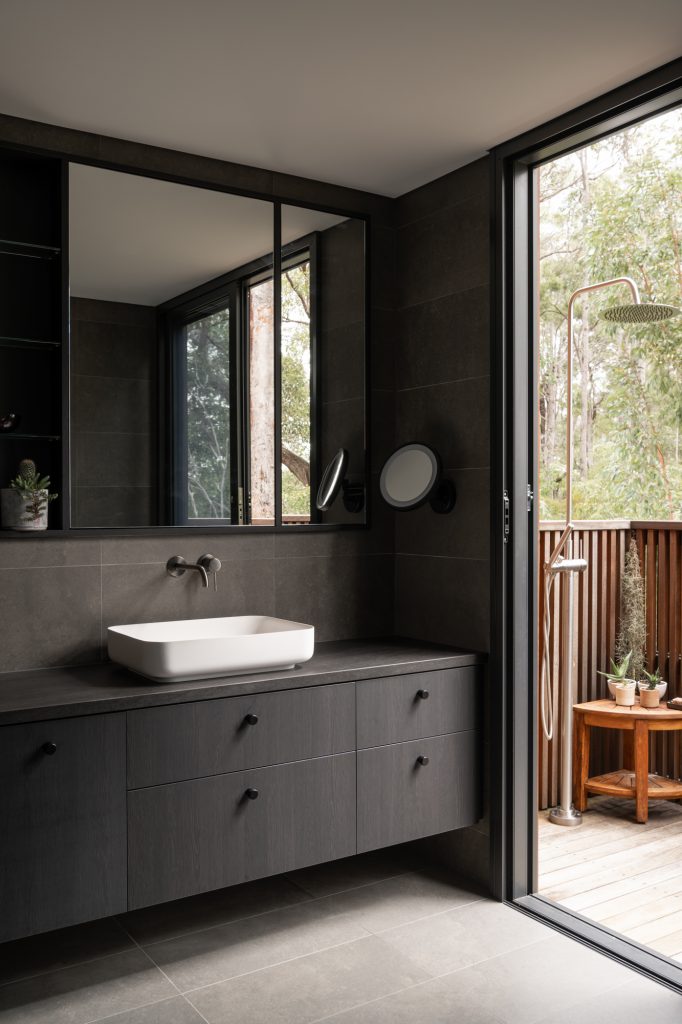 Photography by Dion Robeson.
In more WA design, Stickman Tribe designs the largest brewpub in Perth's CBD.