Location: Shenzhen, China
Architect: Massimiliano and Doriana Fuksas
Review: Austin Williams
Photography: Studio Fuksas
To fly from New York's John F. Kennedy (JFK) Airport to Shanghai's Pudong International Airport is to experience the shifting dynamics of global capitalism: from crumbling edifice to shining star. This is an exaggeration for journalistic effect of course, but Pudong's Terminal 2 is an expansive, contemporary, warm, spacious, spotless delight, while JFK is no better than a grim, 1950s school building, with endless corridors, flaking oil paint, bleak toilets and draughty lobbies. Pudong is full of lively relaxed travellers; JFK has huddled masses.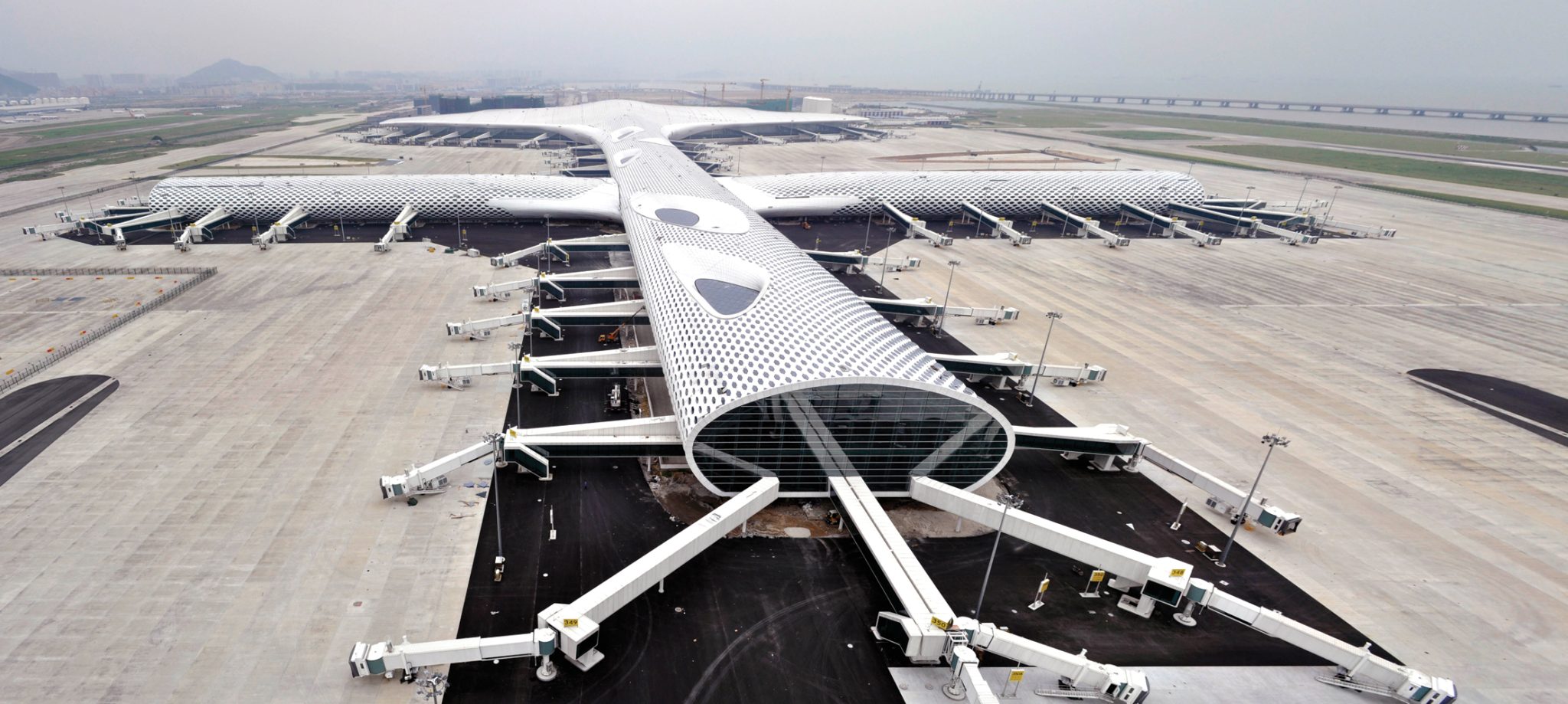 Travelling from Shanghai to New York is like flying back in time, but to fly from Shanghai to Shenzhen Bao'an International Airport is to see the future – a new international airport in south-east China. As is the trademark of its architects, Massimiliano and Doriana Fuksas, the architecture is spectacular. Designed to accommodate forty-five million passengers per annum, it has moved from inception to completion in just six years, with the first passengers arriving relatively flawlessly in December 2013.
This new terminal marks Shenzhen's ambition to be a destination city of business, tourism and culture, with the non-coincidental opening of the 2013 Shenzhen Bi-City Biennale of Urbanism\ Architecture and OMA's Shenzhen Stock Exchange HQ within months of each other. Presumably heads are still rolling due to the fact that the subway line to the airport was unfinished at the time.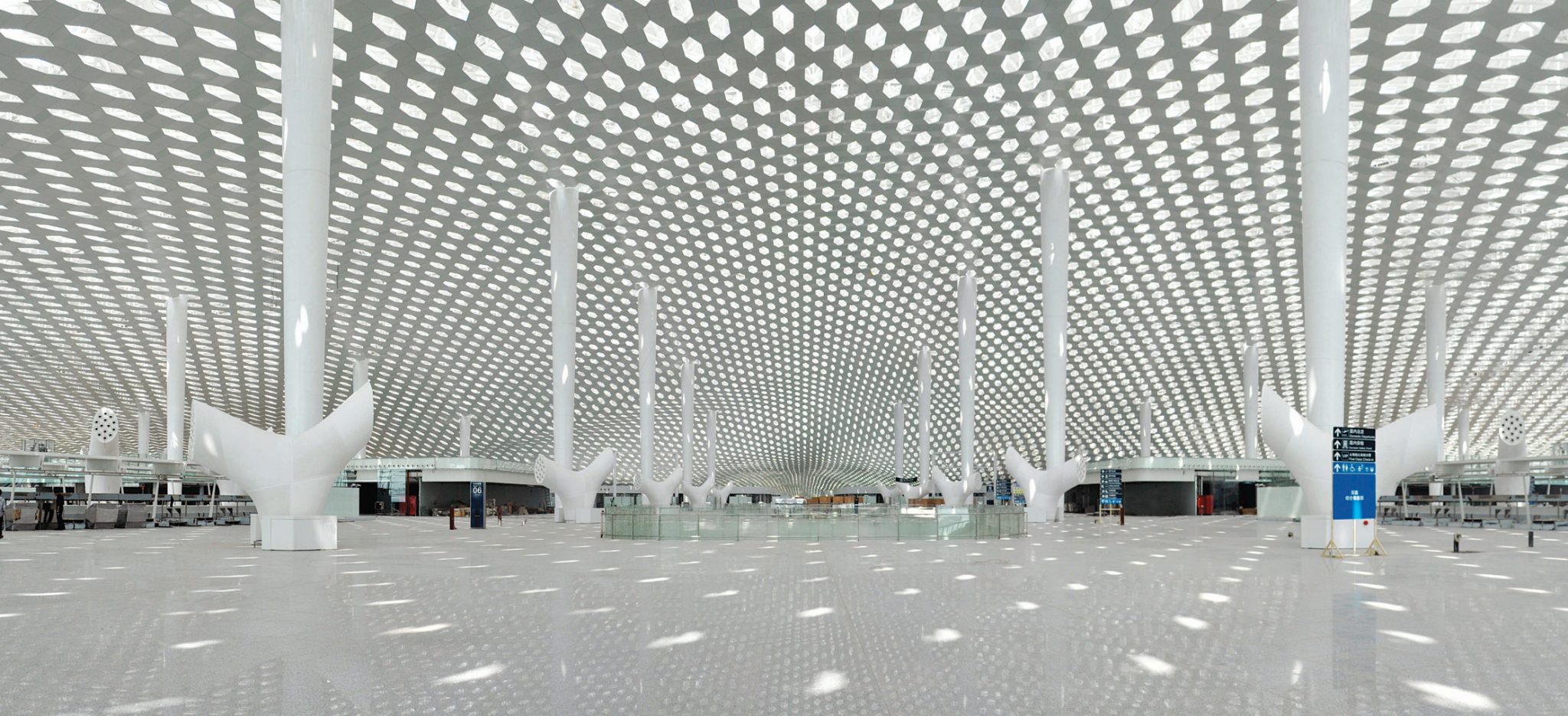 The Chinese government seems keen on air travel. Its current fi ve-year plan stipulates with remarkable nonchalance that it will 'construct a new airport in Beijing, expand [those at] Guangzhou, Nanjing, Changsha, Haikou, Harbin, Nanning, Lanzhou and Yinchuan…[and plan] new airports in Chengdu, Qingdao and Xiamen'. Shenzhen's new terminal building was constructed – almost literally – under the previous quinquennial and kick-starts China's ambitions to have almost 420 million domestic passengers by 2016. This is, then, a good time and place for Studio Fuksas to design their first airport.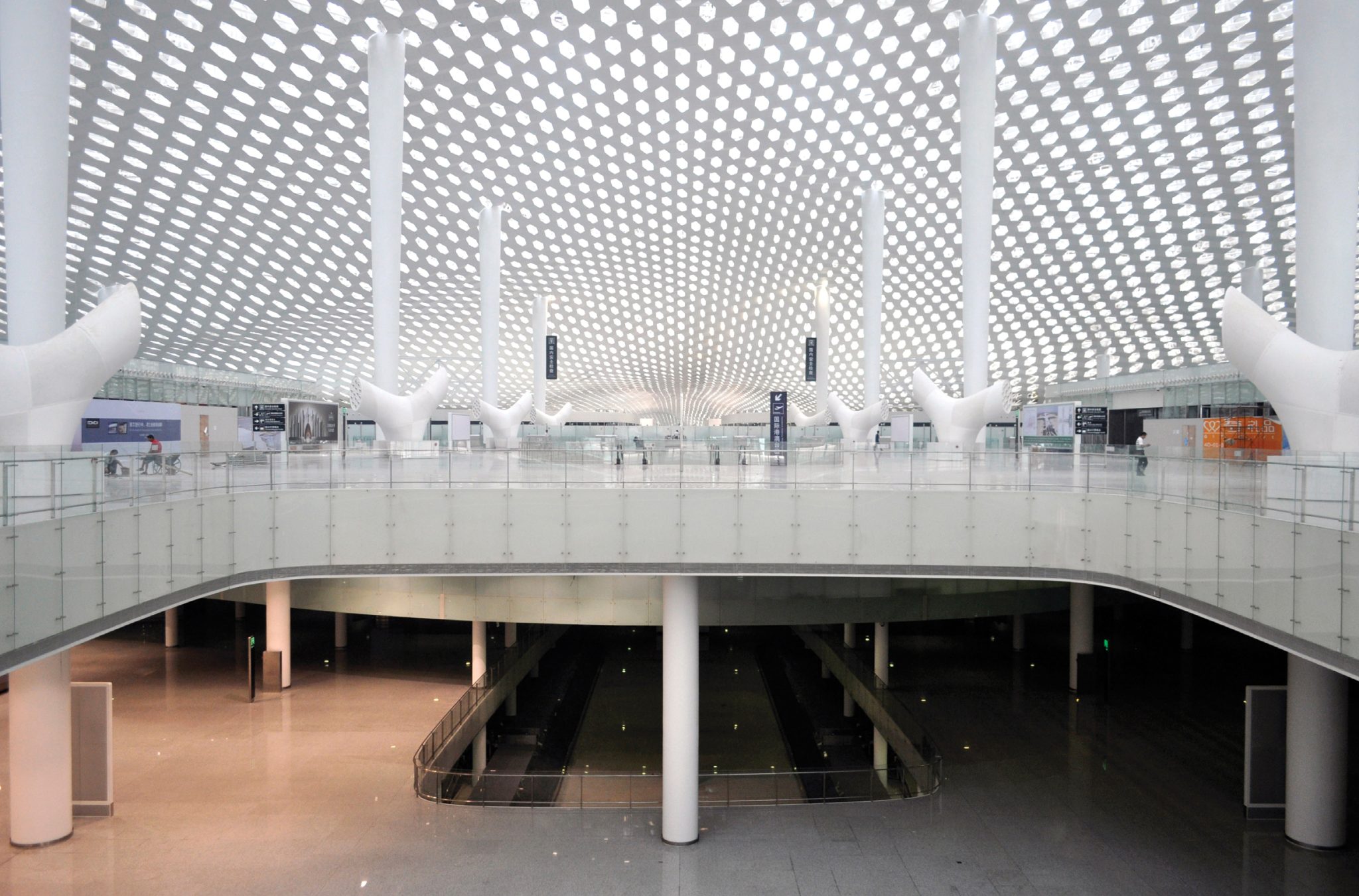 In China, once one makes an impression – and this building is something of a triumph – you are in demand; undoubtedly the simplicity of the Shenzhen terminal project and its relatively low cost will also help (AUDS$1.095billion / 500,000sqm). With its 200-metre tall Guosen Securities Tower almost complete in Shenzhen city centre, Studio Fuksas is now finalising designs for the 110,000sqm Tianfu Cultural and Performance Centre in Chengdu. As an aside, there are also two additional phases of expansion planned for Shenzhen's airport in the next two decades, each overseen by Studio Fuksas.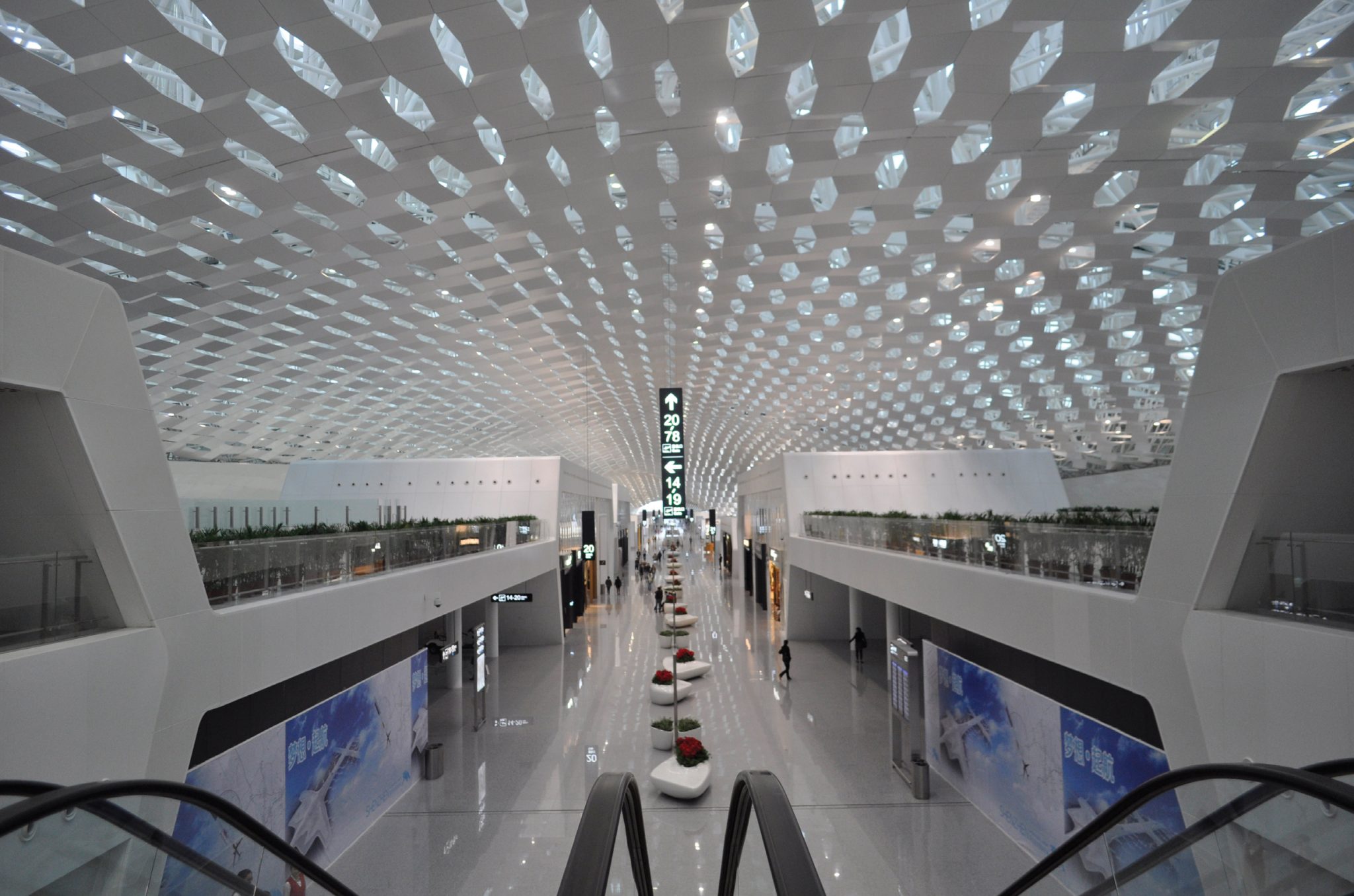 Arriving by bus at the terminal, the passenger – or spectator – is taken on a roundabout journey; the better to appreciate the graceful white tubular form, peppered with hexagons and dramatically recessed parametric window openings. Deposited under the huge undulating canopy that frames the entrance, passengers are lured into a cavernous concourse as white, polished and spotless as a brand new operating theatre. The biblical tale of Jonah's hair, skin and clothing being bleached ghostly white inside the belly of the whale seems true. The interior of this leviathan is bright white.
The scale of the space would be overwhelming except for the columns, which successfully break up the area into manageable perceptible spaces. Human scale is maintained by the sculptural air-conditioning 'trees', which also contain lighting and check-in technology and look like giant showerheads. These trees, as well as the pristine modular shop units, stylishly glazed toilets and reception desks have been designed by Doriana Fuksas. Her interventions provide a lightness of touch that other airports might learn from.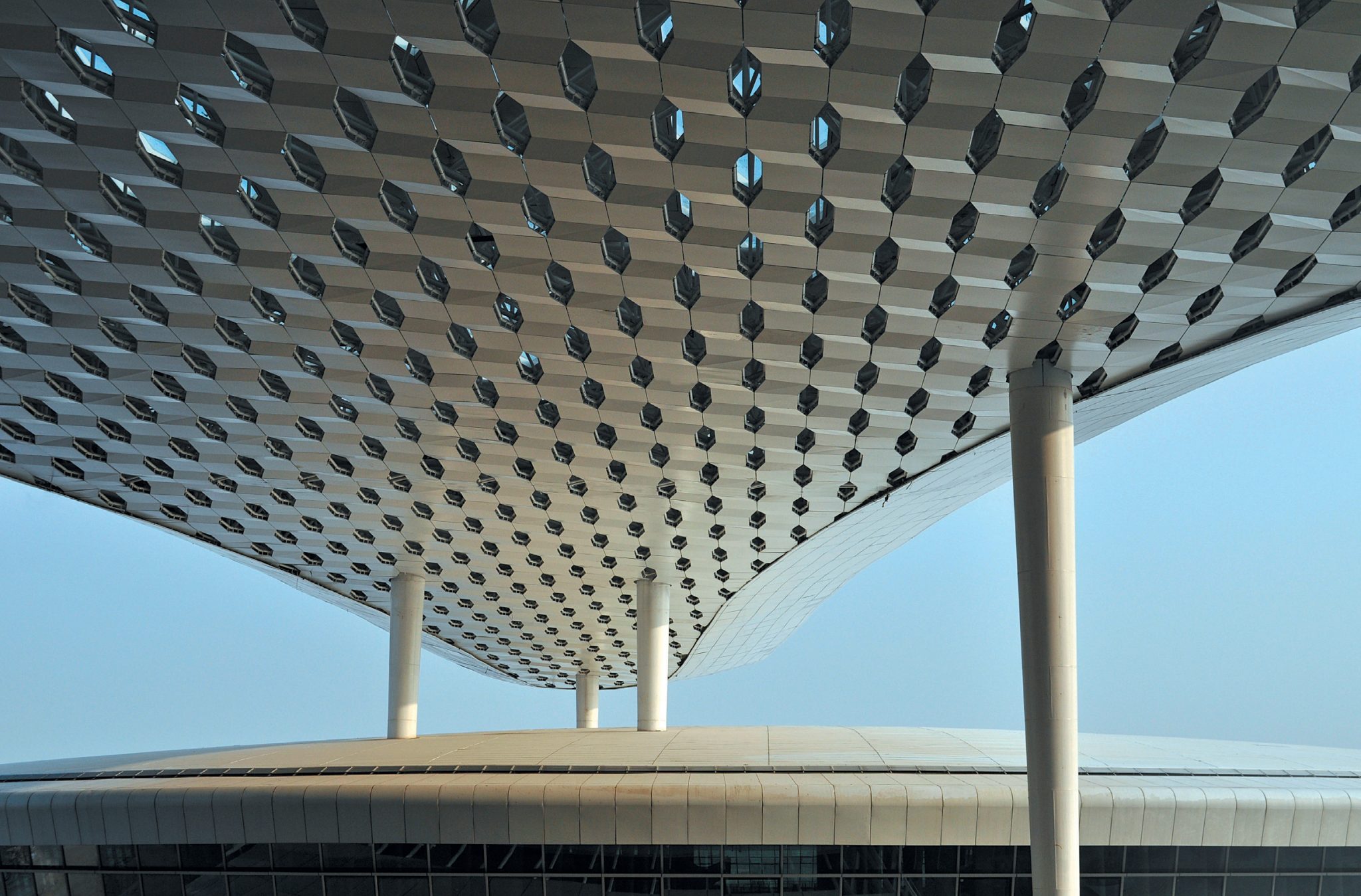 1.5-kilometres long with maximum clear spans of eighty metres, the aeroplane mimicry in plan form is a well-tested airport arrangement but here Studio Fuksas has made a dramatic event of the intersection of 'fuselage' and 'wings'. This is the access from the concourse to arrivals and departures within a light and airy atrium, with the upper platform accommodating public services – cafes, concession stands and toilets, etc. – for visitors and nontravelling public alike. Admittedly, the ceiling hexagon motifs are a little relentless and the super-shiny floor may be disconcerting to those with visual impairments, but the spatial hierarchy is explicit and legible, making the building easy to navigate and signage kept to a discreet minimum.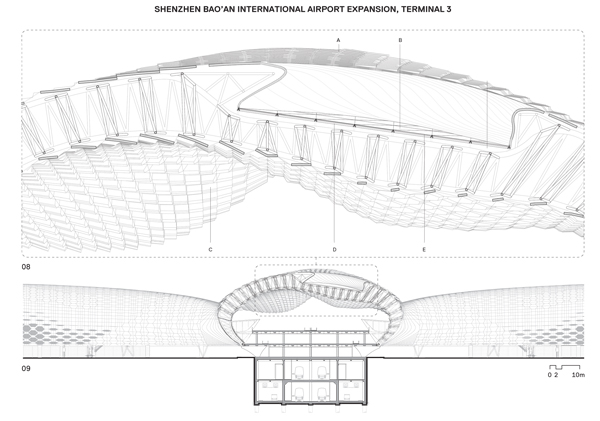 The building's construction is a simple tubular steel space frame disguised by the internal and external undulating skin of cladding and glazing panels. This patterned double-skin canopy of steel and glass allows light into the building and allegedly reduces energy consumption by shielding the space from excessive solar heat gain. Even so, the space is so well-lit in places that the polished flooring reflects the roof and gives the impression that passengers are walking on air (maybe not the best expression for those of a nervous disposition). It seems that the Shenzhen Airport (Group) is so pleased with the airport project that they are offering to copyright it.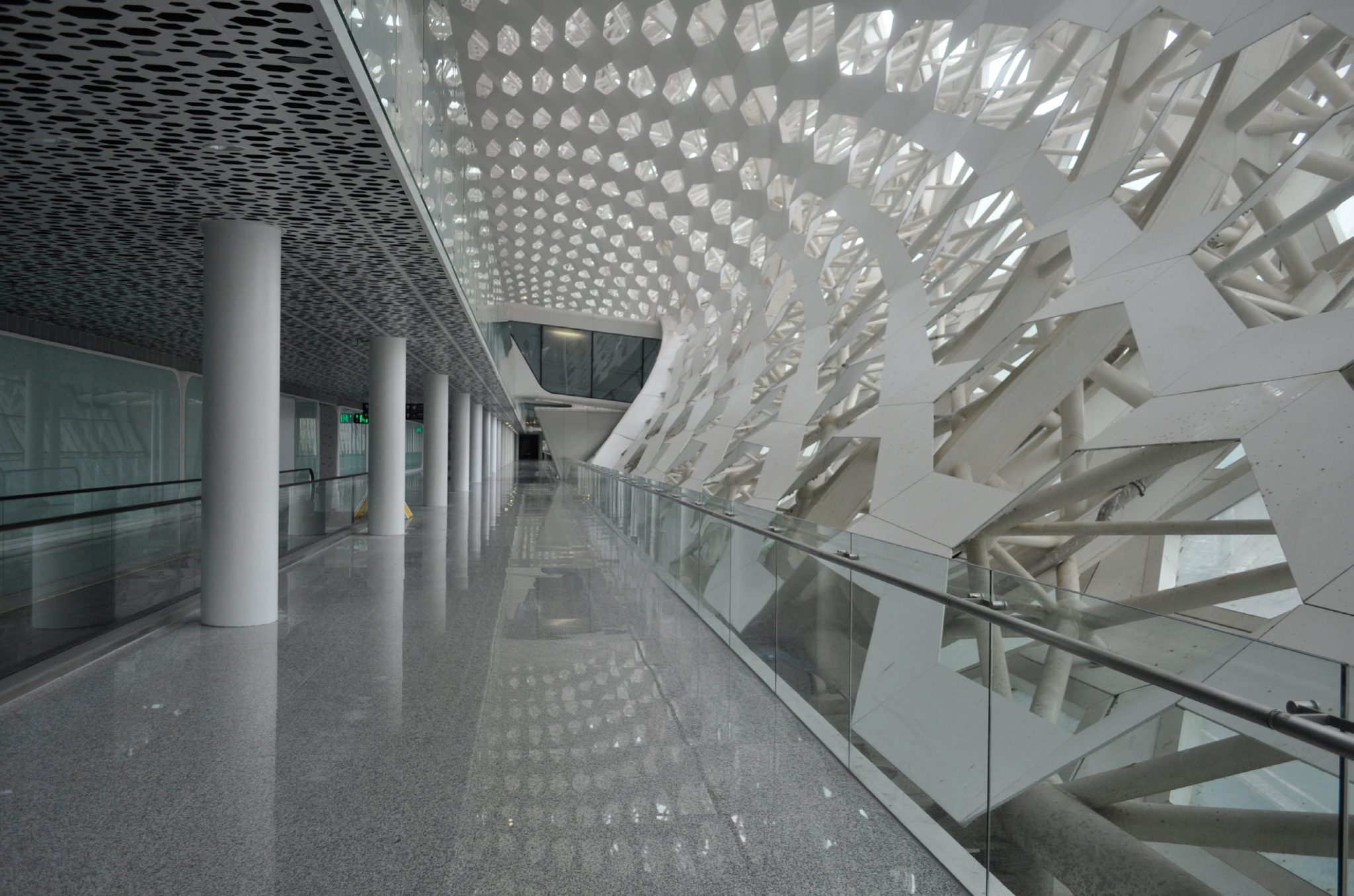 Ironically, China normally expresses a blasé attitude to private intellectual capital and, as such, there is not usually the same respect for the 'ownership of representation' that is expected in the west. But here, after investing USD$1billion in this project the clients seem to want to make a fair assumption that the terminal's design belongs to them. The ultimate irony is that Studio Fuksas is happy to take the money… and wait to be re-commissioned as consultant on their own design when the authorities realise that they do not have the domestic skillsets to do it themselves.
Having just turned 70, Massimiliano is still a canny operator. Much like himself, his studio's projects are larger than life, urbanely cosmopolitan, quintessentially quirky but always stylish.
Project Details
SITE: Bao'an District, Shenzhen, Guangdong, China
PERIOD: International competition won 2008–2013
AREA: 400,000 sqm
PROGRAM: Airport Expansion Terminal3
CLIENT: Shenzhen Airport (Group) Co., Ltd.
DEVELOPER: Shenzhen Planning Bureau; Shenzhen Airport (Group) Co., Ltd.
ARCHITECTS: Massimiliano and Doriana Fuksas
INTERIOR DESIGN: Fuksas Design (internet-point, check-in 'island', security-check, gates, passport check areas, shop box, baggage claim 'islands', info point, ventilation trees, signage, commercial desk and washrooms)
GENERAL CONTRACTOR: China State Construction Engineering Corporation, Beijing
STRUCTURES, FACADE, PARAMETRIC DESIGN: Knippers Helbig Advanced Engineering, Stuttgart, NY
ARCHITECT OF RECORD: BIAD (Beijing Institute of Architectural Design), Beijing
LIGHTING CONSULTING: Speirs and Major Associates, Edinburgh, London
COST: 734,000,000 Euros.