As Studio Ongarato celebrates 25 years, ADR catches up with founders Fabio Ongarato and Ronnen Goren to talk about the practice's design journey. 
What were the origins of Studio Ongarato? How did the studio begin?
We both studied at RMIT University. Fabio Ongarato studied visual communication, where the emphasis was more on art direction rather than graphic design. Ronnen Goren, studied architecture.
We created our office in 1994. It started as a collaboration – Ronnen was an architecture student and as part of his academic work, he was curating an exhibition at the National Gallery of Victoria surveying the work of post-war Jewish architects. Ronnen needed a designer to stage the exhibition and he found Fabio. Other projects soon followed, including work on designing the magazine 21C.
More by osmosis than anything else, we discovered we had a business. We called it Fabio Ongarato Design (FOD) and rebranded on our 25th anniversary as Studio Ongarato.
In the beginning, there weren't many other businesses around – we had to create the business model, and the systems for doing things, as we went along. While there was no grand plan, what was driving us was the desire to do something that was more than just work. We wanted to enjoy what we were doing, to derive the maximum amount of personal satisfaction from it.
It was a question of finding the right balance – between producing work that is creatively rewarding while also having enough work to sustain ourselves as a business.
Had either of you had any experience of starting up a studio before?
The '90s were an interesting time, because we were starting out in a recession. Being young, we were hungry to develop a sphere of influence, a network of like-minded clients and creatives that defined a new generation.
Until then, the vanguard of graphic design was but a handful of founders – names like Emery Vincent, Ken Cato and David Lancashire – with a defined and singular approach. Positioning ourselves in relation to these established voices, we channelled our passion for fashion, arts, architecture and photography to offer a new, collective view of the world and a unique way of working.
Collaboration remains central to what we do, and we continue to evolve our interest and engagement with many differing creative talents to ensure newness and currency.
What are the biggest challenges you have faced over the last 25 years and how have you overcome them?
At the beginning of the 1990s, a breakaway group of young designers decided to go it alone, including Cornwell, Gollings + Pidgeon and, of course, Fabio Ongarato Design. This was essentially a Melbourne movement. Sydney was yet to contribute to this emerging trend.
We started with a vision to create a multidisciplinary practice and to integrate art direction and graphic design with environmental and experiential design but it took almost two decades for this to become prevalent in our practice.
Through the late '90s, 'strategy' became the buzzword in graphic design – the market moved away from a platform of creative services to one of so-called strategic services in line with the overall direction of corporations. We saw the evolution of the data-driven marketer.
This realignment trapped many graphic design firms. Some changed their name or their business proposition to support the advent of strategic branding and consulting. It is interesting to note that the quality of strategic branding provided by the industry was at best average, leading to a dramatic fall in the quality – and thus appreciation – of creative output.
It appeared that the industry had forgotten that we exist to provide creative solutions to strategic challenges, not the other way around.
But we stood firm with our ideals – that design is creative, that it is about intuition, serendipity and refusing to resort to obvious answers.
The late 1990s also saw the emergence of international studios like Attik, with this kind of globalisation enabled by technological change. We invested heavily in creating working presences in Hong Kong and China, allowing us to perform internationally.
After a decade of off-shore work, and the challenge of working in different business environments and cultures, towards the end of the 2010 we decided to divest our business out of fashion retail, following 15 years spent building a reputation as art directors.
Now, in the digital and experience age, we have developed a unique skill-set that has us sitting in a good place. We have adapted the way we think about design and engagement, with a 'digital first' perspective. We haven't lost the craft of print or the detail in our work; it is just channelled into books and some of the more tactile elements we do.
Can you tell us a bit about the studio in 2019 – e.g. the staff, approaches, the way you operate and work together?
Our studio culture is something of great focus to us. We have an exceptional mix of talented people, and creating an inspired and inspiring environment is increasingly important. We concentrate on feeding our own and our staff's interests and we balance hardworking, focused intent with cultural activity, peppered with fun.
As a studio, we seem to be travelling more and dealing with clients in other countries. It means you have to be more dynamic in your practice, working across time zones and in our other offices, through digital platforms and endless video conferencing.
Pushing the team to work across disciplines from art direction, placemaking, branding and art curation to graphics, wayfinding and environmental design keeps our practice dynamic and interested. Investing time in broadening our skills keeps the studio practice vital.
What currently inspires you and your work?
Most of the studio's inspiration sits outside the design oeuvre, and often encompasses sources drawn from the visual arts. The range can be broad, from sculpture, architecture and film through to contemporary photography.
Travel is also one of our great stimulations – being able to travel and absorb other cultures can be inspiring and reaffirming.
As a studio, authorship is not a preoccupation; therefore, collaboration with illustrators, photographers, artists, curators globally and many others continues to be another source of inspiration. They make our life a lot richer.
What are some of your favourite projects and what impact have they had on the studio?
Jackalope
Mornington Peninsula hotel Jackalope has set a new benchmark in narrative-led hotels, which has been globally recognised. The client, Louis Li, established an amazing collaboration and a project of this nature engages the studio as a whole, from branding designers to art directors as well as our signage and art curatorial teams.
 Celebrating the mystery and whimsy of alchemy and the art of transformation, the narrative for Jackalope was inspired by the mythical creature – a transformative animal, partly cute, partly fierce – that the business is named after.
The design-driven narrative was expressed through all areas of the hotel experience, from the distillation theme in its signature bar Flaggerdoot to the glowing installation of 10,000 suspended amber lightbulbs representing fermentation in the restaurant, Doot Doot Doot.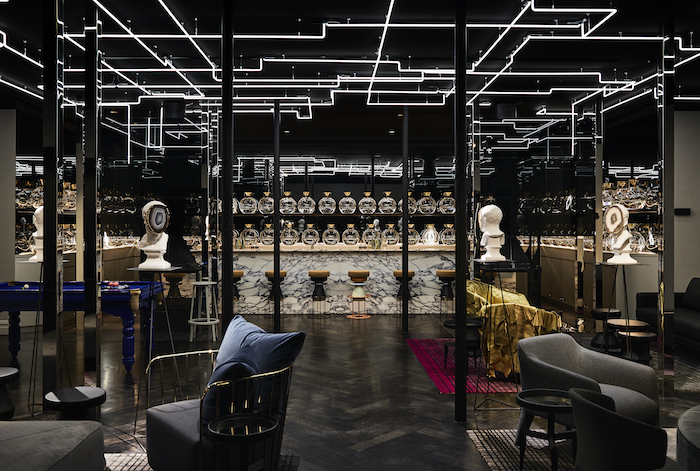 Kisumè
Melbourne restaurant Kisumè was a holistic collaboration involving food philosophy, interiors and architecture, brand, experience and art curation. A collaboration between proprietors Lucas Group, architects Wood Marsh and Studio Ongarato, the results position the guest experience at the heart of it all.
Kisumè is a good example of how we look to define the tension points in a given brief – those which are unequal or not immediately visible – because this is where a brand's true point of difference is.
At Kisumé, we explored how to immerse guests in an intriguing view of Japanese traditions by focusing on spotlighted bondage-themed photos by controversial Japanese artist Nobuyoshi Araki. Araki's work plays on the tension between tradition and subversion in much the same way as the use of circular graphics in our other design references make subtle references to inverting the Japanese flag.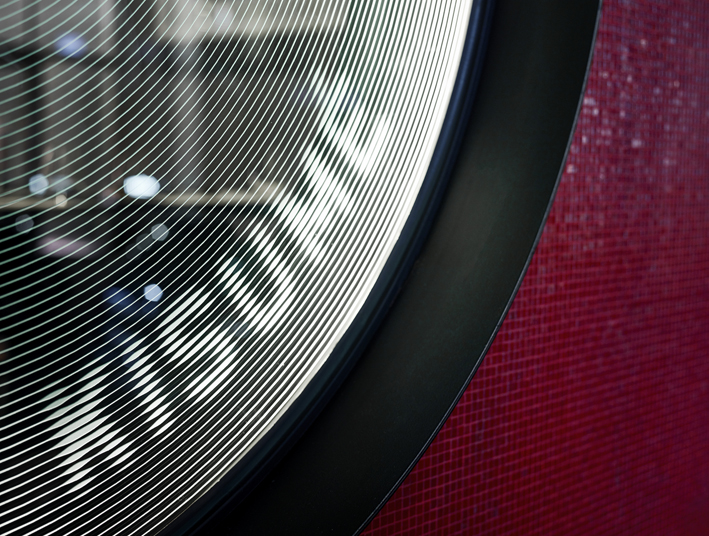 Aesop Taxonomy of Design
The Aesop Taxonomy of Design online experience celebrates the brand's design journey through each of their 100 unique and immersive stores around the world.
Realised as a digital compendium, the resulting website layers a dissection of Aesop's design philosophy through the categorisation and classification of the brand's elemental parts. What we created was the ultimate brand encyclopaedia, a site that encourages users to navigate their own journey, exploring the individual elements to which they are drawn.
MPavilion
Studio Ongarato created the brand and narrative for the Naomi Milgrom Foundation's MPavilion through a series of brand images along with a custom typeface to communicate the concept of 'a receptacle of many things': ideas, people, collaborations and more. This receptacle needed to be able to accommodate content curation, events and activity; both the design and MPavilion itself act as the architecture and container for social transformation.
What are the greatest or most important lessons you have learned along the way?
In Australia, from the start of our career, we could never be known for just one thing – being a specialist in Australia wouldn't be sustainable given the size and scale of our market. Instead, we needed to build a practice with a broad range of skills and be able to evolve these over time.
Where do you see yourselves and the studio in the next five years and beyond?
We will solidify our position in Asia and as an international practice. And we will continue to contribute to the cultural conversation, whether designing an identity for a centre for journalism, wayfinding for a museum or devising a placemaking strategy in the Middle East.
Design in its broadest sense now plays a more important part in contemporary discourse because it deals with the way we feel – how we interpret cultural environments both physical and virtual. You have to be ready to go beyond what you can merely see or touch – design's language is best when it is experiential.
It is this transportation that unlocks our fantasies, our dark sides, our humour and makes us appreciate our intrinsic differences as people within constantly adjusting cultural boundaries.
That's the Studio Ongarato philosophy that will drive us in the next five years and beyond.