Architectural Review speaks with Hayball's Kerlina Bahari, and Save the Children's Andrew Holloway, about their experiences on the upgrade of the Mooroopna kindergarten in Shepparton, Victoria.
Between 2016 and 2018, Hayball Architects worked on a pro bono basis with Save the Children Australia, which owns and operates the kindergarten. Following a fortuitous social meeting between staff members from the two organisations, and senior leadership agreement to partner, the NGO (non-government organisation) outlined its priorities for the kindergarten revitalisation project in a formal project brief to Hayball.
"It is important to manage pro bono projects with the same discipline as fee- paying projects," says project architect Kerlina Bahari. The architectural firm was tasked with transforming a tired and poorly functioning 30-year-old facility into a vibrant and engaging, state-of-the-art learning space that would accommodate more children. "The most important thing from Save the Children's perspective was to create a good learning environment for every child who accesses the facility," says Holloway.
"This is important because we know that signs of disconnect in early learning stages can carry over into high school and later life, if not addressed early." In addition to meeting diverse learning needs, Mooroopna staff pick up their students in a bus each day, feed them meals, and provide packed lunchboxes for them to take home for dinner.
"Many of the students who attend the kindergarten are from lower socioeconomic families," says Bahari. "Many are Indigenous or have a history of family violence." The facility was, therefore, as much refuge as kinder, albeit a dark and dated one. In addition to being uninviting, "it was freezing cold in the winter and boiling hot in the summer," says Holloway.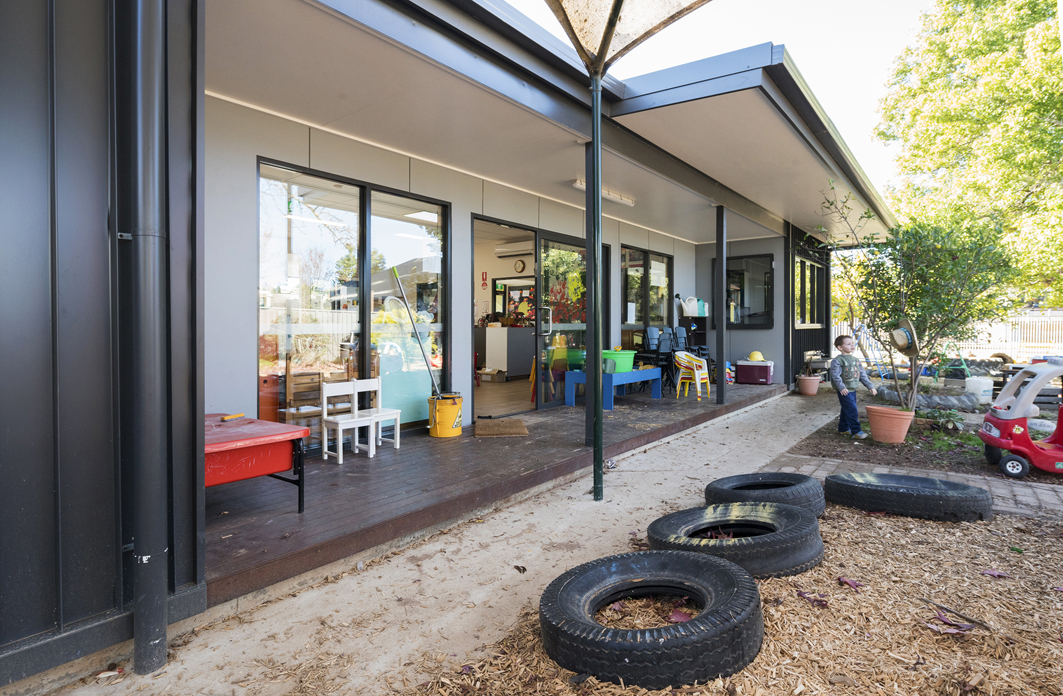 Money and pro bono
Each pro bono project has unique funding arrangements. In Mooroopna's case, the Victorian Government contributed over $300,000 via a Department of Education and Training (DET) Early Learning Facility Upgrade Grant, and Save the Children raised over $260,000 via direct project donations.
Hayball Architects provided its entire project services pro bono. This meant managing risk, contracts and contractors, budget, timelines and design, in addition to negotiating material and service donations at reduced or no cost, where possible.
The scale of the DET grant not only ensured a substantial kinder renovation on its own; it also enabled Hayball and Save the Children to leverage further donations and pro bono contributions. "In the end, the overall project cost, excluding Hayball fees, was just over $700,000," says Holloway. "And each contributor's investment was maximised."
What was done?
In keeping with Save the Children's brief, the Hayball design modernised and extended the early learning facilities. The floor plan was increased by around 50 percent, allowing 26 more three- to four-year-olds to access the Mooroopna's preschool education each year. And the facility now boasts a second multi-use classroom, new storage shed, larger and more functional internal kitchen space, a new 'kids' kitchen', and welcoming reception area for staff to meet and support parents and carers.
There are also quiet zones for amped-up children to unwind and relax, and rooms to for private consultation. Hayball utilised different colour schemes to make the latter areas feel calmer, and to create more vibrant play and learning spaces. Natural light and warmth were other vital ingredients.
"We wanted to get as much sun in there as possible," says Bahari. "And maximise environmental gain through passive design." Further, the new light-filled design incorporates inviting landscaped areas for play-based learning and an integrated kitchen garden zone, which produces fresh produce for families to take home.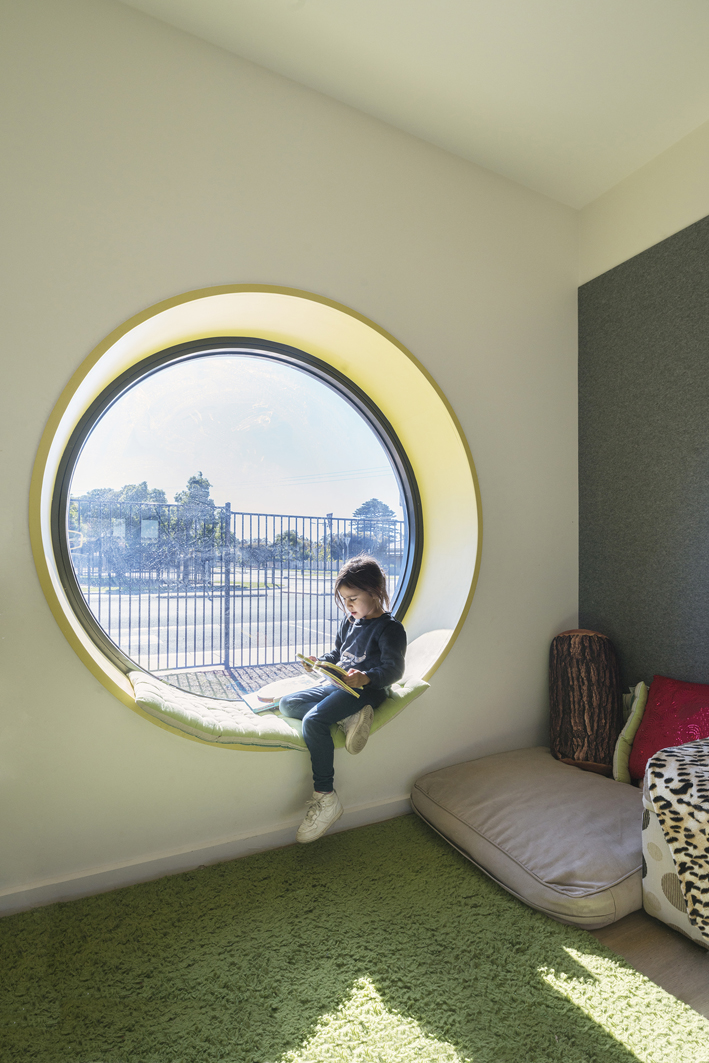 Why pro bono?
Since its inception, Hayball has worked outside the mainstream particularly in public housing and education, and with trade unions. "Our key values involve building strong and healthy communities and being socially responsible and economically mindful," says Bahari.
"The Mooroopna Kindergarten project has enabled Save the Children to provide the best possible [out-of-home] start for vulnerable children." It was also an opportunity to innovate and build on the firm's, already considerable, education design expertise, according to the architect.
Is pro bono work different for architects?
Construction projects are generally lengthy by nature, so when an architect or architectural practice offers services pro bono, it can be more difficult to contain or limit that contribution the way a lawyer or publicist might, through a discrete fee or PR campaign, for example. Architectural and construction projects also involve coordinating multidisciplinary teams and sustaining organisational commitment for the life of a project.
"These projects can go for years and require a long-term resource commitment to stay on the cause," says Bahari. "It is important to have continued support from the senior leadership team." Further, pro bono work requires high levels of flexibility. An unplanned material donation, for instance, may require significant last-minute changes to a design. Inversely, more donations may need to be sought due to unexpected developments.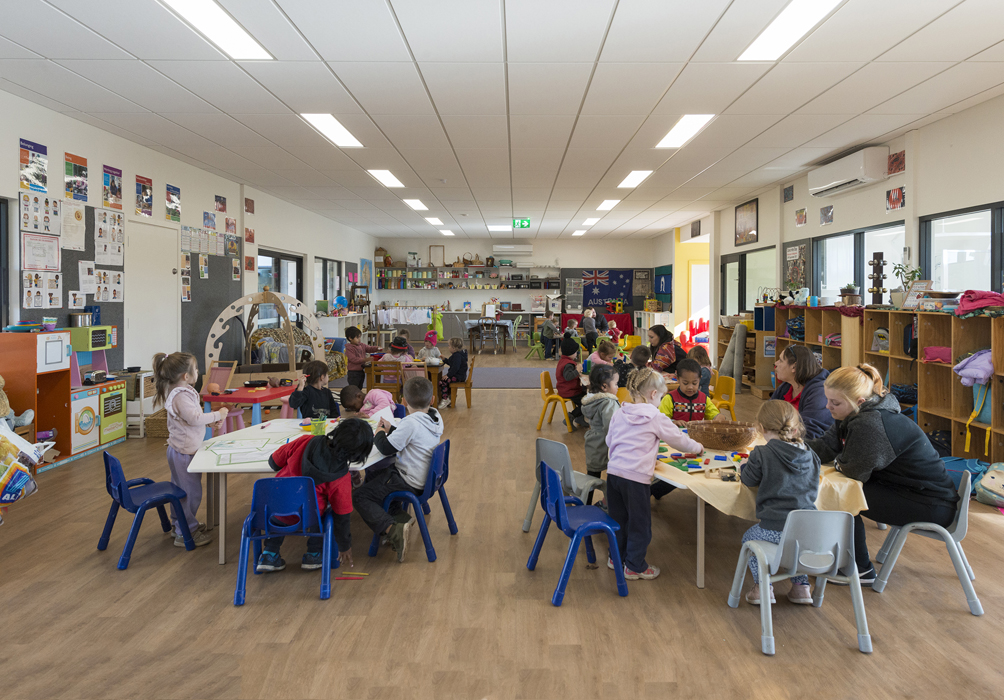 Contractors and suppliers also often work under variable (pro bono, discounted or paid) conditions, while juggling their own external project commitments. "During the preliminary demolition phase we discovered that the northern wall was very unstable and needed to be rebuilt," says Holloway. "So Hayball (successfully) approached BlueScope for more timber cladding." Diverse Builders also liaised with Boral (which donated all of the project concrete) about meeting additional concrete needs. The ultimate litmus test for any architectural project – be it pro bono or fee-paying – is user and client satisfaction.
The overwhelming response from the clients has been that they used to have the worst kindergarten and now they have the best," says Holloway.
Tips on pro bono work
Discipline: manage pro bono projects with the same discipline as fee-paying projects.
Endurance: actively nurture and maintain senior commitment over the course of the project.
Flexibility: be prepared to respond to surprises, which may entail seeking further donations, adjusting design etc.
Clarity of brief: clearly define the parameters of the pro bono architectural and contractor work being offered.
Opportunities: further to the social contribution, pro bono work provides opportunities to innovate and develop architectural practice.
Leverage: when seeking new donations and contributions, highlight how they would be maximised by already secured funding/ donations.