Cow Hollow residence in San Francisco is all that a family home should be, as inside co-editor Jan Henderson discovers. There are fine interiors by Angus McCaffrey Interior Design, which perfectly encapsulate and complement life by the Bay and articulate a lifestyle for a family with style.
US designers have their own decorative style when it comes to interiors and, in many instances, it is more elaborate than our pared back Australian aesthetic. In San Francisco a recent residential project designed by Angus McCaffrey Interior Design presents as an interior that is certainly decorative, but is also refined in execution and resolved in beauty and functionality.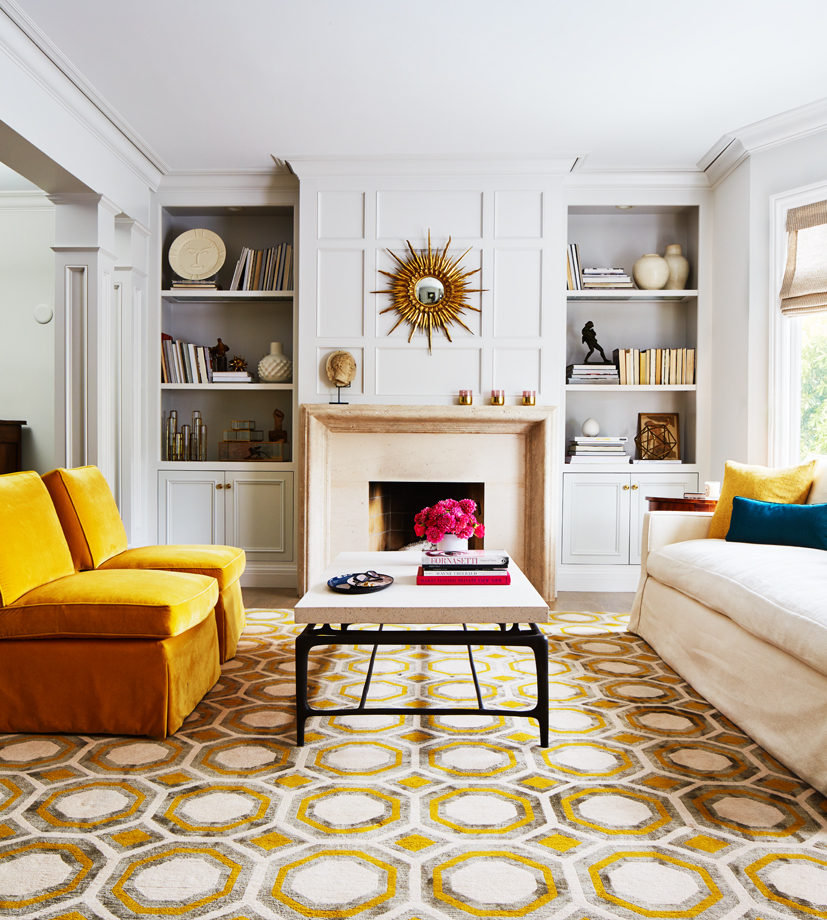 This project is situated in the small, chic San Franciscan suburb of Cow Hollow, which is bordered by the affluent areas of Pacific Heights, Marina and the Presidio. Located on one of San Francisco's extraordinary hills, the home is perfectly positioned to enjoy some of the best views in town, encompassing the Bay, the Golden Gate Bridge and the remarkable Palace of Fine Arts.
Although more modest in size than many of its large freestanding neighbours, this Edwardian home is still expansive, with multiple places for privacy or family interaction and a floor plan that makes the most of every space over the four levels. The client has primary residences in other areas of California, but required a mid-point meeting spot within easy reach for the dispersed family unit. San Francisco was the most convenient choice to accommodate all members.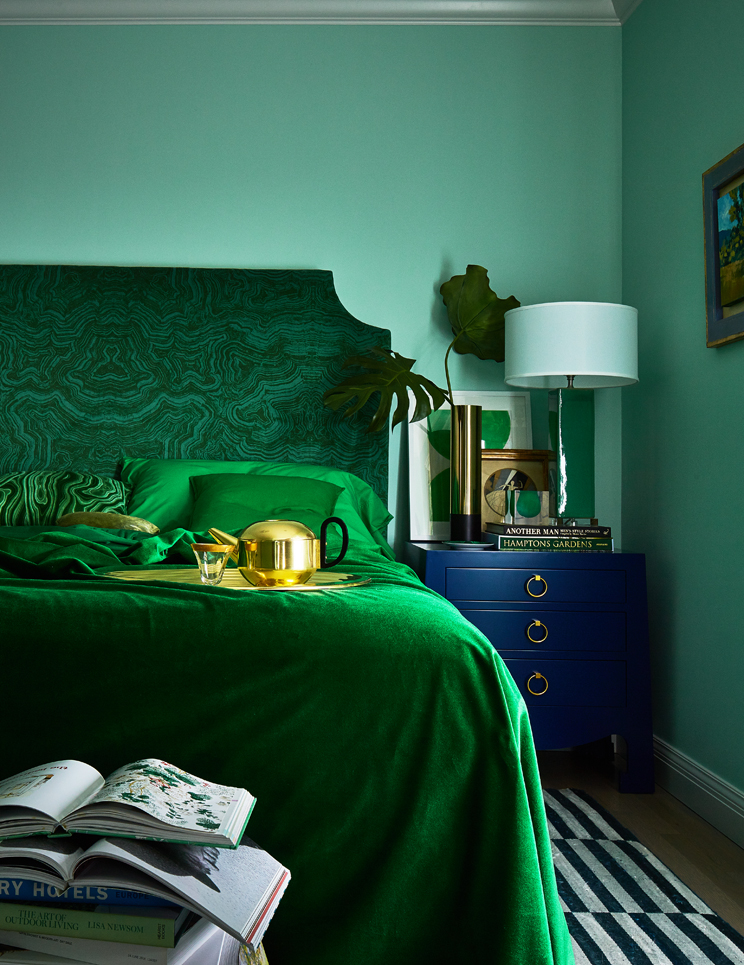 The brief to Angus McCaffrey was for a relaxed and comfortable interior that employed colour (unlike their other homes, which have neutral palettes) and an interior that would also showcase art and objets gathered while travelling the world – in particular France, Spain, Morocco, Cuba, Vietnam and Thailand. With these guidelines in mind, McCaffrey has created an interior that is sophisticated and functional with quirky and fun elements that are sometimes unexpected, but totally in keeping with the genesis of the design and brief.
The entertaining and public areas are located on the first level of the residence, above the ground level garage and accessed by stairs from the street. The formal dining and sitting rooms are elegant, with a subdued colour palette of cream painted walls and ceilings with white trim. Furniture is authentic and eclectic with vibrant egg yoke yellow velvet slipper chairs (A. Rudin), hexagon patterned rug (custom Stark, wool and silk), antique Gustavian settee, tables, lamps and a large photographic artwork by Rodolfo Martinez.
There is an antique Regency table with seating for eight in the adjoining dining room and overhead a beautiful Oly Studio Muriel chandelier that consists of a clutch of shiny balls in greige (beige and grey) and silver, which adds a touch of whimsy. Moving through to the kitchen and family room there are comfortable places to lie on the sofa and watch television or sit at the island bench and chat while meals are prepared.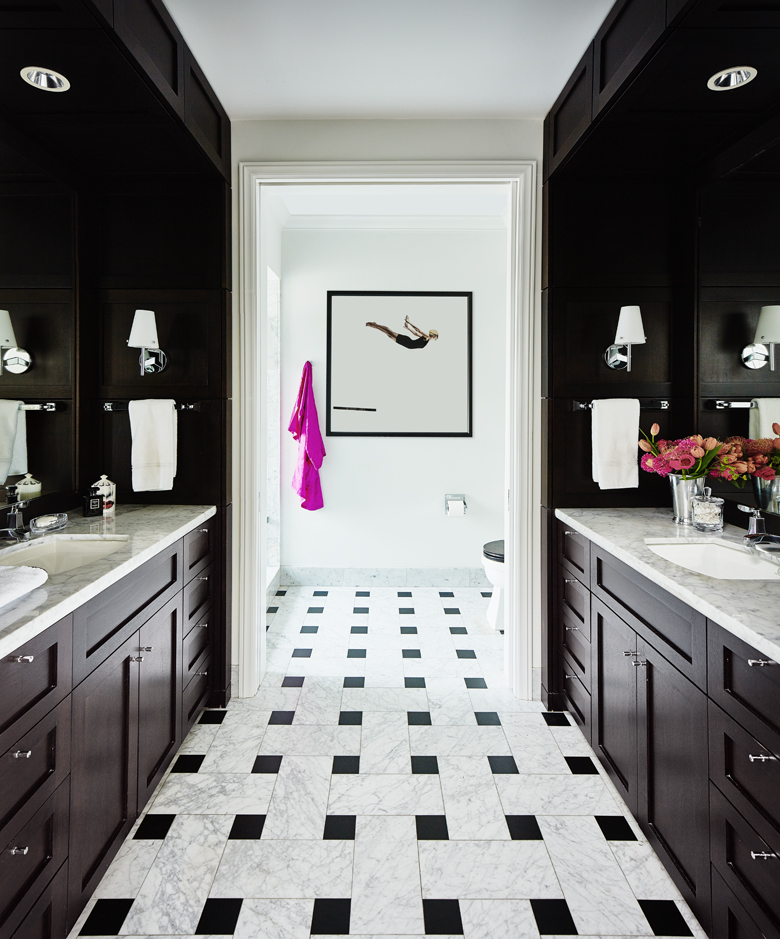 The inclusion of a breakfast nook ticks all the functional boxes of the area and the hints of green, citrus yellow and aqua on furniture and accessories add a pop to the base colour of white and beige. The second level contains the sleeping quarters, with the master bedroom positioned street side and windows that frame stunning views of the Bay and beyond. The master suite consists of the bedroom, a lounge, dressing room and bathroom, and the palette takes its cues from the misty colours of the San Francisco sea and sky. Opposite the master suite and at the far end of this floor are two more bedrooms that virtually sing with colour.
The green and lilac bedrooms pay homage to colour with furniture such as the Knoll beds and accoutrements of desks and lamps perfectly in tune with the particular colour on walls and ceilings. The last and definitely most exciting experience of Cow Hollow residence is the roof top deck with unfettered views of water and sky. There is a fireplace for those chilly San Francisco evenings, sofa, chairs and a dining table for summer gatherings – in fact everything that is required to enjoy an excellent evening al fresco watching the San Francisco skyline darken then glow. Angus McCaffrey has created a home that is sophisticated and relaxed.
The jewel colours that have been used are restorative in their glow and masterful in their application. There is a combination of discreet and timeless furniture pieces and concurrently a layering and textural quality that is vibrant but at no time overwhelming – even the green bedroom, although powerful, is a relaxing space in which to sleep and reside. Angus McCaffrey brings its own international style of interior design to the fore in Cow Hollow residence.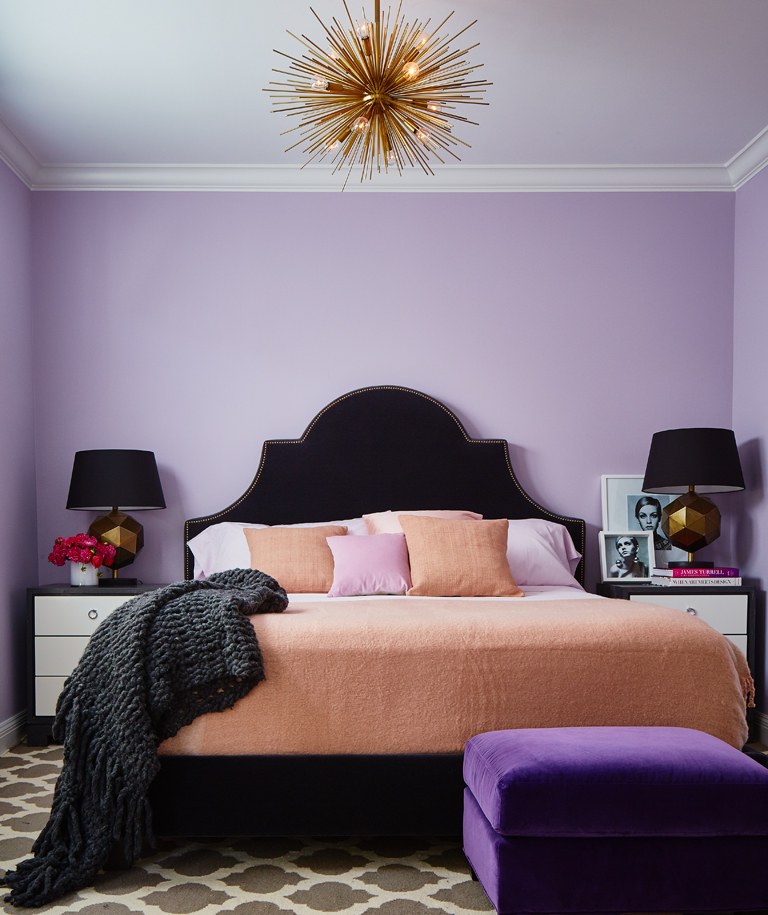 The practice was established by Martha Angus, who is recognised as one of the foremost designers in San Francisco, with more than 40 years' experience in creating interiors that are classic in structure and rich in layering and detail. Her love and understanding of French furniture and design has been expertly applied in this project and the result is a mélange of styles that are perfectly in tune with each other.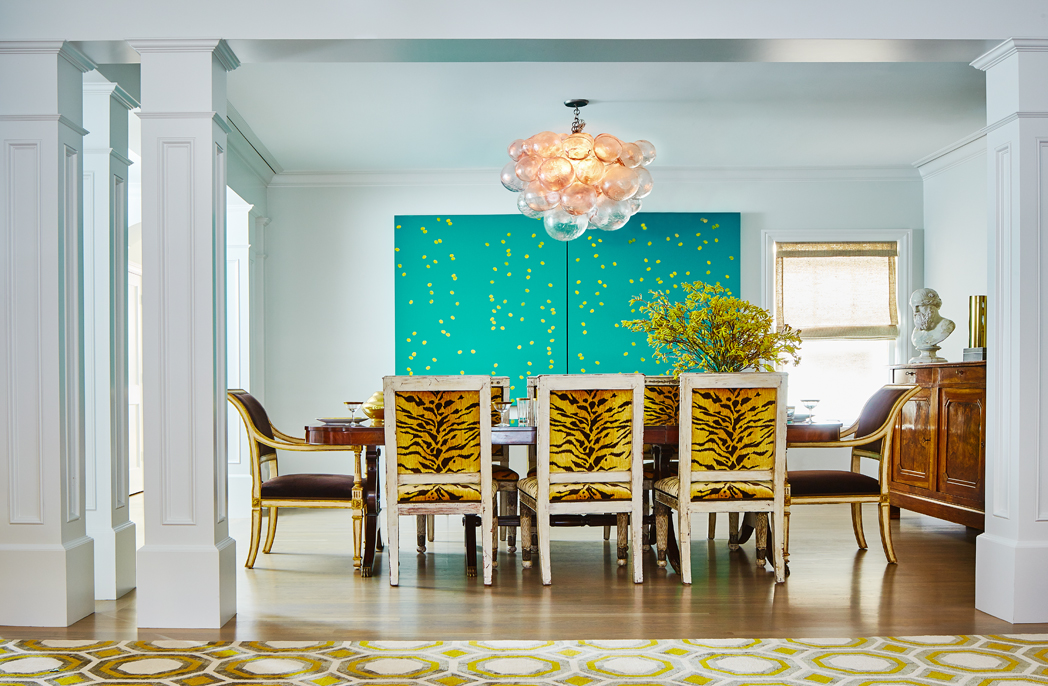 Her colleague, Katie McCaffrey, has worked as a designer for 20 years, 12 of those with Angus and she has extensive knowledge of furniture design, antiques and contemporary art, having studied fine art in St Petersburg, Russia. Both Angus and McCaffrey have brought a masterful design touch to Cow Hollow residence and the home resonates with an international style that defies borders. As a meeting point for family, it is perfect as well as an excellent lesson in style and panache.
Photography by R. Brad Knipstein Photography