Written by Sara Kirby, Image above courtesy of MONA
David Walsh, the owner of Hobart's Museum of Old and New Art (MONA) has announced plans to add a multi-million dollar expansion to the site, set to cost more than the museum itself.
In a blog post, Walsh detailed the plans, which will include an extension to the gallery, a playground, a 160-room hotel, and a casino.
MONA's extension will feature a tunnel with a cantilevered end extending 20 metres out over the River Derwent.  This extension will house four James Turrell works, along with a bar and a restaurant.
Another tunnel will lead towards the winery, yet conclude at a dead end. Walsh plans for the dead end to eventually open up into another even larger extension, to potentially be constructed further down the track.
"If it [the second extension] never gets built, the tunnel to nowhere might well cause some wild speculation on the part of future archeologists. Aliens will have been involved in some capacity, I'm sure," Walsh joked.
On top of this extension are plans for a playground by Japanese textile artist Toshiko MacAdam. MacAdam is known for her large-scale structures comprised predominantly of crocheted and knitted nylon. A second playground will be designed by Tom Otterness.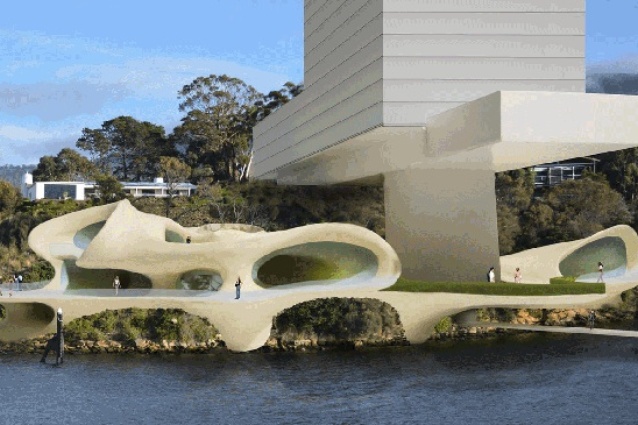 Designs for MONA's hotel, named HOtelMOna, or HOMO, are in the advanced stages. Alongside the rooms are plans for a library even greater than MONA's, as well as a function centre, restaurant, bar, theatre, and retail areas. Marina Abramovic and James Turrell have reportedly agreed to participate in designing some of the rooms.
Organic architect Javier Senosiain is engaged in designs for MONA's casino, which in his true style, are set to be out of the ordinary.
"Casinos are closed edifices of steel and gloss. That's not what I want. I want an open garden… I'd like the casino to be worth a visit, just from an art and architecture point of view," Walsh detailed.
Whether the casino will go ahead or not is still up in the air, however, as Federal Group currently holds rights to operate casinos and pokie venues in the state until 2023. Regardless, Walsh maintains that the remainder of the projects will still go ahead.